Run 1:
First run of the day, Torin threw down his stock dub 12/alleyoop dub 9 run with just 4 hits thanks to going absolutely huge. But he still scored a 91.33. It's so good to see him back on skis, and it's been clear all day that the pipe is super short, so no complaints here. Aaron Blunck went down looking for back to back switch dubs, which is mental. Kyle Smaine also crashed, lost a heelpiece, managed to catch up his own runaway ski and save the crowd, hero. Alex Ferreira stomped the fuck out of a crazy run, 4 dubs, went big, the technicality was undeniable, 93.33.
Benoit Valentin went big but landed his last hit kind of sloppy. I almost certainly mention this every time I recap pipe, but the French coaching team is the fucking worst, head coach literally falls to the ground and punches it to celebrate that run. What need is there? David Wise stomps 4 dubs too, but only scored 86.33, his last dub was a little basic is the only reason I can think of for that. Gus crashed second hit and Kevin Rolland on his fourth, end of run 1.
Run 2:
Torin bumped up his first run with an AO dub flat 10 for the last hit, there was a slightly deep landing the hit before but he scored a MASSIVE 95.0. Aaron Blunck went a bit deep on his switch to switch dub 9 and eventually ran out of pipe. Kyle Smaine blew out another heelpiece, hopefully that wasn't a fresh pair or that is no advert for Fischer. Both Alex Ferreira and Benoit Valentin backslapped on their first hits, David Wise couldn't put it down clean either and Gus crashed on his third hit switch dub. Kevin Rolland crashed too, and that means in this round we only had one out of eight runs landed. Not great.
Run 3:
Torin crashed final hit of his 3rd run leaving the door open for everyone else. Blunck has the most technical run probably of the whole evening but it was sloppy, the switch dub 9 to switch dub 10 combo is insane and when he get's that, he's going to fuck shit up in the pipe world. Smaine had to ski down the pipe thanks to equipment issues. Alex Ferreira put down his final run, 4 dubs but with some slight issues and it wasn't enough to raise his score.
Benoit Valentin landed his run and went big on back to back dubs on the bottom two hits, a few little errors mean it's not good enough to raise his score though. David Wise crashed on his rightside dub, I can admire the good spirit with which he reacted though, all smiles. Gus finally stomped and went HUGE on his last hit alleyoop dub 9, only good for 3rd to the surprise of everyone watching. Rolland buttchecked on his last hit, not enough for a podium and that was it, an all Colorado podium sweep!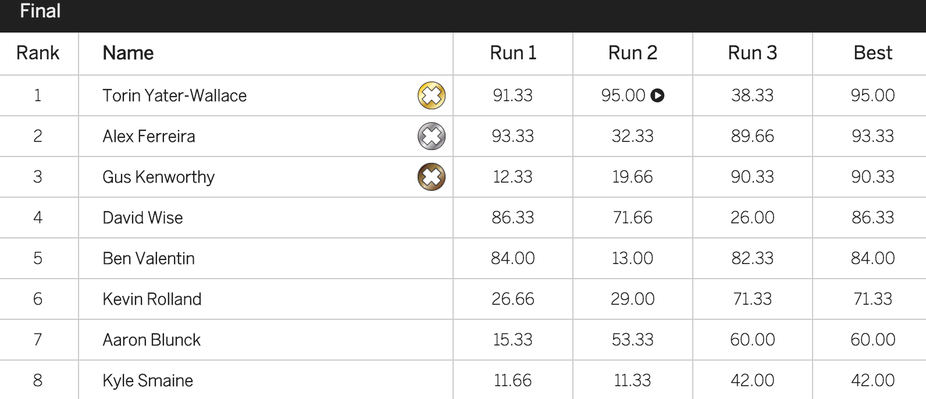 http://espn.go.com/video/clip?id=espn:14864630
Torin takes the win!
http://espn.go.com/video/clip?id=espn:14864656Alex Ferreira 2nd Place Run
http://espn.go.com/video/clip?id=espn:14864661Gus 3rd Place Run