X Games Ski Big Air went down on city jump for the first time this weekend. The women threw down earlier, the men just finished up and the level was crazy high. It's a pity that guys like Vini$ didn't make the finals to mix things up and display some of the variety that exists in skiing but it was still a solid spectacle. The format meant things were largely (barring Henrik) predictable but as a display of the sporting talent of the riders, I'd struggle to say I've seen better in such a short space of time. Here's what happened:
Run 1
Klaus Finne afterbanged the fuck out of the first run of the night, with a dub 14 tail for 88. Felix Usterud backed it up with a switch dub 14 but only tickled the grab. Kai Mahler stomped the fuck out of a, and I can't believe I'm saying this, stylish switch dub misty 12 with a perfect tweaked mute. Should have been first but was only good enough for second. Bobby Brown crashed on a triple 14 deep in to the landing. Gus stomped a perfect switch dub 14 blunt, love or loathe him, he does everything perfect and goes first with 91.66. He's good at hyping up the crowd too. Henrik stomped a nosebutter dub 12 with a tail so tru he flexed the ski almost double, but only good enough for second. Oystein did a mirror image of Gus' switch dub 14, bumps Henrik for second. Fabian Boesch put down his triple 16' with ease and a clean grab for first with a 94.0.
Run 2
Klaus Finne went for broke with a forward dub 16 but put his hands down and failed to top his first score. Felix Usterud cleaned up his run, good enough for 87.0 which, with the standard tonight, was only 6th. Kai Mahler's repeated his switch dub misty 12, even bigger, bumped his score to a 91.0. Tonight, that is as close as we are going to get to style and amplitude being rewarded. Bobby B landed slightly backseat on a massive triple 14 an error big enough to push a triple in to 8th on this insane evening. Gus over-rotated and crashed out on a switch triple 14 which possibly would have been good enough to take the lead at the time. But then HENRIK, out of nowhere, sent the switch triple(ish) wobble 14 and made it as good as a trick like that could look. The crowd went wild, the judges went wild and he went first with a 97.00. "Y'know wha'm sayin, saying" he told the interviewer immediately afterwards, though I'm fairly sure she didn't. Oystein stomped the hell of of the switch dub 14 again but it wasn't quite enough to best his first score and left him in 5th. Fabian Boesch added a second grab to his triple, a ridiculous sentence in itself but it was still only good enough for 95 and second place.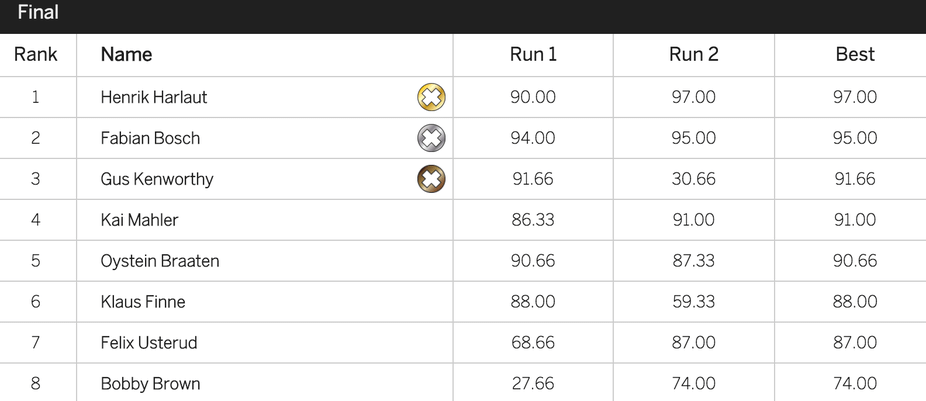 And so Henrik has won an unparalleled 3rd X Games Big Air Gold. There will be probably be some controversy about whether his triple 'counts' just like there was when PK Hunder was winning with a similar axis. Perhaps even more about whether it was better than Boesch's twice grabbed triple. But controversy is good, at least it adds a layer of interest to proceedings. And honestly tonight was, in the circumstances, a good watch. One thing is for sure, the level of talent in comp skiing is insane right now.
http://espn.go.com/video/clip?id=espn:14858328
Henrik Wins!
http://espn.go.com/video/clip?id=espn:14858354
Fabian's 2nd Place Run
http://espn.go.com/video/clip?id=espn:14858370
Gus' 3rd Place Run