Heat 1 Highlights:
Much like the slopestyle course, the big air jump has been causing mutterings of displeasure in the athlete corral this week. Speed issues were again the culprit, especially among the lighter riders. The story I had heard was that the flat before the jump was killing speed but in today's heats it seemed like there was sufficient speed to make it to what sweet spot there was. The drop-in had been built way up to help out so maybe that fixed the issue. The jump still looked significantly smaller than Aspen but the riders threw down hard. Wacko Wells dominated heat one with a triple 10, switch triple wobble 12 and forward triple 12 (flat/cork style not flippy style). Oystein had a triple and a beautiful switch dub 12 blunt to take second. The vast majority of the riders had at least one triple but Bobby stomped his the deepest and backed it up with a beautiful/huge dub 12 capped blunt right at the death to grab the third qualification spot from heat one.
http://xgames.espn.com/xgames/video/18871916/jackson-wells-qualifies-1st-men-ski-big-air?cdfs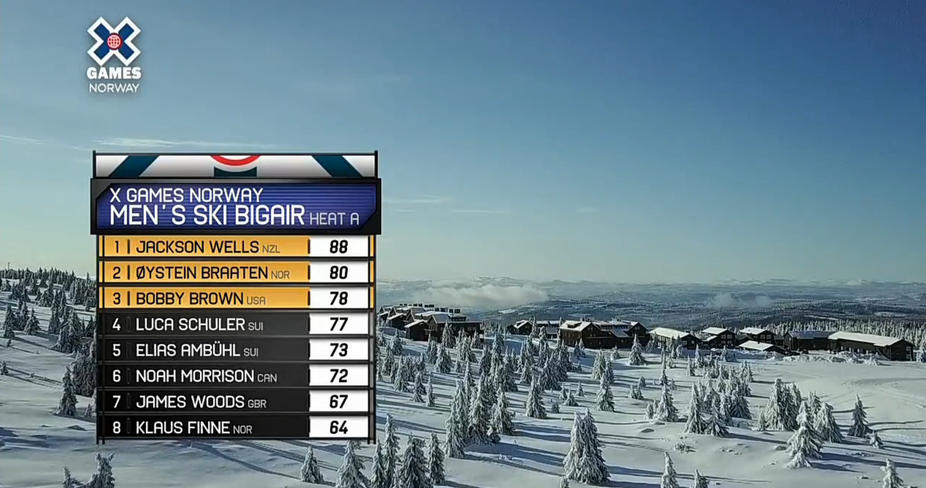 Heat 2 Highlights:
There was a lot more variety and creativity in the second heat and scores were correspondingly higher. Birk Ruud, (16, #ageclaim), is going to be a massive name in the skiing game. He stomped a triple 14, a triple 10 and a switch dub misty 10, which I'm not sure I've ever seen before. He took second in the heat, behind fellow Norwegian Eirik Saeteroy, whose switch pre-nose 12 took the highest score of the day with a 47. He backed that up with a forward triple 14 too. Andri Ragettli took third (left dub 14, left dub 16), while Felix Usterud and Henrik Harlaut took the two highest scoring remainder spots. Henrik was pretty much the one guy not even trying to triple with a dub flat 12, a switch dub 10 shifty and a nosebutter dub 12 blunt. He also tried for the rodeo one on the final hit but couldn't quite make it stick.
http://xgames.espn.com/xgames/video/18872117/eirik-saeteroy-qualifies-first-men-ski-big-air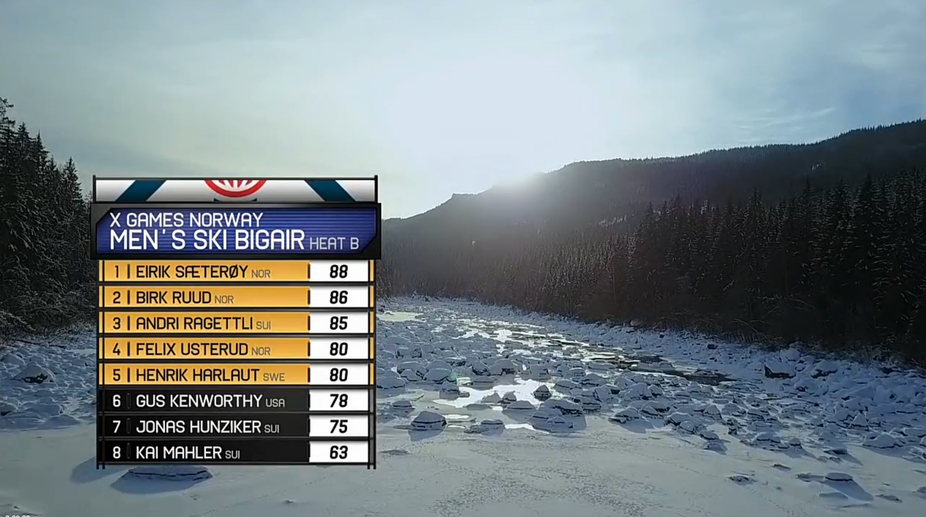 The list of eliminated riders: Kai Mahler, James Woods, Elias Ambuhl, Luca Schuler, Gus Kenworthy (who did the most insanely perfect forward dub 14 capped blunt) reads like a who's who of big air, so you can imagine the level. Stoked for the finals tomorrow.