First things first, an answer to the thread: unsurprisingly, nobody was even close to hitting a roof support. Dropping in through the stadium roof looked like quite an experience though. It's a cool concept to have all of the X Games sports competing in one stadium, and a great platform for skiing, even if in this case, the event it is in perhaps the one place where skiing might already be the biggest of the sports on show. But despite opening a hole in the roof to house the drop-in, the relatively small size of the 'Big Air' jump meant that, in order to get their tricks round, lots of guys were sending it all the way to Gucci. Many struggled to make it through the compression at the bottom of the transition on at least one of their two attempts. Despite that though, multiple triples were thrown... a testament to how insanely talented (or just insane) these guys are.
Evan McEachran set the early bar with a dub 16 tweaked mute, and we are talking properly tweaked. A Hall somehow whipped his 6ft and change frame in to a dub 16 of his own but whiffed the grab. Woodsy landed the first triple of the day, his 'stock' 14 safety before Henrik Harlaut put down a trademark trick of his own, the switch 'triple orbital' 14 uncrossed mute.
On run 2, Oscar Wester stomped a dub 14 blunt to move himself in to qualifying contention. ABM moved himself in to provisional second with his switch triple 12 safety to the bottom. Alex Hall cleaned up his dub 16, somehow reaching his trademark seatbelt japan+tail combo bumping out Woodsy, who crashed immediately afterward. Oystein stomped a second dub 14 lead safety but didn't make the cut before Birk Ruud made the finals right at the death, with a dub bio/misty 14 safety. In doing so, he bumped Oscar Wester out of the finals and gave himself a shot at a Big Air 'threepeat', much to the delight of the X Games scriptwriters.
Results: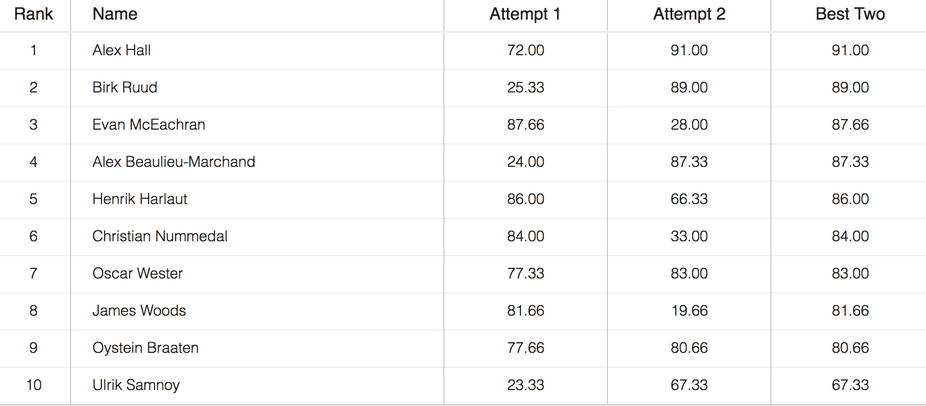 _
The Qualifying Stunts:
Alex Hall
_
Birk Ruud
_
Evan McEachran
_
Henrik Harlaut
_
ABM
_
Christian Nummedal