Press Release
The story of the season is set and continues to unfold. It's been one of epic storms and deep powder days in Whistler, and as we continue to get amongst it and enjoy every day on the slopes, we begin to prepare for the season-ending celebration that's going to send it off with a bang.
For 2018, the World Ski and Snowboard Festival, North America's largest festival of snow sports, music and arts, will bring together six days of the best of mountain culture. New and exciting for this year, we see the return of a legendary ski race, crown a snowboard champion, revel in the creativity of filmmakers, photographers, thought-leaders, and artists, and soak in the sounds of musicians and DJs as we après longer and harder than we have all season. No other festival brings together these different facets of snow sport and culture to the degree WSSF does.
Tickets are on sale now for cultural events goingdown at the Conference Centre, and with a limited number at the early bird rate they're going fast. Take a tip from the locals - get yours before they're gone. Ticketed events sell out every year and with the amazing programming that'll be taking the stage in April, no one will be giving up their seat.
Here's what's new, making a comeback and simply unmissable at WSSF 2018.
Saudan Couloir Ski Race Extreme
When: Friday, April 13, 2018 & Saturday, April 14, 2018 Where: Blackcomb Mountain
The Saudan Couloir Ski Race Extreme returns to WSSF 2018 after a 20+ year hiatus. The race, which started back in 1987, is the steepest ski race in the world and the stuff of legend and lore in
the world of snow sports. The 2018 iteration of the race is set to be a festival highlight, and with registration open to the public it promises to bring a mix of competitors to the table, from the world's top pros to amateur athletes ready to test their mettle on this infamous course.
Monster Energy Boarderstyle World Championships When: Friday, April 13, 2018 & Saturday, April 14, 2018 Where: Blackcomb Mountain
Boarder-X meets big air, with four riders racing head-to-head on the hunt for points from judges and the fastest time, the Monster Energy Boarderstyle is a perennial favourite at WSSF. This year it's the finale of the tour, meaningspectators will get to see world-class snowboarders throw down in the high-energy spectacle of music and action they know and love, then watch the World Champions be crowned.
MULTIPLICITY
When: Tuesday, April 10, 2018 Where: Whistler Conference Centre
Like a TEDTalk® on adrenaline it's an evening of adventurous visual storytelling delivered by unique and passionate personalities in the mountain world. Using a mix of photography slideshows, video and intriguing anecdotes, these explorers, athletes and outdoor thought- leaders bring the audience into their world for a night of heroic tale-spinning. This event, presented by Mountain Life Media, has become one of the crowd favorites in the WSSF line-up due to its immense inspiration factor.
Intersection
When: Friday, April 13, 2018 Where: Whistler Conference Centre
Intersection will once again push some of the world's artistic snow sports visionaries to their limits, as they work to shoot, edit and produce a five to seven minute ski/snowboard film in just seven days. All the footage is required to come from within 100km of Whistler, making Intersection a visual love letter to this inspiring world-class destination of snow sports and culture.
Ski and Snowboard Big Air
When: Skiers: Friday, April 13, 2018 & Snowboarders: Saturday, April 14, 2018 Where: Skiers Plaza (base of Whistler Mountain)
One of the signature events at WSSF, Big Air carries on Whistler's longstanding tradition of staging one of the world's best big air shows. This year, Big Air Ski and Snowboard competitions will be taken to the next level with internationally-known DJs spinning tunes while athletes give it their all. Traditionally, a crowd well-over 10,000 deep turns out to witness the magic of Big Air, as some of the best riders show what progression looks like and lay it all out on the line.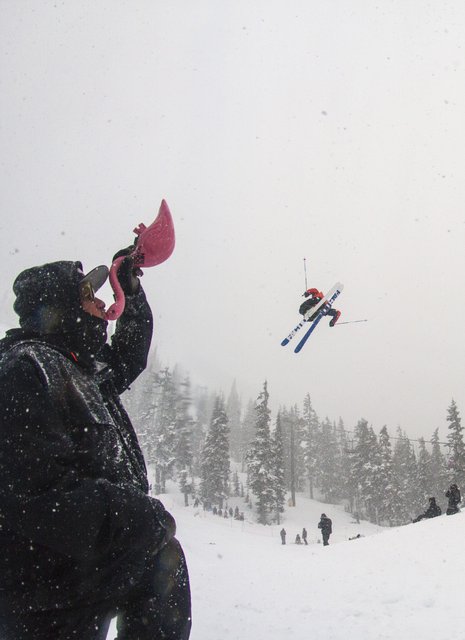 Hungry for more? There's also Art & Soul (formerly State of the Art), the Olympus 72hr Filmmaker Showdown, Olympus Pro Photographer Showdown, Twisted Tea Slush Cup, and the party to end all parties, The END. More details on the full lineup of DJs, bands and parties will be coming soon, along with updates on the who's who of athletes and creatives set to participate.
WSSF 2018 is going to be six days you won't want to miss, and you won't soon forget. For full details and tickets, head to wssf.com.