World Record Holder Simon Dumont to Host the Inaugural Dumont Cup
At Hometown Mountain – Sunday River
Top Pros including Jossi Wells and TJ Schiller Coach and Compete with Amateurs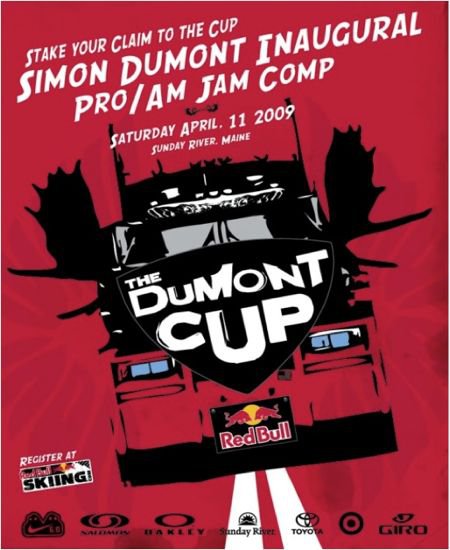 Newry, Maine - Simon Dumont will host the inaugural Pro/Am Jam Competition – "The Dumont Cup" – at his home mountain Sunday River in Maine on April 11, 2009. Professional skiers including TJ Schiller, Peter Olenick, Jossi Wells and Tom Wallisch along with Simon Dumont will mentor, compete alongside, as well as judge the amateurs as they compete on the original course designed by Dumont himself. Dumont broke the world record for highest air on a quarter pipe at Sunday River one year ago to the day of this competition.
Starting today, Amateurs throughout the country can register at http://www.redbullskiing.com for their chance to compete alongside the pros. It is an open registration with only 75 available spots for entries. Registration costs $65 and includes a lift ticket. The course will consist of slopestyle features that Simon has hand-selected to include in the three-hit run. It starts with a creative twist on a Table Top jump that flows right into a Quarter Pipe, and is followed up with a custom rail element. The contest will take place in the Rocking Chair Terrain Park near Barker Lodge.
"My main goal was to have a course that lets every style of skiing be showcased. Rails, big jumps, and obviously a large quarterpipe are key. I'm looking forward to seeing what people will do." says Simon Dumont about his brainchild event.
The Qualifiers will consist of a jam session from 9:30am to noon where the invited pro's will judge the amateurs on overall impression and select top ams to advance to the final round. The Pro's will also have the ability to refer to a panel of certified judges to help confirm any remaining slots in the finals. Throughout the qualifying session, pros will be on course skiing, interacting, and handing out passes to the 15 lucky ams that will eventually advance to the finals.
Midday, a rail jam will be open to all competitors from 2-3pm, and will then be followed immediately by the finals at 3pm. In the final round, both the pros and ams will be competing side-by-side (15 amateurs and 5 pros) in a
jam format and will start in a random drawn order with Simon going last each round. Certified judges will determine the top three overall winners, and a stand-out amateur will also be named.
$18,000 is up for grabs. The winner will walk away with $10K, second-place grabs $5K, and third-place will receive $3K. In addition, the top amateur will receive a one-week scholarship to Camp Woodward in Pennsylvania, an action sports camp and training facility.
Known for breaking records and going big in the process, Simon Dumont pushes the limits every time he drops in. Looked to as a leader in the relatively new world of freeskiing, Simon used his background in gymnastics to become a spectacular aerialist on two planks. Perhaps his most jaw-dropping feat was the world record air at his home mountain of Sunday River. In 2008, he launched 35.5 feet out of a 38-foot tall quarter pipe, throwing a corked 900 tail grab to boot. Add in a stack of X Games medals, you'll start to see what Simon is capable of—thrilling airs and progressive moves.
Sunday River is located minutes from picturesque Bethel Village in western Maine's Mahoosuc Mountains. A true four-season destination, the resort offers eight interconnected peaks of world class skiing and snowboarding, two Grand Resort Hotels and golf at the acclaimed Sunday River Golf Club. http://www.sundayriver.com or call 800-824-2SKI.