As of April 22nd, my ski season was officially over. That was the day I trudged through a foot of fresh snow in my driveway and made my way to the hospital for my scheduled ACL replacement. Although my season was cut shorter than I would like, I still had a great year! I learned so much, traveled to new places, and met a ton of awesome people along the way.My season started off in early October for the 5th Annual Jibassic Pro Invitational. Traditionally a rail jam, the JPI was a video contest for 2009. Myself and fellow Ed Hardy enthusiasts, Noah Curry, Dylan Curry, and Chris Horton teamed up to make an entry. We didn't win, probably didn't even come close, but we had a great time! My Friends a Bro: CHECK IT OUTJPI 5 2009 from chris horton on Vimeo.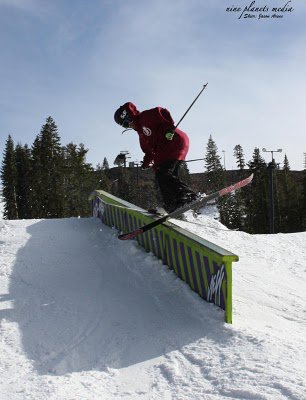 After JPI, the month consisted of shredding around Tahoe with all my buddies! It was great, easily the best early season times of my life! I didn't do a ton of filming, but here is a little rail edit from Boreal with David Stewart of Hidden Woods Media:HwMedia at Boreal: Dec. 5, 2009 from David Stewart on Vimeo.In early December, I finished college courses for the term, packed up, and began an adventure to Colorado with Kyle Smaine. The trip was awesome and I skied the best early season parks I could ever imagine. Breckenridge and Keystone were on top of everything! While in CO, I met up with the one and only Jason Badgley for a day of shooting photos at Keystone and we got some baller photos: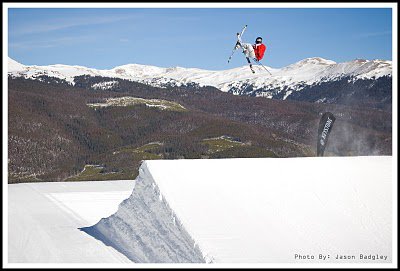 Kyle and I ventured back to Tahoe in time for the holidays. Over Christmas, I spent a little time riding Heavenly before the lure of skiing perfect Colorado parks drew me back to Breck. I had plans to stay in Colorado for a bit longer this time, but my trip was cut short when I overshot a jump and horribly tweaked my knee. I packed up my stuff and started the trip home to get my knee examimed. Continuing my streak of bad luck, my car broke down in the middle of nowhere, Nevada forcing me to hitchhike seventy miles and post up in Fallon, NV waiting for my car to be repaired. Thankfully, Lena Decrescenzo kept me company in a dirty motel and after two days, they fixed my vehicle and allowed me to return home.I spent the next two weeks sitting and waiting, trying to figure out what was wrong with my knee. I decided that regardless of the condition of my knee, I was going to compete in the Gatorade Free Flow Tour in Big Bear, CA. Visiting my doctor on the way out of town, I learned that my ACL was stretched and my meniscus didn't look great. Thankfully, he followed that up by telling me there wasn't much more damage I could do, and if skiing didn't hurt, I should finish the season.Despite apprehensions of skiing with an injured ACL, my confidence was back my first run on skis! I started off easy but within a few laps, decided to compete. It was a great day! Everyone from Tahoe skied well. Dylan placed 5th, Noah got 4th, and I ended up winning the event! I was genuinely hyped because the podium secured a spot in the Free Flow Finals.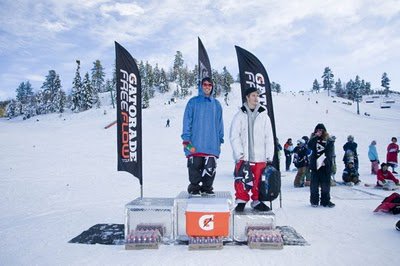 One of my goals for the season was to submit an entry to Level 1's Superunknown contest. I had almost no footage to this point, so I spent the last week before the deadline filming as much as possible with Martin Rubio of Tall Treez. I was super stoked to find out I had made Honorable mention with my video:After filming, I ventured to Mt. Snow, VT for the Free Flow Finals. From the beginning to the end, this trip was easily one of the best of my life. The contest was intense, and unfortunately our day of competition was especially windy and cold. Despite skiing well all day, I ended up violently crashing on my final fun and placing 3rd. From a baller athlete lounge to providing competitors with transportation from the airport, Gatorade made everything fun! With such a great turnout, I hope Gatorade continues the Free Flow Tour in 2011!Check that 3rd place!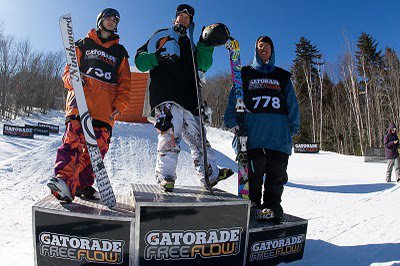 For the next month, I returned home to Tahoe to shred with my homies. Being home gave me the opportunity to ski with my best friends in parks that I call home.In early march, I returned to Big Bear for the War of the Rails Jam, hosted by Craig Coker and Micahel Olenick. Going back to Bear was fun, the park is an absolute blast, and the next day I got the chance to film with Mike Benson from Knife Show.In the end of March and beginning of April, I competed in competitions around Tahoe. First was the 4th Annual Buckle Up Big Air at Sierra at Tahoe. This year, the event was bigger and more fun than ever before! I had a great day and when all was said and done, placed 2nd.The secret to spinning well is using a grab to control the speed of your rotation. Tell a friend!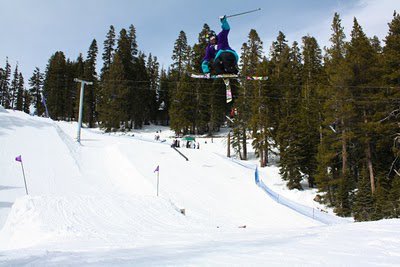 The next weekend was the Take the Lake competition at Alpine Meadows, the first open slope-style event in the Tahoe area. The event was great, the jumps were perfect, and everyone was throwing down! I ended up placing 3rd and was stoked because I received my first ever over sized novelty check! The Red Dawn Shop Battle was next on my agenda. Team Causwell was made up of myself, Noal Curry, Dylan Curry, and Salvador Rubio. We had a great time and our whole team did really well throughout the whole jam session. We ended up placing 3rd and got some really sweet prizes to share amongst our crew.The final weeks of my season were spent skiing and filming as much as possible. I learned so many tricks, and even tried my first dub flip, which I failed at miserably!The very end of my 09/10 season was spent skiing Sierra at Tahoe. I was as gypsy as anyone could ever imagine and at the end of the day my total front-flip tally was 111. It was a great way to finish my season!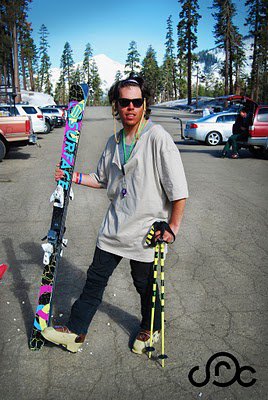 Currently, I am beginning a long recovery process of physical therapy. Over the next 6 months, I intend to strengthen my knee better than ever before. So far, it is going really well, and for once I am excited to spend the summer in the Tahoe area. The downside, of course, is that I will not be in Mt. Hood working at Windells, which truly is the "funnest place on earth"! If all goes well, I should be 100% by next season, ready to start a new winter of adventures.Thanks for checking out my update and be sure to look out for my segment in Tall Treez 2010 release "The Lion's Den"- Jason Arens
var gaJsHost = (("https:" == document.location.protocol) ? "https://ssl." : "http://www.");
document.write(unescape("%3Cscript src='" + gaJsHost + "google-analytics.com/ga.js' type='text/javascript'%3E%3C/script%3E"));
try {
var pageTracker = _gat._getTracker("UA-16248534-1");
pageTracker._trackPageview();
} catch(err) {}