words and photos by Ethan Stone
video by Cameron Fair
Bend, Oregon is one of the fastest-growing cities in the United States, due in large part to the incredible wilderness areas it's in close proximity to, like Smith Rock State Park (a world-famous rock climbing destination), the pristine Oregon high desert, the scenic Deschutes River and of course Mt. Bachelor. At the same time, a massive influx of freshly rich and trendy 30-somethings driving Mercedes SUVs are slowly but steadily changing the dynamics of this once-secret outdoor paradise. The message is clear: if you're young, hip, monied, enjoy the outdoors so you can show off your brand-new gear, and ready to break into "the scene," don't come here, because there's already ten thousand of you here ruining it for the rest of us.
Nevertheless, Bend's populace is down with eXXXtreme snow sports and down with having a good time, and the U.S. Cellular Winterfest Rail Jam held downtown last month offered up plenty of both.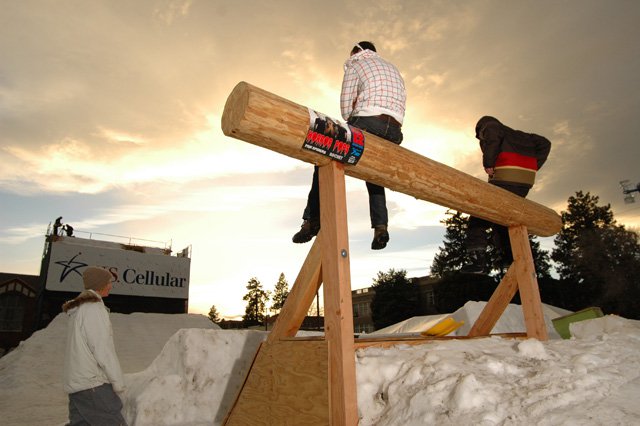 I heard about the dope set-up planned for the rail jam in the Oregon forum and decided to check it out for myself. I pulled into town Friday after snagging some turns at Mt. Hood Ski Bowl, which just so happened to be along the drive. I'm torn between honesty and sweet, sweet lies right now, because I could tell you that Ski Bowl is really great, or I could tell you that it sucks and you should never go there. I'll just compromise by saying "it's all right," and bank on the fact that most of you will never end up going there anyway. Problem solved.
Anyway, I got into Bend on Friday night and found my way to the Winterfest grounds just in time to watch the end of the snowboard jam finals (snowboarders dropped Friday, skiers Saturday). The first thing that caught my eye coming down the street was a big scaffolding sticking up a few stories higher than everything else. Two words: bomb drop.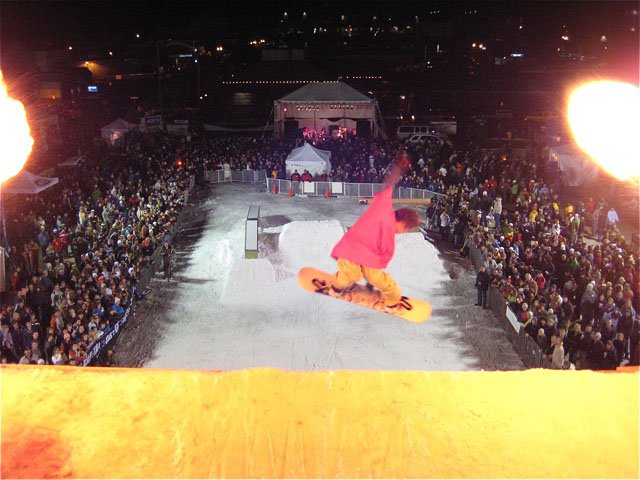 Photo: Pete Alport
As you can see, this was not your typical rail jam. But let's skip ahead to the skiing. After a nice half-day at Bachelor I came back to Winterfest on Saturday afternoon to catch the event preparations. Most of the guys who would be dropping were hard at work throwing snow, with a lot of attention being paid to the in-run and landing of the scaffolding drop. You know the job's going to get done right when the guys doing the shoveling are the same ones skiing it later.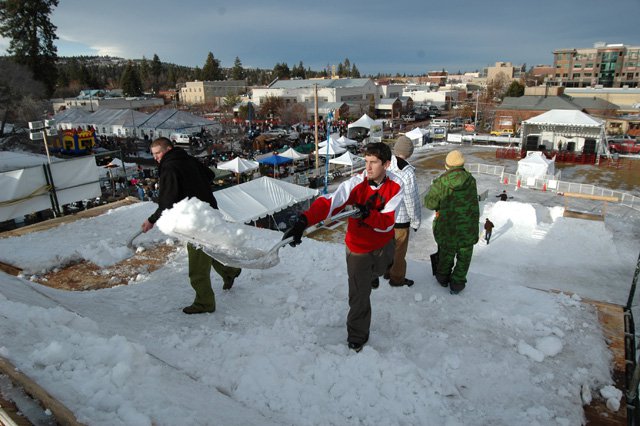 Down below, speed from the drop was to be carried into the rider's choice of a box gap, log bonk or a small kicker with super lip, great for inverts or off-axis antics. The features were designed by Pete Alport, the guy responsible for the Rage Films Booters Ball sessions at Mt. Shasta, as well as the Poor Boyz shoot at Schweitzer in Idaho last year. Pete knows how to make an event like this go down, and he's also a great guy to have on your side in a rumble.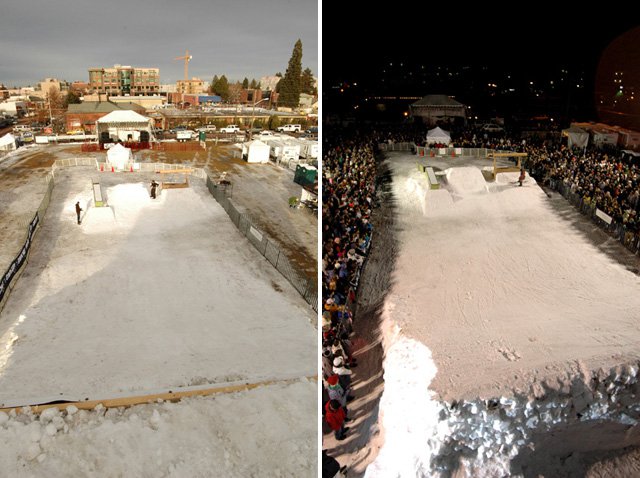 As it is wont to do, the sun went down, and as they are wont to do, people looked up, said "Wow, bright lights, let's go drink some beer" and poured out in force to watch the jam. In what seemed like no time, the spectator areas were jam-packed. The Deschutes flowed, the cameras rolled and the skiers started dropping.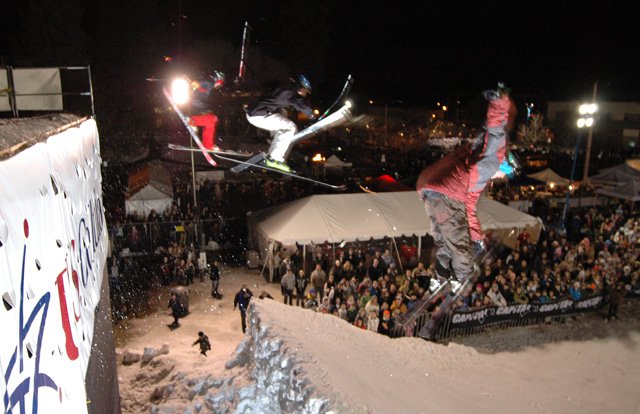 With a wide drop-in platform and three clear lanes below, the stage was set for some teamwork and showmanship. Regular group drops kept the crowd and the riders stoked as they slowly brought out their best tricks.
A crew from Warren Miller happened to be in town documenting "the scene" I mentioned above, and they were nice enough to let me up in their cherrypicker to snag this angle. Nice to know that someone's got the budget to show up to a rail jam with a boom lift!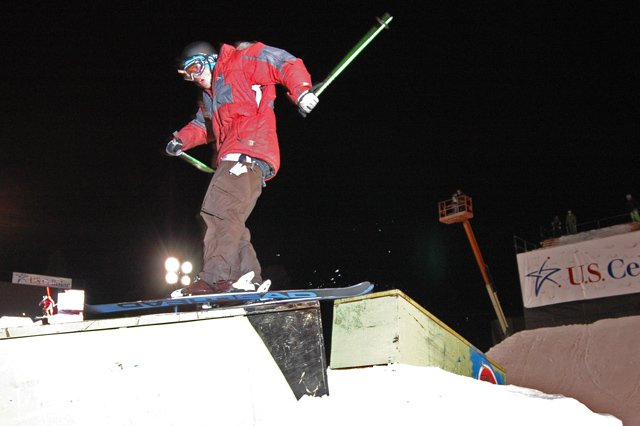 I had met this guy Travis in the park up at Bachelor during the day, and only found out at the rail jam that he's Tim Durtschi's little brother. Yep, I guess it's true, the whole Durtschi family (including sister Erica) has got some mad ski skills.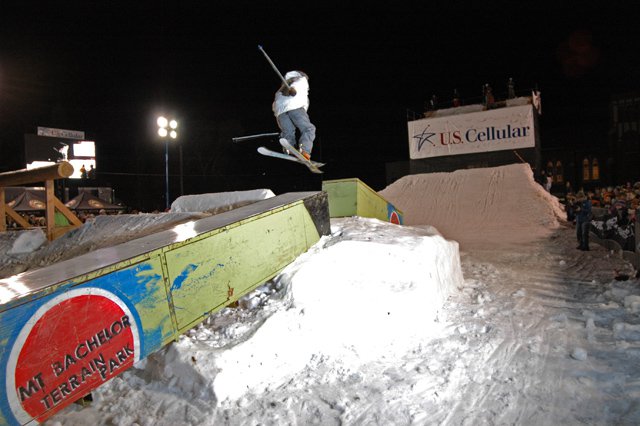 More action on the box gap: BS switch-up from The Unknown Jibber. First person to name him correctly in the credits and then pester me with NS messages gets a free VHS ski classic from my collection and NS stickers if I can find any.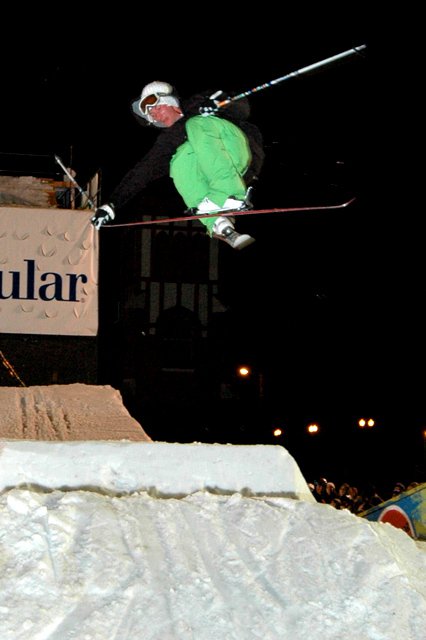 Mark Devorak quickly stood out with clean 360s off the drop-in and tweaked 540 nose mutes over the kicker. He was one of the first to figure out how to spin off this near-vertical booter.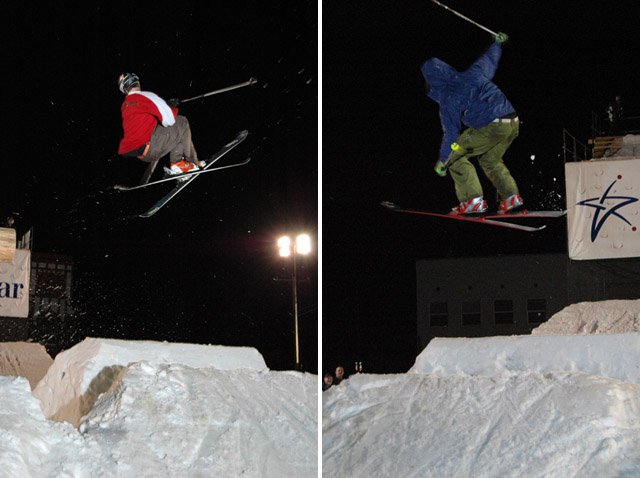 Meanwhile, Dewey Stanzack (left), who told me earlier, "I'm 25, I shouldn't be doing this anymore" was busy givin'er with 720 hucks on the kicker. The guy on tele-skis, on the other hand, was having some serious issues riding out of the bomb drop, but kept bravely sending it until he stomped it, following up with this 360. Way to hold it down for the freeheelers buddy!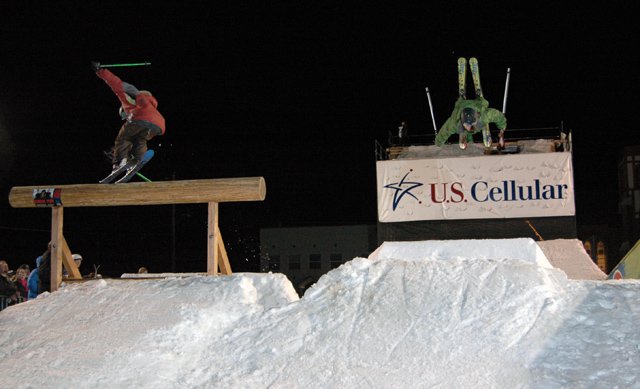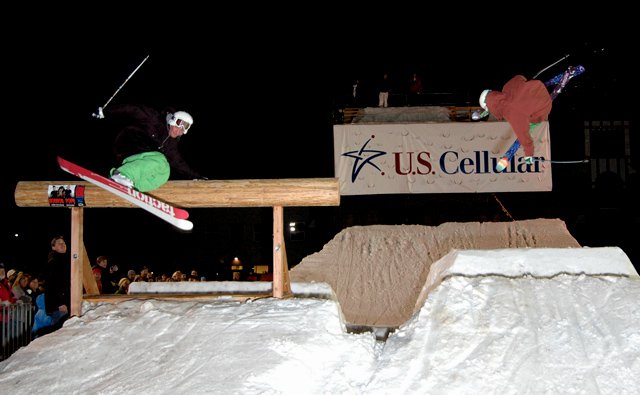 All the while, the doubles and triples action continued. First picture: 13-year-old Lucas Wachs flips while Trav Durtschi 180 bonks the log; second picture, Devorak hand drag, Dan Bruton flat 5.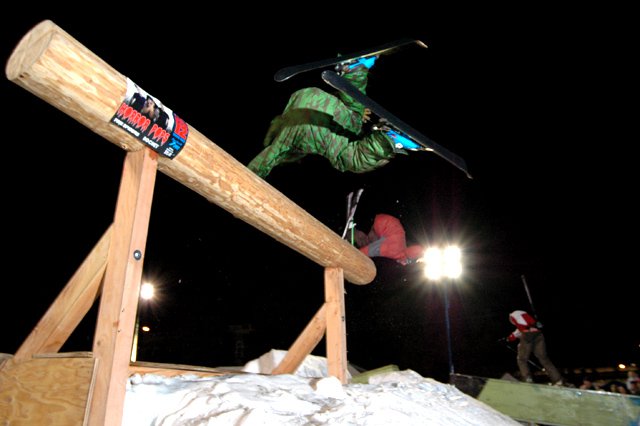 Young Lucas Wachs had by far the best handplants on the log for the night, and I was stoked to get this shot of him. I was even more stoked when I realized that there were two more skiers in the frame!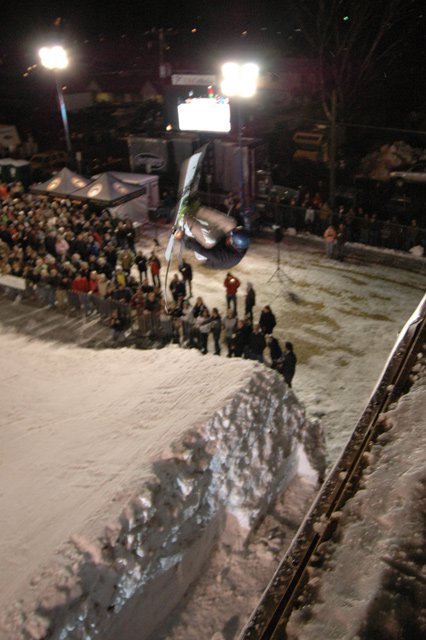 Just before the initial jam period was up, Jon Lang spent a good minute up on the scaffold thinking about all the good things in life he'd miss if the trick he had in mind didn't work out; then he dropped in, to the crowd's roaring approval, with a front flip!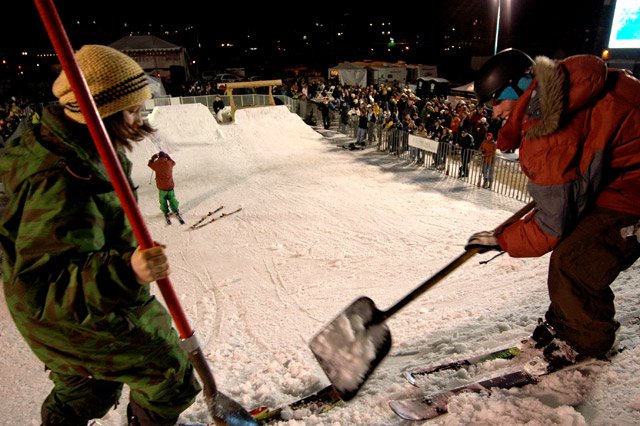 After an intense 45-minute session, a break was had while riders filled in holes in the landings and the judges debated which five skiers would make it to the finals. Finally the word came out: Dan Bruton, Lucas Wachs, Travis Durtschi, Jon Lang and Taylor Garbutt were going back up.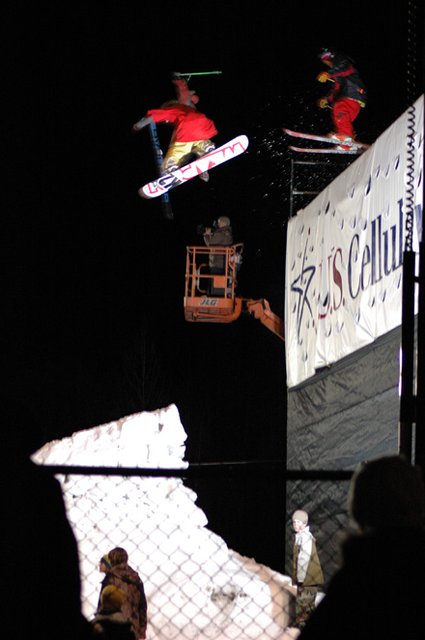 As the finals began, a lone snowboarder from Friday night's session joined the skiers. Homie must have been hungry for more!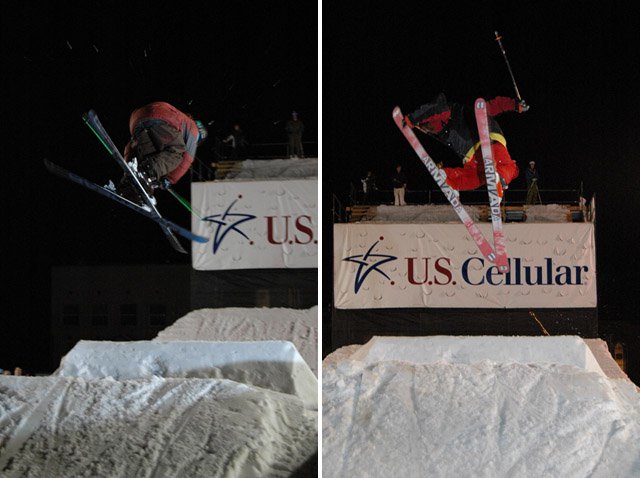 Despite some inevitable fatigue from absorbing drop after drop, the riders kept it up through the finals with all kinds of spins on the kicker and jibtastic dance moves on the log and box. I wish I could list more tricks for you, but it's hard to keep track of everything when you're watching an event through a camera lens.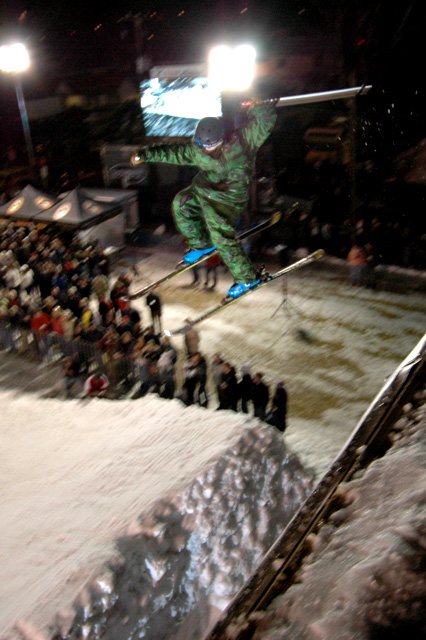 Lucas Wachs had been one of the first to drop with a 180 and he threw down a few more good-looking ones in the final. Meanwhile, Jon Lang's front flip had emboldened the other riders, who started to spin off the scaffolding with 360s, 540s... and I even saw one 720 attempt. Didn't see if he landed it, but it sure as hell didn't look like it!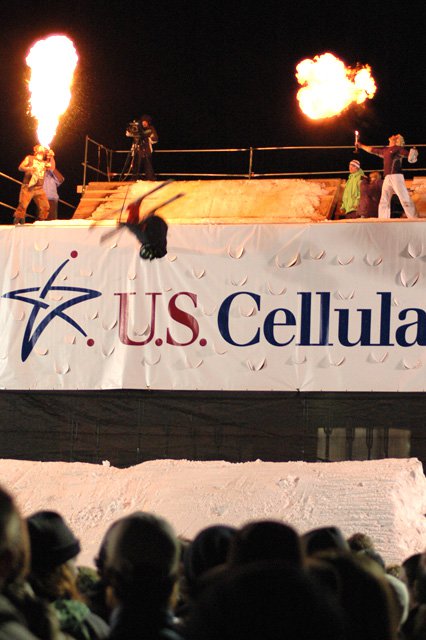 But by far the most impressive drop was Taylor Garbutt's lincoln loops. It took him a few tries to get it dialed, but when he did, he stomped it into a backflip on the kicker and ended up winning himself 500 bones and the Winterfest Rail Jam trophy!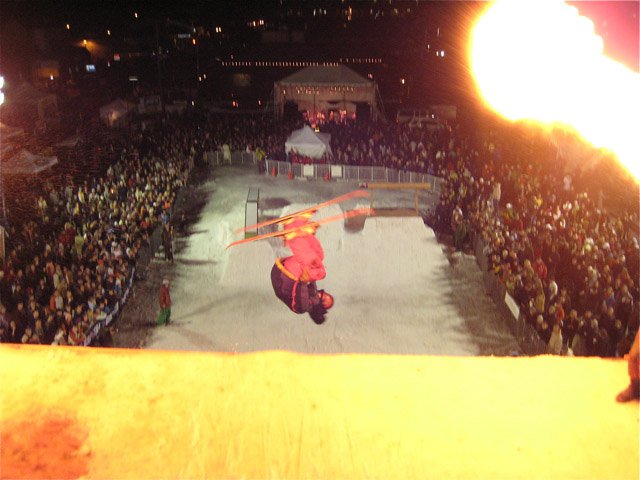 Photo: Pete Alport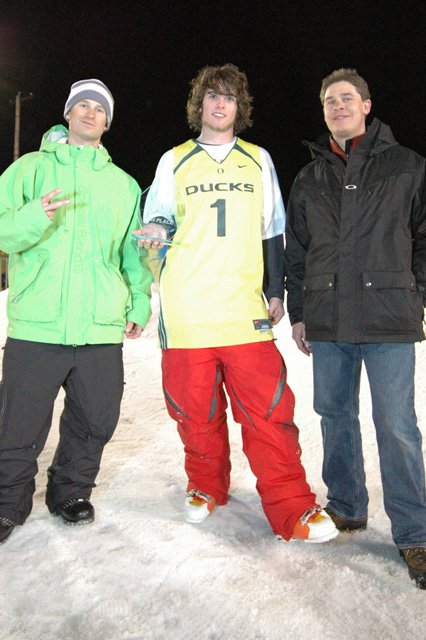 Taylor with the event organizers, Pete Alport (left) and Blake Lundstrom (right).
That was it for the 2008 Bend Winterfest Rail Jam; hope to see you there next year, as long as you're not driving a Mercedes SUV!