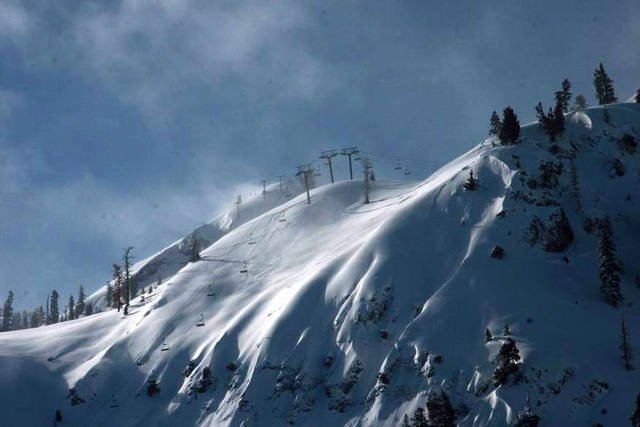 Location: Squaw Valley, CAIt's late February, and press releases are dumping into the Newschoolers mailboxes like the snowflakes that are pummeling ski slopes from California to the Alps. If a press release for your resort isn't included, post your local snowfall in the comments! Here in Oregon we've got a few feet of fresh already, and more on the way!- kamikazeSnow Alert: Squaw Valley Receives 7 Feet of Snow in 5
Days
[Squaw
Valley USA] February 27, 2007- The second cold
storm in five days left 56 inches of fresh snow on Squaw Valley USA.
The forecast calls for snow continuing to fall through the night
tonight, and into Wednesday morning. The National Atmospheric &
Oceanic Administration (NOAA) reports, "Very cold air associated
with this system is helping to keep the air mass extremely unstable
over the region. The instability is also helping to intensify
snowfall rates . . . This combined with the cyclonic flow and speed
shear just north of the jet will help to increase snowfall rate this
evening." In layman's terms: this storm will continue to bring
light, delicious powder to Squaw Valley's slopes.
• The
storm total to date is 83 inches or 7 FEET of fresh snow since
Thursday, February 22.
• After
a clear day on Saturday, a second (even stronger) storm cycle came
from the north. Snow has been falling at a rate of 1-2 inches per
hour since Sunday, February 25, blanketing Squaw Valley with an
additional 5 FEET of snow.
• To
date this season, Squaw Valley USA has received 257 inches or over
21 ½ feet of snow on the upper mountain. Current base depths measure
112-146" inches on the upper elevations.
• For
the most up-to-date resort conditions, operations schedules, holiday
events and live mountain cams, visit Squaw Valley's web site at
http://www.squaw.com or call 530-583-6955.
• To
take advantage of the world's best ski and snowboard conditions
schedule your trip now! Call Squaw Valley Central Reservations for
lodging and lift ticket packages at 866-366-7261.Winter Returns to European Ski
Resorts
Heavy snow falls in the
Alps
 
After a variable start to
the winter season ski resorts across Europe have been blanketed with snow and more is predicted
to fall this week.
 
Snow started falling at the
beginning of last weekend and large amounts of snow have fallen across European
resorts. Chamonix has reported nearly a metre
of new snow since the start of the weekend and many other French and Swiss
resorts including La Plagne, Val
d'Isère, Courchevel, Verbier and Wengen have reported similar
levels. Austrian and Italian resorts haven't missed out either with fresh snow
in most areas.
 
More snow is forecast this
week with Val Thorens expecting up
to 44cm, Les Arcs 42cm, Alpe d'Huez 52cm and Chamonix 50cm. Verbier in Switzerland has 48cm predicted and Davos 43cm. In
Austria Obergurgl has 32cm predicted
and 27cm is predicted in the Italian
resort of Cervinia.
 
The Ski Club rep in
Argentière described the current snow conditions: "There is so much new snow in
Argentière; we are skiing thigh-deep powder in places with some fantastic tree
skiing. This much snow should ensure a good base for the rest of the
season."
Bringing snow
reporting right up to date, a Snow
Podcast is now available on the Ski Club of Great Britain's internet TV
channel http://www.skiTV.co.uk offering a
round up of latest snow conditions. The Snow Podcast is also available to
download from http://www.skiclub.co.uk and iTunes.
The Ski Club of
Great Britain's website http://www.skiclub.co.uk also has
daily snow reports and weather forecasts covering 250 resorts, detailed reports
from reps in 42 major resorts worldwide and twice-weekly snow overviews updated
every Monday and Thursday. The reports provide the most up to date and accurate
snow information on the internet.
The Ski Club also
offers a text message service where snow reports are sent directly to a mobile
phone as an SMS. The reports are also available on a phone
line.*
In resorts
where a large amount of snow has fallen there will be an increased avalanche
risk. The Ski Club's advice when skiing off-piste to always
take a shovel, transceiver and probe and always ski with a
partner, take heed of local advice and do not venture off the
piste without appraising the avalanche hazard sensibly. For more information on
avalanche safety visit http://www.skiclub.co.ukHeavenly
receives Two Feet of new snow!WHO: Heavenly Mountain
Resort
WHAT: Snows Return to Tahoe
- Heavenly Receives Two Feet of Fresh Snow
WHERE: Heavenly Mountain
Resort, South Lake Tahoe, Calif./Nev.
WHEN: Friday, February 23,
2007
SUMMARY: After one
of the driest Januarys on record, skiers and riders are rejoicing after
Heavenly records up to thirty inches of new snow. This new snow gives
Heavenly excellent ski and ride conditions, and has increased the snow
base to 62 to 82 inches. Heavenly now has all 29 of its lifts open and
has 85 open trails. The recent storms have enabled Heavenly to open
additional entrance gates into the expert area of Killebrew Canyon.
It snowed the entire day yesterday,
Thursday, February 22, 2007, and the skies have cleared today during
a break in the storm system predicted to continue through next Tuesday.
This storm should set Heavenly up as one of the top snowsports destination
for the rest of the season. For fresh video, mountain snapshots, conditions
and vacation packages, go to http://www.skiheavenly.com. NEARLY THREE FEET OF FRESH SNOW FALLS AT MAMMOTHMAMMOTH MOUNTAIN, CA – A winter storm slammed Mammoth Mountain, Calif., and dropped nearly three feet of fresh snow on the ski resort over the weekend. More than five feet of snow
fell at the top of the mountain. Skiers and snowboarders, along with
resort operators are rejoicing after a relatively dry start to the
winter.This was the biggest storm to hit Mammoth this season and at times snow
fell at a rate of more than an inch an hour. The tropical storm system
that moved through bodes well for Mammoth because of the resort's high
elevation, where temperatures are cooler. With a summit at 11,053 feet,
Mammoth is the highest resort in California.Mammoth Mountain is now reporting a base depth of 3-5 feet of powder, packed powder and machine groomed snow. The new snow helped get the Mountain in great shape for the upcoming holiday weekend. Mammoth has received a total of 114 inches of snow this season and more snow is in the forecast. For up-to-the minute information on snow conditions and weather, visit MammothMountain.com or call 888.SNOW.RPT.Mammoth
Mountain Ski Area is the leading four-season mountain resort in
California. The company owns and operates Mammoth Mountain Ski Area,
June Mountain, Tamarack Lodge and Resort, Mammoth Snowmobile
Adventures, Mammoth Mountain Bike Park, Mammoth Mountain Inn and also
operates Juniper Springs Resort, the Village at Mammoth, and Sierra
Star Golf Club in Mammoth Lakes, California. For more information on
Mammoth Mountain, visit MammothMountain.com or call 800.MAMMOTH.OKEMO RECORDS BIGGEST DAY IN SKI RESORT'S
HISTORY
LUDLOW, Vt. – In a year when winter arrived late and skier
visits have been down all across the Northeast, Okemo Mountain
Resort has seen a remarkable turnaround in business levels and
recorded its biggest day in the 51-year history of the resort.
Sunday, February 18, saw skier visits 10 percent ahead of the
same day last year and 2.2 percent better than the best day on
record. The record was previously set on February 20, 2005, also on
the Sunday of President's Day Weekend. Prior to the Valentine's Day
snowstorm that dropped more than two feet of powder on the southern
Vermont resort, nearly 90 percent of Okemo's terrain was open,
thanks to snowmaking efforts that created a snow base of up to 30
inches. On the day following the storm, Okemo was 100 percent
open.
"It's amazing what a snowstorm leading up to a three-day holiday
weekend can bring when it doesn't affect travel," says Okemo
Director of Marketing Scott Clarkson. "A lot of pent up demand was
released in the marketplace and Okemo's reputation for optimal
conditions made it a destination of choice this week."
In reviewing skier visits for entire week that included the
President's Day weekend, Okemo was 11 percent ahead of the same
period last year.
Resort areas that saw the greatest increase in participation
over the three-day weekend were ski and snowboard lessons – up
eight percent over last year, and daycare – up 16 percent. Snow
tubing, a new offering at Okemo, has been very well received with
participation exceeding expectations. Additional activities that
visitors have been enjoying are ice skating at Jackson Gore's new
Ice House, horse-drawn wagon rides, swimming at the new Spring
House fitness and aquatic center, Nordic skiing, snowshoeing, spa
services, and more.
More information about Okemo Mountain Resort may be obtained by
calling (802) 228-1600 or by visiting okemo.com.