Words by Victoria Murray
Some of the world's top freeskiers and snowboarders took part in the ultimate battle at the Queenstown Resort College Big Air today on the final day of the 100% Pure New Zealand Winter Games at Coronet Peak.
Despite high winds and rain, the crowds packed out the Coronet Peak deck to watch local freeskier names such as Jossi Wells and Beau-James Wells dominate the monster 85ft kicker, but it was 18-year-old Bobby Brown from the USA who struck gold with a double-cork 1080 mute, landing him an impressive 83.33 points.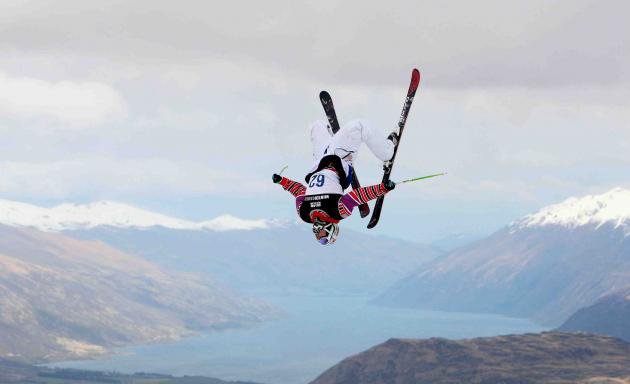 Bobby Brown. photo: Cameron Spencer/Getty Images
"The jump was just perfect for me, I really enjoyed it," he said. "The landing was soft and slushy, which made it difficult for some of the guys but you just have to make the most of it and I had a lot of fun. I'll be heading back to Colorado very happy to have won."
Head freeski judge Phil Larose said he was impressed with how the skiers battled the conditions.
"The weather was the big issue with only the 'braves' wanting to jump - it's a risky game and it was scary seeing some of the riders overshoot due to the high winds. Because of the conditions none of the riders reached their full potential but Bobby Brown stole the show with his double cork 1080 mute," he said.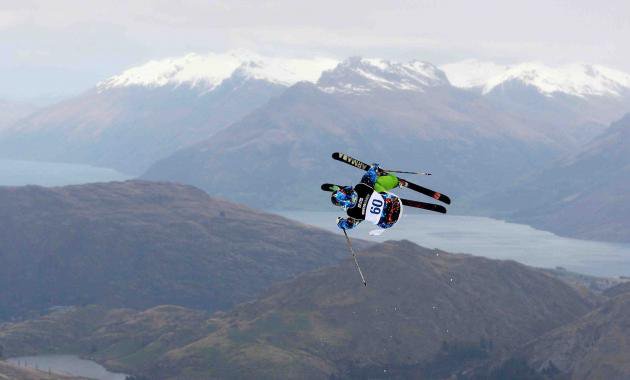 Kim Boberg. photo: Cameron Spencer/Getty Images
Second place went to Sweden's Kim Boberg who scored a total 74.67 points and in third place was local Byron Wells on 71.60 points. Crowds also went wild for 13-year-old Beau-James Wells and older brother Jossi Wells from Wanaka, with spectators filling out the restaurant and deck to catch the action.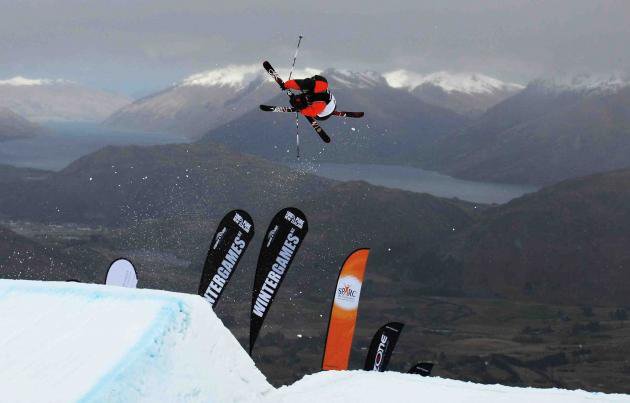 Jossi Wells. photo: Cameron Spencer/Getty Images
Jacob McLeary, a freeski judge, was impressed with how well the riders performed.
"The riders were nervous at the start but in the end everyone enjoyed themselves and threw down some pretty big tricks. Bobby Brown was stand out and didn't let the conditions get to him. It was testament to the high level of these athletes that they could still throw down very technical tricks, including double corks which are relatively new to the sport and not often seen in New Zealand."
The women's competitions in both freeski and snowboarding were unable to run due to weather.
Chris Schuster, Big Air Manager, helped make sure the riding conditions were as controlled as possible.
"It was disappointing we had to make adjustments to the start list as conditions were far from perfect. The riders, both skiers and snowboarders, made the best out of the conditions but were limited to what they could do," he said.
"Working with Winter Games NZ has been great for a first-time event, helping get it off the ground - I'd be very excited to get involved again in the future."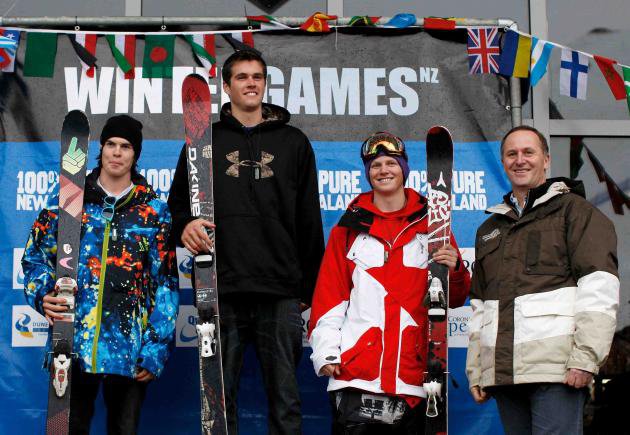 Kim Boberg (2nd), Bobby Brown (1st), Byron Wells (3rd). photo: Hannah Johnston/Getty Images
Men's Results
1) Bobby Brown - 83.3
2) Kim Boberg - 74.67
3) Byron Wells - 71
4) Taylor King - 67
5) Elias Ambühl - 65
6) Matt Soundy - 51.33
7) Harry Pettit - 39.33
8) Jossi Wells - 32
9) Beau-James Wells - 23