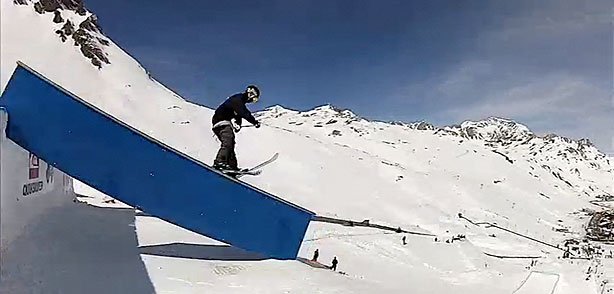 With the Winter X Games Europe right around the corner and everyone in Tignes cleaning the place up for the arrival of the world's best, I thought it might be a good idea to take a look at what we have in store.
The superpipe is well underway already with the riders testing it out as much as possible. Practice was underway today so here's a video from Mike Riddle as he strapped on a headcam and took us along for the ride.
So practice day for halfpipe was well underway and that didn't mean that we wouldn't see any slopestyle practice. The slopestyle course is slightly different to other years. There's no dog leg that slowed the skiers down, no cannon rails/boxes and no long gaps between features. It's been cut down to size and it looks pretty good! First up on the course is a triple threat with a twin flat to down rails, sandwiching a flat box. Then it's in to a two part rail feature before you make it into a triple jump line. By this time you'll need the course to finish but not before the final rail feature of either a flat down rail or a rainbow rail.
X-games Training SlopeStyle – Riding News X-Games
CoreUpt: Winter X Games Europe presentation
Related posts:Winter X Games Europe 2012: First riders announced The first announced names for the Winter X Games Europe...
Winter X Games 16: Slopestyle preview Here's a nice selection of videos with Nick Goepper, Joss...
Winter X Games Europe: Men's Superpipe Finals Highlights from the men's superpipe finals at the European X...