Photos by John Vandervalk
The first stop of the second annual Winter Dew Tour kicks off today in Breckenridge, Colorado with the Ski Superpipe Open Qualifier at 1pm MST.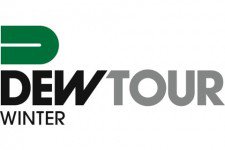 One of the strongest fields in the history of competitive freeskiing has descended on Summit County for what will surely be one of the most exciting events of the 09/10 ski season, and will undoubtedly set the tone for this winter's intense competition circuit.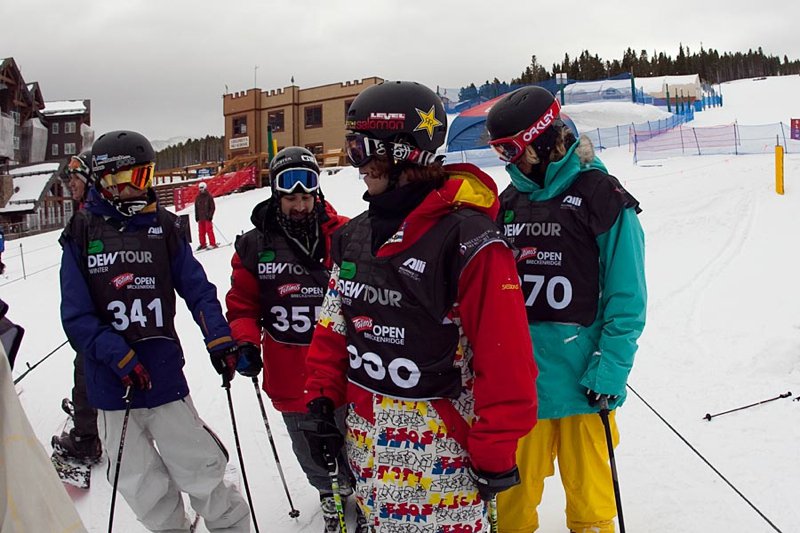 The boys have been training hard for the past few weeks in Copper Mountain's superpipe and Keystone's Area 51 terrain park to get ready for the big show, and earlier today the Dew Tour course at Breck officially opened for practice. And to say that everyone was going off would be an understatement larger than the oversized novelty cheques that six lucky skiers will be holding by the end of the weekend.
AJ Kemppainen
According to numerous onlookers, Kevin Rolland and David Wise may just be the guys to beat in pipe on Saturday night, as both are throwing numerous and back-to-back doubles with grabs and amplitude, along with more spins than a washing machine.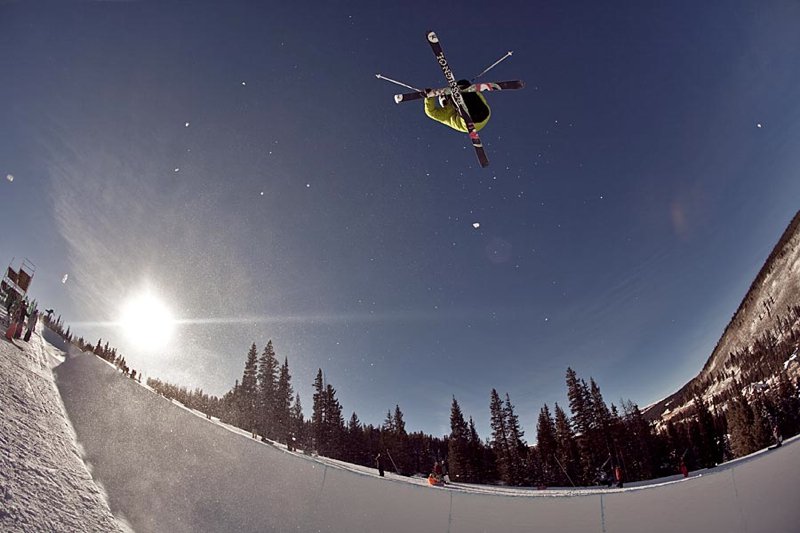 Kevin Rolland...mid double cork 12.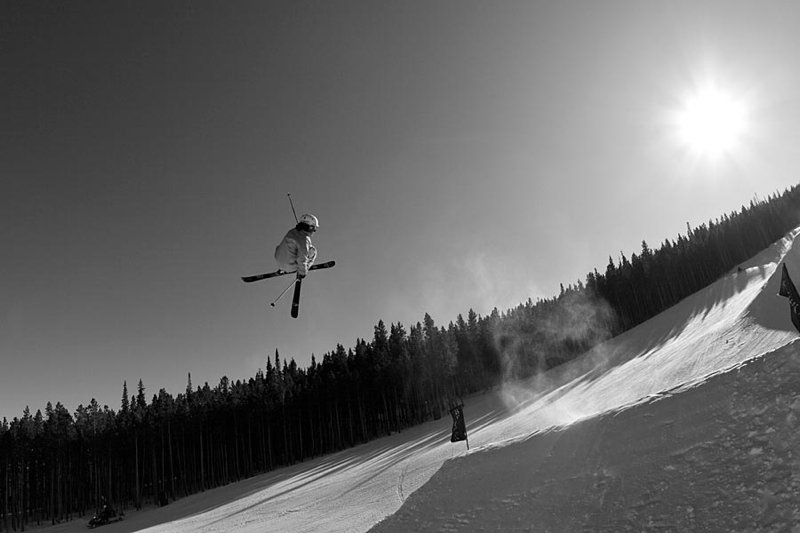 David Wise, taking a break from the pipe to get his licks in on the slopestyle course.
And speaking of slopestyle, it seems next to impossible to predict who will top the podium on Sunday afternoon, as everyone who will be in the start gate has been giving it their all in preparation, which has been highlighted by early and exciting standout performances in practice by the likes of Bobby Brown, Elias Ambuhl, Tom Wallisch, Russ Henshaw and Matt Margetts, who on top of slaying the stunt ditch threw down three doubles in a row on the slopestyle course today.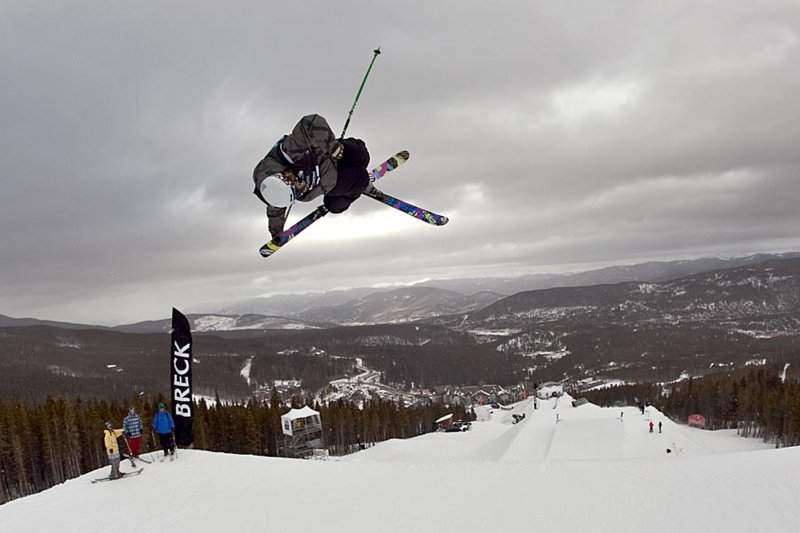 Banks Gilberti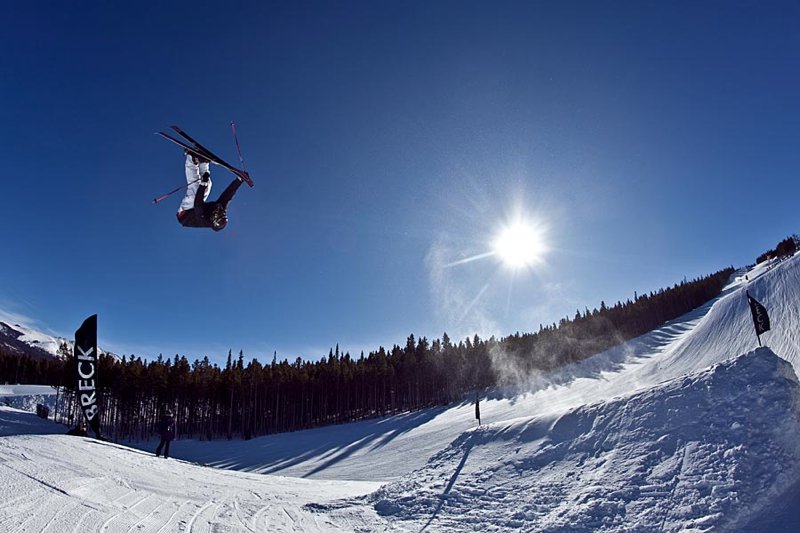 Bobby Brown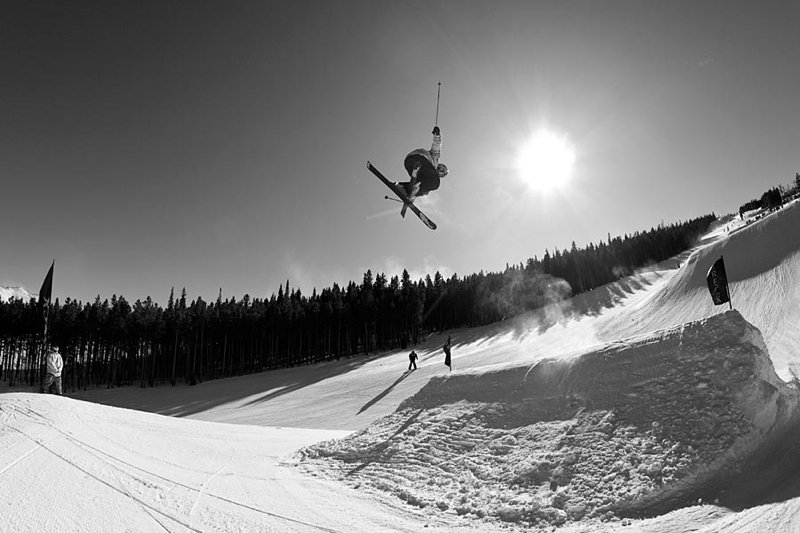 Russ Henshaw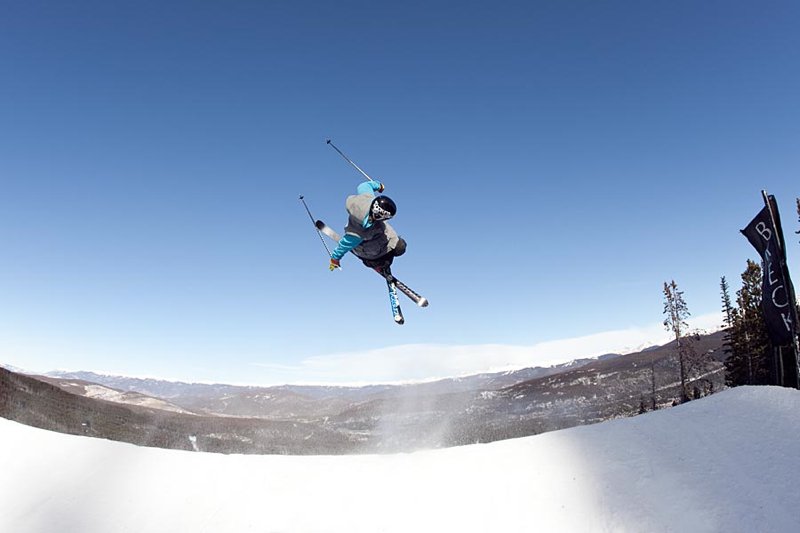 Matt Margetts
In the end though, it appears as though it will truly be anyone's game, and although it's more than uncertain who will be victorious this weekend, it's without a shadow of a doubt that it will be one hell of a thing to watch.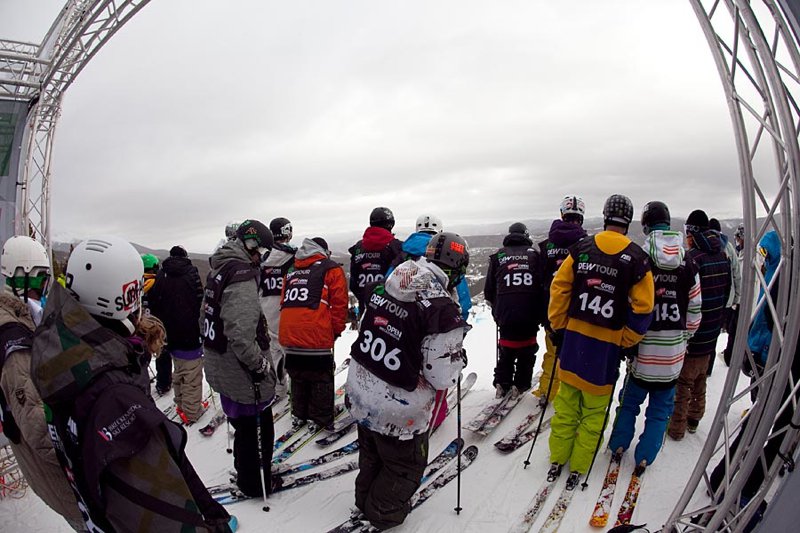 To further prove that point, here's the extensive and impressive list of skiers who will be competing this weekend in Breckenridge...
Ski Superpipe Open Qualifer Athletes
Brent Abrams
Colby Albino
Christian Allen
Kris Atkinson
Noah Bowman
Bobby Brown
Joss Christensen
Michael Clarke
Ian Cosco
Matt Duhamel
Karl Fostvedt
Banks Gilberti
Mitch Gilman
Rob Heule
Scott Hibbert
Erik Hughes
Gus Kenworthy
Brian Kish
Thomas Krief
Marshall LaCroix
John Leonard
James Machon
Dan Marion
Jon Marks
Mike Mertion
David Oliver
JL Ratchel
Cristhian Ravelo
Guillaume Sbrava
Cam Schuster
Evan Schwartz
Andre Simonpietri
Kyle Smaine
JP Solberg
Isao Sonehara
Derek Spong
Geoff Straight
John Strenio
Jack Sullan
Kiyoshi Terada
Parker Thomson III
Benoit Valentin
Corey Vanular
Jeremie Veilleux
Evan Walls
Kolby Ward
Brett Weiss
Beau-James Wells
Hans Wiener
David Wise
Walter Wood
Ski Superpipe Pre-Qualifed Athletes
Duncan Adams
Xavier Bertoni
Justin Dorey
Simon Dumont
AJ Kemppainen
Matt Margetts
Peter Olenick
Tucker Perkins
Tyler Peterson
Mike Riddle
Kevin Rolland
Taylor Seaton
Lyndon Sheehan
Byron Wells
Jossi Wells
Colby West
Ski Slopestyle Open Qualifer Athletes
Colby Albino
Andri Ambuhl
Elias Ambuhl
Aleksander Aurdal
Adam Battersby
Xavier Bertoni
Josh Bibby
Kim Boberg
Willis Brown
Joss Christensen
Michael Clarke
Ian Cosco
Ahmet Dadali
Sean Decker
Adam Delorme
Taylor Felton
PC Fosse
Karl Fostvedt
Fridtjof Fredricsson
Vincent Gagnier
Banks Gilberti
Nick Goepper
Patt Goodnough
Oscar Harlaut
Elvis Harsheim
Erik Hughes
Pekka Hyysalo
Gus Kenworthy
Marshall LaCroix
Chris Laker
Charlie Lasser
Sean Logan
Matt Margetts
Benedikt Mayr
Luke Nutting
Peter Olenick
Tucker Perkins
Tosh Peters
Tyler Peterson
Kevin Rolland
Grant Savidge
Alex Schlopy
John Spriggs
John Strenio
Dale Talkington
Dane Tudor
Corey Vanular
Kolby Ward
Beau-James Wells
Byron Wells
Jacob Wester
McRae Williams
David Wise
Walter Wood
Ski Slopestyle Pre-Qualified Athletes
Anders Backe
Bobby Brown
Sammy Carlson
Phil Casabon
Simon Dumont
Charles Gagnier
Alexis Godbout
Andreas Håtveit
Russ Henshaw
JF Houle
Sean Jordan
AJ Kemppainen
Nick Martini
Mike Riddle
Oscar Scherlin
TJ Schiller
Derek Spong
Tom Wallisch
Jossi Wells
Colby West
Newschoolers is on the scene at Breck, and will be providing you with daily coverage of the first big contest of the year, so be sure to stick with us over the weekend for all the goods. And if you're lucky enough to be in Breck and are planning on checking out all the madness live and in person, here's the schedule of events on the ski side of things that will be going down this weekend in a big, big way...
Thursday, December 17th
Ski Superpipe Open Qualifier - 1:00pm – 4:00pm
Friday, December 18th
Ski Slopestyle Open Qualifier - 9:00am – 12:30pm
Ski Superpipe Prelims - 4:00pm – 5:30pm
Saturday, December 19th
Ski Slopestyle Prelims - 2:00pm – 4:00pm
Ski Superpipe Final - 5:30pm – 6:30pm
Sunday, December 20th
Ski Slopestyle Final - 10:30am – 12:00pm
*All times are MST
And if you happen to have the USA Network, you can check everything out on TV from the comfort of your living room after it happens at the following times...
Saturday, Dec. 19 – Ski Superpipe Finals – 9pm - 10pm PST/Midnight - 1am EST on the USA Network
Sunday, Dec. 20 – Ski Slopestyle Finals – 11pm - Midnight PST/2am - 3am EST on the USA Network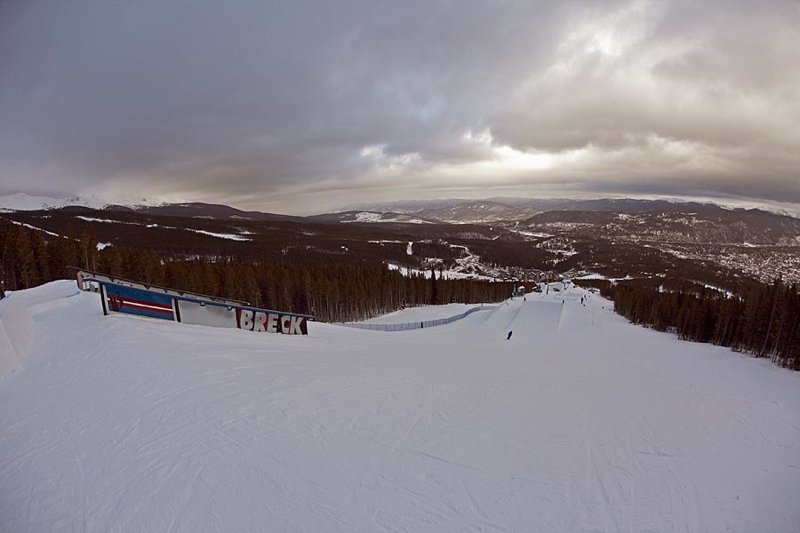 On behalf of everyone at NS, good luck to all the boys competing this weekend, and be sure to keep checking back with us for up to date coverage on anything and everything that's going down at the first stop of the second annual Winter Dew Tour.