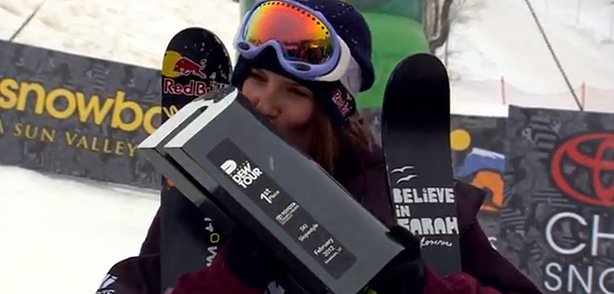 Nick Goepper went and won the men's slopestyle with Tom Wallisch gaining the overall title, but Kaya didn't want to do it like that. She wanted to win the day's event AND win the overall title. She did it and she did it well.
"It felt really awesome to hold on to the lead and win the Dew Cup,? said Turski. ?All the girls are really skiing very well these days. The level is definitely being pushed. It's really exciting when you're up there dropping in. You know you have to bring your A-game."
It was her third straight top spot this season after winning in Killington and Aspen (Winter X Games). Her winning run consisted of a switch 270 to back switch up on the flat-down box, back switch up on the up-down rail, back 450 off the cannon box. On the kickers it was a perfect switch 720 and switch 540 on the jumps.
Anna Segal held her own to grab second place after a run of back to back 720s on the kickers. Devin Logan completed the podium with a switch 540 and corked 720 tail grab.
Women?s Slopestyle Final Results:
1. Kaya Turski – 93.75?2
2. Anna Segal – 90.75?3
3. Devin Logan – 89.00?4
4. Emilia Wint – 82.00?5
5. Keri Herman – 77.00?6
6. Ashley Battersby - 71.75
Devin Logan's third place kept her in the running for the overall cup win but she fell short by 28 points as Kaya secured the crown for herself. Will she manage to keep a hold of it when next year's comp comes around?
Women's Final Dew Cup Standings:?
1. Kaya Turski – 200?2
2. Devin Logan – 172?3
3. Emilia Wint – 158?4
4. Keri Herman – 136?5
5. Dara Howell – 132?6
6. Ashley Battersby – 128?7
7. Emma Dahlstrom – 124?8
8. Eveline Bhend – 113?9
9. Rose Battersby – 93?10
10. Anna Segal – 90
Related posts:Winter X Games 16: Kaya Turski three-peats! Kaya Turski became the first woman to win 3 consecutive...
Winter Dew Tour 2012: Goepper wins Slopestyle – Wallisch takes the Dew Cup! Nick managed to fend off Wallisch but his second place...
Mike Riddle Wins the Winter Dew Tour Superpipe. Mike Riddle ended up taking the spoils in Breckenridge, with...