Assignment 1 has been handed in from all over the globe, with people competing for the chance to Win A Free Camp With Professor Tom Wallisch, courtesy of Momentum.
There's been a ton of funny photo submissions for the Skullcandy "Sponsor Me" Photo Challenge, and you can check all of them out by clicking here.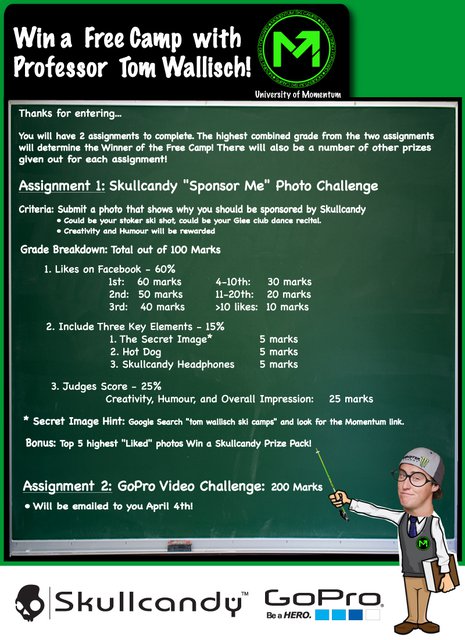 Since Professor Wallisch is an understanding teacher, he will be accepting late entries, but voting ends on April 15th, so click here to sign up, and keep in mind that the top 5 entries will win prize packs from Skullcandy!
Assignment 2, the GoPro Video Challenge, is now available as well, where GoPro will be giving away 3 GoPro HD Hero 2's to the top 3 entries! Click here for all the details.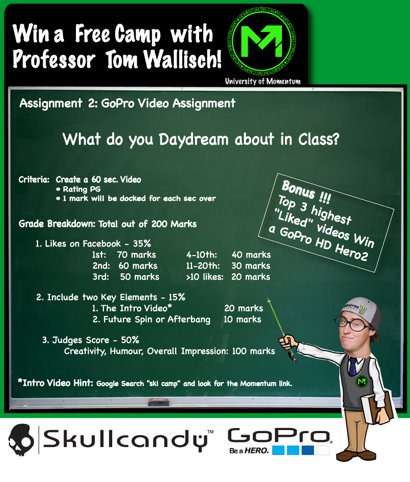 The highest combined grade from both assignments will receive FREE "Full Package" Summer Session at Momentum with Tom Wallisch as their coach, along with a GoPro Superpack and transportation from the Vancouver airport to Whistler in a stretch limousine courtesy of Skullcandy! On behalf of Tom Wallisch and everyone at Momentum and Newschoolers...good luck!