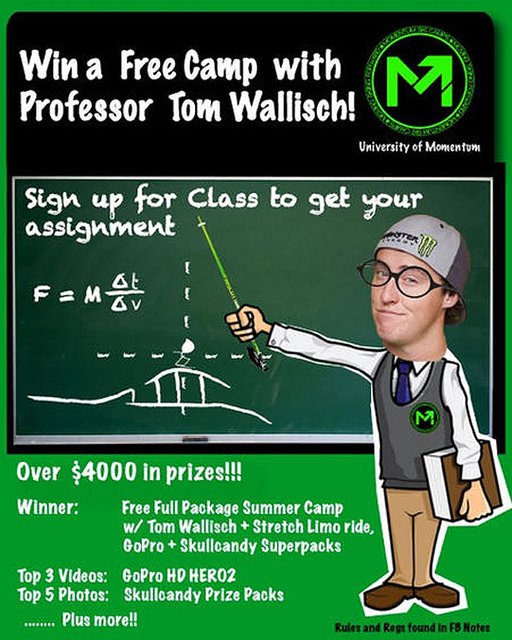 Momentum Skis are giving you the chance to win something pretty epic. With Tom Wallisch about to hold a masterclass, it's up to you to make sure you're involved. He's had the best ski year of his life so there's no better time to pick him up as your personal tutor for the summer!
How do you win?
Head over to Momentum's Facebook fan page, sign up and follow the steps. You'll have to complete two assignments (the Skullcandy 'Sponsor Me' photo challenge and the GoPro video challenge). The highest grade will determine the winner of the camp who will also win a nice little swag of stuff too. If you don't manage to win the big prize then you'll still be in with a chance of winning a GoPro HD Hero 2 and some Skullcandy prize packs so it's not all bad!
If you're wondering what it takes to win something like this then cast your eye over Mark Hendrickson's video from last year that won him some private tuition from Colby James West!
And the edit they made together:
Related posts:The Camp of Champions- Skiing Camp A 2011 Despite fog and snow for the first couple of days,...
K2 – Free Luv This is the perfect entry level, all-mountain ski for women....
Relentless Freeze 2011: Go for free! All you have to do is work for a bit...