No, you're not high (well, maybe you are), that is Jon Olsson's name on the Dew Tour attendee list, and yes it is right next to Johnny Collinson and Ahmet Dadali. The Dew Tour Team Challenge is back for its second year, and these are three of the six team captains. This year, teams of three from Armada, Atomic, Faction, Head, K2, and Volkl will be competing head to head in one of our favorite contests of the year.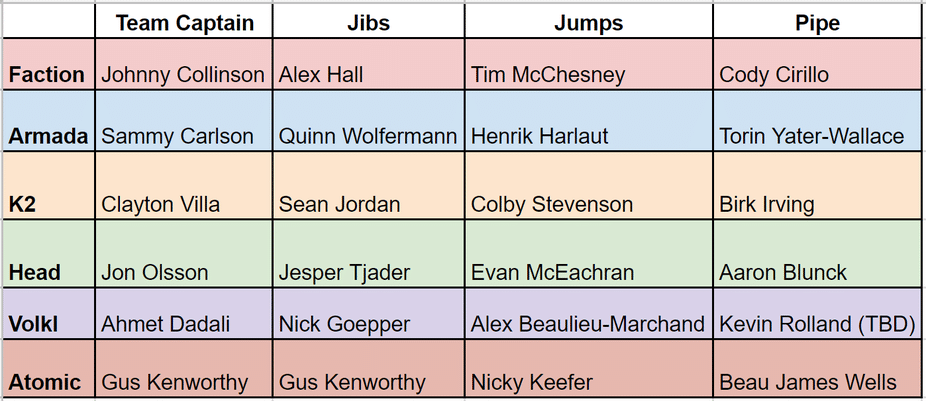 This year's Dew Tour Team Challenge splits your generic contest into three separate sections, jibs, jumps, and pipe. The fourth spot goes to the team captain, who motivates and occasionally is called on to step in. At the end of the event, the team with the highest cumulative score takes the crown.
We love this contest for a couple of different reasons. It brings together a group of skiers that you won't normally see at a contest (let alone an Olympic qualifier), and it shows off an awesome ski team unity that we don't often see nowadays. Seeing guys like Quinn Wolferman, Tim McChesney, and Nicky Keefer in the Dew Tour is the Newschoolers dream right? These guys all bring the character and style that competitions are hated on for lacking. Likewise, last year showed us how the team captains really got into it, even though their role is more hype-man than skier. Even with more brands are putting out their own team videos it's kind of fun to see their skiers banding together for the cause. You can make fun of it for looking like traditional sports, but we'll enjoy watching.
https://www.newschoolers.com/videos/watch/876761/Dew-Tour-Takes-Over-Breckenridge--ColoradoThe teams are like a fantasy draft turned into reality. Take the Armada team for example, Quinn Wolferman on the jibs, Henrik Harlaut on the jumps, and Torin Yater Wallace in the pipe, talk about an ideal combination. Or the Head Skis team, with Olsson at the helm, the combination of Jesper Tjader, Evan McEachran, and Aaron Blunck have an insane amount of technical prowess.
Last year, the weather put a bit of a dampener on things, forcing all of the action to go down on the jib section. This still made for a really fun event, with good communal vibes, and Jossi crushing some creative lines. We can't wait to see what this year's competition holds, especially with the inclusion of halfpipe, and some fresh faces.
https://www.facebook.com/dewtour/videos/10154342964189102/?hc_ref=NEWSFEED
What team do you think is the most stacked? Who are you most looking forward to watching?