Header Image: Birk Irving at Dew Tour in Breckenridge, Dec. 2017 Photo by Grant Whitty.
As we head into a busy season of Olympic Qualifiers, we thought it would be good to take a look at how things stand after Dew Tour and make a few predictions about who is going to Pyeongchang. Dew Tour was one of the major qualifier for slopestyle and the third for halfpipe skiers. There will be three spots available for the men and three for the women in each event by ranking. Additionally, a fourth spot is available per coach's discretion, totaling in 16 spots.
US competitors' points from each of the Olympic Qualifiers are added up to one single point total. In order to snag a spot on the team, athletes need to place in the top three overall and get at least 2 podium placements in any of the qualifiers. Keep in mind these are total scores for qualifiers completed thus far. Let's take a look at the current standings and who has the best chance at making it on the team.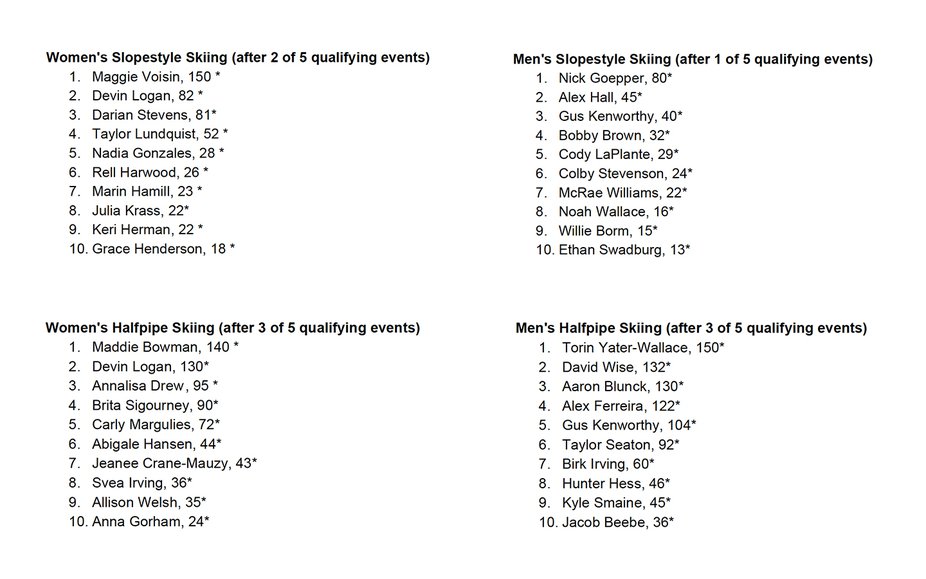 Women's Slopestyle
NS Prediction: Maggie Voisin, Devin Logan, Darian Stevens, ???
Breakdown: There is a high probability that will see Maggie Voisin at one of the top spots due to her leading score. Devin Logan who sits at second is a consistent podium placing skier who could easily fill a second spot for the olympic team this year. This would be the second Winter Olympic Games for Voisin and Logan. The third spots seems to be more up in the air. Keri Herman and Julia Krass were the other Olympians in Sochi, however they both sit lower at 7 and 8, tied at 22 points. Currently, Darian Stevens sits just one point behind Devin Logan in 3rd place overall and at 81 points. If trends continue, Stevens is likely to take a third spot, as she is nearly 30 points above Taylor Lundquist in 4th. It would be great to see Nadia Gonzales or Taylor Lundquist snag the coaches' pick. The women slopestyle skiers have only completed 2/5 of the qualifiers, it is still early in the game; anyone could still fill the spots.
Men's Slopestyle
NS Prediction: Nick Goepper, Alex Hall, McRae Williams, ???
Breakdown: It would be surprising if Goepper doesn't make qualify for the team. He is a consistent podium placer and already has an Olympic bronze medal to his name. Assuming Nick continues to compete well and refrains from any injury, he should be able to snag one of the top three spots no problem. Next, Alex Hall sits at second place overall, 35 points south of Goepper and 5 points above Kenworthy. A-Hall is collectively one of the Newschoolers community's favorite skiers right now. His signature style could be a nice addition to the U.S. Olympic Team. Again the third spot seems to be more up for grabs than the first two. Gus Kenworthy and Bobby Brown sit in 3rd and 4th place right now. Both were on the team in the last Winter Olympics. Overall, Kenworthy seems to have the upper hand. He has the olympic silver medal under his belt already and has been competing better than Brown in the last few seasons. McRae Williams has a good chance, as he typically competes well, but crashed at Dew Tour. As look as McRae avoids injury and lands on his feet, he could take a spot. Although in 10th place, it would also be incredible to see everyone's favorite style-lord Ethan Swadburg take a pick from the coaches. Dew Tour is the only qualifier in the books for the slopestyle men, only time will tell who takes the top three spots.
Women's Halfpipe
NS Prediction: Maddie Bowman, Devin Logan, ???, ???
Breakdown: Maddie Bowman has been the queen of halfpipe skiing for a number of season now. She is always on the top of her game and the top of the podiums. Unsurprisingly, Bowman sits atop the current first place seat at 140 points. The women have already completed 3/5 qualifiers for halfpipe; shaping up as expected. Devin Logan is tailing closely to Maddie in second place at 130 points. Both have been skiing very well lately; likely taking two of the three spots for halfpipe. This could be Bowman and Logan's second Winter Olympics, but Logan's first time competing at an Olympic level for pipe. 2014 Olympians Brita Sigourney and Annalisa Drew currently sit in 3rd and 4th place. Sigourney or Drew could take the third spot, leaving the other to the coaches as they are only 5 points apart with Drew taking the lead over Sigourney at 95 points.
Men's Halfpipe
NS Prediction: Torin Yater-Wallace, David Wise, Aaron Blunck, ???
Breakdown: This season there are a handful of skiers from the U.S. who are all killing it in the pipe. However, with only three spots available; only few can make it. The current leaders for men's pipe are Yater-Wallace, Wise and Blunck all of which were on the Olympic Pipe team for the Sochi Olympics. It would be of no surprise if these three join the team for their collective second Winter Olympic Games. Although, the qualifiers aren't over and Alex Ferreira is right behind Blunck in 4th place, and Blunck is only 2 points behind Wise. It's safe to say that Torin will most likely be on the team, the other two spots will likely be among Wise and Blunck, leaving Ferreira and Kenworthy, with the possible coaches' pick.
--
Do your predictions differ from ours? Who do you think will make it to Peyongchang?