Who's Afraid of the Park?!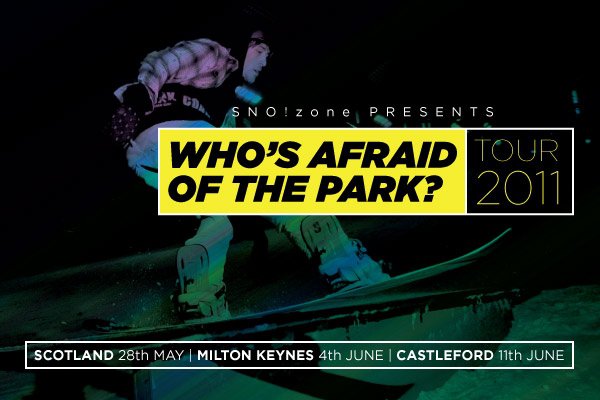 Our finest sponsored riders and coaches are on tour to teach you how to throw down some rad tricks and play in the park like you've been at it for years , you'll be surprised what you can do in a few hours!
We're taking things back to basics, "Freestyle for Dummies" style, offering beginner training for aspiring park monkeys wishing to take their first steps into freestyle. The event is designed to encourage and inspire intermediate riders to be more adventurous in the park and to show real progression.
SNO!zone team riders will be on hand to provide support to our qualified freestyle coaches and chat about their own Snowsports adventures as they tour Scotland, Milton Keynes and Castleford with our dedicated beginner freestyle features.
There'll be heaps of prizes on offer for pulling off your first tricks and best of all a HUGE discount for PRE-BOOKING your place.
3-6PM
SCOTLAND 28TH MAY, MILTON KEYNES 4TH JUNE, CASTLEFORD 11TH JUNE
AD£25 JR£20 (PRE BOOKING ONLY) AD£32 JR£25 (GENERAL ADMISSION)
TO PRE-BOOK PLEASE CALL 0871 222 5673 OR VISIT http://www.snozoneuk.com
It's a steal of a deal - and it's going to be sick!