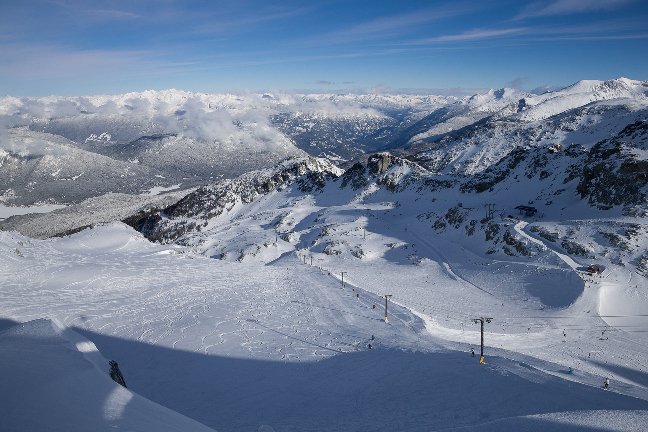 Clearly whistler is hurting for snow this year. Something highlighted by Camp of Champions', who currently run their camps at the bottom end of Horstman, decision to cancel the 3rd and 4th weeks of camp due to lack of snow. Momentum will continue to run as normal, as pointed out in the mini-marketing department spat in this thread!
http://www.newschoolers.com/forum/thread/810417/Whistler-Summer-2k15
The rumours that there is no snow up there are untrue, but by the same token, there is clearly less than on a normal year if COC are cancelling camp sessions. And it's bad enough to provoke Whistler Mountain to do something about it. This press release just showed up in the NS Inbox, what do you guys think??
" WHISTLER BLACKCOMB TO CONDUCT SNOWMAKING PILOT PROJECT ON THE HORSTMAN GLACIER
- INSTALLATION TO BEGIN FOLLOWING SUMMER GLACIER SKIING AND SNOWBOARDING SEASON
This coming winter season, Whistler Blackcomb will conduct a new snowmaking pilot project aimed at preserving the Horstman Glacier on Blackcomb Mountain. The pilot project will involve the testing of four low-energy consumption snowmaking guns in the Horstman Hut area to determine if a full-scale snowmaking system is an option to prevent further recession of the Horstman Glacier.
"The goal of this project is to preserve the high quality product we currently offer in both the winter and summer months," says Dave Brownlie, President and CEO at Whistler Blackcomb. "A snowmaking system on the Horstman Glacier could assist with preserving our summer glacier experience for guests to enjoy in the future, as well as improve the early season access to glacier skiing and snowboarding during the winter."
"Snowmaking on the Horstman Glacier has been a discussion at Whistler Blackcomb for several decades," says Arthur De Jong, Mountain Planning and Environmental Resource Manager at Whistler Blackcomb. "If the pilot project is conclusive, this unique project will become a significant addition to Whistler Blackcomb's list of adaptations to ensure long term resilience against climate change. We will use the data we obtain from this one-year pilot project to determine if an expanded snowmaking system could assist with preserving the Horstman Glacier."
Installation of the new system will begin in late July following the summer skiing and snowboarding season on the Horstman Glacier, with snowmaking anticipated to begin in early October. The system will use low-energy snowmaking guns and water from the snowmaking reservoir above the Rendezvous Lodge on Blackcomb Mountain."
This is Horstman in August, so you can see why Whistler is trying to do something, but is the cost of even running 'energy efficient' snowmaking too high?