Welcome to the land of short seasons and small hills. Whether you're a park rat looking for some fun parks, or in search of new terrain to try out and can't make the trip out west - these hills are all pretty killer. Hopefully, this list will help you with your trip planning for next season, or in your decision on where to buy a season pass. These are all resorts that I think are pretty great in their own regard. I've tried to cover all different groups of skiers. Enjoy!
Rails Rails Rails
Trollhaugen, Wisconsin
Located just outside of Minneapolis, Trollhaugen is a top destination for anyone who loves lapping rails all day. With some of the most fun rails in the Midwest, full coverage snow-making, tow ropes, and a relatively cheap season pass ($374 for the regular person and $109 for college students) the rail to value ratio might just be the highest in the U.S. Troll tends to open early in the season and has night skiing as well- the perfect combination for a season of progression.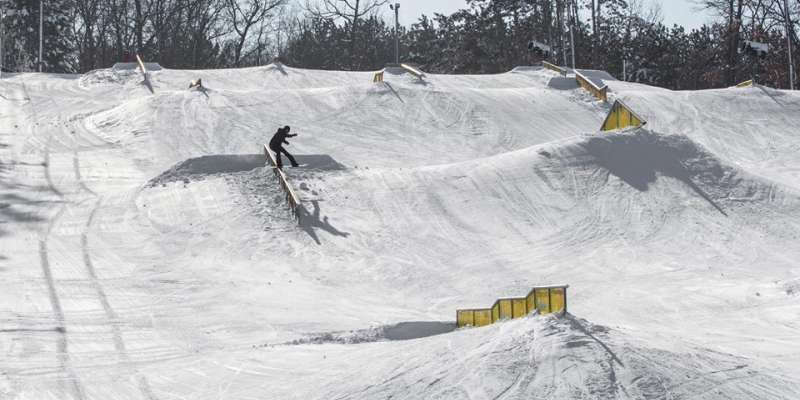 Credit: Travel Wisconsin
Stats:
Snowmaking-100%
Vertical drop- 280 ft
Terrain parks-3/4
Cannonsburg, Michigan
Located just outside Grand Rapids, Cannonsburg has some of the most creative rails I've ever skied. Park resets happen pretty often (16 times in one season in 2016) to keep things fresh and a season pass is only $269 dollars. There are lots of park and rail-related events throughout the season and the skiers there rip. Great vibes and well-built features- along with rope tows of course.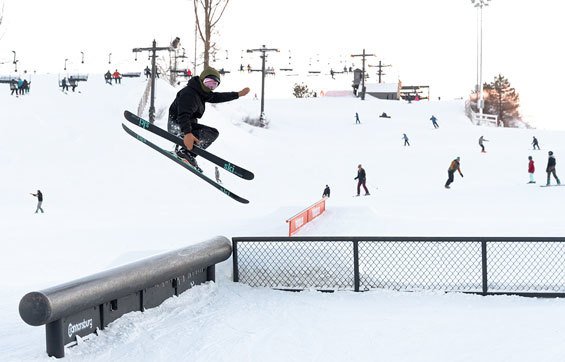 Credit: Cannonsburg Ski Area
Stats:
Vertical drop- 250 ft
Terrain parks- 5
Rails- Lots!
Midwest Powder Hounds
Mount Bohemia, Michigan
So you want to ski out west, but don't have the money or ability to move out there. Welcome to Mount Bohemia, a resort with classic vibes and the gnarliest terrain in the Midwest. There's no grooming, deep snow and the best apres skiing East of the Rockies. With rugged amenities like on hill yurts and no snowmaking, to other interesting aspects like cat skiing, saying Boho is outside the norm for a Midwest hill is an understatement. It's in the middle of nowhere, the people are great, there's an ABBA bus and the skiing is awesome after a lake effect snowstorm- it dumps. It is without a doubt the most challenging terrain in the area. If all of that isn't good enough for you a season pass is only $100, with a slew of free days at partnership resorts out west.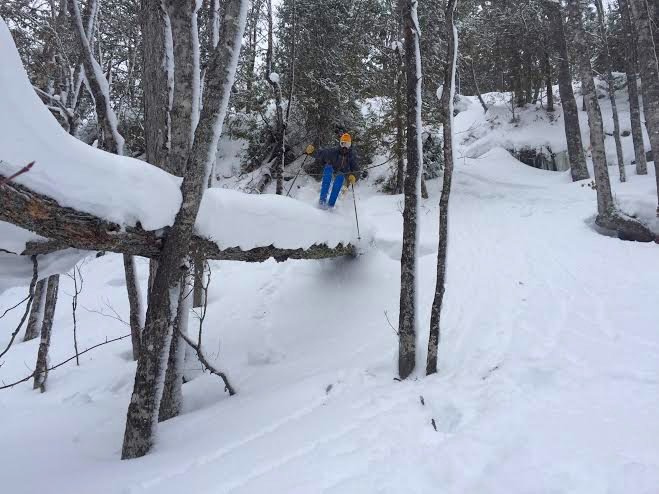 Credit: Teton Gravity Research
Stats:
Snowfall- 273 inches
Vertical drop- 900 ft
ABBA buses- 1
For the Family
Boyne Mountain, Michigan
These resorts tend to be more focused on families, but that's not necessarily a bad thing. Maybe you are a youngin and are trying to convince your parents to take you skiing more. Maybe you are one of the few old farts still floating around on this website with a family of your own. Boyne has activities year-round and is its own little city. There is plenty of stuff to do after a day on the slopes and there is a good mix of terrain for mom and pop, as well parks and some more advanced stuff for you groms.
Credit: Onthesnow
Stats:
Vertical drop- 500 ft
Acreage- 275 acres
Nubs Nob, Michigan
Another solid Midwest resort with some great trail diversity. It has a pretty solid park and this past year had a creature that has almost gone extinct in the Midwest- a half pipe. It's big enough to keep you entertained for a weekend and has the potential to be amazing skiing if it gets hit by a lake effect snow cycle. The groomers do some great work making sure that there is beautiful corduroy to rip hard turns down. You can't go wrong with Northern Michigan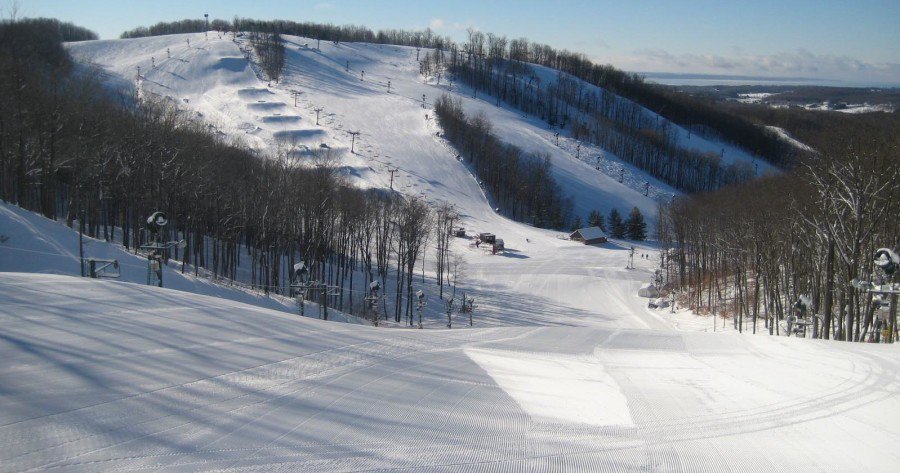 Credit: Onthesnow
Stats:
Vertical drop- 427 ft
Snowfall- 140 inches
Afton Alps, Minnesota
It's in Minnesota. There's skiing. It's a small resort with actual moguls and a nice terrain park for beginners to boot. If you are a new skier in Minnesota or if you are skiing with beginner skiers, this is the place for you. Probably the easiest terrain on the list but this is a great place to learn. If you are looking for some more technical skiing maybe check out Spirit Mountain in Duluth. Also, they are owned by Vail. Could be positive or negative depending on whether or not you are purchasing Vail passes.
Credit: MPR
Stats:
Vertical drop- 350 ft
Acreage- 300 acres
In Closing
As much as myself and others love to hate the Midwest, there is still plenty of quality skiing to be had. I still have more places here that I need to ski. Here are some places that I have skied that didn't make the list, or that I haven't skied that I've been told are awesome.
Spirit Mountain Duluth, Bittersweet, Crystal Mountain (home hill), Giants Ridge, Granite Peak, Mont Ripley, and Indianhead Mountain.
This has been your most lonely NS member