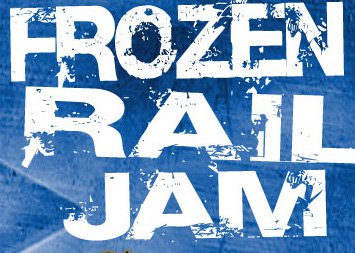 Saturday December 18th marks an epic moment in Blue's history. Previously titled
Superpipe Dreams, the marketing team has decided to make a huge move forwards
with this event. Re-titled Frozen Rail Jam this will be the biggest season kickoff
ever run at Blue Mountain.
Click here
to download a pdf of the schedule for the day's events.
The slopestyle course is being designed based on snow conditions in the park.
With the recent dump, there should be a good amount of features ready to ride.
The slopestyle features will be of varying skill levels, beginners and experts
alike will have fun throwing down for the 10 spots in the finals. There will
be $5000 in prizes given away to the winners of the day's events.
These 10 qualifiers from the day will join a field of 22 pre-qualified athletes
in the night event. This field will be competing for $1000 in cash under the
spotlights and lighting fixtures set up around the features. The course will make the athletes feel
more like rockstars than anything else, this is a coveted spot to be. Check
out the layout
of the night course and see for yourself!
After the money is handed out, the party will move to Indian Motorcycle Cafe
where there will be a premier of C-plus
productions "From the ground up" starring talent such as Tom Dolozel,
winner of last year's X-qualifiers at Bear Mountain. Warming you up for the
movie will be the sounds of Money Money
courtesy of The Orange Record Label.
Get ready, 'cause when the village gets a party going, it doesn't stop until
the wee hours of the morning.
So you want to go to this event? Here's what to do:
Step 1: Download
Registration Form and Rider
Bio Form - Fill them out! It will save you time on the day of the event
and make your life a lot easier.
Step 2: If you're under 18, BRING A PARENT TO SIGN THE WAVER.
Step 3: Come to Blue this Saturday! --Directions--
Step 4: Get your park pass! It's necessary to have a terrain park pass to ride
in Badlands. Here's
what you need to do!
Step 5: Go ski!
Even if you don't want to compete, come and watch all the athletes up the ante
of riding gunning for the Prizes and money. If you're not into that, then at
least come for the party, 'cause honestly, who doesn't like to party?