When companies reshuffle their athlete rosters, the rumor mill inevitably begins turning. Less than six month after Jason Levinthal bought 4FRNT, the recent departure of two of their biggest name skiers, Kye Petersen and Wiley Miller, has raised questions about his intended direction for the legacy indy ski brand. So, rather than speculate, we gave Levinthal a call to ask him, what's going on with 4FRNT? Read on as he dishes out some hard truths about running a ski business, and issues reassurances on the future of the brand as they move in a new direction, or as JLev puts it, a move back to their core customer.
Newschoolers: What was the state of 4FRNT when you bought the company?
JLev: 4FRNT was out of business. Basically, it had maxed out its potential… it was running out of money and it wasn't profitable. It wouldn't have been able to continue on as it was financially. Basically, it would have gone out of business. Matt [Sterbenz] talked about it in an interview, how in 15 years they never made a profit. That's a reality, it's not any fault of 4FRNT the brand, [Sterbenz], or anyone who worked there.
This is just the reality of a small company being ahead of its time. When they started in 2002, there were about 12 people who wanted skis like this, and you spend a lot of money spinning your wheels, peeling out and just getting nowhere for years. You lose a ton of money. Then you get investors, and people to loan you money. Next thing you know, you're in a pretty big hole 15 years later. Even if you're doing kind of well, it's never enough to cover your costs in the early days, or even annually because you're selling to retail stores and you're only selling 2,000 pairs. I've gone into detail on this many times, but this is the problem, this is why I'm not selling to retailers. It's just a numbers thing.
Accessibility is something that 4FRNT has always stood strongly behind, getting more access to more terrain for example. They're developing skis that have no camber or reverse camber, really innovative and progressive skis for people who just want to get out there and do more on skis. From day one. Even when they were focused on park skiing in 2002 it was all about progressing the sport and enabling their customers to get more access to a more progressive product. Matt Sterbenz literally left the ski company he was sponsored by simply to make a ski that was the way he wanted it to be. You fast forward to today, and we thought it would make sense that if we were going to go direct [sales], lets give more people access to more product. You can buy two pairs of skis for $1,000 instead of one pair. So, just access to more progressive and more product, and the skis you want. If you want the most progressive powder promodel ski, you can get Hoji's ski for $599 instead of $700 or $800. We're passing the savings on to the customers. We're skiers, for skiers, by skiers.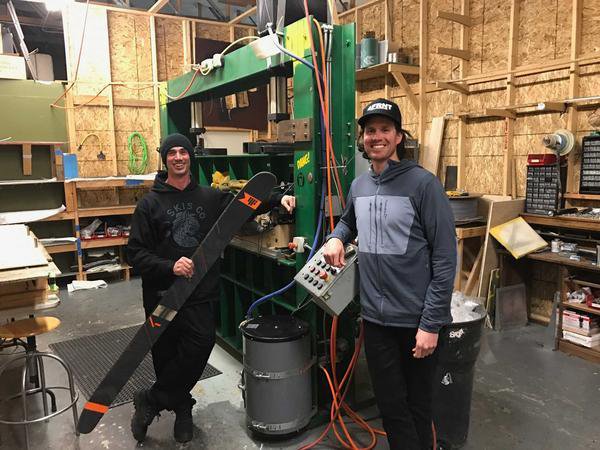 NS: Kye Petersen and Wiley Miller are no longer skiing for 4FRNT, correct? Tell us about that.
JLev: Correct. [Kye Petersen's and Wiley Miller's] contracts ended. We continue to work with [Hoji] in incredible detail. I've never seen a company work so hand-in-hand [with a skier]. Sometimes he's literally in the White Room building his own prototypes. We have Thayne Rich, who's just really next-generation, throwing tricks in the backcountry. Thayne is the guy who builds all of the White Room skis in the summer. In the winter he's out there skiing.
https://www.newschoolers.com/videos/watch/885780/Keeping-up-with-Hoji
If you go on the website… We haven't even gotten deep yet. You know how I do things. We haven't even scratched the surface here, but we're going to take this all the way… You click on team, then White Room, and you see Thayne building skis. And we haven't even had a chance to put out all of the content.
That's been a big challenge with 4FRNT, just telling the story. That is something I'm going to be doing more now than ever before. So you understand what really goes on behind the scenes. Once you see that, It's pretty mind-blowing, for myself as well. You don't see athletes that integrated into the process.
https://www.instagram.com/p/BXta8I7lmJA/?taken-by=4frnt_skis
NS: What will the 4FRNT team look like going forward?
If it was working perfectly, then we wouldn't be having this call. You have to give me a little time. I mean. I only bought the company four months ago.
JLev: Are we going to have as many athletes that are the same athletes? No. There are a lot of things we have to change in order for 4FRNT to be as strong as it possibly can in the future. Athletes are definitely the heart and soul of this brand. They always have been, and always will be. They may be different athletes than you've seen the last 10 years, but everything changes. You have to change. If it was working perfectly, then we wouldn't be having this call. You have to give me a little time. I mean. I only bought the company four months ago. Turning a business around, from losing money to five months later being able to sustain itself is extremely hard. It's actually considered impossible. If it could've been done, it would have.
We're going to be supporting more athletes. It's not just going to be five guys, where we say "look up to these five people because we pay them a bunch of money and we want you to aspire to be like them." We're going to be working with more local heros as well, people who are also out there using our product everyday, who are just as inspiring. They're not Kye [Petersen], but they're very relatable.
https://www.newschoolers.com/videos/watch/885675/4FRNT--39-s-The-Unsaid-Shred-Series--Part-3-of-4---Eddies---YouTube
I think the first video that's a good example is [STORIES FROM THE FRNT - THE UNSAID SHRED SERIES: PART 3 OF 4 - EDDIES]. It's very real. There's no drama… it's relatable with real skiers getting out into the backcountry making it happen… It's all about storytelling. It's not going to be like "oh my god, did you see that trick?" Everyone else is in that game. They can play that game, and everyone can try to pay that next athlete that comes up more money to be on their skis when they're doing "the next trick." That's not what 4FRNT is about. It's about getting out there, and the reality, there's no slow motion, there's no drama, there's not even any music in that video. You feel like you were there with them. That's where we're going. That's a direction more in tune with… who 4FRNT customers are today. Today's 4FRNT customer isn't looking to go to the X Games. It's just a different strategy, and that's what it is. The position of the brand stays more true. Walk the talk, that's who [Sterbenz] is.
https://www.instagram.com/p/BZnDaPMhfUX/?taken-by=mattsterbenz
NS: What is Matt Sterbenz's role now and moving forward?
[Sterbenz] is the brains behind all of the product, that's for sure.
JLev: [Sterbenz] is the brains behind all of the product, that's for sure. He works in the White Room out in Utah. Him and Thayne develop new prototypes. [Sterbenz] is also heavily involved in all of our branding and marketing messaging. The whole strategy behind the brand. He works with the factories to build the product to make sure it gets here. No [he's not going anywhere], there's just too much to do. I'm not going to just suddenly do it all. What I'm good at, I'm going to do. What he's good at, he's going to do. If neither of us are good at it, someone else is going to do it. Everyone chips in and does what they do best. We have other people here in Burlington working on the brand.
We're not able to, in a short period of time, take all of our vision and turn it into pixels you can see, or people you can talk to immediately. By spring, and definitely by next year, you're going to be able to see a really strong, very obvious, new position. I wouldn't even really say it's new, I'd just say it's refined and more in tune with the DNA and soul of the brand.