Words by Ethan Stone
Photos by Rocky Maloney, Drew Smalley, Alex Loren, Ethan Stone & Jordan Harper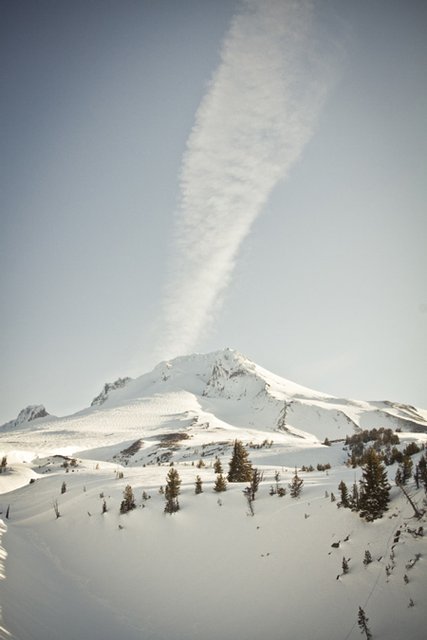 Mt. Hood, Oregon. Photo: Jordan Harper
Earlier this month, the West Coast Session took over the sunny slopes of Mount Hood for a hugely successful sixth year. Here at the Session we push the sport of skiing by providing talented young athletes with a top-level venue to develop and display their skills. For some veterans it's a chance to kick back and relax after a season of competitions and photo or film shoots, while for the young and hungry it's an excellent opportunity to get some recognition.
Thanks to the support of our incredible hosts and sponsors, the talents of the invited skiers and filmers, and an unprecedented streak of good weather, this year's West Coast Session blew apart all expectations for the event.  "This year's West Coast went off," said invited skier Nicky Keefer. "We had the best crew we've had yet, the best weather we've had yet, and the most variety of ill, fun features."
The following photos, videos and words are the products of our week; we hope you enjoy them.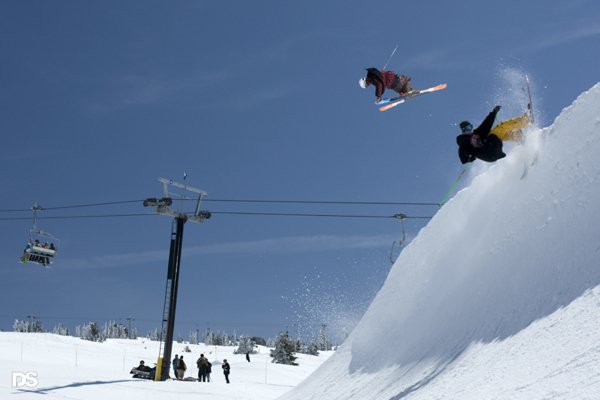 Cam Snyder and Matt Heffernan. Photo by Drew Smalley
The Public/Gaper Day (May 6)
It all got started with the highly-anticipated WCS Public Day, where we invited anyone and everyone to come join our crew for a highly unstructured day of fun on skis. This year the public day just so happened to coincide with a Gaper Day planned by the local GoodTimes Media crew. The resulting collision of WCS public-day shenanigans and Gaper madness made for an unforgettable kick-off to the Session, and even made the local newspaper!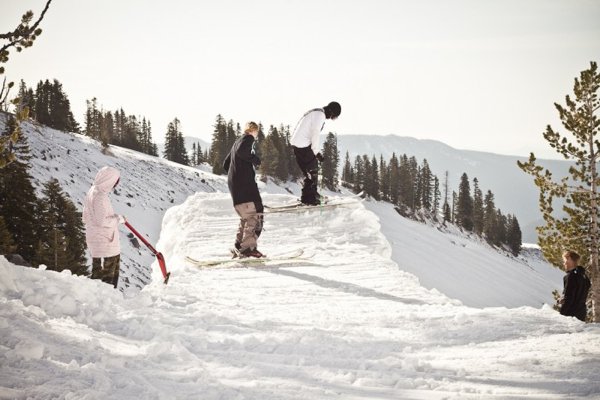 While the crowd converged on the terrain park for the public day, a small crew of WCS riders were up early working on a jump. Photo by Jordan Harper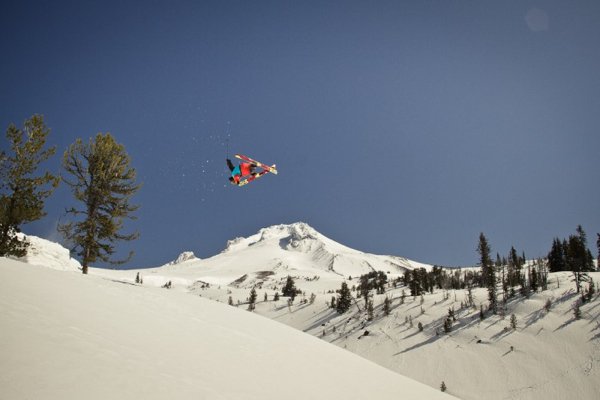 Collin Collins kicks off his West Coast Session with a cork 7 on the parking lot jump. Photo by Jordan Harper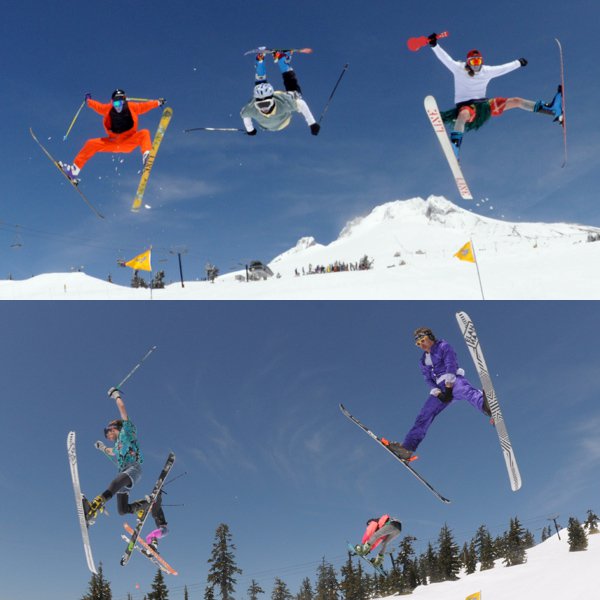 Meanwhile in the park, it's a gaper attack! Photos by Ethan Stone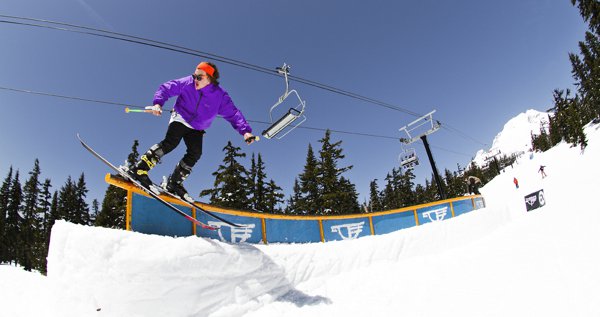 Garrett Rowley bags the s-rail, 80's windbreaker and all. Photo by Rocky Maloney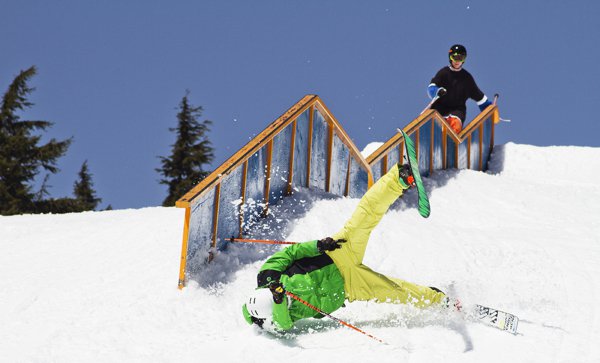 Somebody eats it on the 70-foot quad kink. Photo by Rocky Maloney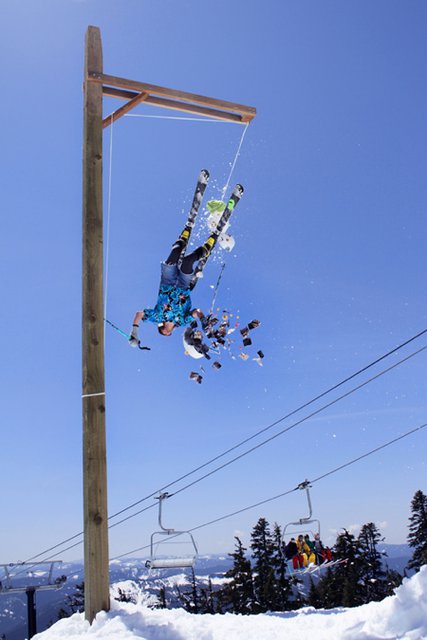 Kentucky transplant and Timberline local Bro-ham Abe Barnett busts open the WCS piñata mid-backflip, sending swag flying. Photo by Alex Loren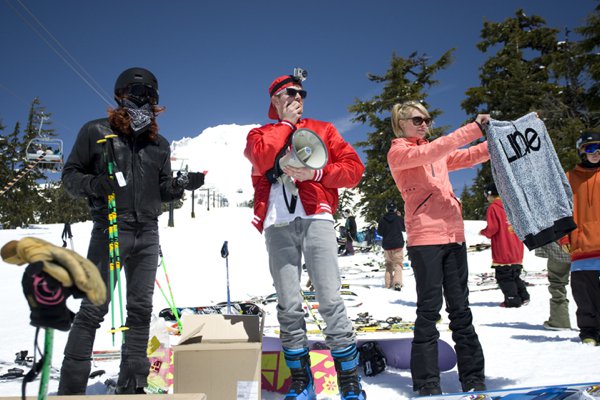 Shaun Black with the Hillcrest squad. Photo by Drew Smalley
The crew from Hillcrest Sports was tasked with feeding everyone with hot dogs and chips, and they had plenty of swag on hand to appease the masses. They even enlisted famous professional snowboarder Shaun Black to help out with the workload.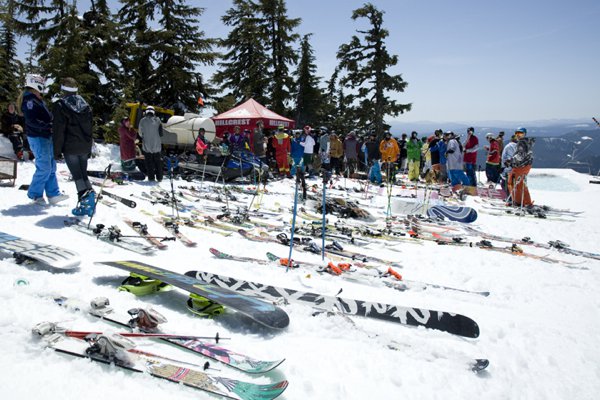 A hot dog stampede at the Hillcrest tent. Photo by Drew Smalley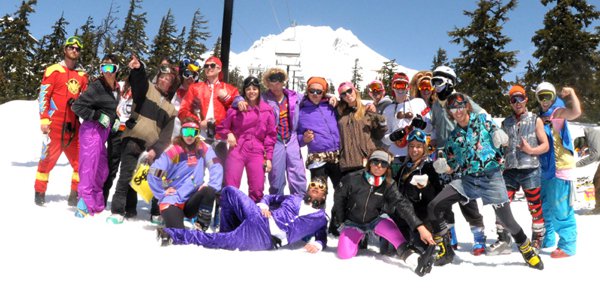 Gaper Day 2012 group photo! Photo by Ethan Stone
The Shoot (May 7-11)
After a wild public/Gaper Day, it was time for the WCS crew to get down to business: five days of non-stop film and photo shoots on a variety of features both inside and outside of the park.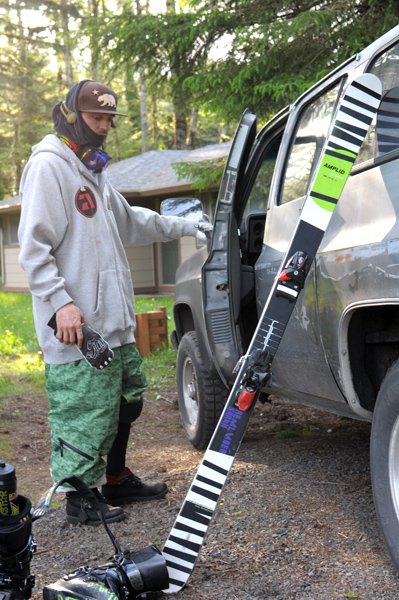 Pako Benguerel heading up in the Buffmobile. Photo by Ethan Stone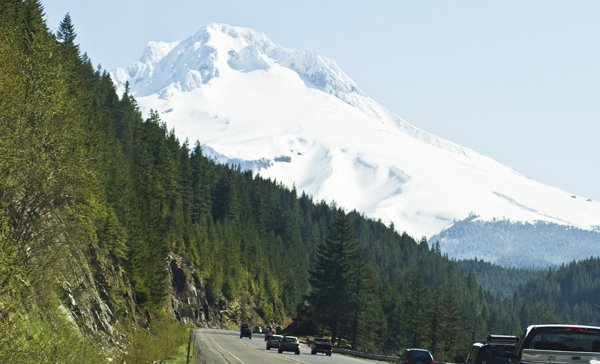 Always a sight for sore eyes. Photo by Rocky Maloney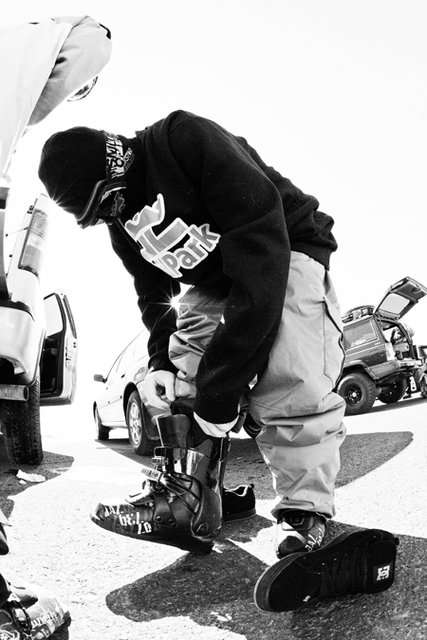 McRae Williams boots up. Photo by Rocky Maloney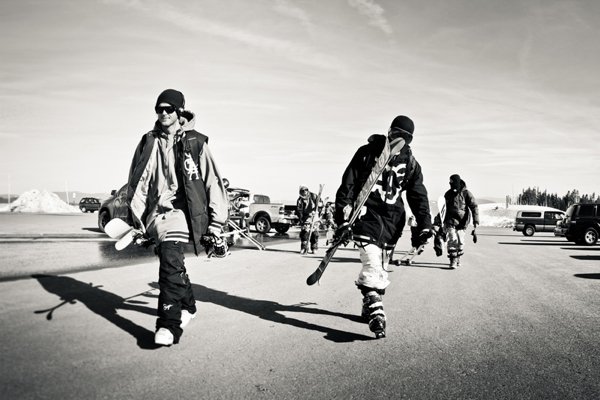 John Kutcher and NIcky Keefer ready to do work. Photo by Jordan Harper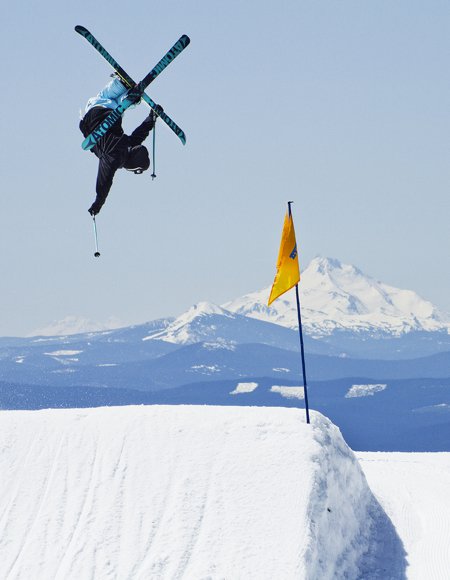 Meatboy, master of the art of reverse mute. Photo by Rocky Maloney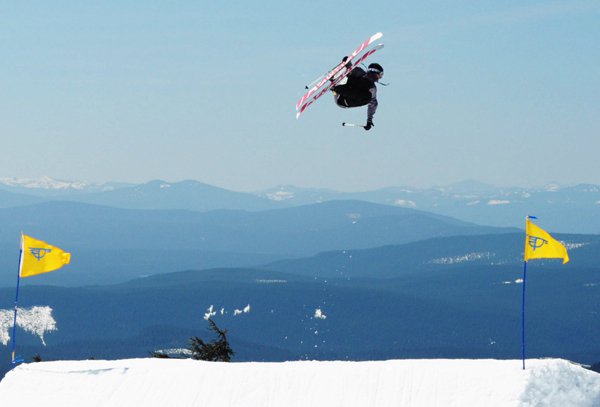 John Kutcher rodeo 5 safety. Photo by Ethan Stone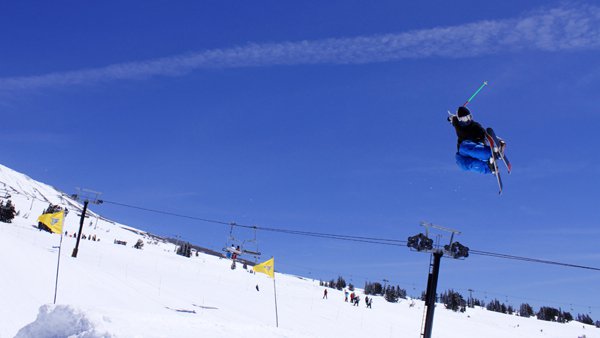 Jeff Curry with dat sticky sweet style. Photo by Alex Loren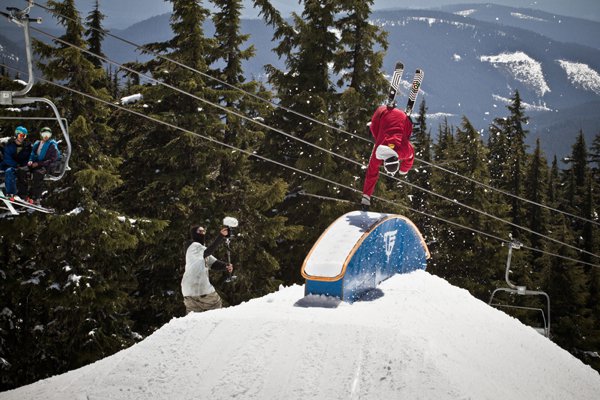 Steve Stepp getting inverted over the rainbow box. Photo by Jordan Harper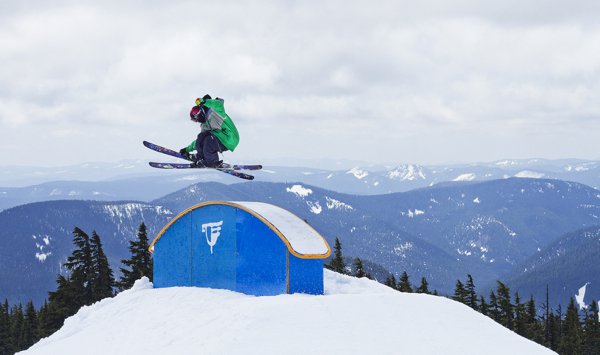 Ben Moxham worms out a safety 180. Photo by Rocky Maloney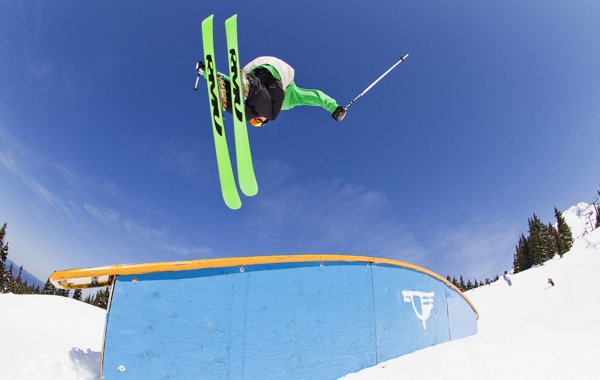 Okay, the rainbow was a really popular feature. Photo by Rocky Maloney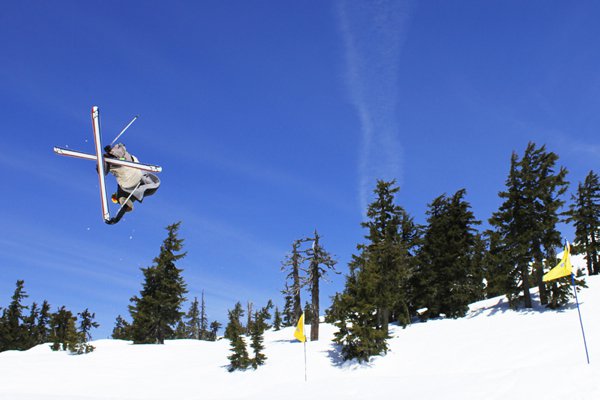 Collin Collins gets blunted in the Paintbrush Park. Photo by Alex Loren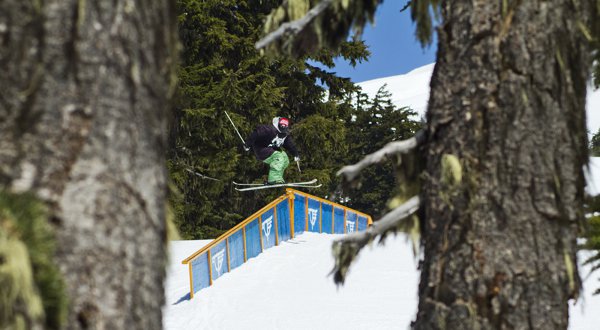 Spanish freestyle OG Pako Benguerel shows the young'uns how it's done. Photo by Rocky Maloney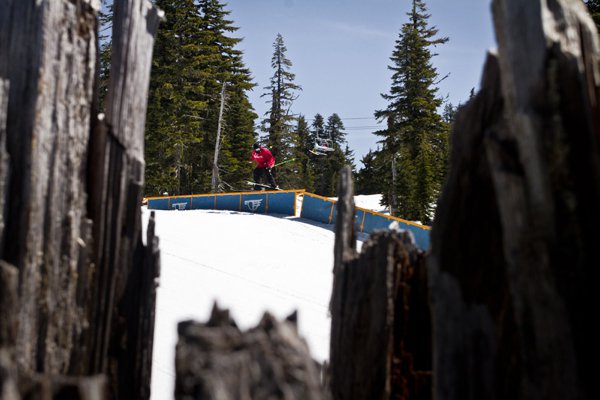 T-Barnes working the flat-down. Photo by Jordan Harper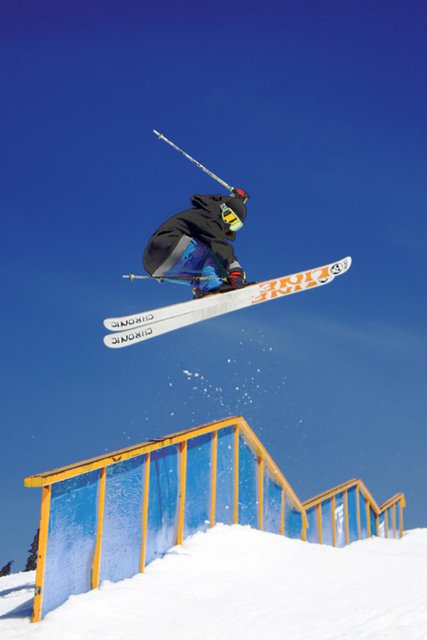 Jeff Curry with a huge disaster on, gap to switch off the quad kink, as seen in the Team Yoke edit. Photo by Alex Loren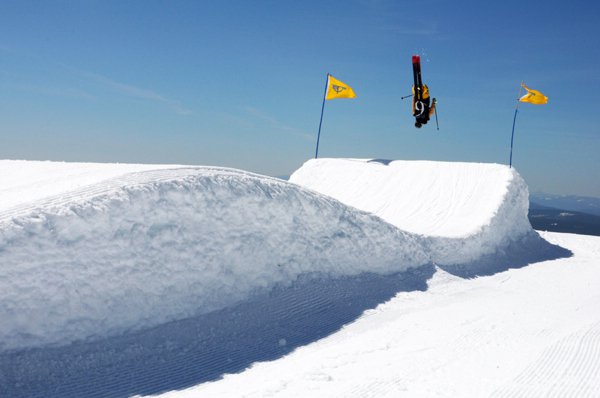 Tosh Peters switch backflips the whaletail kicker. Photo by Ethan Stone
For this year's Session the Timberline park crew constructed a line of custom features down the lift line of Stormin' Norman, the freestyle terrain chairlift that services the small, medium and large parks. This jib line,  which combined ideas from the park crew, sponsors, and WCS organizers, turned out to be one of the most amazing features of the Session, and a demonstration of what's possible with some creative ideas and a world-class park crew to help realize them.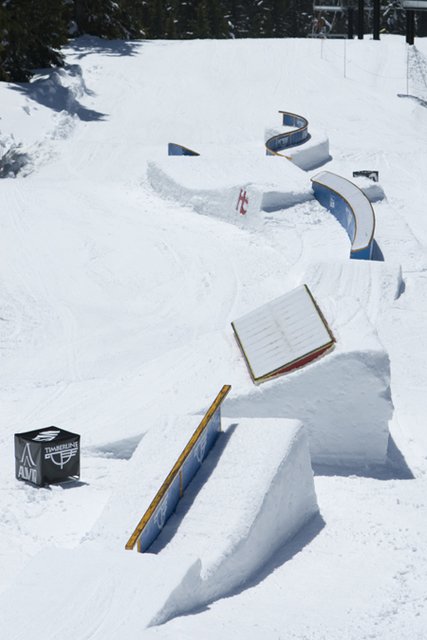 The Stormin' Norman lift line jibs. Photo by Drew Smalley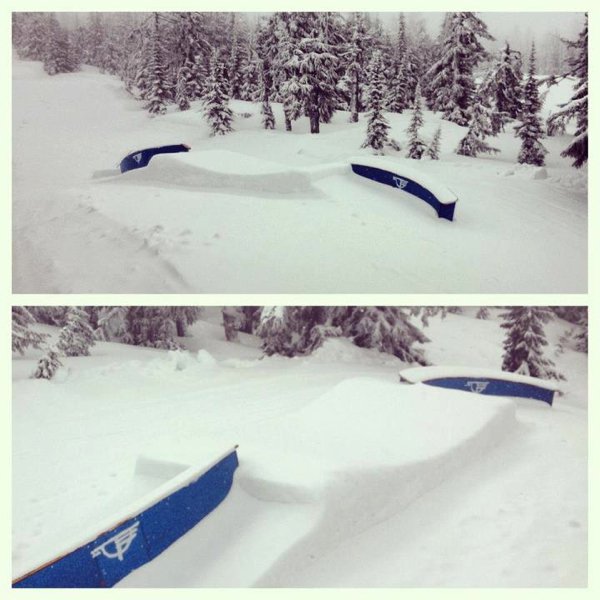 The fan favorite feature: up left c-box to butter pad to down right c-box. Photo by Drew Smalley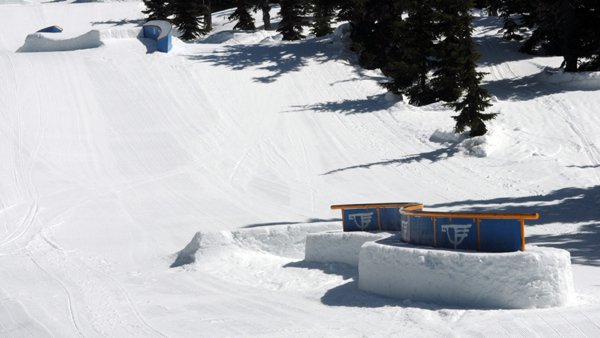 The c-box butter pad feature led directly into an elevated s-rail. Photo by Drew Smalley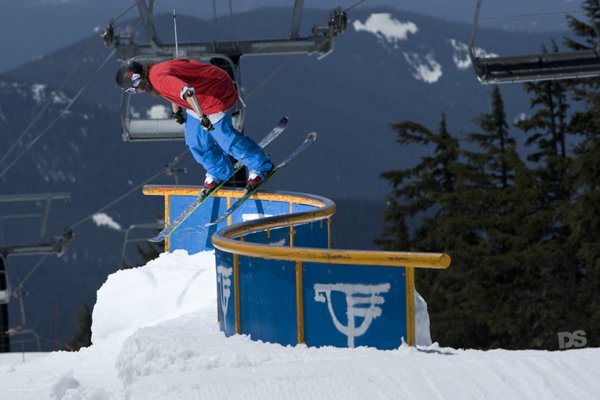 Drew Stewart nails the s-rail. Photo by Drew Smalley
In addition to the jib line and the traditional big jump on the Palmer Snowfield, the hard-working T-Line crew also built a massive wall ride feature, a picturesque up-box over a boulder, and a step-up carved from the depths of a huge cornice. We had more features than we knew what to do with, and only five days to squeeze them all in.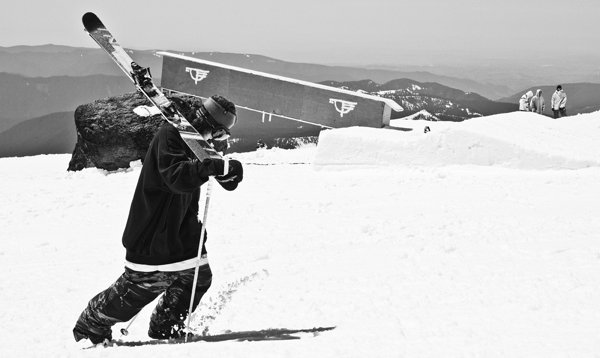 Will Berman hikes the rocket box. Photo by Rocky Maloney
The first private feature we sessioned was this box to gap over a large boulder, quickly nicknamed the "rocket box" by the riders. Despite its high-consequence appearance, the crew wasted no time dialing in big spins and flips off the box.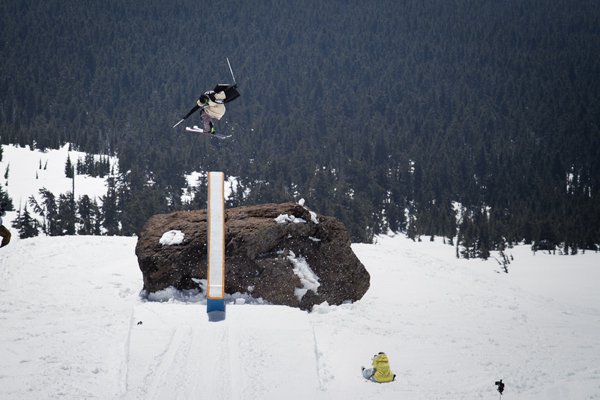 Collin Collins rides the rocket. Photo by Jordan Harper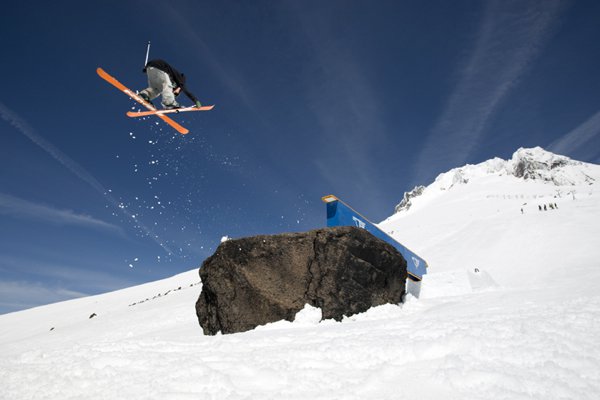 Maks Gorham freshening up a backside 270 out. Photo by Drew Smalley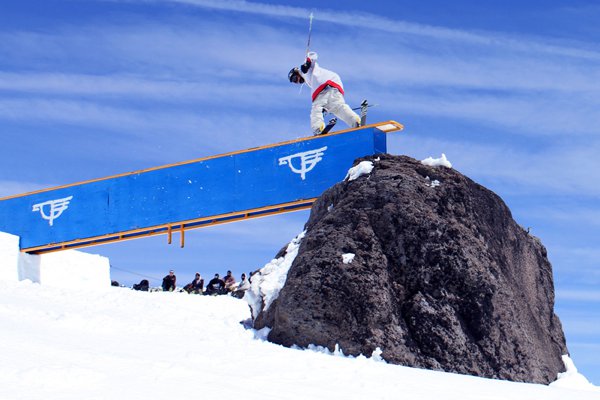 Alex Beaulieu-Marchand (aka ABM) gets ready for a backside spin. Photo by Alex Loren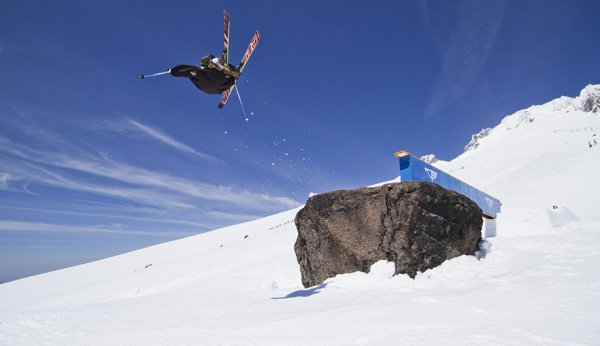 Will Berman rodeo out. Photo by Rocky Maloney
The next features on the hit list were the jump and wall ride combo straddling the buried midway station of the Palmer chairlift. Over the course of two day sessions and a windy sunset shoot, the jump saw its fair share of trickery, while everyone debated who would take on the giant gap to the wallride.
The jump and wall ride action wrapped up with a banger session on Thursday, as multiple riders stomped stylish tricks on the jump, a heavy side-hit session on the wall ride concluded with a few nutty doubles, and Buff rider Luka Melloni stepped to the wallride gap, sending it deep into the landing to switch.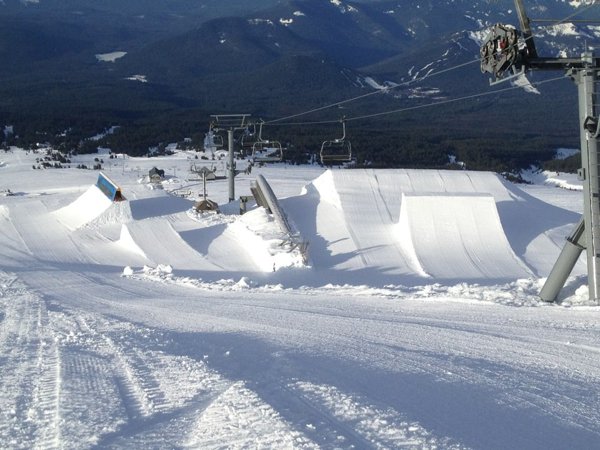 Timberline's freestyle grooming supervisor Kyle Bradley snapped this shot at sunrise after a night of putting on the final touches. Photo by Kyle Bradley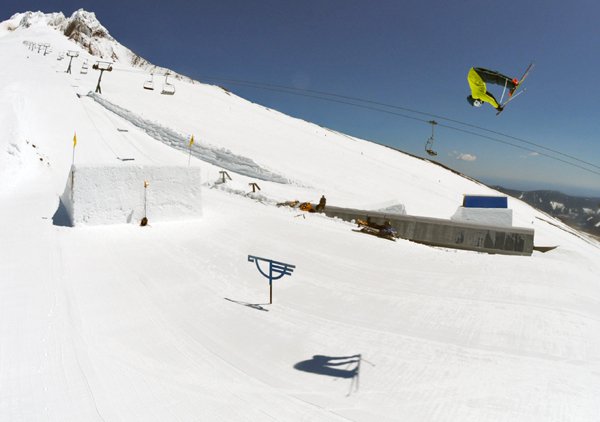 Noah Morrison cork 720 truck driver. Photo by Ethan Stone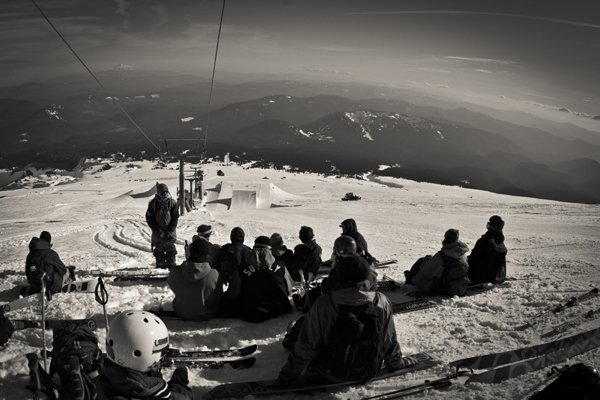 Riders-eye view during a sunset shoot on the Midway features. Photo by Jordan Harper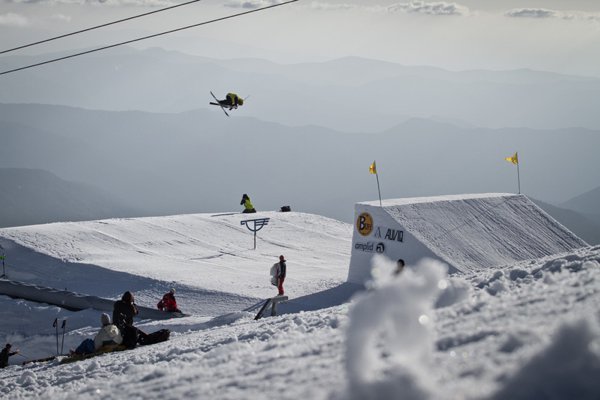 Amplid and Buff rider McRae Williams feels out the booter. Photo by Jordan Harper
Alex Beaulieu-Marchand. Photo by Jordan Harper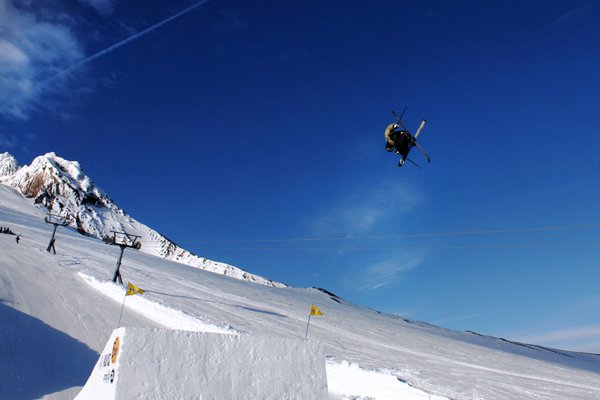 Max Peters cork 7. Photo by Alex Loren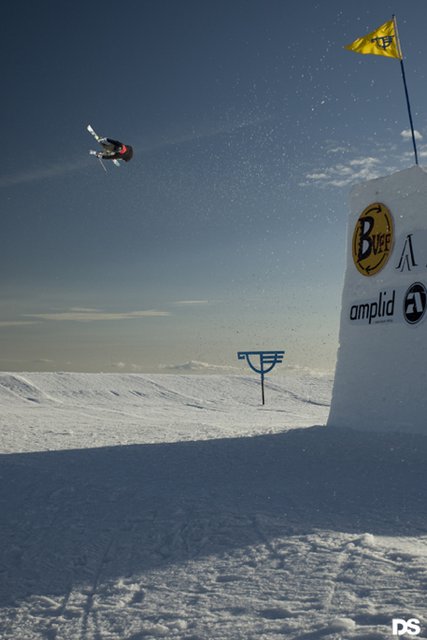 Dale Talkington. Photo by Drew Smalley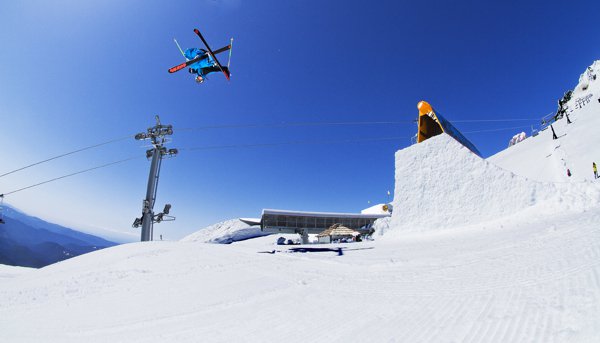 We tossed Hillcrest team rider and underground rapper Scrappy Joe Young into the team contest, where he held his own among the out-of-towners and even scored the opening shots in the Team Kooter edit. Here's Scrappy Joe hustling a cork 5 off the wallride. Photo by Rocky Maloney
The final WCS special feature was a massive step-up artfully carved out of one of Timberline's canyon cornices. We stuck around for an extra day just to make sure that this beauty was well-utilized, of which you'll see some evidence in the team edits.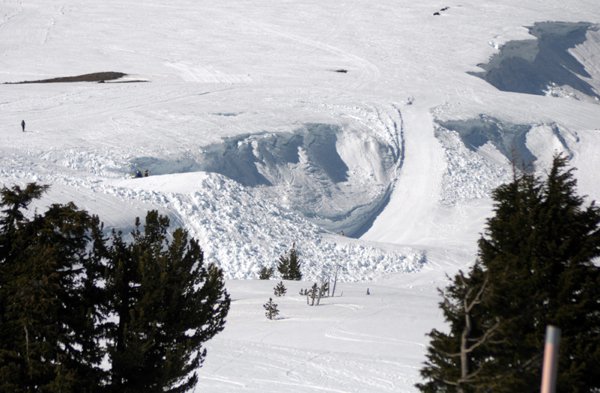 The step-up looming above the parking lot.

Logan moved a lot of snow for this jump. Photo by Drew Smalley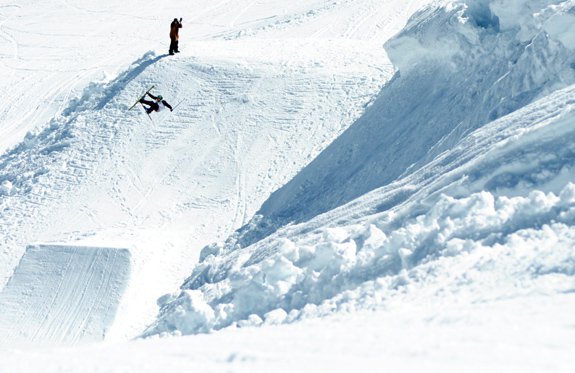 Michael Briggs rodeo 5. Photo by Ethan Stone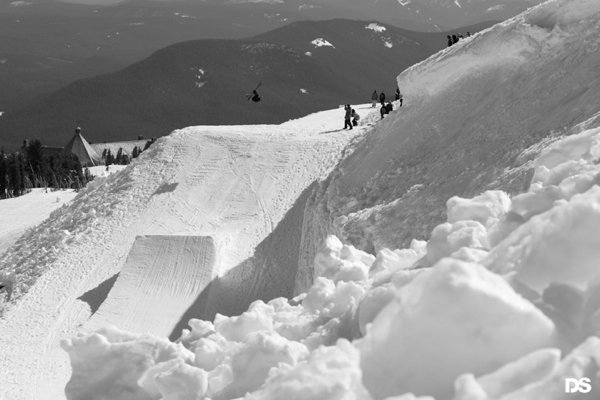 Reed Lewis giving a double-flip lecture. Photo by Drew Smalley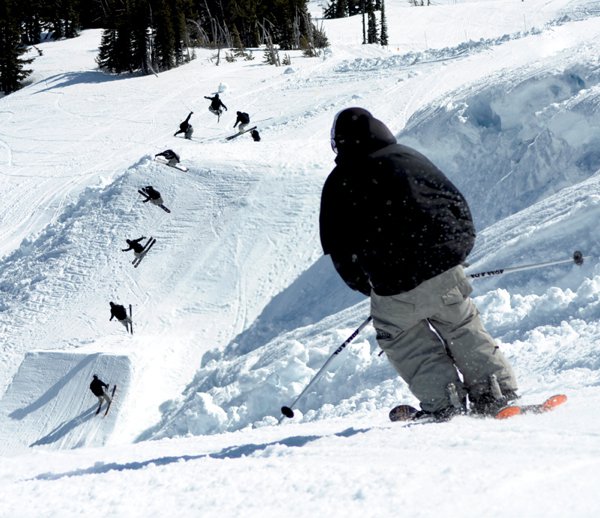 Maks Gorham chomps on a cuban 540. Sequence by Ethan Stone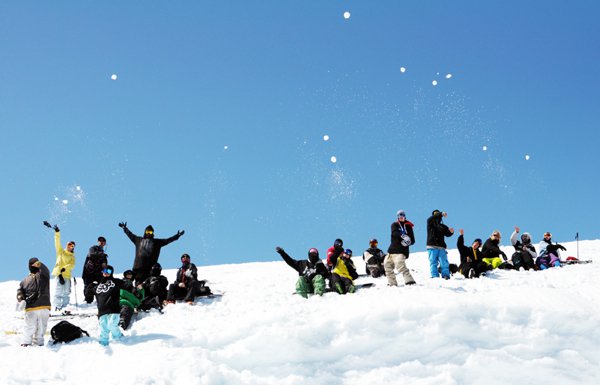 Snowball fight!!!
On top of all the on-snow features, we still had the Windells campus to shred! Every year the whole WCS crew looks forward to getting to feel like a Windells camper for a week, whether that means hitting the trampolines, cruising around the seemingly endless indoor and outdoor skate parks, jumping bikes, staying inside playing Mario Kart with your homies, or all of the above. This is truly the funnest place on earth.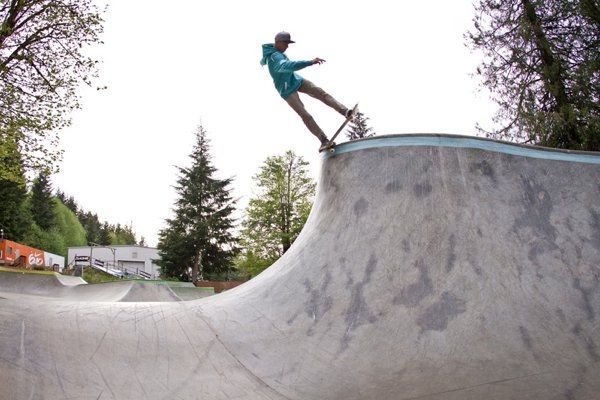 Photo by Jordan Harper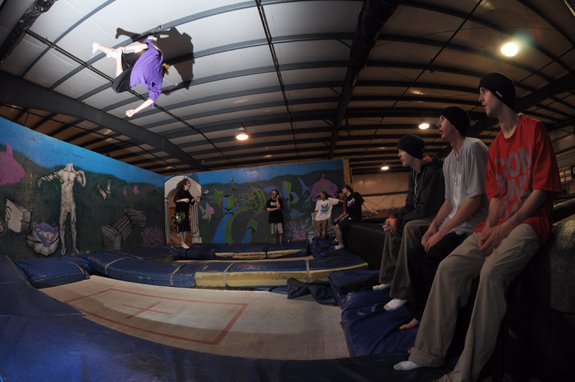 McRae Williams and friends getting some tramp time in. Photo by Ethan Stone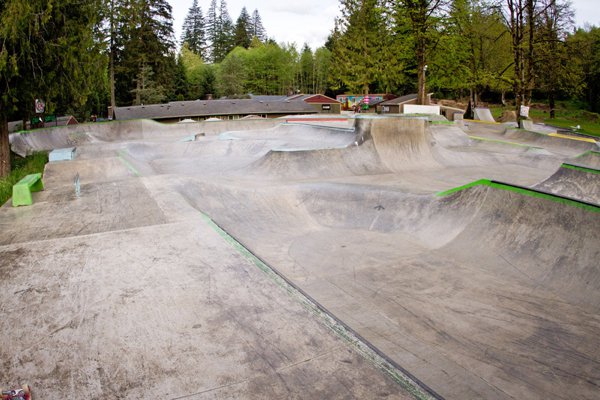 Photo by Jordan Harper
And after all was said and done...the fat lady still couldn't sing until we went out for one more backcountry jump session!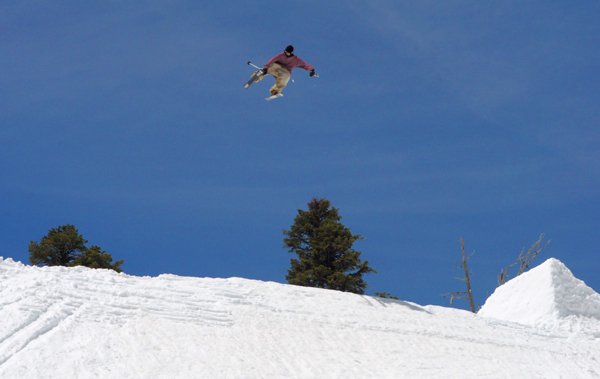 Bill Kelly sends a big switch air. Photo by Ethan Stone
Nicky Keefer rodeo 7 blunt. Photo by Ethan Stone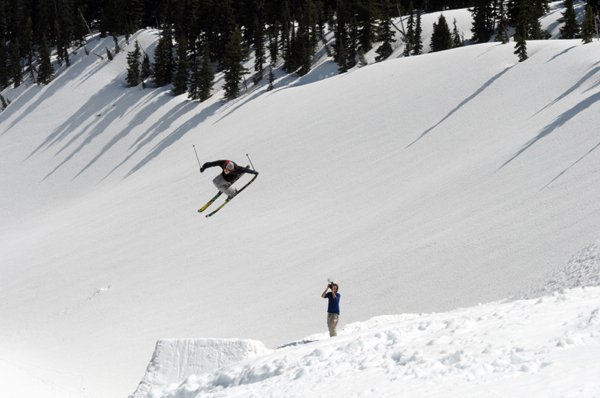 Krazy Karl stopped by and did a straight air, a switch 5, and a switch 9. This is the 9. Photo by Ethan Stone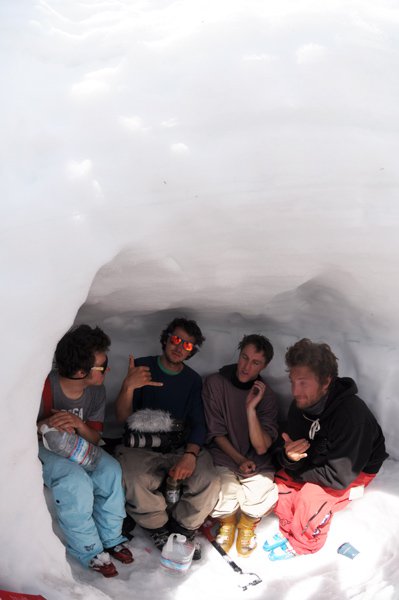 Best way to cool down after a hiking a jump in the hot sun? Chill out in a snow cave. Photo by Ethan Stone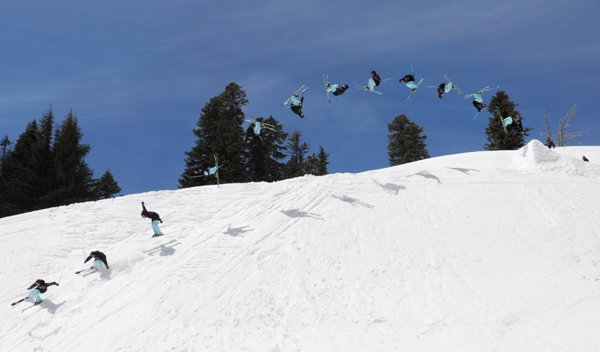 Meatboy with the double meat flip. Photo by Ethan Stone
The West Coast Session Athlete Awards
Each year the West Coast Session riders gather together on the final evening to vote town hall-style on awards for their peers. These are the 2012 WCS Athlete Awards.
King Meat - Luka Melloni
Young Spanish shredder Luka Melloni journeyed across the Atlantic with the Buff crew to take part in the Session, and was quickly turning heads with his unique and aggressive approach. He earned the King Meat title by being the only skier to gap onto the wall ride from the top as seen in the Team Mahalo edit; and this was after walking away from a brutal crash on the big jump two days before. Felicidades Luka!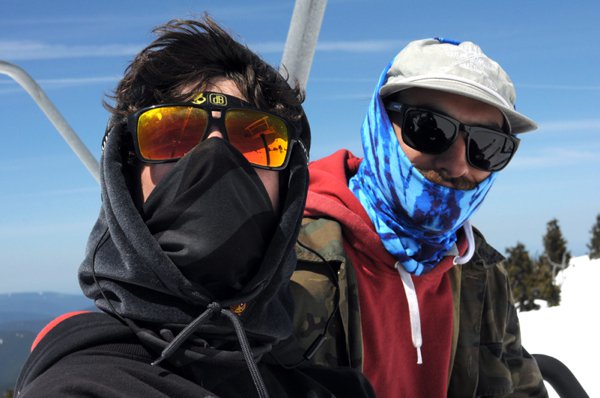 Luka and Marc from the Spanish Buff crew. Photo by Ethan Stone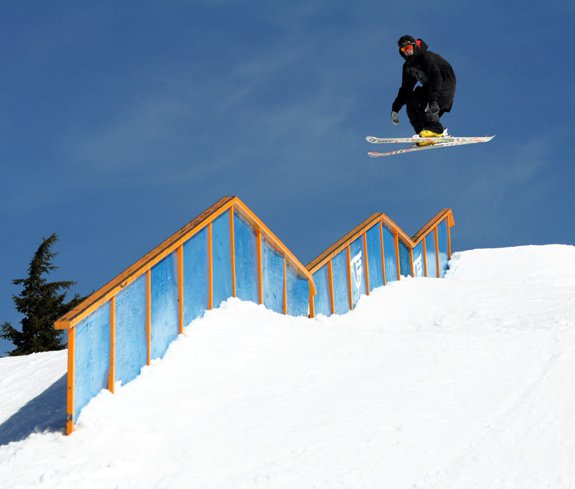 Luka skips a few kinks on the quad kink. Photo by Ethan Stone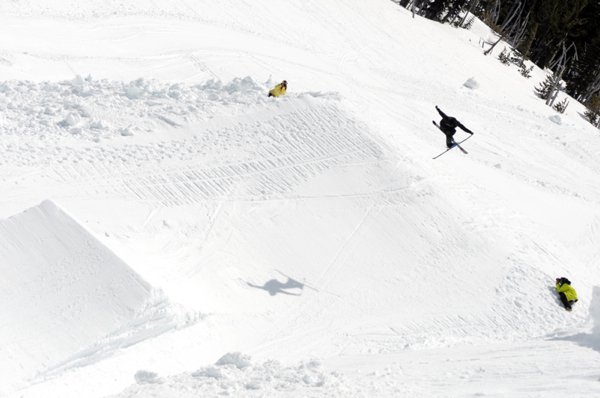 720 nose grab on the step-up. Photo by Ethan Stone
Wild Card - Noah Morrison
17-year-old Noah Morrison from Vernon, BC skied off the hook at his first West Coast Session. He came out for the week with fellow young Canuck Alex Beaulieu-Marchand (both just named to the 2013 Canadian National Freestyle Team) and put on a display of what's soon to be "Olympic Freeskiing". On one of our shoots on the big jump, Noah was the first skier there, and was casually tossing double cork 10s before anyone else had even arrived. It was that gusto that gave Noah the Wild Card vote.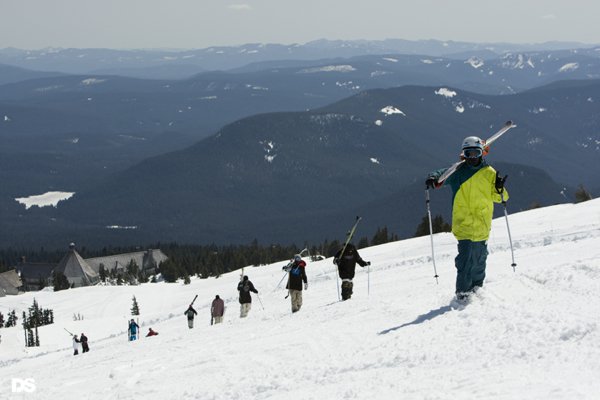 Leading the pack. Photo by Drew Smalley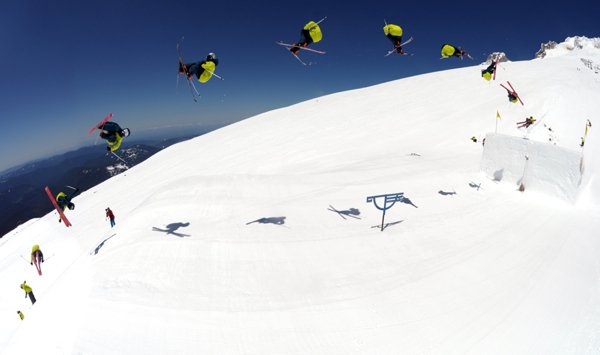 "He was up there on that jump doing dubs while we were all still lapping the park." Sequence by Ethan Stone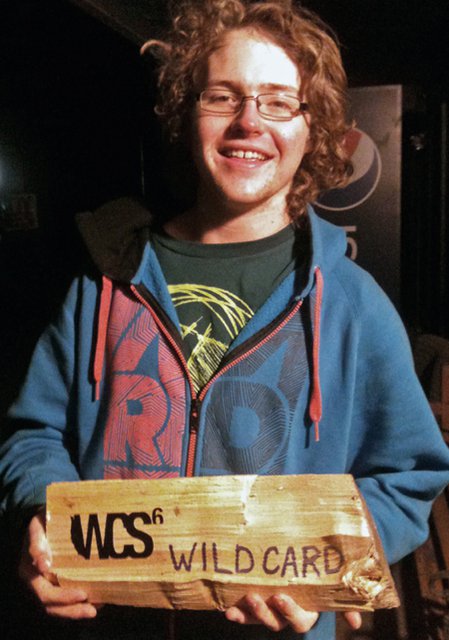 Noah accepts his Wild Card award.
All Day Syndrome - Dale Talkington
Dale Talkington's style and grace place him among the very top of today's terrain park skiers. From tech rail tricks to pure steeze on the jumps, Dale cemented his reputation as one of the leaders in the game with every lap.
Dale mashes another banger on the flat-down rail. Photo by Jordan Harper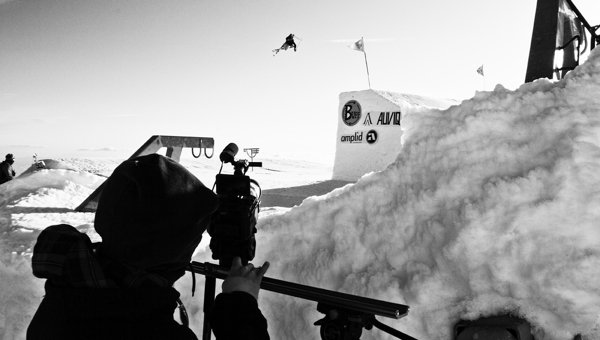 Mike McLeod gets the shot of Dale on the big jump. Photo by Rocky Maloney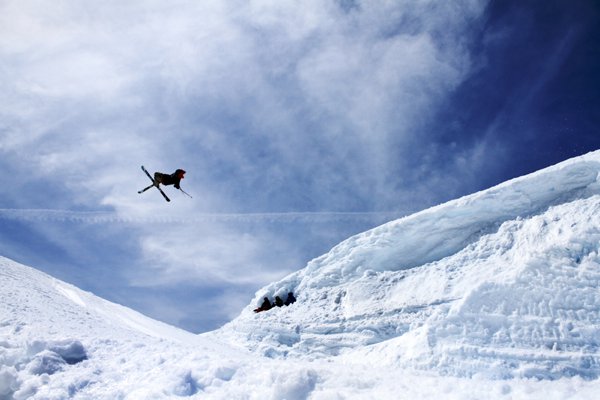 Dale worms his way over the step-up with a cork 9. Photo by Alex Loren
Repeat Offender - Cam Snyder
It came to our attention this year that Cam Snyder has poached every West Coast Session feature for the past three years, all while sleeping in his car in the TImberline parking lot during the month of May. If that's not the perfect Repeat Offender, we don't know what is.
After years of poaching, we invited Cam to come shred this step-up with the crew, and he wasted no time in stomping some of the most stylish tricks of the whole Session. Here he is closing out the final shoot with a banger cork 9. Photo by Ethan Stone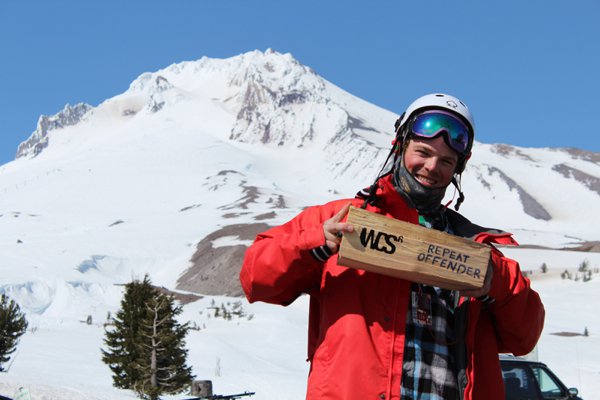 Cam accepts his award at his camp spot in the Timberline parking lot. Photo by Karl Fostvedt
Rookie - Ryan Wyble
"Bryan" is a core member of the 4bi9 crew who has somehow not yet attended a West Coast Session for all the years that his buddies have been coming out here. "It's just weird that he's never come before," said Tyler Barnes. "That's why he's got to get it."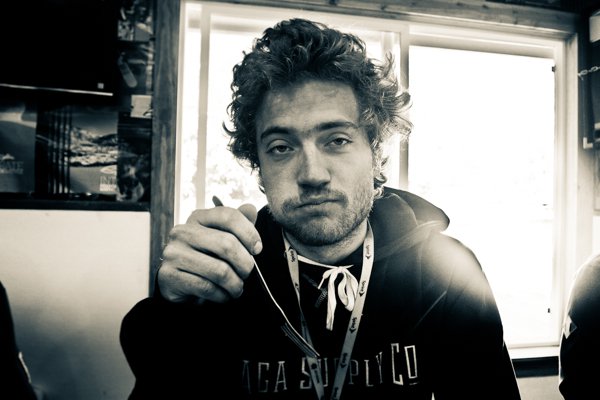 Portrait of the Rookie. Photo by Jordan Harper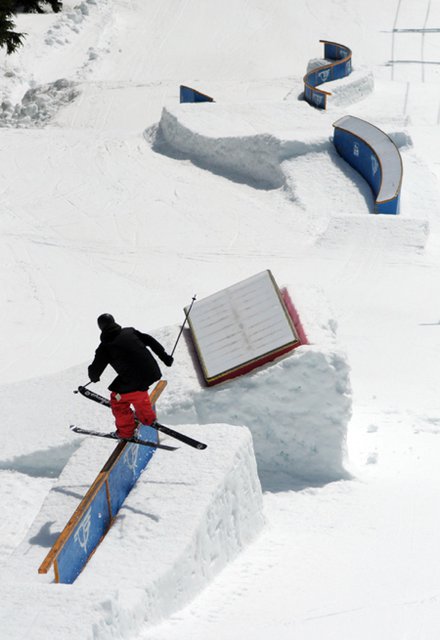 The Rookie in the jibs. Photo by Ethan Stone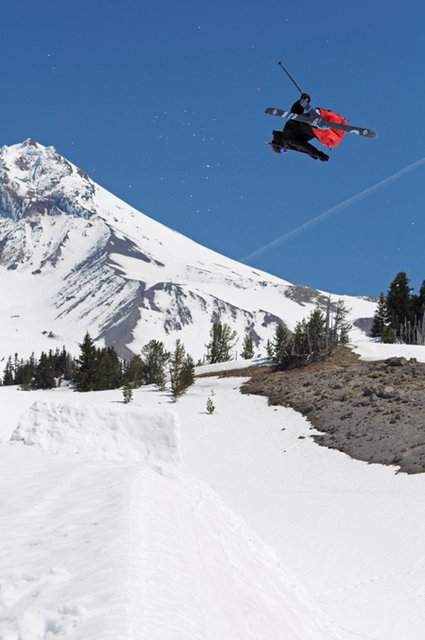 The Rookie doing work in the slackcountry. Cork 7. Photo by Ethan Stone
Best Trick - Maks Gorham - Cork 900 Nose Tap
Against stiff competition from a whole score of double flips from Nicky Keefer, Reed Lewis and Alex Beaulieu-Marchand, Maks' huge 900 tap over the rainbow box prevailed in the vote for the best trick. The stomp sealed the deal.
Best Trick: Maks Gorham's cork 9 nose tap
MVP - Reed Lewis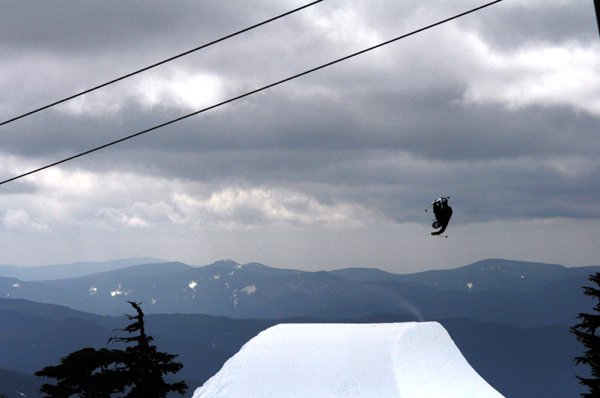 Photo by Ethan Stone
No other skier took advantage of this year's Session like Reed Lewis. A local Northwest shredder whose antics and capability are already notorious in these parts, Reed got his big break with a spot on Team Mahalo and ended up with one of the standout performances in the video contest. His energy and stoke-factor were defining elements of the whole event. He was nominated for almost every other Award on the table (Best Trick, Rookie, Wild Card, King Meat, All Day Syndrome, etc) and probably could have won most of them, if everyone hadn't already been planning to vote him MVP. Congratulations Reed, you killed it!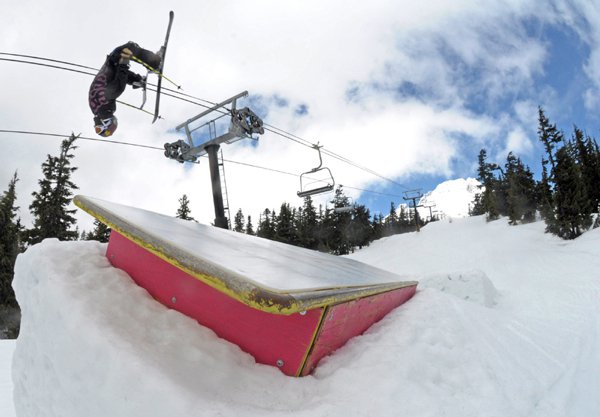 Switch backflip over the dance floor. Photo by Ethan Stone
When you hear Reed say, "I'm gonna do something crazy,"  you can always believe him. Sequence by Ethan Stone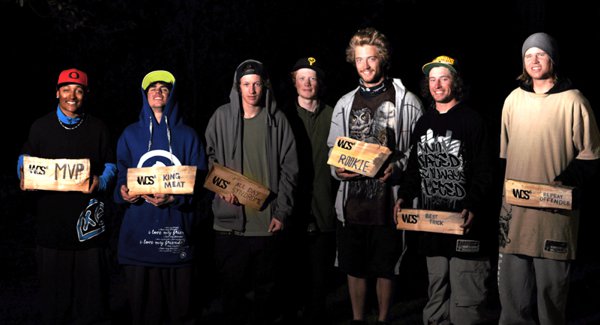 2012 WCS Athlete Award winners (left to right): Reed Lewis, Luka Melloni, Dale Talkington, Ben Moxham (winner of the unofficial Worm Award), Ryan Wyble, Maks Gorham, and Karl Fostvedt standing in for Cam Snyder.
Camtrol Session Showdown Winner
This year we introduced a new video contest, the Camtrol Session Showdown, which turned out to be a huge success. The four invited videographers agreed to go head-to-head in a team edit contest. The filmers picked their teams dodgeball-style at Windells on Sunday night with six to seven skiers per team, and were charged with producing an edit of the week's activities including all the members of their team. The greater goal was to create unique edits that would showcase the diverse styles of everybody here at the Session, and that's exactly how it went down! Each videographer took his own approach to the challenge, and the skiers all gave their best for the cameras.
It was incredibly difficult to choose a winner from among the four fantastic submissions, and each edit was a winner in its own right (yeah, super cheesy but it's true). Each West Coast Session sponsor and host has cast a vote, and in the end the clear winner is...Team Mahalo!
Team Mahalo's winning edit.
Congratulations to Chief Mahalo Andrew Napier (now $1,500 richer) and his team of Ryan Wyble, Steve Stepp, Tyler Barnes, Max Peters, Luka Melloni, Reed Lewis and Noah Morrison! Throughout the week Team Mahalo destroyed every feature in the WCS lineup, including a couple of backcountry jumps for good measure, and Napier's entertaining edit captures the style of each skier on the team, including the breakout performance of MVP Reed Lewis.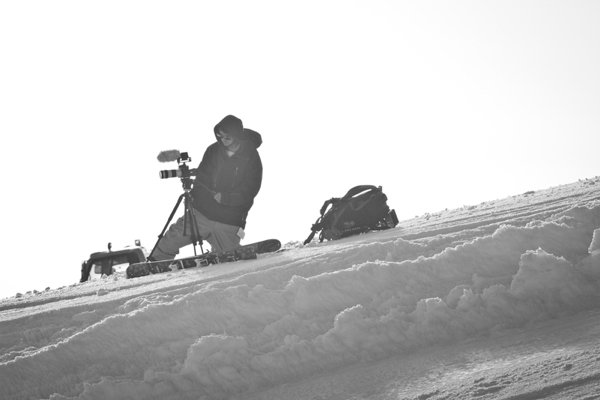 Andrew Napier. Photo by Jordan Harper
We'd like to give a huge thanks to all of the filmers in the competition for their participation and hard work, and for creating the best West Coast Session edits we've ever had! Thanks Shane, Jasper and Evan! If you haven't already seen their edits or you need to watch them again (which you do), scope 'em out on our Vimeo channel. Also a huge shout-out to the photographers who contribute so many fantastic shots for these articles: thank-you Rocky, Drew, Jordan and Alex!
A huge thanks to our incredible sponsors and hosts: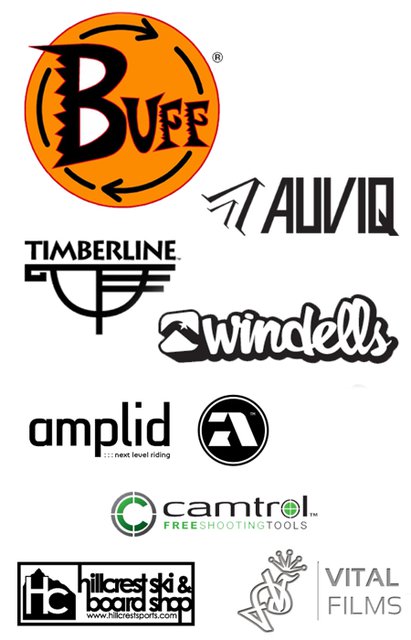 Buff Freestyle: Albert Medrano, Pako Benguerel
Timberline: Brian Reed, Ricky Hower, Logan Stewart, Brian Stanford
Windells Camp: Tim Windell, Jeff Curry, Drew Stewart
Auviq: Scott Bannan, Jon Keenan
Camtrol: Jon Rowen, Matt Guess, Blake McCoy
Hillcrest Sports: Dexter Hill, Dave Smith
Vital Films: Matt Hobbs, Cael Jones
From everyone here at the West Coast Session, thanks for following and supporting our event, and we'll see you on the slopes next year!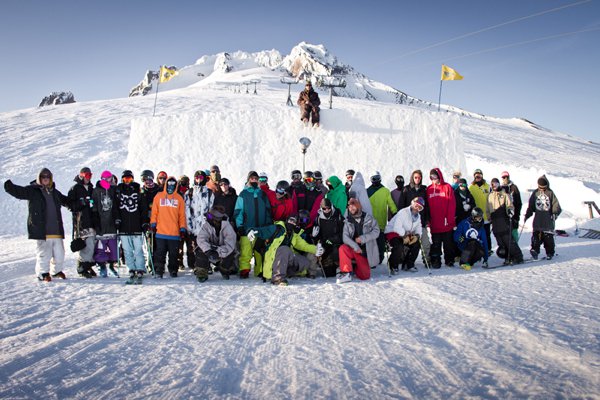 For more on The West Coast Session, check out http://www.thewestcoastsession.com.