It was Thursday morning and Scott and I decided it was going down, regardless of the $150.00 each we had in our pockets.  We were going to Hood!   After a long drive through the rain we arrived at the Timberline parking lot at 4:20 am.  Considering it was dark as Wesley Snipes out and raining super hard we decided to wait on setting up our tent and just sleep in the car.  This was super uncomfortable cause our back seat was completely filled with crap, forcing us to sleep upright in the front seat, but it didn't matter cause we would be shreddin in no time at all.  When we woke up we met up with team rider Matt Dussault from Ontario and it was game on. 
The first day didn't live up to expectation.  The rain and wind absolutely destroyed us, but we couldn't complain about summer skiing.  Waking up on Day 2, it didn't look like it was going to be any better, but once we got above the clouds it set us up for some typical Mt. Hood summer inversion shots: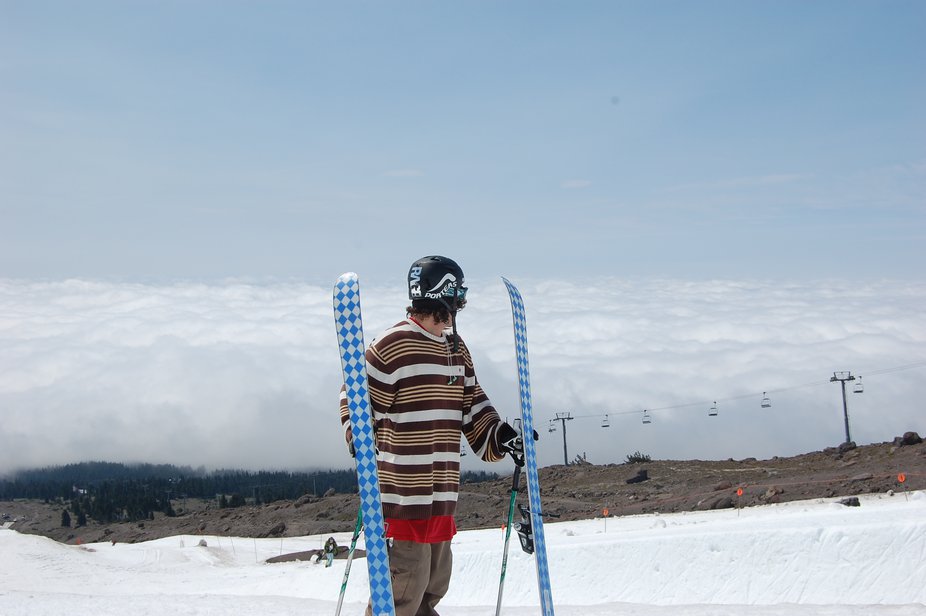 Every day thereafter was a beauty and we made the best of it.
 
Me, trying to mute those sexy twins as close as possible.
Scott loves them switch backies!
The public pipe was in its prime!
Matt Dussault in the house ya'll!
We did dig to ride for a few days at Windell's and had madd fun in their park!  Unfortunately, myself and team rider Garret Jurach both sustained injuries on the last day at Windell's.
Garret was absolutely killin it untill a slightly under rotated dub flat 7 left him witth a broken collar bone.  Somehow, the crazy asshole was smiling the entire time.  Get well soon Garret!
After breaking my rib, I decided to try and make the best of my last hours at Hood by getting some shots of the homies.
  Get that shit Scott!
  Here's lookin at you kid!
Get some poles!
That is a big ol' ass if i've ever seen one.
After they forced us to stop skiing and leave the premises, we went and celebrated a good trip with A LOT of PBR and Night Train.
Scott got a little too hammered and fell off this rail.
Campsite tramp sesh anyone?
We partied till the sun came up!  What better way to say goodbye to Mt. Hood than a Trillum Lake sunrise?  Untill next time Hood!
Oh yeah and don't forget to check out BOONESKIS.COM 's labor day sale starting today.  We have some super sick closeout prices on Magic Sticks, Twins, and SuperFreak Freeride Skis.  $299/pair + free shipping and no sales tax!!!!  Plus, we'll throw in D.O.S Media's movie from last year, "Overlooked" for free!!