Words by Nick Martini & Cam Riley
We are excited to release the trailer for our new movie, Weight. We want to thank all the riders who dedicated so much time to helping make this film happen. A special thanks goes out to Clayton Vila, Sean Jordan, Shea Flynn, Nick Martini, Cam Riley and Alex Martini.
Last year when we created NetWork, the response was amazing. The support we got from last year's project drove us to put our heart and soul into our new film. Starting as a small company that was born from Newschoolers, it's awesome to finally be making the movies we have always wanted to. Our presenting sponsors, The North Face and K2 Skis, helped make this dream a reality.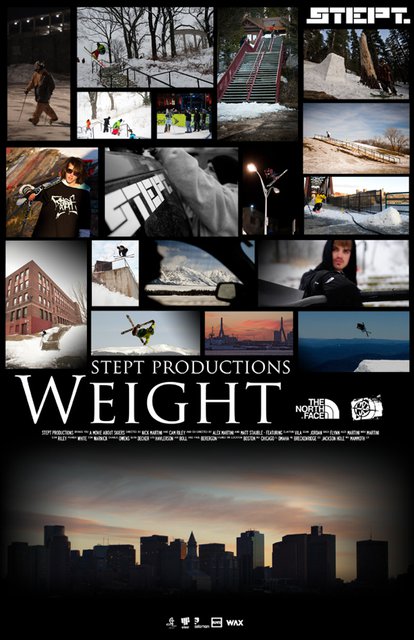 Weight brings the viewer into a world far away from the mountains. The Stept crew heads into the heart of American cities, and shows people a sport they never imagined. Onlookers are in awe as the crew tackles some of their biggest features to date. When the cities dry out, the crew retreats to mountains to ski deep powder, and hit the world's finest jumps.
We decided to do an early release this year, and the movie is already shipping! You can find out more about the movie and Stept at http://www.steptproductions.com.
Weight Trailer - Stept Productions from Stept Productions on Vimeo.
To watch more trailers for this year's ski movies, check out the Trailers Channel on NSTV.