Hey everyone, time for another construction update. As anyone in Ohio will tell you, the Midwest has been getting some pretty serious thunderstorms, and that includes Ohio Dreams. Despite slowing down our work pace, the weather hasn't stopped us from getting things done in between the downpours.We have just finished emptying and power washing our entire 400,000 gallon pool (it is filling back up at the moment) and our new bubble system for our water ramps and big slip-n-slide has also been installed. We have had some problems with seals in the piping of the bubble system breaking,so we revamped the entire thing. The bubbler for our new large ski jump has been extended further out into the pool to allow everyone to go bigger and still have a soft landing and everything has been secured to the floor of the pool with stainless steel lag bolts and brackets. These will hold the piping securely in place and provide a way to easily remove any piping if anything should malfunction down the road (though we don't anticipate any issues).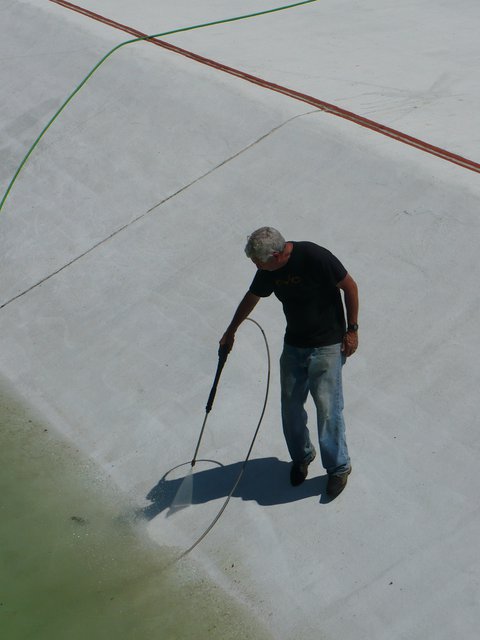 Myron "The General" Ashcraft, the CFO of Ohio Dreams, getting his power wash on.
Myron and Kody finishing up the bubble system and securing it to the pool floor.
With the bubble system finished, the pool starts to fill and our next task is move the ramps back into place.Construction and modification of our water ramp and slip-n-slide jumps has also nearly been completed. The new big ski jump has been completed and new facing and backsides to the other ramps have also been built and set into place. The ramps are starting to get dialed in and once we lay down the mSnow and add some fresh paint, the jumps will really be looking fresh.
The crew tries to figure out how to move the medium jump over the last few inches.
With the help of a pry bar, a 2x6, and a bunch of muscle, the big slip-n-slide jump is moved to its final resting place.
The final placement of the jumps from above...
...and from below.One last thing, if you missed it in our last update we are offering a $100 discount on a week of camp to NS members. If you are planning to sign up for camp, simply include your Newschooler's username on your camp application and will take $100 off of your camp cost.As soon as this weather clears out, we will be back to pushing dirt and moving framing for our jib hill, pouring the slab/pit for our trampoline, building the sliding surface for the slip-n-slides, and more. I think that's about it for now, keep checking back every few days for more updates on our construction progress as we continue to build and add new ski facilities. -Brendan TriebFreeski Director/Head Counselor