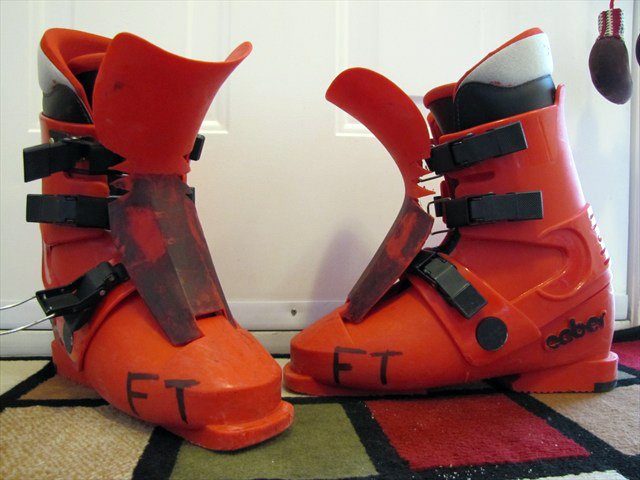 Aiden Parece got these boots for $5 at a ski swap, then attempted to make them appear like Full Tilts. Unfortunately they still looked like wannabes and felt like it too. Now that we're sending him the real deal, Aiden won't have to deal with shinbang any more! Check out his entry below!
"Here's the "A" to the "Q" you've been asking; no I didn't get them from my parents, I purposely bought these at a ski swap for $5. i bought them because once covered with pants, they look like FT's, of course, being old and crappy, i get gnarly shinbang and bruises on every single toe. Q: what are the cuts in the tongue for? A: My attempt at modding them so that they could flex more. i wanted full tilts but i can't afford them, so i settled for these, by painting the tongue and writing "FT" on the side, i hoped they would look like last years hot doggers, but that obviously didn't work. I ride park everyday and am at 53 days so far this season. i can't continue hitting 50′ and 60′ foot jumps with all this pain. Full Tilts are my dream! and i would loving to have a pair, i think it would be the best for my performance and progression in the park."
Remember if you think you deserve boots more than Aiden Parace (winner above), then show us why and submit your own entry at Teton Gravity. Check out all of our RECENT WINNERS!