words by Jeff Schmuck
photos by Felix Rioux & CKO
The last major competition of the year is in the books. As a fine contrast to the bad weather that plagued yesterday's proceedings the sun came out in full force today in Whistler for the men's and women's superpipe finals. And although the sun made things a lot easier than yesterday, the wind decided to hang around and created some speed issues throughout the day for most of the competitors, and as a result many of the boys couldn't throw down their best runs with ease. The jam format that has been in effect all week continued today for the finals, and the 20 men and 10 women took four runs each in an attempt to stand on the last podium of the season.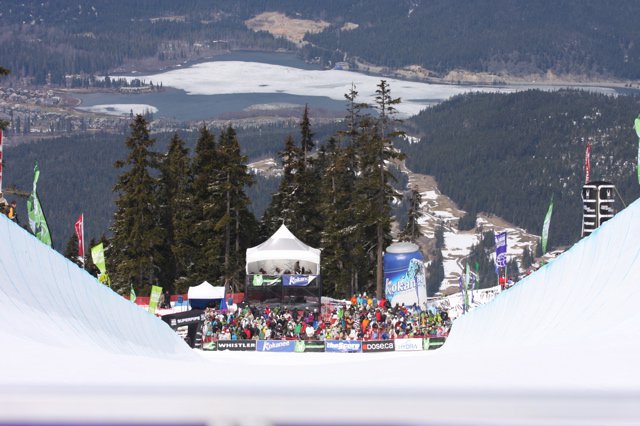 The women were up first and being that they're lighter than the men, had to struggle a bit against the wind to put down the runs they desired. After killing it in the qualifiers both Dania Assaly and Kristi Leskinen had tough days today, with Dania failing to stick her top hit 9 and Kristi crashing on her 7 at the bottom.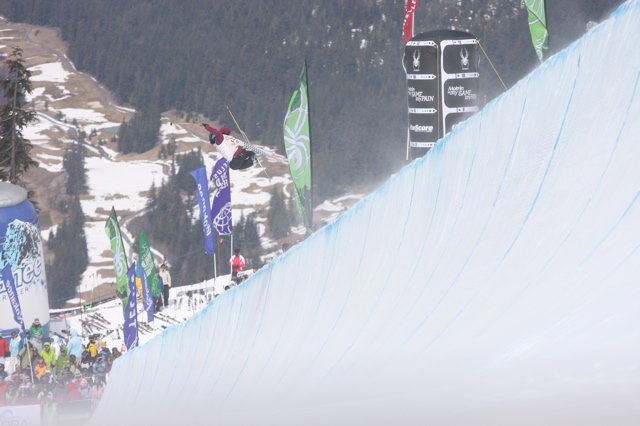 Anais Caradeux
Anais Caradeux, the smallest of the women, also had issues, mainly with the aforementioned wind, which prevented her from getting the speed she needed to cap off her breakthrough season with another podium.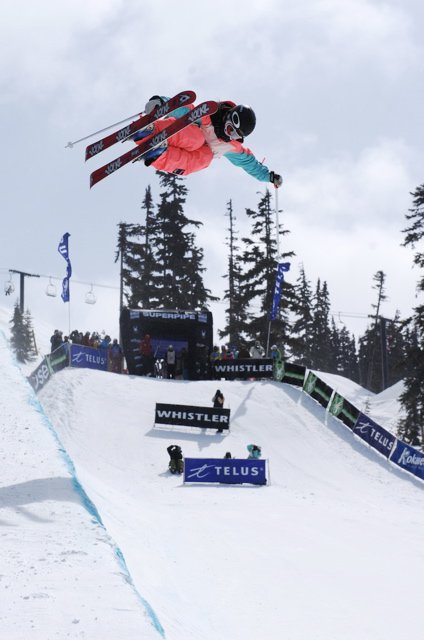 Virginie Favre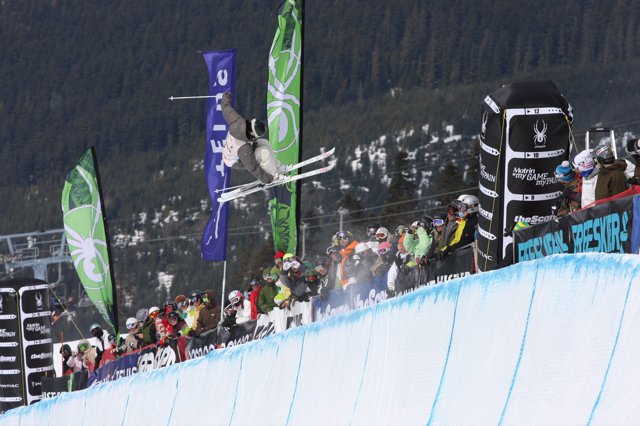 Jess Cumming
Braving the elements throughout the day though was fourth place finisher Keltie Hansen, who is quickly proving that she will be a force to be reckoned with on the women's pipe scene in the years to come, third place Virginie Favre who's mix of style and technicality is nearly unmatched, and Jess Cumming, who happily capped off a more than solid season by landing in second place.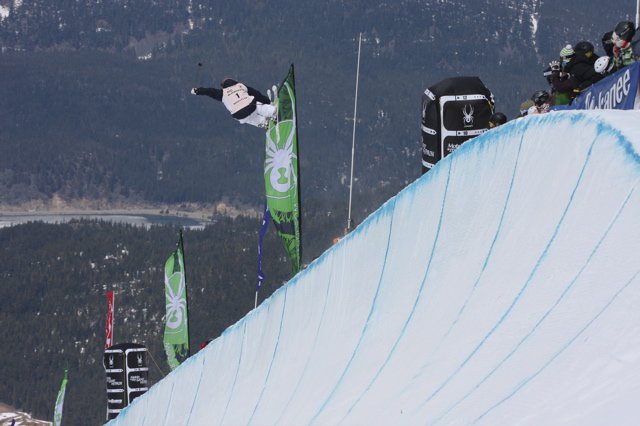 Sarah Burke
But much like all year and for many years prior, today was Sarah Burke's day. To no one's surprise, the queen bee of women's skiing retained her WSI title with some stylish and large and in charge 5's, 9's and 7's to take home the five grand large.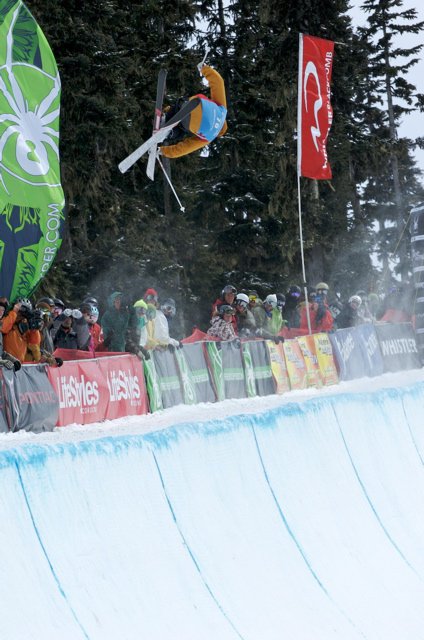 Nathan Wood
Cam Schuster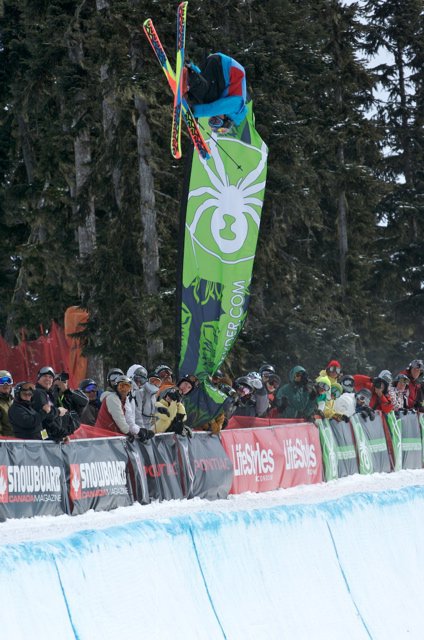 Sean Pettit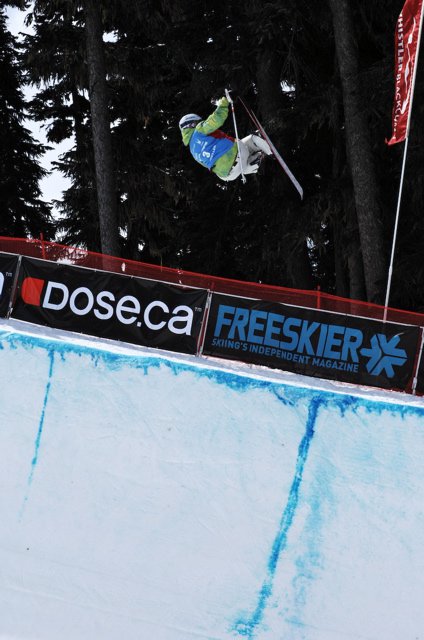 Banks Gilberti
Following the ladies were the men and to say the field was stacked would be an understatement. With solid offerings from Nathan Wood (who after killing it all day long with the sickest 7's imaginable surprisingly landed in eight place when some though he would have podiumed) Sean Pettit, Cam Schuster, Banks 'Bad News' Gilberti and JF Houle kicking things off, and newcomers Jack Sullan, Kevin Labatte and David Wise making a big splash in an ever bigger pool, the contest was anyone's game as the wind put nearly everyone on an even playing field when it came to amplitude.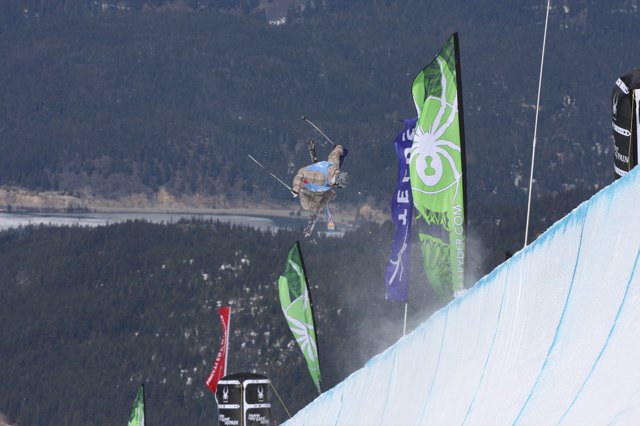 Jack Sullan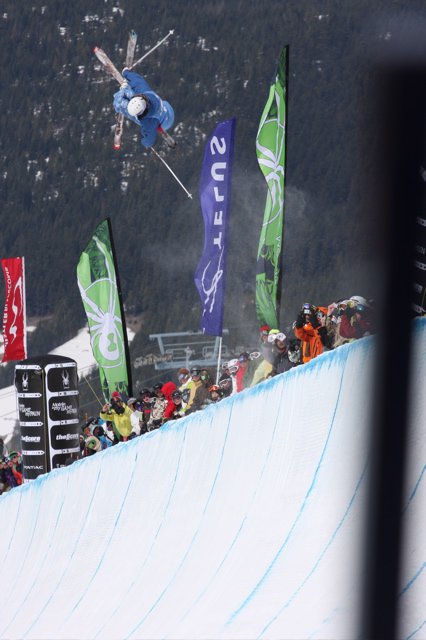 David Wise
As the comp kept rolling a few of the favorites had some unfortunate issues as Matt Margetts bindings began to malfunction, which initially made it difficult for him to continue until a crew of friends, family and the one and only Mike Powell gathered round to help rectify the situation, prompting Margetts to head back up to the top where he threw down a stellar run (complete with a dope nose butter 5 at the bottom) helping him land in seventh.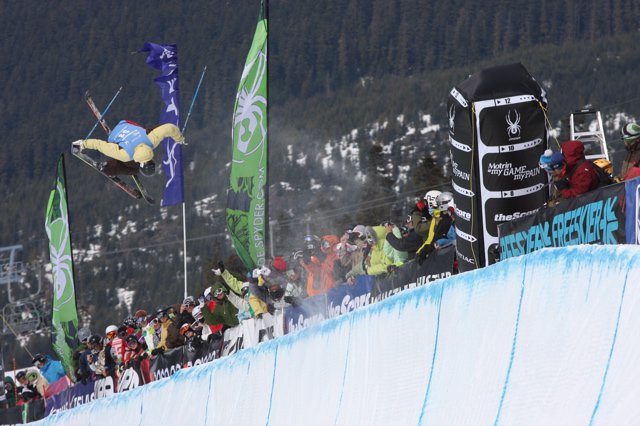 Matt Margetts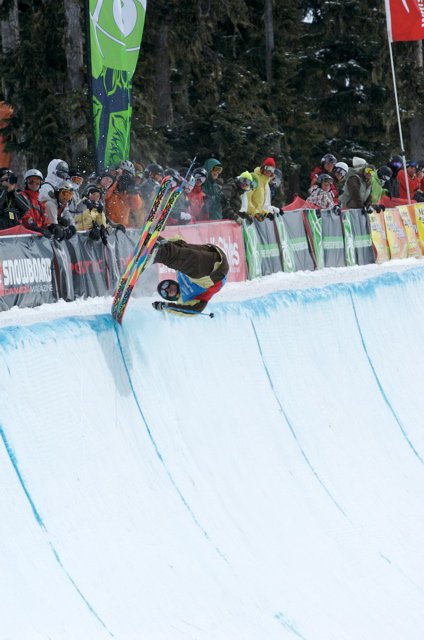 A different type of malfunction slowed pipe veteran and all-around nice guy Dan Marion (or as MC Luke Van Valin likes to call him, Man Darion) down, as he was fighting a bit of a cold and noticeably not himself in the pipe.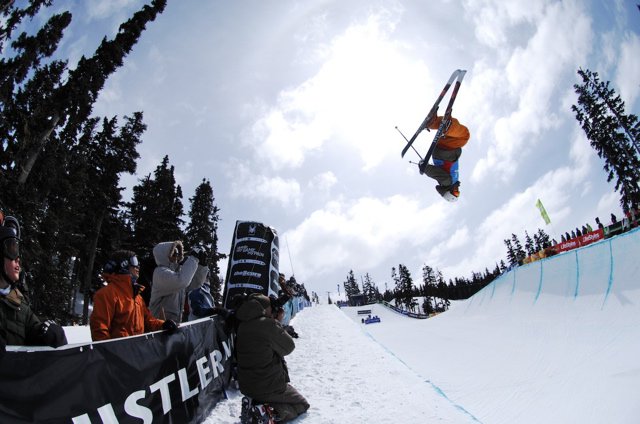 Dan Marion
An XL handful of familiar names were on hand and on point though, and once the smoke had cleared, dust had settled and wind continued to howl, the podium was decided by judges Mike Atkinson, JF Cusson and Matt Hayward.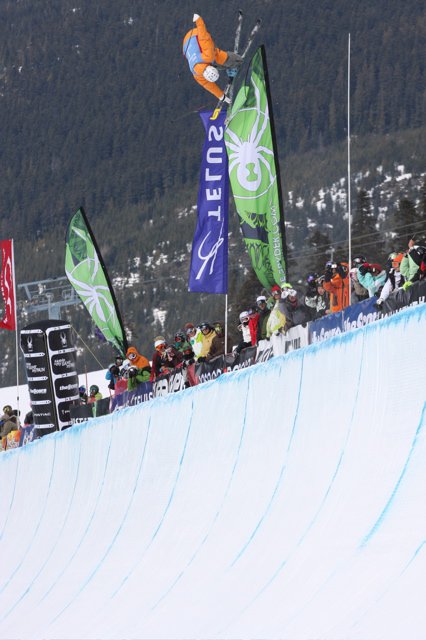 Mike Riddle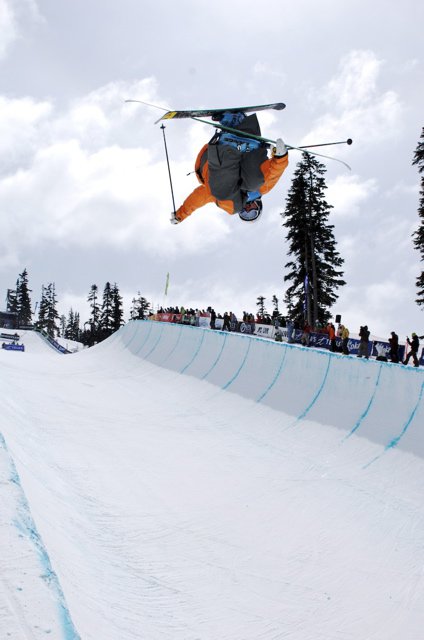 Last year's champ Mike Riddle, who along with Xavier Bertoni was pre-qualified all the way to today's finals, had a bit of a tough start after working himself pretty good in practice. Being the true competitor and work horse that he is though, Riddle soldiered on and although he wasn't skiing as well as he has been all year, Mike Riddle skiing just okay is usually sicker than a lot of people's best, and the Riddler was awarded fifth place for it.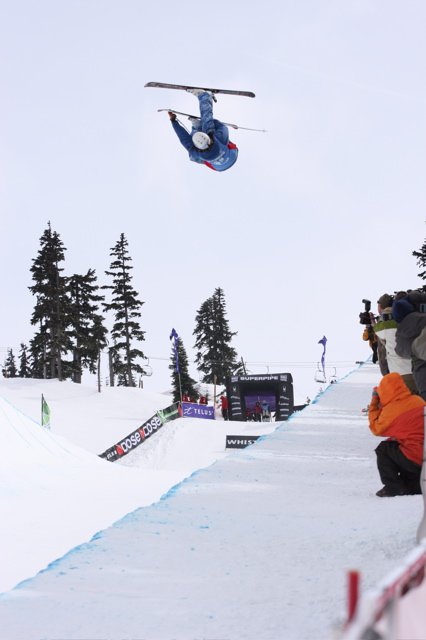 David Wise
Fourth place deservingly went to David Wise, a relative unknown who has been killing it all week long here in Whistler, while Justin Dorey, who thanks to the wind was having issues putting down the jaw-dropping run he threw at Euro Open, added to his growing repertoire of podium posing in third place.
Justin Dorey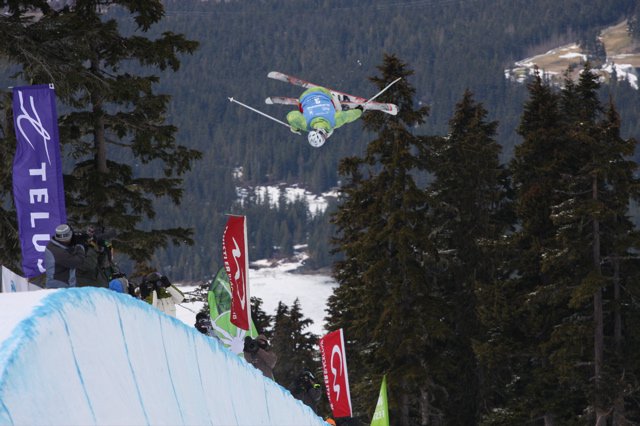 Xavier Bertoni
The second and first place skiers were undeniable though, as La Clusaz, France's Xavier Bertoni took home the silver with an amazingly technical run of switch 7 to left 5 to right 5 to left 9 to right 10, and Tucker Perkins, who has had a formidable season playing bridesmaid on podiums finally scored himself a big win with the largest airs of the day and as much technicality if not more than Bertoni.
Tucker Perkins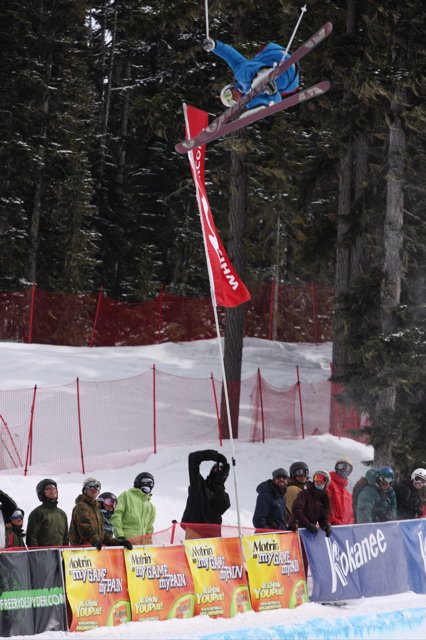 Once all were done their runs, it was time for the coveted superhit contest, a WSI mainstay that has produced numerous unforgettable moments and images such as Dave Crichton's still ridiculously massive alley-oop flatspin 5 many years ago. With powder pig Sean Pettit stepping up to the plate hard with a huge cork 5, Justin Dorey throwing the first ever switch 12, Nathan Wood continuing his slaying of the Whistler pipe and Dania Assaly holding it down for the ladies with some big 10's, the rider judged event was nearly too close to call. In the end though, it was Tucker Perkins making it two for two with a cork 5 even bigger than the one's belonging to Pettit and Wood.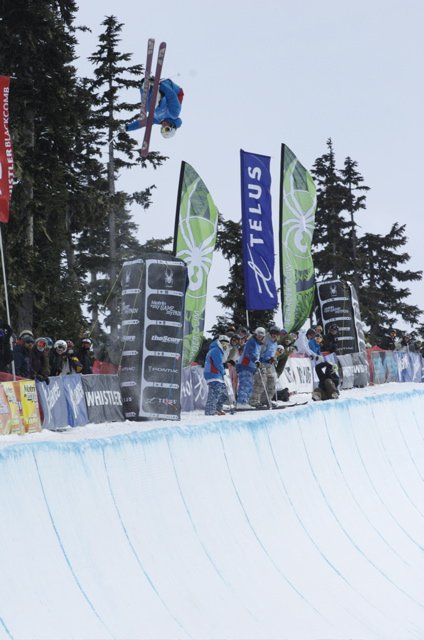 Tucker Perkins...sending it.
After that, it was a wrap. After a long winter of up's and down's, the competition circuit of the 2007-2008 ski season is done. Spring is in the air, summer is on the horizon, but tonight in Whistler, it's party time. If you're here, Maxx Fish is going to be the place to be, and if you're not, I hope you enjoyed your winter as much as I did, and be sure to get yourself to next week's West Coast Session at Mt Hood to finish off the season in the best way possible, or sign up for camp this summer to keep it going.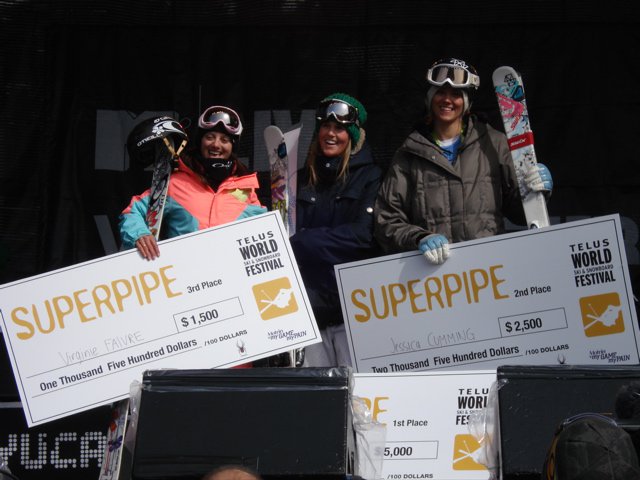 Virginie Favre (third), Sarah Burke (first), Jess Cumming (second)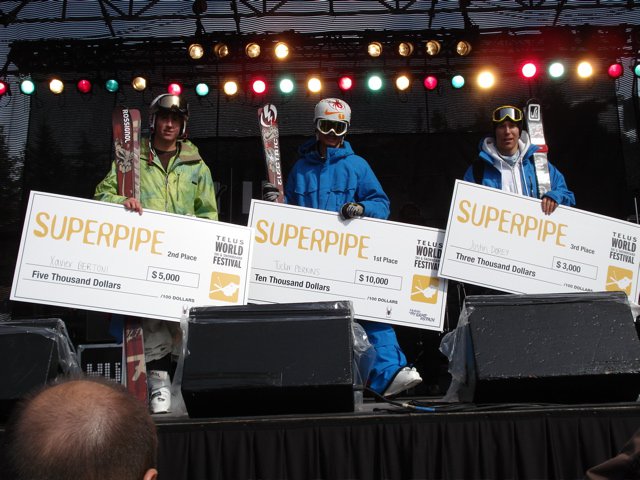 Xavier Bertoni (second), Tucker Perkins (first), Justin Dorey (third)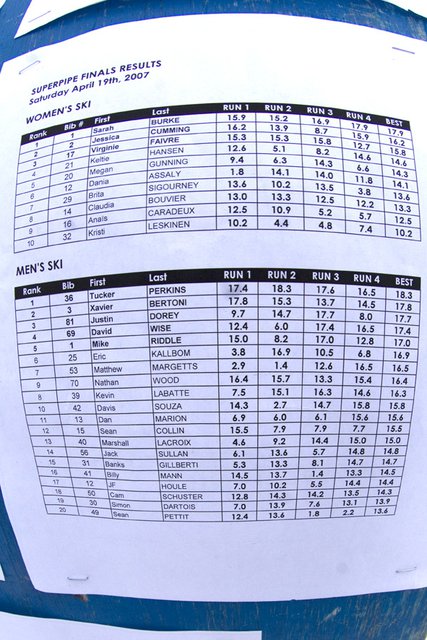 The event organizers are pretty slow at getting the results online, and it's almost drinking time, so here you go.
Oh, and photo by...MATT HARVEY!