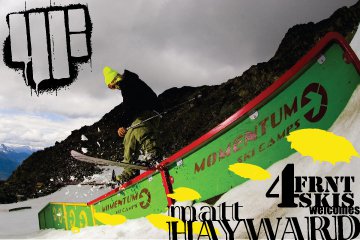 4FRNT Skis is pleased to announce that Matt Hayward has joined 4FRNT as a member of its international team. Matt
has proven to be of world-class talent in his few short years of
competing for his previous ski sponsor, Dynastar. Matt lives in Red
Deer, Alberta and seasonally travels around the world to compete in
slopestyle and halfpipe events. Matt is also sponsored by SMS Clothing
and SPY Optics. Matt had the following to say about the switch to the 4FRNT program.
"I think the change to 4FRNT will really help my comp and film goals
because of the way they run the company. They have done a great job
growing the company around their riders' needs." Matt
later commented on the relationships needed to maintain a professional
career, "Its really critical to have a company that will support your
choices, and help you get where you need to be. It's also great to have
people that are easy to deal with, and that you know personally. This helps me get what I need, and my sponsors what they need." 4FRNT
team manager Matt Sterbenz said "Matt is a young, fired up competitor
who we scouted to be of incredible natural ability. I look forward to
growing our relations with Matt and supporting him to be the athlete we
all believe he can be." This addition to the already extensive 4FRNT
team furthers their drive to be recognized as the premier freeride
company. 4FRNT
Skis (pronounced "fore front") is a rider-owned and operated company
that designs and produces skis, bindings, poles and an extensive line
of lifestyle apparel for the fast growing freeride segment of skiing. 4FRNT's team of rider-owners includes Matt Sterbenz, Eric Hjorleifson, Steele Spence, Vincent Dorion and Niklas Karlström. 4FRNT
distributes its products in over 20 countries worldwide including
Sweden, Norway, Denmark, Finland, Germany, Austria, Italy, Switzerland,
France, the UK, Japan and Korea. 4FRNT remains
committed to the most innovative freeride products, composed of only
the highest quality raw materials backed with unparallel service and
support.