Web based voting campaigns are the thing of the day. As annoying as they can be; two minutes of your time could make the season for either Faction activists, Tavis Menzies or Cyril Reygnier.
ÂÂ
The Ultimate Ski Bum competition has been set up to highlight the collection of ski resorts along the Trans-Canadian highway between eastern British Columbia and the coast. One skier will be selected to represent the whordes of eager ski bums, riff-raffing around the province. They will spend 3 months going from resort to resort, riding helicopters, cats, and snowmobiles. All of this on the expense account of several local sponsors.
ÂÂ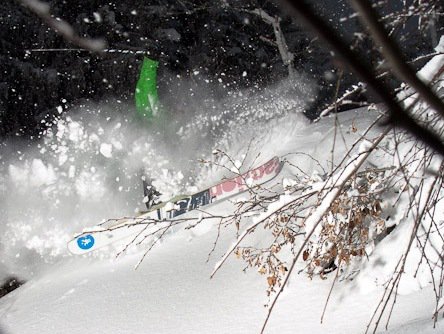 Cyril on the Royale - photo courtesy of Pierre Augier
ÂÂ
One of these guys deserves this in fact they need it. Tavis's home is a wreck, all the beer is gone and he forgot to cut wood for the winter. Cyril, the chilled out Frenchmen is wondering how he's gonna survive a cold, snowy Canadian winter with a broken van.
ÂÂ
Any of us would be jealous of the winner but don't hate them for it; follow the link to youtube.com, log on if you have an account, watch their short clips and just click the one you like!
ÂÂ
For an explanation of the Powder Highway Ultimate Ski Bum Competition:
ÂÂ
http://www.youtube.com/user/PowderHighway#p/a/u/0/nZlTHBc_zVg
ÂÂ
To watch Tavis's funny and desperate appeal to the judges:
ÂÂ
http://www.youtube.com/group/phultimateskibum#p/a/2/bd3SLdmZE-A
ÂÂ
Cyril's honest call to the willing:
ÂÂ
http://www.youtube.com/group/phultimateskibum#p/a/20/_PPDDl6VsNE
ÂÂ