View the Full Gear Guide: The Newschoolers 2017 - 2018 Gear Guide
Volkl has completely rebranded their line for the 2017-2018 season. The Bash is a rebranded version of the "One", and Volkl branded the "Two" the Revolt 124. Volkl has also rebranded "The Wall", their cambered park ski, now called the Revolt 87 and the rest of the line under the Transfer and Revolt monikers.
_
Revolt Series
The Revolt 95 was originally designed by Ahmet Dadali and the series nows contains Volkl's most park oriented offerings - the Revolt 95, Revolt 87 (previously The Wall), and Revolt 85 (previously the Step).

Park/Urban
Sidecut: 129/95/119
Lengths: 157, 165, 173, 181
Tip & Tail Rocker
_

Park/Pipe
Sidecut: 115/87/115
Lengths: 161, 169, 177, 185
Full Camber
_

Park
Sidecut: 112/85/112
Lengths: 147, 155, 163, 171, 179
Tip & Tail Rocker
_

Powder
Sizes: 176, 186
Dimensions: 146 / 124 / 138
Full Rocker
_
Bash Series
Bash 116: Click For Review

Powder
Sidecut: 138/116/130
Lengths: 156, 166, 176, 186
Full Rocker

Powder
Sidecut: 138/116/130
Lengths: 156, 166, 176
Full Rocker
_
Transfer Series

All-mountain/Park
Sidecut: 122/89/112
Lengths: 155, 163, 171, 179
Tip & Tail Rocker
_

Park
Sidecut: 112/85/112
Lengths: 155, 163, 171, 179
Tip & Tail Rocker
_

Park
Sidecut: 112/85/112
Lengths: 155, 163, 171, 179
Tip & Tail Rocker
_

Park
Sidecut: 111/81/104
Lengths: 148, 158, 168, 178
Tip & Tail Rocker
_
SIA Photos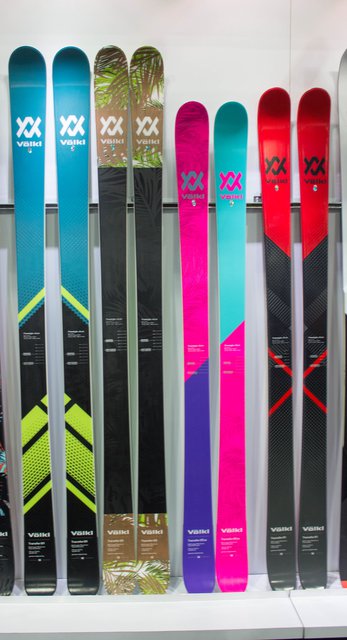 Marker Bindings