I've been traveling quite a bit in the past weeks and haven't had much time to decompress, let along compose a blog post of what I've been up to. I can say that it's involved a bunch of skiing, a celebration of marriage, a new baby and some office work when I can fit it in. I have had some exciting opportunities present themselves recently in the form of contributing to both Freeskier & ESPN as well as jumping on the road with Line Skis' Traveling Circus.* The road trip itself was a bunch of fun, as I got to travel around the Northeast with a brightly colored van (that even featured some of my photographs, turned graphics) and hit up some resorts that I've never skied before like Seven Springs, PA and Ski Sundown, CT and the athletes that I got to travel with over the course of a week or two really made it that much more enjoyable…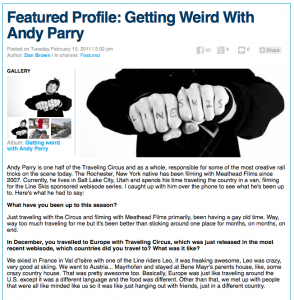 Screen grab from Freeskier.com
And while I may not have been keeping up with this blog, they certainly have been with their own work. Go & check it out!
 
Andy Parry, who I interviewed for Freeskier (found here) has a Facebook Fan Page that's based on his youtube video, Alien Grinds & Wizard Tricks (attached below).
Alien Grinds with Andy Parry
Ian Compton is pretty Weak.
Ian Compton's The Weak
The wicked Weak. 17 from ian compton on Vimeo.
& Cole Drexler, who's got an amazing rendition online of Edward Sharpe & the Magnetic Zeroes, also posts behind the CASG blog.