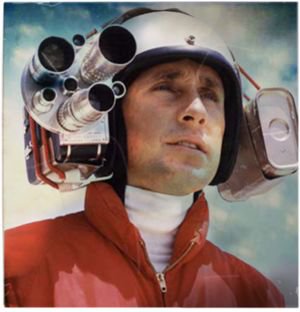 VholdR POV Awards Announced in Honor of Dick Barrymore
Father of POV Video Honored with the Dick Barrymore Memorial Award
SEATTLE – January 26, 2010 – VholdR, the market leader for HD Wearable Camcorders, announced the winners of its 2009 POV Awards. Five shooters were selected for Top Producer, Golden Thumb (most thumbs up), Chatty Cathy (most comments), Popular (most views) and the Dick Barrymore POV Award, which was selected as the "editors choice" for the most influential POV video on VholdR.com in 2009.
"We are excited to honor Dick's memory with our first POV Awards," says VholdR.com's Executive Producer, Jason Green. "VholdR.com has become home to thousands of amateur videographers, who like Dick, are documenting their adventures through wearable video. These awards represent their contributions to the community and their progression in POV video over the past year."
Dick Barrymore was one of the great ski filmmakers in American history, ranking with the two giants of lecture film, John Jay and Warren Miller. Barrymore is a recipient of the Life Achievement Award by the ISHA and was inducted into the US Ski and Snowboard Hall of Fame in 2000. Dick was a pioneer in creating some of the first helmet cameras and in demonstrating the power of POV video.
Without further ado, here are the winners of the 2009 VholdR POV Awards!
2009 VholdR POV Awards
Video: http://www.vholdr.com/node/63195
Winners….
Dick Barrymore Memorial Award – Editor's Choice
Winner: Djé
Video: BoardHell Longboarders (http://www.vholdr.com/node/31909)
Golden Thumb Award – Most Thumbs Up
Winner: Tomfisk
Video: Playing in the Sky (http://www.vholdr.com/node/33857)
Popular – Most Views
Winner: Bomacarthur
Video: Air DH Race (http://www.vholdr.com/node/41377)
Top Producer – Most Videos, Comments, Views, Thumbs
Winner: EZ (http://www.vholdr.com/users/ez)
Chatty Cathy Award – Most Comments
Winner: David Whitefield (http://www.vholdr.com/users/davidwhitefield)
On behalf of everyone at VholdR, we would like to say thank you to our customers and their continued progression in sharing POV video.
About VholdR
VholdR is the market leader in HD Wearable Camcorders, enabling modern day explorers to tell their stories of action, adventure, and travel through video. Leading the way in making action video easy to shoot and share, VholdR is dedicated to creating simple tools that enable hands-free capture and effortless sharing of video online with the world. For more information about VholdR please visit http://www.vholdr.com.