Newschoolers.com at Vegetate -- Mt. Hood Meadows
Words and photos by Ethan Stone
Like cork 5s, pedophiles, and your roommate's dirty underwear, Vegetate can be summed up very simply with a single word: sick. Every year for the past nine, the benefit competition for Mt. Hood Meadows' native wildflower revegetation program has ended up sprouting some of the smoothest skiing to be seen all year at Hood, including them damn summer camps. Throw in thousands of dollars in prize money, free Red Bull, and three full days of competitions, and you've got yourself a flower-powered freeride frenzy.
Vegetate kicked off on Friday, Mar. 12 with a superpipe jam in Meadows' brand-new in-ground super-duper stunt ditch off the Easy Rider chair. The typically finicky Hood weather played noncommittal, allowing brief glimpses of sunshine before clouding over and threatening rain. Men and women skiers and boarders dropped into the pipe with a chorus of dollars– nine hundred in each category, to be exact– cooing in their ears.
Charley Marian, Sally Butler, and Harmony Libby.
To start things off, the ladies heated up the pipe to music thumping from the Red Bull tent and spectators enjoying Full Sail brews and free Red Bull. GirlZ Freeride Team members Sally Butler, Charley Marian, Harmony Libby, Heidi Adamson, and other riders participated in the jam, doing their best to push the women's side of the sport with grabs, alley-oops, and 360s. After an hour-long session, the riders dropped their skis and picked up pens to decide the winner of the jam. Butler's consistent amplitude and grabs netted first place and five hundred clams, with Marian close behind in second place and $300. Harmony's solid riding and dialed alley-oops sang to the tune of third place honors and a hundred bucks to bring home to the family.
The men followed, and Charley Marian described it best: "HUGE!� (though Heidi "They're all so hot� Adamson offered a similar description). All competitors took their tricks to new amplitudes, laying down runs peppered with style, switch tricks, and all-around pipe expertise. Local favorite Tommy Ellingson staked his claim on the podium early on with runs including huge airs, alley-oops, flairs, and a giant corked 1080 on the last hit. Meanwhile, Josh Frazier displayed the pipe run of the future, linking switch airs, switch reverts, half cabs, and 360s down the pipe for runs that were ridden switch over half the time. Local legend Griffin Cummings stacked 540s like pancakes– switch, regular, unnatural, alley-oop– underneath a dollop of style, while Head rider and Bend local Tim Durschi put together some of the most technical runs of the day, including massive straight airs, cork 7s, alley-oop flat 5s, and switch rodeos.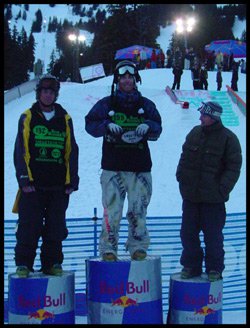 Tim Durtschi, Tommy Ellingson, and Griffin Cummings.
Tim gave Tommy a run for his money on the final run of the jam, throwing a cased cork 1080 into a switch rodeo 7. "It just came,� Durtschi said. "I knew I had to step it up.� In the riders vote, Tommy won first by a narrow margin, while Tim picked up three hundred dollars on the second stool and Griffin got third.
On Saturday morning, I woke up at 6:30am with a massive hangover to watch the Rossignol slopestyle that wasn't so much a slopestyle as it was a triple-jump contest, with three tables increasing in size lined up back to back. Riders lamented the lack of rails and the persistent sun and warmth that bestowed ill goggle tans but, to use the announcer's term, "guacamolied� the lips and landings and robbed the course of any speed. Nevertheless, the crazy Hood-rats threw down, with several taking guacamole dips on the landings due to lack of speed. Both Charley and Sally pulled out smooth style in 180s and 360s to take the womens' slopestyle and increase their weekend's coke float to eight hundred slammers apiece, while Heidi Adamson rounded out the podium with a solid third-place finish. On the masculine side, Griffin powered through the sludge on his heady 4FRNTs to stomp a variety of lazy switch and regular spins that were sicker than a third grader with the chicken pox (thanks Brody), and earned him first place with a first-run 61.0, followed by a solid 59. Alaska's Tim Durtschi was close behind with baby's-ass-smooth unnatural 540 tails, switch 7s, and a clean switch cork 9 tail on the final table. Tim also set down two perfect runs, to come in just off Griffin's wingspan with a 60.0 and 59.7. Chris Jordan stepped it up to third place with tricks that I might not have seen because I was on the lift, or something, but must have been sicker than a penguin in Panama. Bend's Brandon Varner got seats in the fourth row, while Hood locals Matt Woodhouse, Jonny Armstrong, and Ellingson wrapped up the lucky seven.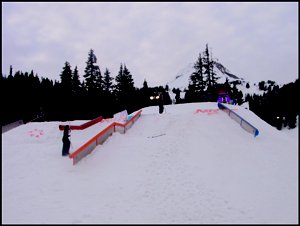 After the slopestyle closed up shop and six stitches were sewn in my knee, the stoked crowd out to see Vegetate congregated outside the mountain lodge as awards from the previous events were given out and floodlights illuminated the sick setup built by the rabid Meadows park crew for the nighttime "Jibbing for Jacksons� rail jam. "Meadows has never had anything like this before,� muttered a humbled snowboarder. "Unreal.� On a choice of two descending rails, a down-flat mailbox to drop, and a fatty flat-down-flat kink, riders would grease it up for 25 twenty-dollar bills that would be distributed according to impromptu judgement and crowd response. Meanwhile, the top finishers from the superpipe and slopestyle competition got their turns to stand on the nifty Red Bull podium and collect their adoration, cash, and champion's belts custom-made by Bulls Eye Belts.
As the shitty thrash band on the deck warmed up, a hyped crowd of jib goblins took to the jam, ignoring everything but the fat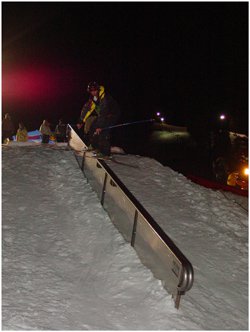 orange double kink set up in the middle of the scene like a broken smile. Them damn skiers straight killed that monster: Line ground troop Brandon Becker came up from Park City just to slay the kink with steeze, and Tommy Ellingson snagged one of the first Jacksons to be handed out with a disaster to the last down section. Durtschi displayed his well-rounded skills again with confident rails, consistently throwing down the smoothest switch-ups this side of the nearest gender reassignment surgery clinic, including a blindside switch (not sure if they do that in the clinic). Tommy, Tim, and the three other skiers to pick up $20 over the course of the jam (Griffin, Seth Werner, and Rory Silva) were entered into a final round, where the skiers were given one chance to throw down their best and collect the other riders' earnings. Tommy stomped the disaster, Griff and Seth waxed with steeze, and the Rory washed out on a crazy 270 disaster, but Durtschi's rail game paid off a clean switch-up to switch, and crowd approval won him another $100 bar tab. After all the cash had been given out and all the rails had been scraped bare, riders resolved to stick around and grind under the watchful eye of a Rage Films camera until Meadows turned out the lights.
Brandon Becker gives the double-kink the Chronic touch.
That knee hurt come Sunday morning so I didn't make it up to the big air exhibition, but word on the street is that the Vegetate crew just had to continue the ritual slaughter into a third day of gore. Brandon Varner re-defined huge and took an upset $200 people's choice victory with double backflips and, yes, a risky flip, and Seth Warner backed into a second-place fifty greenbacks with a switch 1080 safety. Tim Durtchi and Brandon Becker each received new pairs of Rossi Scratches as the Judges' Picks. More awards were promptly distributed: Durtschi's switch 1080 tail got him "Best Crash� on a stomped yard sale, but his rail steeze added "Best Rail Skier� to the palette, with a blindside switch-up 270 off on the rainbow rail set at the base of the big air jump. "Best No Grab� went to Chris Jordan on a floating half cab, and Griff's well-aged daffys and spread eagles got the "Best Old Skool� nod. A ridiculously massive 900 carried to the bottom of the landing got Seth Werner "Best Big Air� bragging rights. It was so sick that everyone just stopped whatever they were doing to go home, throw up, and then plan to go back up to Meadows next weekend when all the features are re-groomed to perfection.
Thanks to Dave Tragethon and the Meadows team for the great weekend, and the help in covering it.
*new* WATCH RAIL JAM VIDEO *new*
WATCH PIPE VIDEO
More videos to come soon!
FINAL RESULTS
Men's Superpipe
Women's Superpipe
1. Tommy Ellingson
1. Sally Butler
2. Tim Durtschi
2. Charley Marian
3. Griffin Cummings
3.Harmony Libby
Men's Slopestyle
Women's Slopestyle
1. Griffin Cummings
1. Charley Marian
2. Tim Durtschi
2. Sally Butler
3. Chris Jordan
3.Heidi Adamson
Rail Jam
Tim Durtschi
Big Air People's Choice
1. Brandon Varner ($200)
2. Tommy Ellingson ($50)
Judges' Pick
Tim Durtschi
Brandon Becker