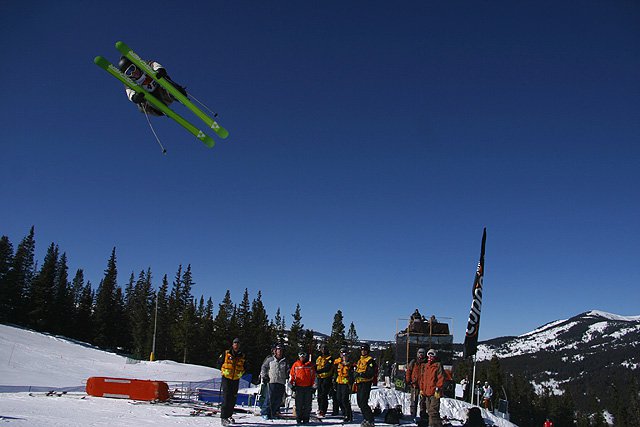 US Open update 2: January 19Day two of qualifying has wrapped up, with two stacked men's heats and the women's heat tearing up the slopestyle course at Copper Mountain, CO. Under bluebird skies a group of skiing's hungry young jibbers threw down all kinds of spins in all kinds of directions on the four-kicker line that starts off the course (this will probably be a venue for all four of some spin tomorrow in the finals). And during the practice hours before and between heats "the flying circus," a seemingly endless train of skiing talent pouring through the slopestyle course, provided constant entertainment.Colby West, Joe Schuster, Max and Tosh Peters, Henrik Harlaut and Wiley Miller advanced from Heat 3 and will be skiing in the semifinals today. In Heat 4 Roy Kittler, Thomas Dolpads, BB Stian, Oscar Harlaut, Duncan Adams and Chase Crain all got the nod for the semifinals. John Symms laid down runs of straight backflips and also shiftied the hell out of a screamin' seamen, and Travis Perkins threw the biggest cork 7 screamin' this side of... well, nowhere.In the women's heat, Anna Segal took the top qualifying spot ahead of Kristi Leskinen, Sophia Schwartz, Vanessa Colletta, Maiko Hara and Shidasha Holmstead. Ashley Battersby was skiing well but came up short on the box gap on her final run, slamming into the second box and breaking her leg. Get well soon Ashley, our thoughts are with you.Men's Heat 5 has wrapped up for today, as have the women's finals- we'll have results and some media later tonight! Men's semifinals are going down in about 20 minutes, so I'm out of here.Here are links to .pdf versions of the full qualifying results for men's heats 3 and 4 and the women's qualifying results. (See below for Heat 1 and 2 results.)Men's Slopestyle Qualifiers - Heat 3 ResultsMen's Slopestyle Qualifiers - Heat 4 ResultsWomen's Slopestyle Qualifiers ResultsAnd for your viewing pleasure, here's another amazing Jon Olsson follow-cam courtesy of Skifilm.com.To go with our photo coverage (by Felix Rioux, cko and kamikaze), we also conducted a few brief interviews with some of the athletes and individuals at the Open to try to give you a feel for all of the diverse riders and inviduals at the Open. Enjoy!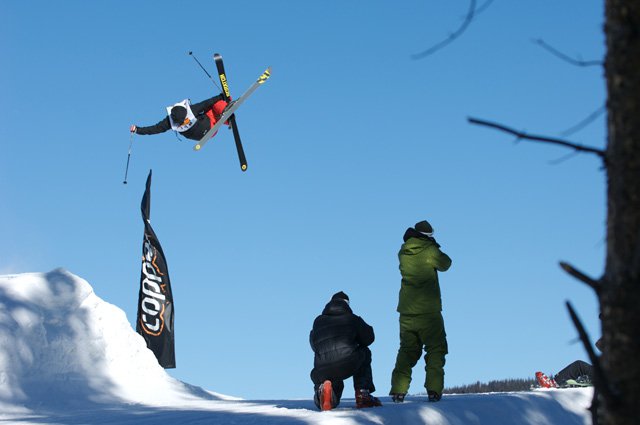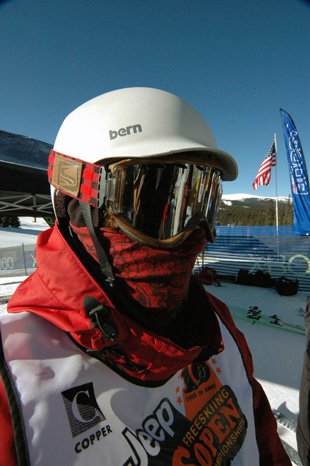 Matthew BurtonPark City, UTAge: 27Sponsors: Slim JimDo you feel a bit old here?Definitely, I definitely feel like the oldest competitor out here.Is this your first Open?It's my second, I came out here a few years ago and got owned, so I need to come back with a vengeance.Are you feeling good about this year's comp?I'm feeling really confident—the most confident I've ever felt rolling into any competition in my life, and I've had over 100 starts, easy.Shoutouts? My brother AJ Burton, my dad and my girl, for sure.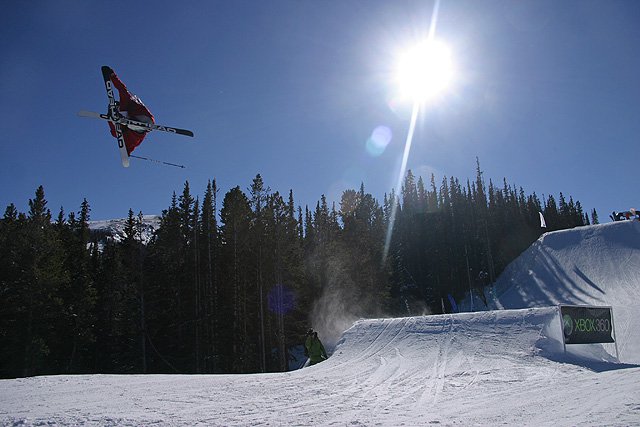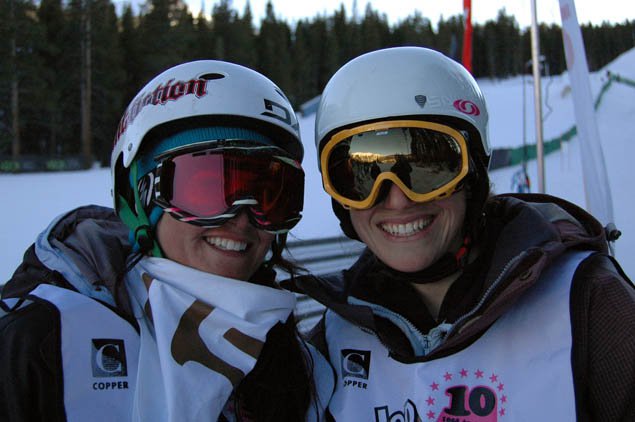 Lorna BremnerBreckenridge, COAge: 21Sponsors: Punk FictionStephanie Sirianni Melbourne, AustraliaAge: 22Sponsors: SalomonIs this your first Open?Lorna: Yeah!Stephanie: I've done a couple.How are you feeling about the comp today?S: It's good, it's fun… I'm glad it's over!L: It was definitely a challenge, but the setup was really nice. It was too bad we had to hit it so late in the afternoon when it was so hard out, but the course is super nice.S: The jumps were really fun if you could get your speed right on them.Who was skiing well today?L: That girl there, Keri Herman, she killed it, and Anna Segal.What are you looking forward to seeing at the Open?L: It's just fun meeting everybody, and seeing these girls – I met them in Australia when I was there this summer, so like getting everybody back together. It's super fun seeing everybody again. You never see this many girl skiers ever anywhere, so it's really cool to see this many of us out here, everyone trying to throw stuff down.S: The guys' slopestyle and big air I reckon will be pretty impressive.What did you think about the quails today?S: In the men's? I actually didn't see it at all. I watched yesterday's, it was pretty impressive.L: They're definitely going to throw down tomorrow, if they can clear that bottom jump.A shoutout to Australia?S: A big shoutout to Australia, for sure.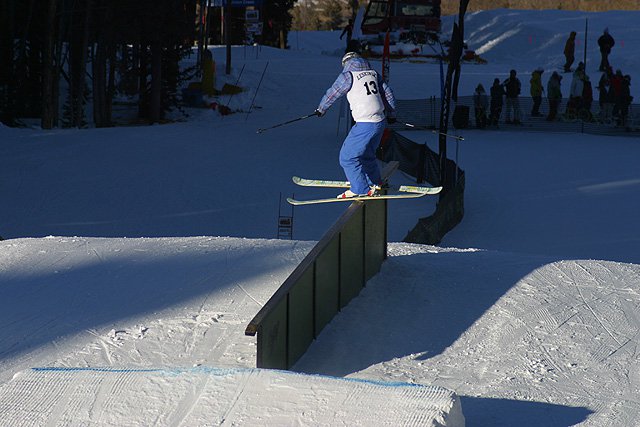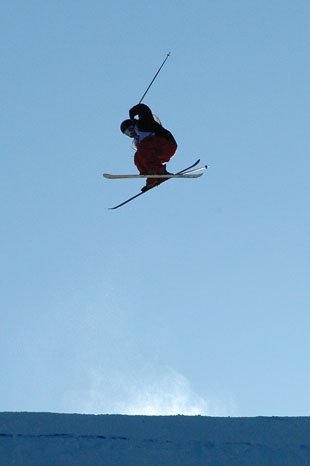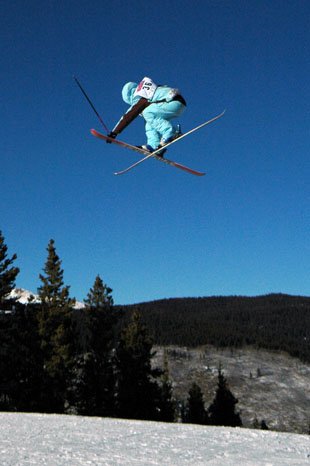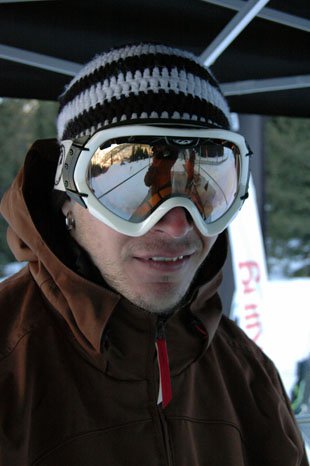 Rex Thomas InterviewRex, you're on commentating duty?Yeah, I wasn't initially supposed to be, and then I got the call at about 6:30 on Tuesday night saying they needed me for at least Wednesday-Thursday. So here I am in the freezing cold.What do you think about the competition so far?It's been great. The organization's been great—I mean, all the riders actually got a full day of training on Tuesday, which is something new to the US Freeskiing Open. But yeah, the organization's been great and the people running it are super on top of everything, and the Copper Mountain staff has been phenomenal. The course is pretty good, a few speed issues for some. But it's a slopestyle course, everybody has issues with something.Looks like the rails are better than in previous years.Definitely. A new location, fresh vision, helps when it comes to the setup of the course. The rails are one of the things, the jumps are also consistently larger. It makes it a little tougher on the girls and some of the younger kids, but overall this is the premiere Open event of the year, and you need to have the option for the guys to man up and throw their biggest trick?What have you been seeing on the course?All sorts of stuff. Yesterday PK Hunder threw down absolutely ridiculous, as did Andrew Hathaway. Today we say a huge, huge level of riding. All day, just so many tens being thrown all over the place, I mean, even 14-year-old Byron Wells, one of my team riders—I didn't even know he could do switch tens, and he was doing switch ten today. So, it should be really exciting… I know a couple of the big runs coming out tomorrow, and it should be really exciting.What are you going to need in your run tomorrow to win?Rex: You're going to need a ten. It's a must have, and you're going to need to spin both directions. I think those are going to be the two keys. And there's a number of guys in the finals that have doubles, so it's going to be interesting. I know Jacob and Jon for sure, and I've heard Cosco talking about one in his bag as well. But we've also got some talk of a little Kiwi kid throwing a switch 12, and he did it today in practice. He's talking about two different tens and a twelve, possibly.Any other of your team riders you want to hype today?Hey, I said no names.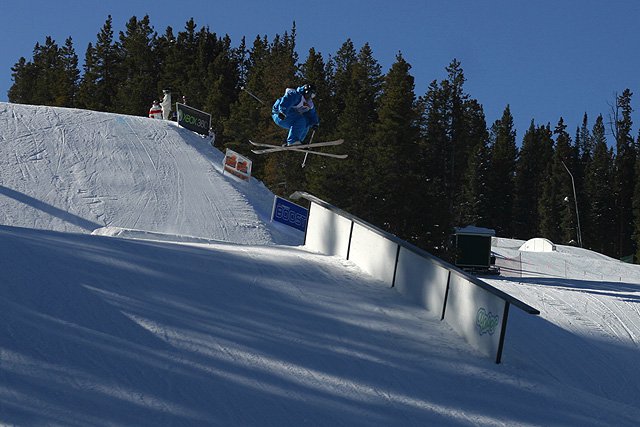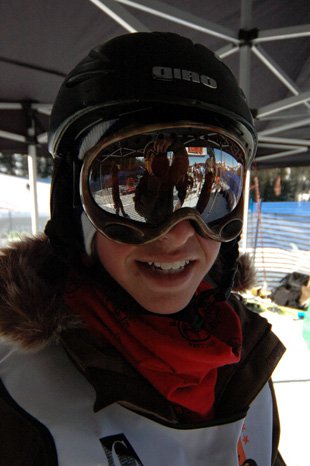 Patrick BaskinsVail, COAge: 15Sponsors: Dynastar, Look, Lange, LevelIs this your first Open?My second. How'd you do last year?Pretty well… I didn't qualify or anything, but it was a good experience.How was your first run?It was good, I landed everything but it wasn't as stylie as I wanted it to be. So if I can get that a little better, get better grabs, I'll be stoked.Shoutouts?Claudia Bouvier because she broke her neck, so she's not up here. But I hope she's doing well right now.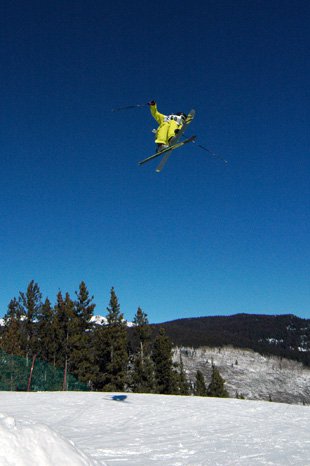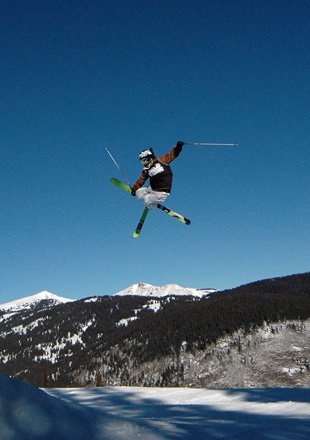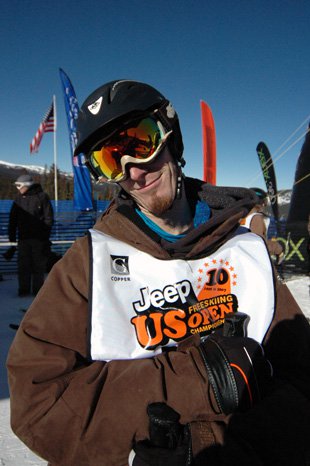 Martin MisofAustriaAge: 25Sponsors: Fischer, Nike ACG, Bolle, Sweet Helmets, NorthparkAre you feeling old out here? I do actually, there's so many young rippers out here, it's amazing. I feel like a grandpa here.How's the competition looking?It's looking quite alright, at least it's sunny. It's pretty freakin' cold, the course is so-so, the rails are sticky, but it's alright.How many Opens have you been to?It's my second Open, I've been to one three years ago.Have you been training?I just got in a few days early and tried to ski a bit, but it didn't quite work out. So I've only skied two days so far.What are the winning tricks on the course today?It's hard to say… if you can do some unnaty and a switch 10 you'll do okay, if you solve it on the rails. Everybody's having some problems, so… it's basically stick your shit, and it's all good.Shoutouts?For all the peeps in Europe: I hope we get snow soon. We need some snow at home.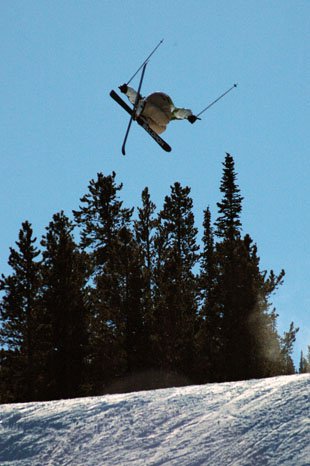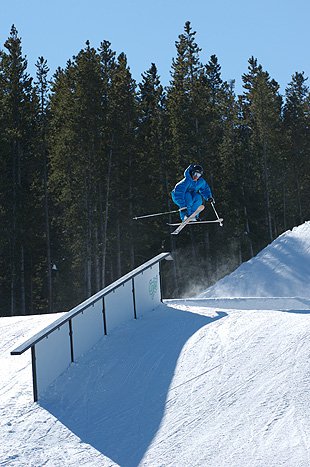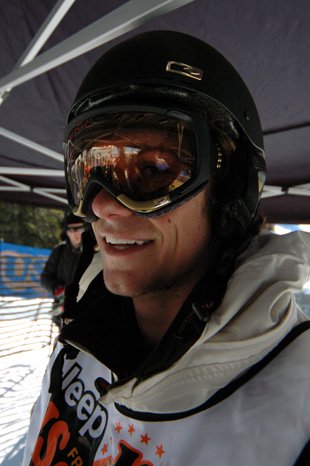 Will ReedCaliforniaAge: 19Sponsors: Smith Optics, JibijThis your first time here?Yeah, it's my first time at the US.Feeling a bit nervous?Yeah. I had a first run, and it's kind of hard to milk speed for the first jump. I did a switch rodeo like straight into the knuckle! But I'm having a good time, you know, so whatever.How are you feeling about the competition?Uh… I wish I was doing better! No, but it's fun—I like the whole setup, and I'm dropping in between Tanner Rainville and Mike Wilson, which is a little intimidating, but it's pretty cool.What's going to win this comp?God, I couldn't even begin to guess. I heard some of the kids who are prequalified talking three 9s, finishing with a switch 1260, so that'd be pretty nuts, and they're going to spin all four ways throughout that. But I don't know what'll really be the winning trick, there'll be lots of stuff. I'm sure kangaroo flips will pop up and everything else.Who are your slopestyle picks?Well, I thought Jon Olsson got robbed last year, and I think he's got a pretty good shot, at least podium. Sammy Carlson's amazing, Dumont's good, Vanular's got to be a shoo-in, so I'd go Vanular, Jon Olsson, and then Sammy Carlson or Simon Dumont.What are you most stoked about being here?Having the most amazing talent from all over the world in one place at one time, it's pretty cool. It doesn't happen that often and for comps like this, it really gets you psyched up.Shoutouts?My family, and I'm stoked to be riding for Smith and Jibij.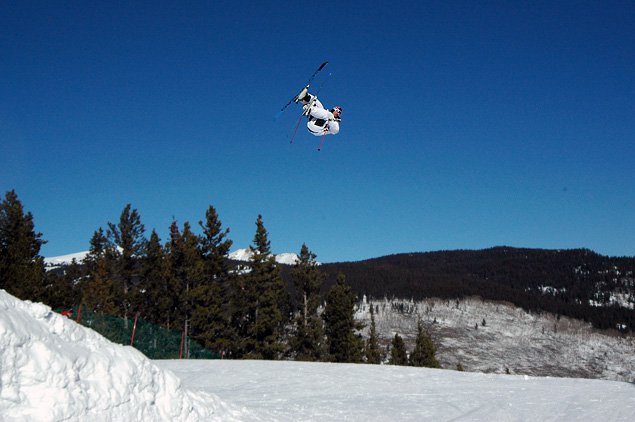 Tobi TritscherAustriaAge: 16Sponsors: Atomic, Adidas, Helly Hansen, Blue TomatoYou're from Austria!Yeah! We're here for three weeks filming and the US Open.Who are you filming with?We're filming with our own crew, it's called Headbutt. Last year we also did a film, and this year again.When's your heat?My heat is tomorrow, on Friday, the fifth heat. It's not pretty easy, there are a lot of good riders there. It will be difficult, so we'll see.What do you think of the comp so far?It's amazing! The level is so high. The guys are pretty sick, they're riding good.Is this your first Open?No, I did last year's Open in Vail. At Vail the kickers were bigger, but they didn't have the good rails.Shoutouts für die Homies in Europa?Ja, ich hoffe an Schnee zu Hause, und höffentlich wenn ich zu Hause komme, gibt's Schnee!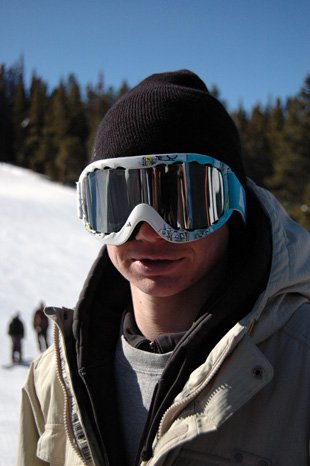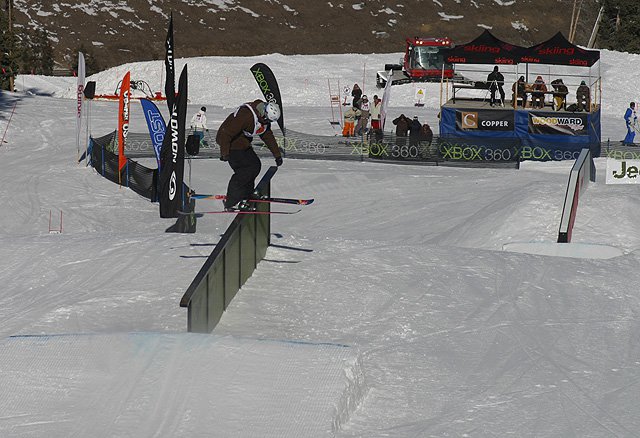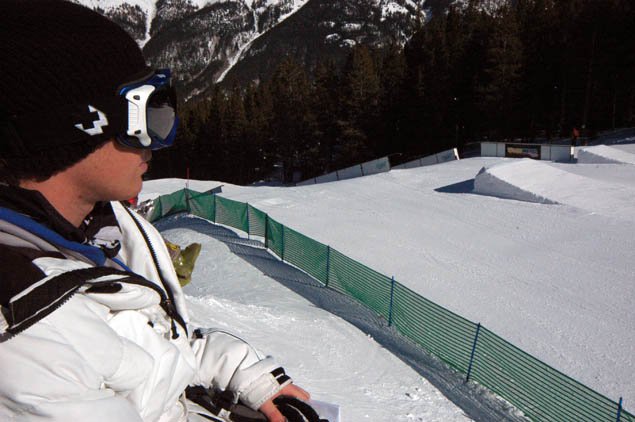 Corey Vanular InterviewWhat's up Corey?What's up man… just chilling.How long have you been in town?I've been in town for a couple days now. Skied Breck two days ago doing some training. Now I'm just sitting around here at the Open, just getting ready to ski tomorrow.Have you been training pretty hard?You know, I've been skiing a lot of pow in Whistler this year, and the first day I was in the park was two days ago at Breck. I'm feeling good regardless, I hope I still have everything. I'm just going to practice tomorrow, try to get everything down. I want to bust out one of these gap to rails, but they're pretty burly, so I don' t know. I'll test it out tomorrow and see what happens.How's the competition looking?The competition's at another level. Everybody's got really tech tricks, especially in pipe. The pipe's just going off, people are crazy – Peter Olenick doing double flips – and I've heard some other people have double flips too. A lot of switch advancements in the pipe—people are going huge switch. Matt Philippi was doing cab 7s like 15 feet out the other day in Idaho. It's a new level, for sure.How are the trees in Copper?Well, I haven't been in them too much, but Colorado trees are always nice for sure.------------------------------------------------------------------------------------------------------------------
US Open update: January 17The 2007 US Open is upon
us! NS is here in full force and we'll be updating the site as frequently as
possible with all the latest and greatest. Wednesday saw the first day of official
competition with Slopestyle Qualifying Heats 1 & 2 under sunny skies and
cool temps. Continually shifting winds were an issue throughout the day, causing
headaches for riders trying to deal with speed issues on the four-jump line.
The course consists of the aforementioned jump line into a rail section with
the kind of variety that the US Open has needed for years. Check out the results
below, along with a look at the course and a follow cam of Jon courtesy of skifilm.com.
Riders moving on from Heat
1: Andrew Hathaway, Christophe Sollner, Jacob Wester, Daniel Schiessl, Michael
Clarke, Karl Fostvedt.
Heat 2: PK Hunder, Sean Logan, Luke Nutting, Matt Soundy, Justin Dorey, Brett
Weiss, Eric Strand.
Full Results
Heat
1 (pdf)
Heat
2 (pdf)
Course
preview run of Jon Olsson, courtesy of Skifilm.com
Photos: cko
& Felix Rioux.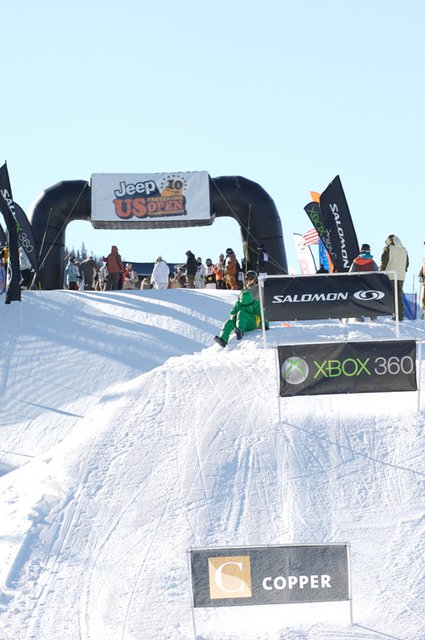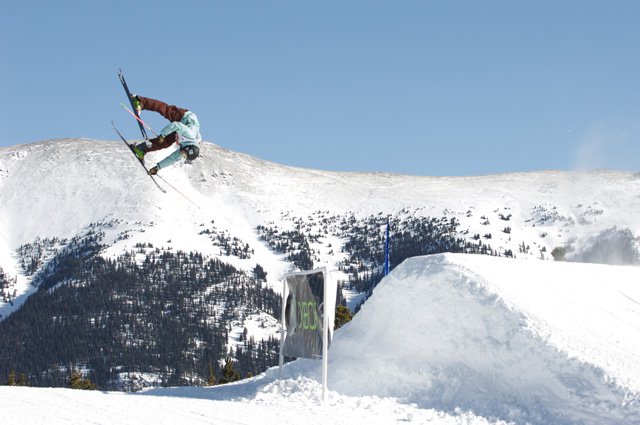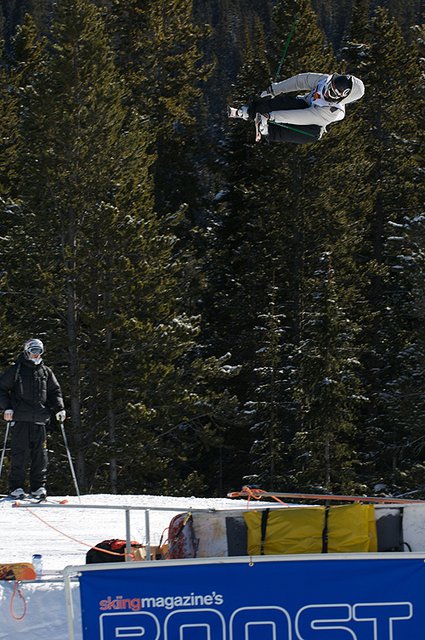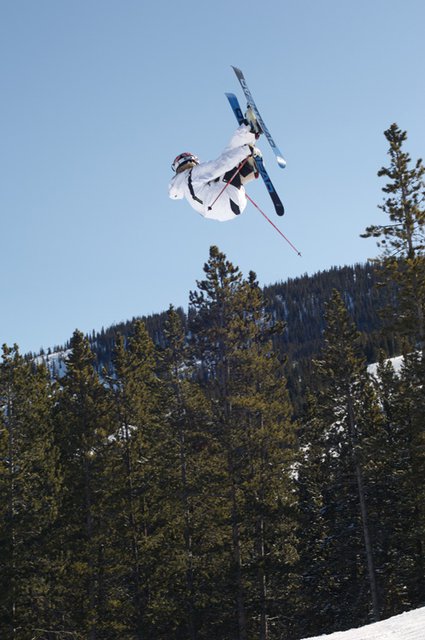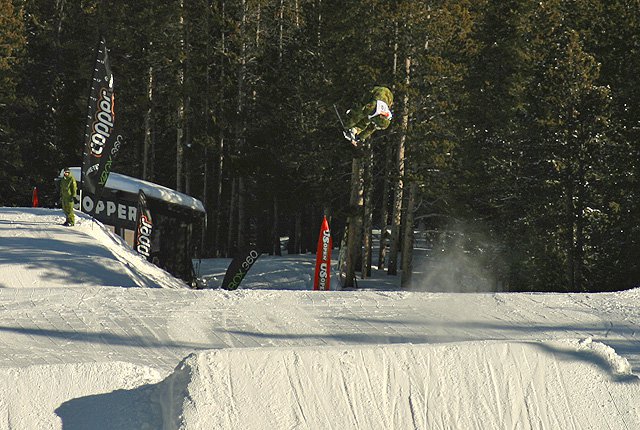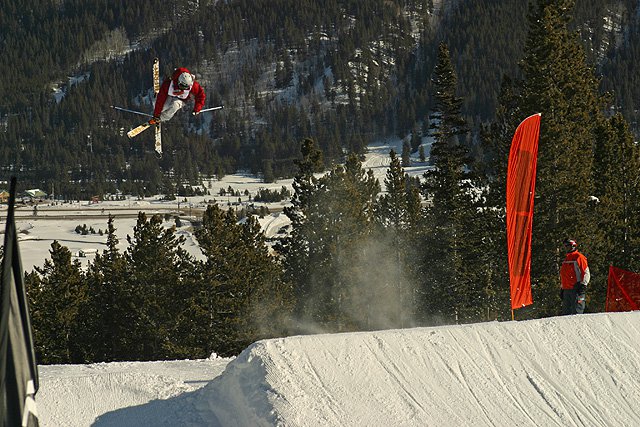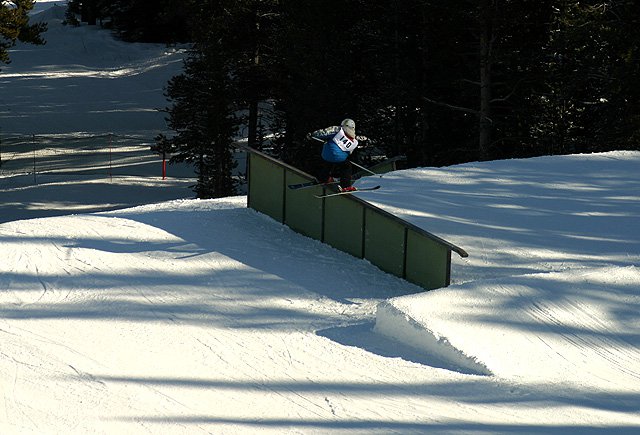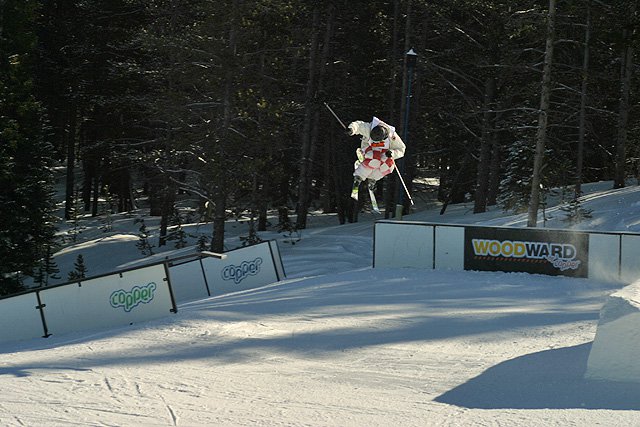 As mentioned, the rail section of this years course is leaps and bounds
beyond previous years. Here's a real gap to rail.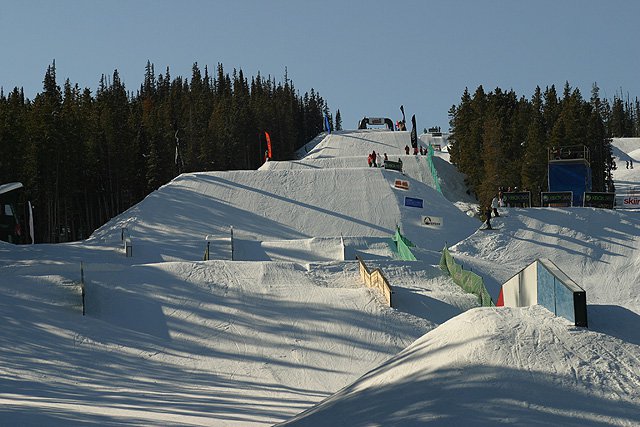 The course from the bottom.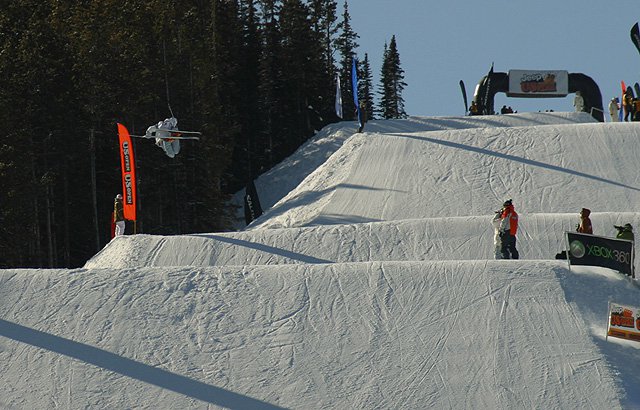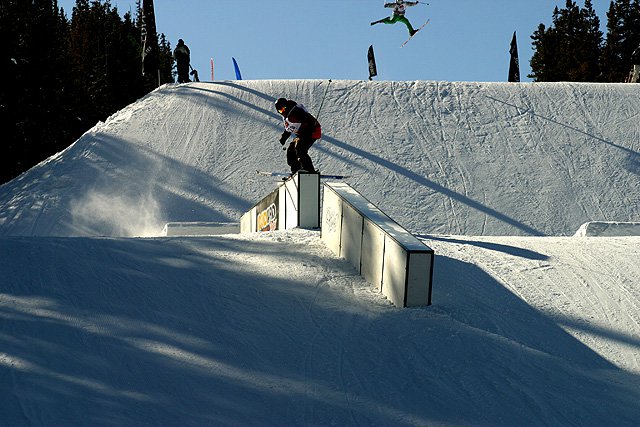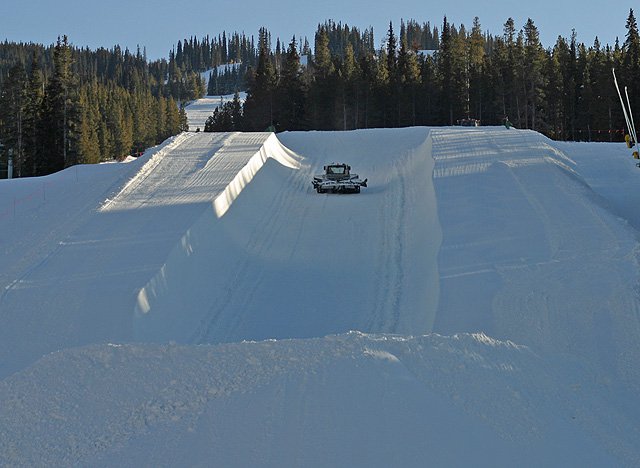 Here's the view of the Halfpipe and Big Air venues from our balcony. The
net connection isn't stable enough to stream the competitions live, but we'll
have the complete compeititions online soon after for your viewing pleasure.