2011 Ford Campus Rail Jam Tour ? U of A RECAP!
Photos: Drew Diehl
Words: Parker Bolden & Jake Vivori
For the full photo gallery click HERE!
With the first stop of the 2011 Ford Campus Rail Jam Tour under the crew?s belts, the boys packed up camp and wandered south to see what the University of Arizona had to offer. Greeted by the lovely vibes of Valentines day drifting through campus, the young cassanovas took to sidewalks of UA to win some hearts and score some digits. But after a few hours of valiant attempts and ?romantic? pickup lines, the crew came to a realization; the ladies of Tucson aren?t into grungy dudes that smell like hot dogs and rock farmer?s tans. Fail.
With heavy hearts and sweaty everything, the boys rallied through setup and got the rails primped and primed for the event. Thursday?s weather called for seventy-five degrees with 100 % chance of snow (with a little help from 25 tons of ice and an industrial ice chipper). As the giant margarita maker turned the desert into a winter oasis the hyped AZ riders made their way to the UA mall with nervous smiles on their faces. Who wouldn?t want to shred in the desert!? As classes ended the sponsor village took off with a bang and the Ford booth was packed within seconds of opening. With a deafening crowd almost muffling the DJ?s beats, heat one opened with riders throwing down.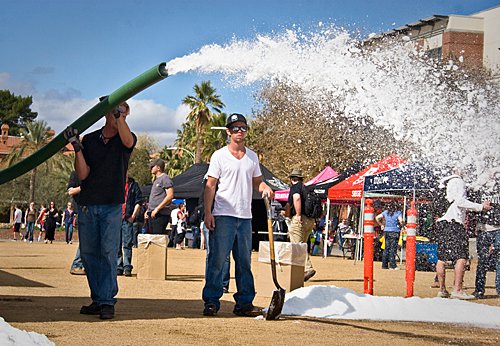 The first heat came and went, with riders simply trying to get their bearings straight on the man-made mountain. After stripping down to tank tops and shorts, the heat two rippers climbed the stairs and kicked things off with a bang. Things got real right off the bat as Alex Gaynor stomped a downhill 270 on the down flat, sending the crowd into a roar. As the competitors got comfortable the riding quickly transitioned from bails to bangers and riders realized they were going to have to back their shred with some steeze to take home the win. With First Drop Outerwear, Roxy snowboards, and K2 skis up for grabs, the desert shreds began to huck their faces off.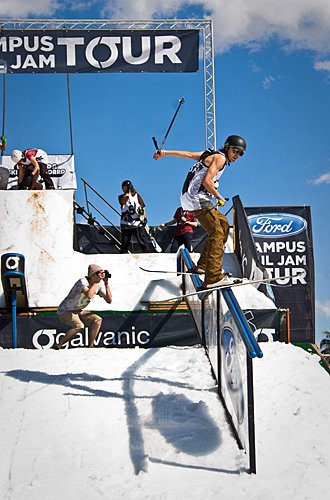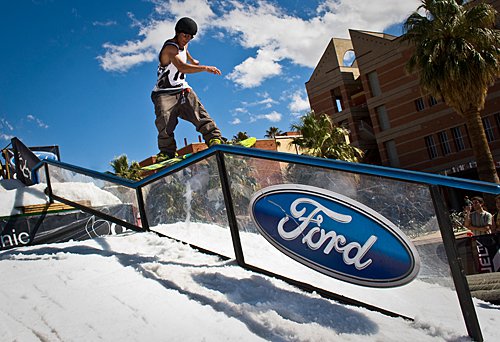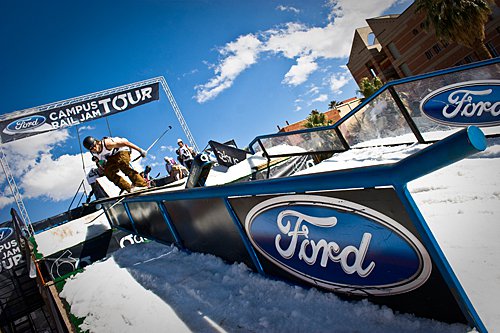 In between heats the crowd got rowdy for some toss outs thanks to a href="http://www.siegeaudio.com" target="_blank">Siege Audio, and lucky Samantha Hansen took home a sick custom CRJT a href="http://www.forddrivesu.com" target="_blank"> FORD snowboard!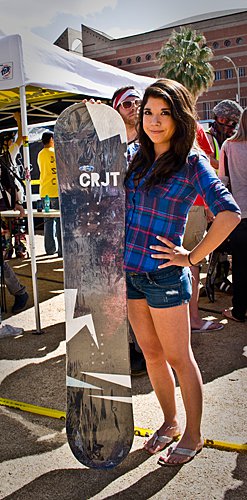 Students were more than ready to see what would go down as the finals began. Riders pulled out everything they had to help seal their fate and an invite to the Portland finals in May. Jake Vivori set the mark high in heat three making his nose-presses look easy on the down flat down. York Meyers got inverted both back and front off the cannon box while Garrett Bright cranked downhill 270?s out of the downtube.