Parker White took home top prize at the 2nd Annual Twisted Sisters at Kirkwood Mountain Resort last Sunday, beating out a stacked field of competitors from all over the USA.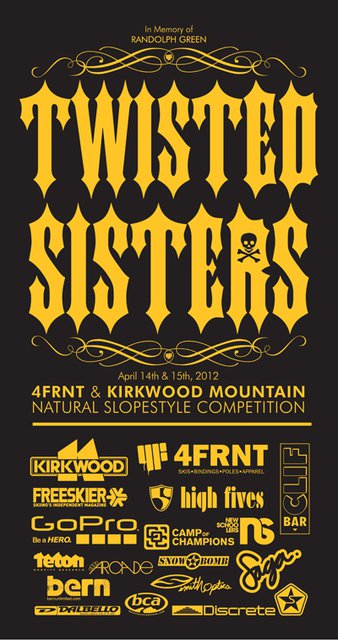 Twisted Sisters is a natural slopestyle contest that was held on the lower cirque of Kirkwood Mountain Resort, utilizing natural big mountain terrain and multiple man-made features to reward the best all-around skiers. After a low snow year in general, Mother Nature turned on the faucet and left a thick blanket of powder on the contest venue. A long morning of building and scouting the venue on Saturday preceded the first competitors dropping into a course that hadn't been skied since the three-foot storm.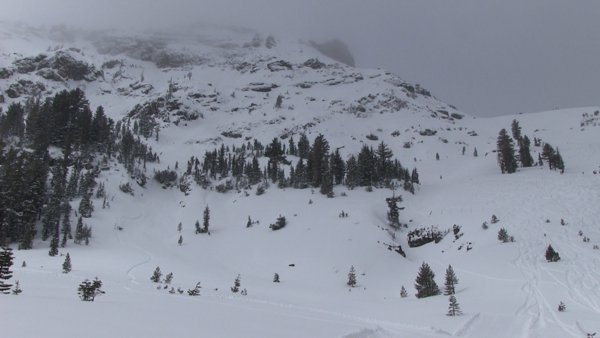 The Venue on Day 1
With hungry competitors and ideal conditions, the level of skiing in the Open, Women's and Grom Classes was exceptional, with Lisa Nigon winning the Women's Class and Skylar Smith winning the Grom Class and a top prize of a week of camp at Camp of Champions this summer.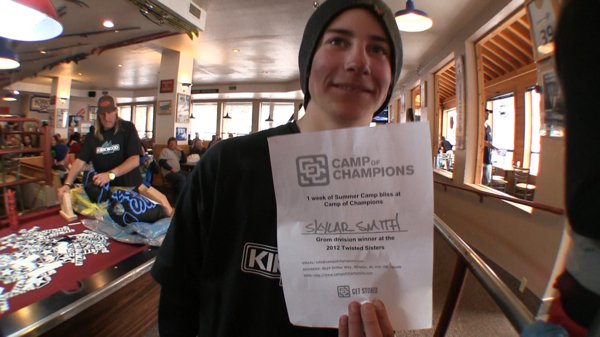 Grom Class winner Skylar Smith and his ticket to a free week at Camp of Champions.
In the Men's Open Class, the top seven competitors after a two-run qualifier advanced to a two run final where Alex Dorszynski rose above the other competitors to win the division and the coveted one-year sponsorship from 4FRNT Skis. Alex, along with Scott Pollman, Bryce Hanrahan, Eric Lee O'Brien, Justin Dye, Barret Young and Evan Haines advanced to Sunday's Pro Class competition as result of making finals.
Alex Dorszynski, winner of the Men's Open Class and a one-year sponsorship from 4FRNT Skis.
Sunday morning awoke to sunny skies and more unopened terrain above the Day 1 course. Big features and soft landings allowed the Pro Class to pull out every trick in their bag. Big flips, floaty 360s and smooth 720s dominated most runs, with a few double flips thrown in.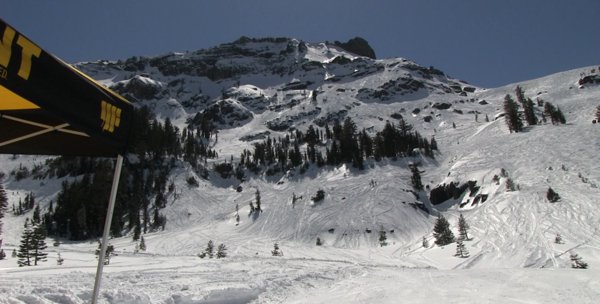 The Venue on Day 2
At the end of the day, Parker White's consistently performed run composed of a fluid upper cliff section down into a 360 off a 30-foot cliff, a cork 7 on the hip and a P-White signature front flip out of the "rut-jump" at the bottom put him on top of the podium. Due to heating temperatures and isothermal conditions, the finals was reduced to a one-run format where the latter four athletes found themselves fighting a crash as conditions set up and legs became tired. 4FRNT team rider Thayne Rich washed out on his double flip attempt on the last hit, which put him in second place, while Kyle Johnston rounded out the Pro Class podium in third with monster cliff airs and a bail attempt at a cliff air 720. Sean Fields found his swift line choice a bit too fast as he clipped a rock in the upper section to place fourth and Utah-based shred Luke Perin capped off his run with a monster backflip after a mishap following a half cab attempt on the upper cliffs to take fifth.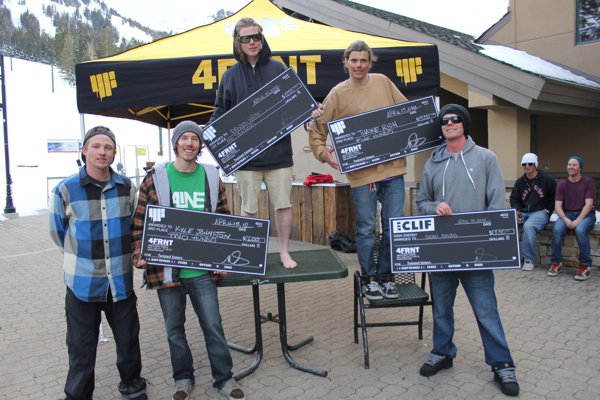 Kyle Johnston (3rd), Parker White (1st), Thane Rich (2nd) & Sean Field, winner of the Clif Bar High Energy Award.
Chris Logan took the Snowbomb.com Best Trick with a massive rodeo 7 on the middle hip jump, and Sean Fields took home the Clif Bar High Energy Award with a fast, charging run throughout the course.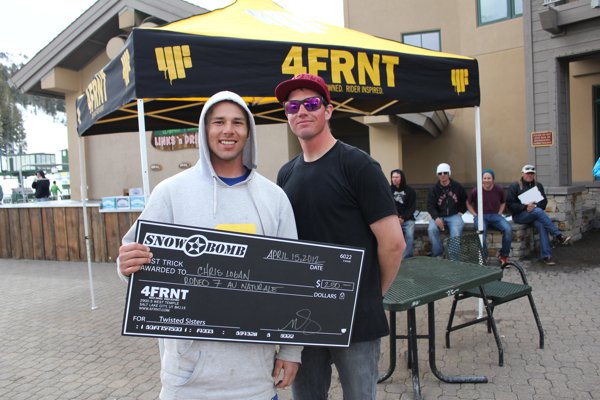 Chris Logan, winner of the Snowbomb.com Best Trick Award, with 4FRNT Skis founder Matt Sterbenz.
Proceeds from the event were donated to the High Fives Foundation to benefit the family of Twisted Sisters Event Founder and former 4FRNT Sales Manager Randolph Green, who passed away in March 2012 after a long bout with gastric cancer.
Results
Men's Pro Class

1) Parker White - 88.00

2) Thane Rich - 64.67

3) Kyle Johnston - 51.33
Women's Class

1) Lisa Nigon - 56.00

2) Becca Mace - 55.00

3) Kimberly McGlothlin - 53.33
Men's Open Class

1) Alex Dorszynski - 88.00

2) Eric Lee O'Brien - 87.00

3) Justin Dye - 85.67
Grom Class

1) Skylar Smith - 88.67

2) Tyler Curie - 86.33

3) Harry Meyer - 82.33
Snowbomb.com Best Trick - Chris Logan

Clif Bar High Energy Award - Sean Fields
Twisted Sister Highlights
Twister Sister Day 1 & Day 2 Recap
Randolph Green Memorial Trek & Bonfire