Word & photos by Pally Learmond
February in the central European Alps was a long one, and it wasn't until well into March that the first proper cold flakes of snow began to fall again, breaking the unprecedented month long dry spell…winter did kick off again, and in true style, but after having been confined to the park and pistes for way too long, thoughts had turned to getting the hell out of town.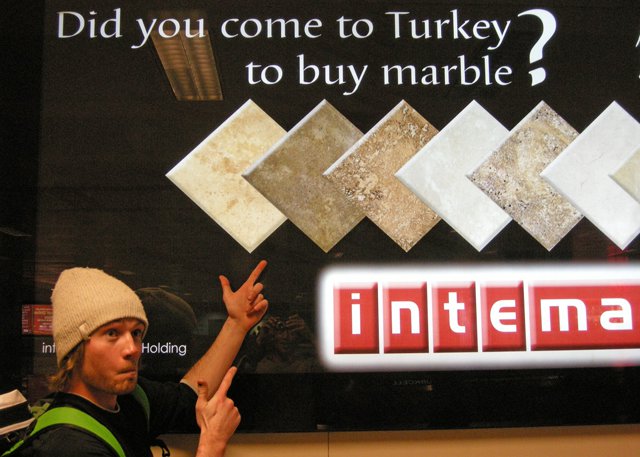 On arrival in Istanbul...hopefully this is not the only think you come to do in Turkey!
Snow, mountains and shredding potential in Europe isn't just confined to the Alps of France, Switzerland, Italy and Austria...there is some sort of potential for slipping around on snow from Portugal in the West to Russia in the East, and you can bet that at some point during the winter, at least one area of the continent will be getting snow. So after a night of pouring over the internet and various weather sites, my attention was being pulled further and further East...Poland...nothing...Slovenia...a few flakes...Bulgaria...a light dusting....Turkey...dumping!
After a quick check that they had mountains (oh boy do they ever!!) and a phone call to UK skiers Joe Tyler and Ted Foster to check that they were up for the banter, we were booked on a flight out of Munich to Istanbul the following afternoon, and then onto the city of Erzurum, the capital of Erzurum Province in Turkey's Eastern Anatolia Region. The city is situated 1757 meters (5766 feet) above sea level and has an extreme climate with an average January temperature of −11 °C. Temperatures often drop below −30 °C in the winter, with heavy snowfall, and the Palandoken ski area which has lift access skiing up to 3100 meters is only 20 mins from the city airport...Bingo!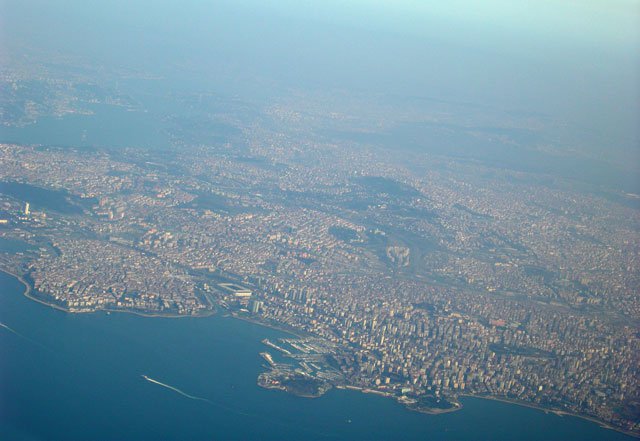 Leaving Istanbul, after arriving late the following night......Flying over central Turkey and realising that there are plenty of mountains and snow.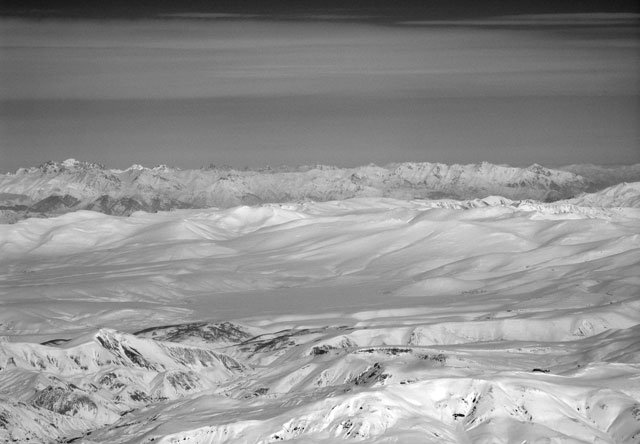 The one snag of such a spur of the moment getaway...we had basically arrived armed only with that information...and our skis.  I had emailed a hotel the night before, but had not checked my emails since leaving, and on arrival it appeared to be the very nice 5 star at the base of the mountain, and apparently the easiest way to access the ski area as the various hotels around the mountain own the lifts too. However, none of us had come armed with that sort of money. Anyway, seeing as this was our only point of reference, we jumped on their airport shuttle, and it was off to the Polat Renaissance Hotel on a wing and a prayer.
After arriving, we hung around in the lobby trying to look like we were meant to be there (this doesn't work when everyone else around you has eventually checked in and you are left standing there looking considerably less than 5 star in appearance), the receptionist simply looked over to us and said, "But why?"  With some explanation about the email, we met with the nicest hotel manager in the world, Koray Korkmaz, and after describing what we did in terms of skiing, what we were going to be doing while there, and that we were going to be writing for Fall Line skiing magazine in the UK, we bartered a deal...and so it was we were staying in by far the best hotel in Erzurum, all meals, all lift passes...all alcohol (yes you heard it!), for roughly 12 Euros a night...wow.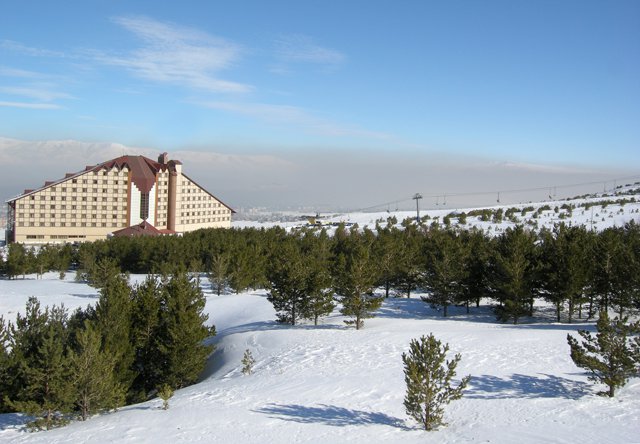 Polat Renaissance hotel at the base of Palandoken ski resort.
It was only midday by this point, so we had time to bag our buffet lunch and go for a quick ski to check out the terrain. It appeared that the high peaks had been quite windblown, but the snow lower down was in really good condition, still nice and powdery thanks to the cold, and the forecast was for some more fresh. The terrain looked interesting, and we checked a few things out (potential lines and kicker spots) to hit up in the coming days.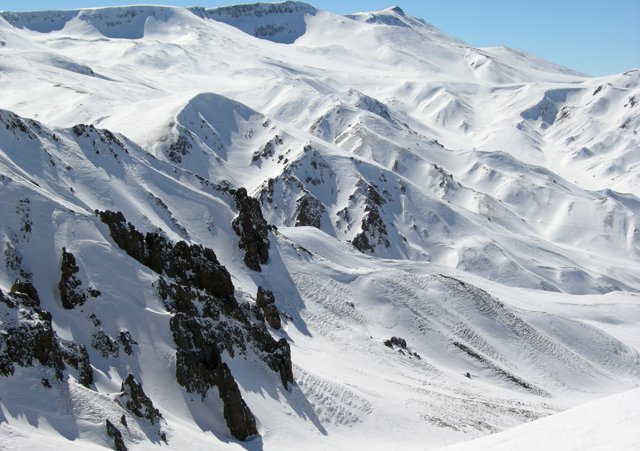 Terrain high above Erzurum
Next morning, feeling surprisingly good after drinking a lot of neat Turkish Vodka the night before, we hiked through the trees in the waist deep powder and up to one of the exposed peaks that we could see from our room.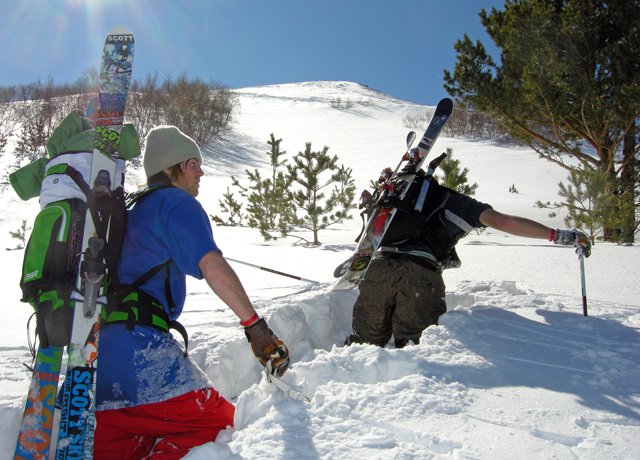 The view of the city below was amazing, we never imagined parts of Turkey would look like this; it was more how we imagined Russia to be...barren snow fields and peaks in all directions.  The ski down was super fun too, the snow right at the top being a bit hard from the wind, but nice light pow pow on the lower parts back through the trees, this was a good start.
Back to the hotel for some lunch, and we bumped into Koray who asked us how the morning had been. He was amazed we'd been so far off the piste, and then asked if we wanted to build a jump (the previous day we had said we were going to build something, but were thinking more along the idea of a backcountry booter somewhere), but as it was, we rolled with it (it's not every day you get resorts being so cooperative with helping to build stuff), so we were introduced to the cat driver and Koray left us with the passing words "Wednesday then, we will have the newspapers and television here to come and see you."  Okaaaaay then, this was going to be interesting!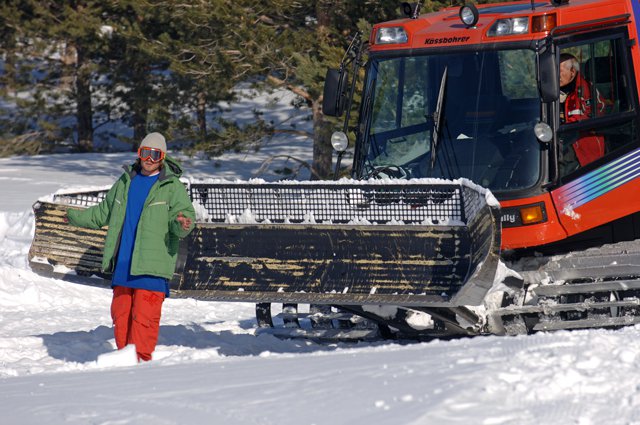 Cat driver getting pissed with Ted
The cat driver, who was also the guy who ran the candy shop, really didn't want to be dealing with us for too long, and so we were taken to a place with an in-run and apparently a landing where we were told the jump would be. Much waving of hands ensued as to where to pile and push snow...it wasn't really working! Ted had built kickers for the indoor slope in the UK before, so he was thrust into the cab with the driver who was in no way going to let anyone else get their hands on his machine, and who I think just really wanted to kill Ted. After an hour...really not a long time in cat hours, we were left with two piles of snow full of bits of a tree and rocks, and our three small avalanche shovels. It was getting dark, so we had tomorrow to build a safe and reasonably sized park kicker…by hand.
Our two piles of snow...nice!
Luckily the next day, we had flat light and light snow, so we shovelled, stamped down and shaped all day until it seemed we had something resembling a kicker, a 10-12 meter table, a landing, and obligatory knuckle of death!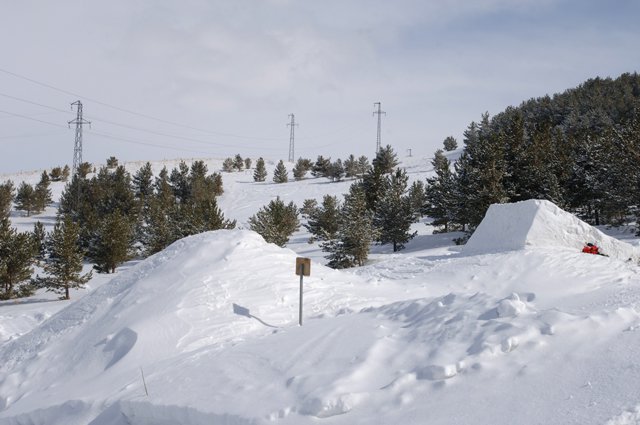 The finished handmade product
Ted Foster and Joe Tyler
The following day we tested our potential death trap with the leg breaker knuckle. Thankfully it seemed to be working, Ted and Joe managed to pull some 5's, 7's and even a corked 9.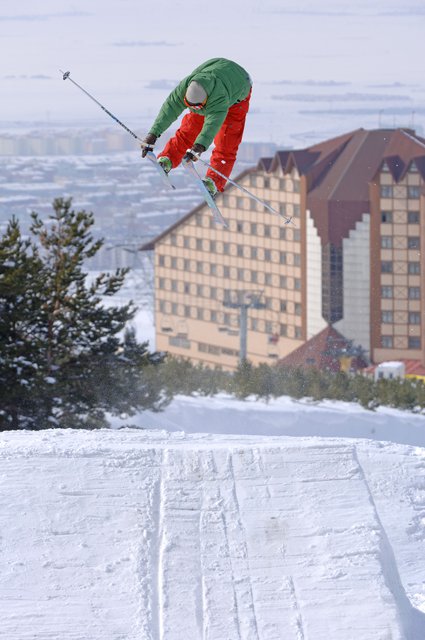 And so it was at midday that we were introduced to the visiting press, and then it was up to the kicker for the "Display!" We soon realized that no one here had ever seen anything like this, and that we had surpassed ourselves in every way. Some expected us to take off on the knuckle, some thought that you took off on the kicker and landed on the table, it was crazy, but everything went down well, especially the switch landings.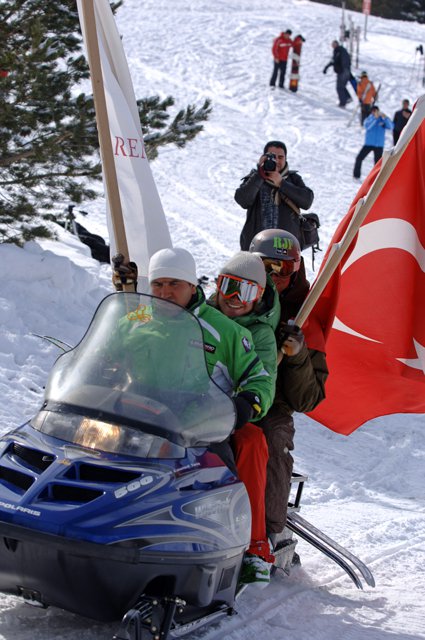 Then the boys were asked to jump with the Turkish and hotel flags...they obliged, flying through the air with these massive great things flapping behind them, the downward force of which was bringing them a bit close to that knuckle of death…which was pretty sketchy At the end we did some interviews for the TV and newspaper. "What do we think about Turkey?"... "What do we think about skiing in Palandoken?"... "What do we think about World peace?"... What??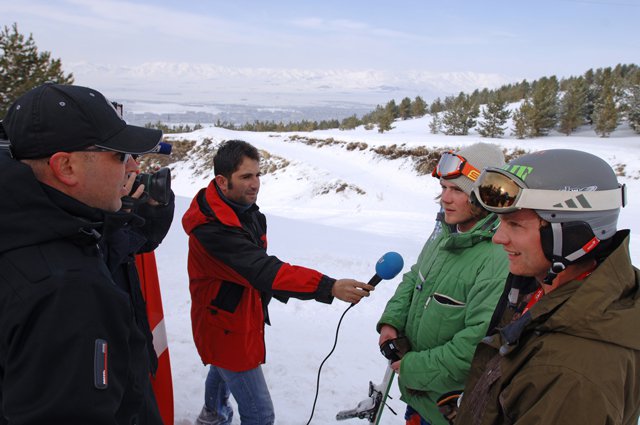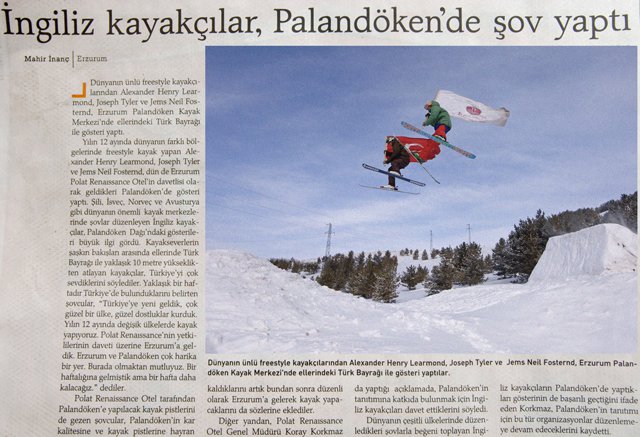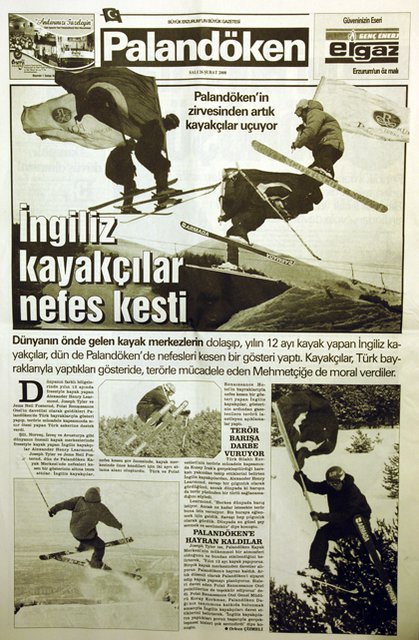 It was only later that we realized Turkey had just started a war with the Iraqi Kurdish group called the KPP, and it turns out I have a long quote in a lot of the newspapers giving my view on the matter...I've still yet to get it translated.
After probably one of the most surreal days of all our skiing lives, it was down to our own business now, and we luckily stumbled across more and more sweet spots as we explored the mountain, finding one face that was covered in loads of nice lines that the pow-pow had stuck to nicely. Ted even got in a line that got the local military a bit excited, their base being below at the run out…I shall never forget the sight of them running out guns at the ready…never a dull day skiing in Turkey though!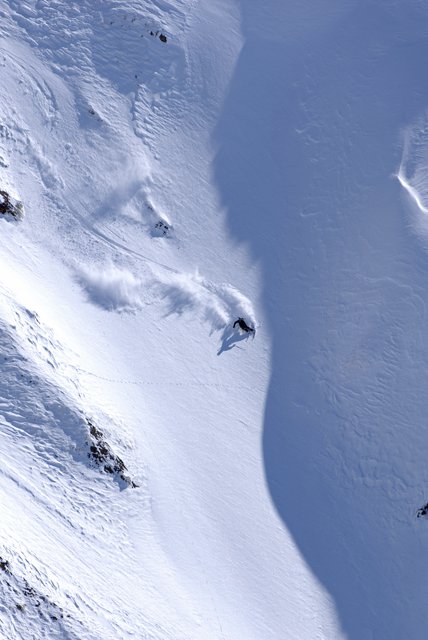 Joe Tyler dropping into one of Palandoken's sweet lines wondering if anyone else has ever skied here?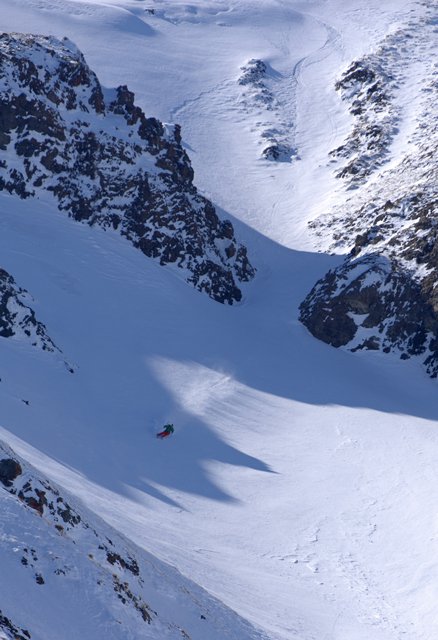 Ted Foster screeching down towards a military reception.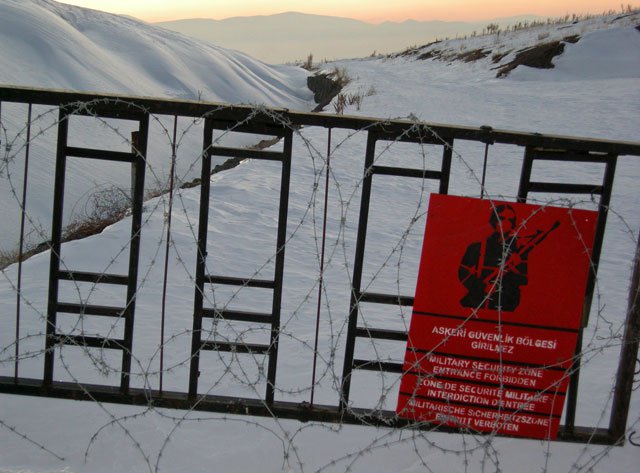 On our remaining days we concentrated on building and hitting a backcountry kicker in a spot we'd seen earlier on the trip.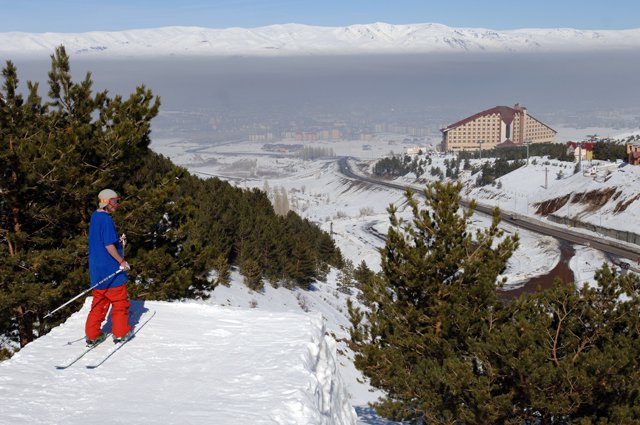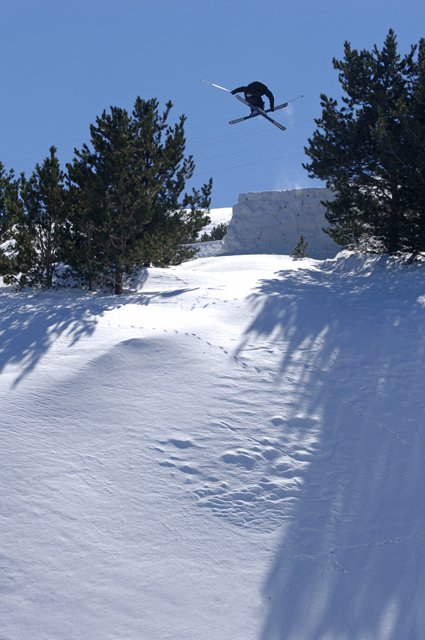 Joe Tyler taking first hit
This is probably a story in itself though...needless to say there were wild dogs, realisations of miscalculated construction (a hazard of building stuff in flat light), but the boys still managed to kill it.
 Skiing in Turkey really threw up some kind of surprise every day, it was an awesome experience and the people out there are some of the friendliest and helpful I have ever met in a ski resort. At a ski area like Palandoken which is located next to such a big and snow covered city, the potential for urban jibs and rails as well all the natural terrain on the mountain is endless...with the right snow this could be one of the best trips you ever make.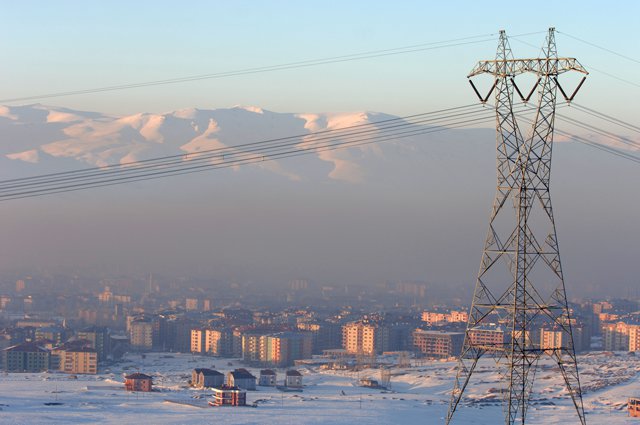 We hope to be back next year, so we'll be sure to check that all out too.
Thanks to Koray Korkmaz, Kemal Sinmaz and everyone at the Polat Renaissance Erzurum Hotel. http://www.polatrenaissance.com/erz/