Words by Tim Sorenson
Photos by Tim Sorenson & Parker Hemingway
The Poor Boyz Triple Threat Tour made its staple stop in Spokane, Washington for a two-movie extravaganza, and per usual, fans flocked from all over to attend. The festivities kicked off at The Sports Creel for the K2 Pre-Party, where some of K2's finest, including Pep Fujas, Clayton Vila, Cam Riley, Andy Mahre and Brita Sigourney along with Salomon's Bobby Brown came down to meet the fans and sign autographs before the show.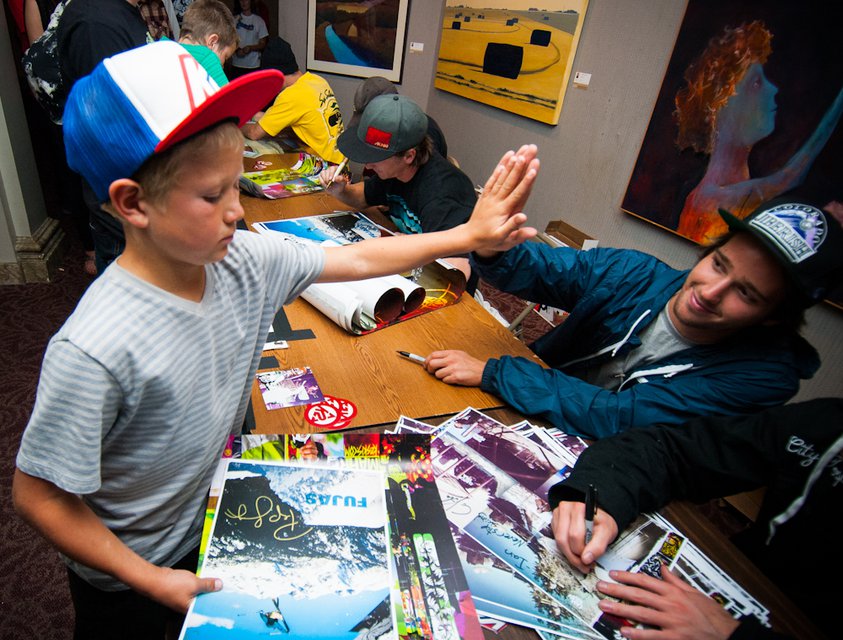 Clayton Vila dishes out a high five to a young fan.
If the athlete presence wasn't enough, a 'Qué Tú' taco truck was on hand serving up some tasty carne asada. The Creel brought out a dunk tank to give kids the chance to dunk their favorite skiers and win a grip of tees, hoodies and skis.
Pep Fujas gets dunked.
The party was topped off with the giant K2 swag-filled piñata, which Pep busted open just before the swarm of kids charged in for the taking. After everyone had some time to chat and check out all the new gear, they headed down to the Bing Crosby Theater for a two-movie premiere.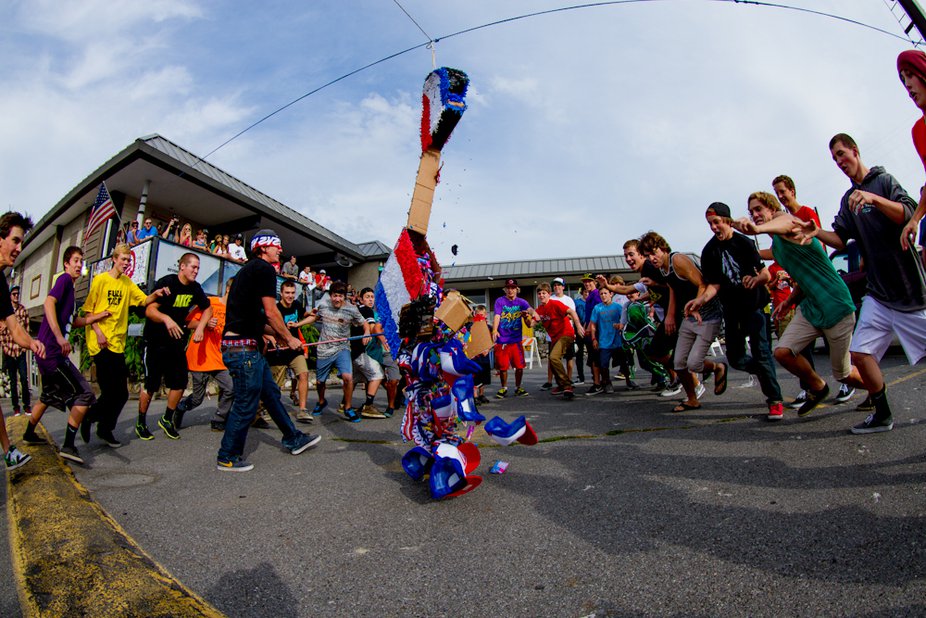 Pep busting open the K2 piñata...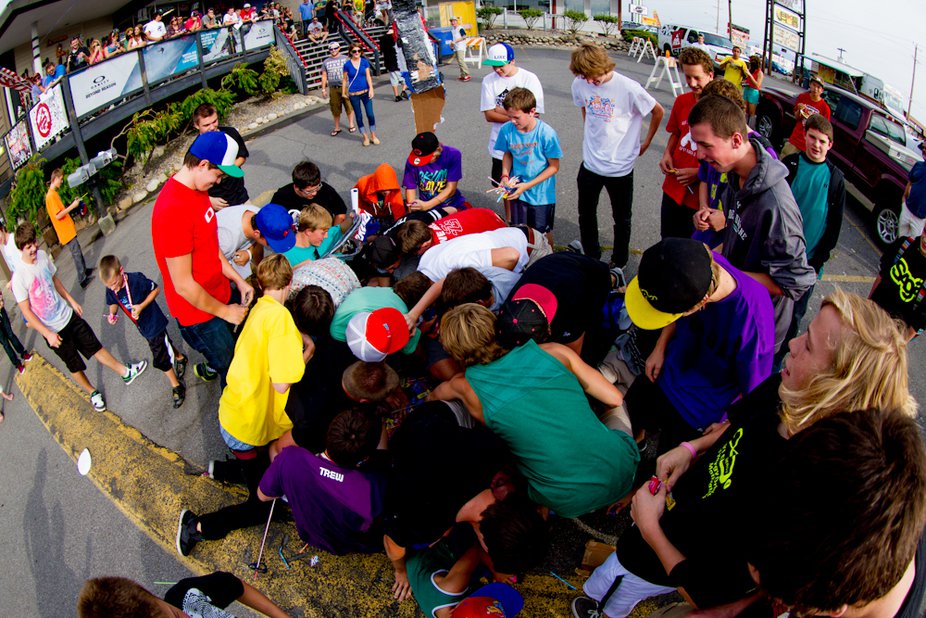 ...and the aftermath.
First up, Stept Productions' 'The Eighty Six' hit the screen, mesmerizing the crowd with the mastery of urban trickery and a colorful bag from the park shoot at Breckenridge, along with a unique and fitting soundtrack. The credits rolled, and after a brief intermission and swag toss, PBP's 'WE: A Collection of Individuals' started up. The auditorium went off after seeing some local flavor on screen, and it only escalated from there. Everything from Bobby's triple at Schweitzer to Pep's crazy lines in AK and BC, to Cam, Clayton and Seany J's locked down urban game got the crowd going nuts.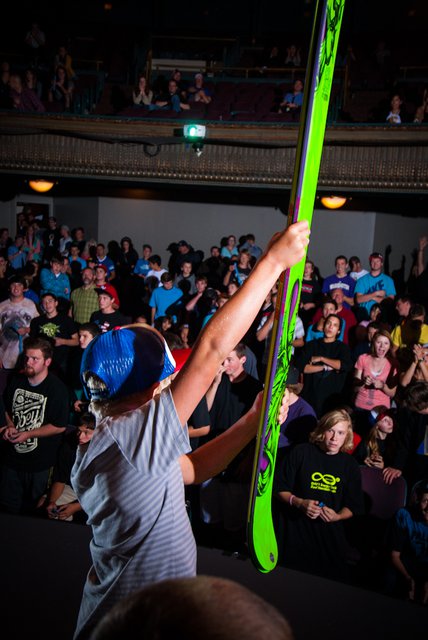 Who wants free skis?
"Spokane has always been one of our biggest shows," said Cody Carter, director of both the movie and the tour. "The community here is tight-knit and holds a very special place for PBP. It's what keeps us coming back and going bigger and better every year."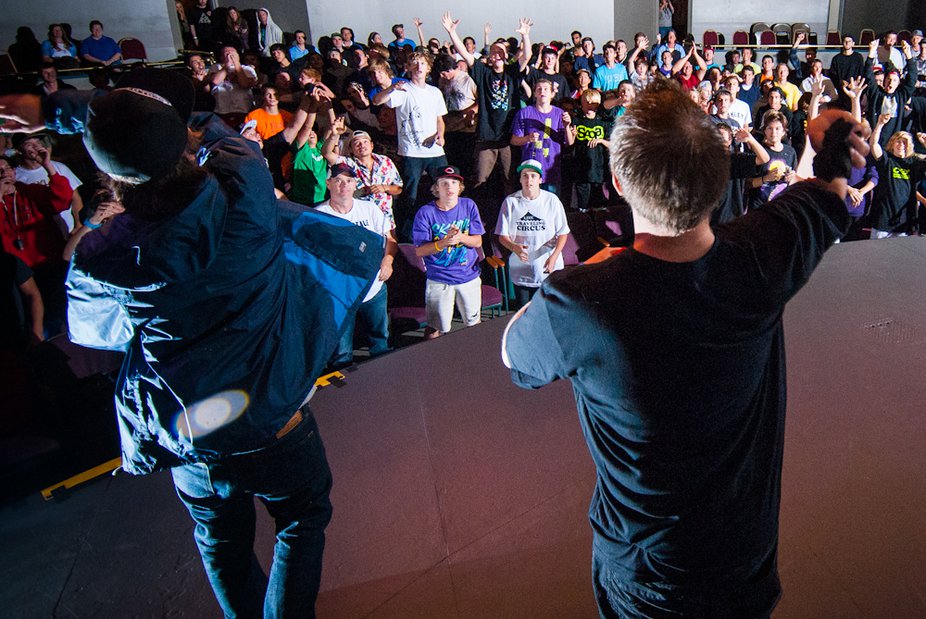 The night capped off with a monumental raffle and ski giveaway, including a dance contest with Pep and a handful of ladies from the audience. After all was said and done, the 21+ crowd headed to the after party downtown for a healthy round of sodas.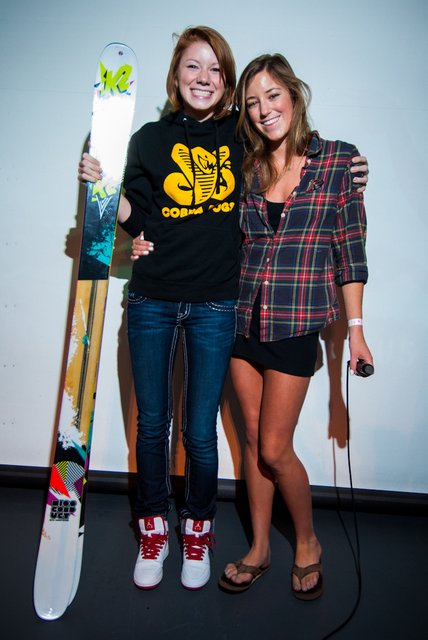 Brita Sigourney with a very happy recipient of some brand new K2's.
Premiere games with Pep.
For more tour dates, or to host your own, visit poorboyz.com/tour, and be sure to stay up to date with PBP on Facebook, Twitter and on Instagram @poorboyzlive.