By Julien Heon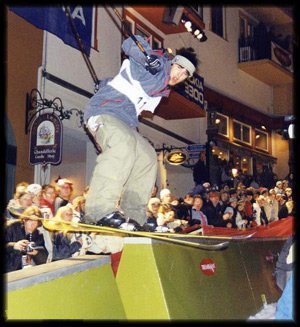 The second edition of Tremblant's biggest festival, the Spin Symposium, presented by Volkswagen, Sprite, Atomic, Columbia, Nokia, and Nintendo, was launched last weekend. The Nokia Urban jib competition presented by Nokia in collaboration with Anon was held in the pedestrian village of Tremblant on Wednesday evening. 35 ten-wheeler loads full of snow were needed to fill in the street. Dom Legare, Dave Crichton, Andy Woods, Scott Hibbert, JF Houle, and Phil Warren were some of the 12 to participate to the final jam. Eight of them were invited, three qualified, and one got his place by winning the Spin Junior competition the previous weekend. Last year's rail jam, the 1242 Urban Jib presented by Oakley, brought a lot of riders, but this year, Anon's sponsorship brought more big names in snowboarding to the scene.
The contest venue was composed of a flat-down rail, a 60-ft descending rail with a gap in the middle, and a set of picnic tables at the end. Each rider had two runs to impress the judges, who selected the best run from each rider for placing. The comp was followed a best trick contest on the first flat-down rail. Each set of runs was preceded by an acrobat show suspended above the venue on ropes. Unfortunately, there were no girls competing this year; the only girls around were the three Coors Light girls in their sexy bathing suits at the Freeskier beach party held right after the contest.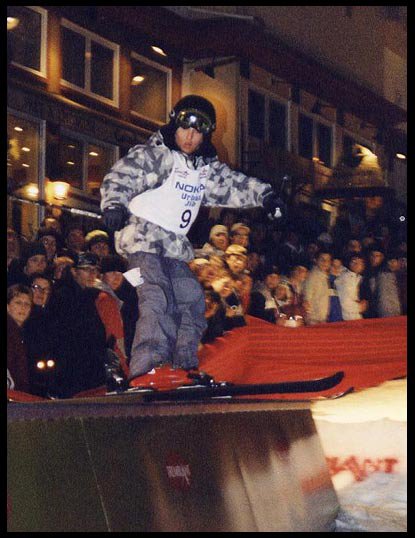 A surprising contestant was 15-year-old Phil Casabon, ripping on next year's Armadas, who showed everyone that he shouldn't be considered a junior. He didn't placed so well overall, but he really showed some skills on the rails. Iannick B. the winner of last year's comp, won the best trick contest, taking home a $900 Nokia phone.
Dom Legare (Salomon, Oakley, D-Structure) said he liked the comp a lot, but he missed last year's roller coaster rail. Quite satisfied with fourth place, he was really happy that his friend Phil Warren took first and the $3000 check. Warren said he was going to pay for the Bear for all his crew, pleasing a lot of people.
JP Auclair was around to encourage his buddies, as he said. A slew of filmmakers and photographers were also present to cover this great chance to get some really good footage.
This year, the Spin Symposium will be broadcast on TSN and RDS, so to make it easier for TV coverage the Jam had more of a competition format, with a predetermined starting order.
Once again, both skiers and snowboarders were judged by the same panel of snowboard judges. It is hard to understand that at this point in our sport that a large organization like Tremblant is unable to find any competent skiers to judge.
The contest was followed by a beach party at La Source, the annual Freeskier Magazine party. Strangely, there seemed to be noone from Freeskier Magazine present, as the only other press person I met was a girl from Ski Press. Most of the people seemed to go at the famous P'tit Caribou instead. There was only one rider at the Freeskier party, David Crichton, who had probably heard about the Coors Light girls and didn't want to miss out. The place was half full and the party ended early, to the benefit of the P'tit Caribou, where most of the revellers headed. But still, it was a great event, and a great chance for Crichton to get close to three pretty girls in bathing suits. With the really hot and humid climate inside La Source, the Coors Light took control of the place quickly, and people were more inclined to crash in the hot tub than party.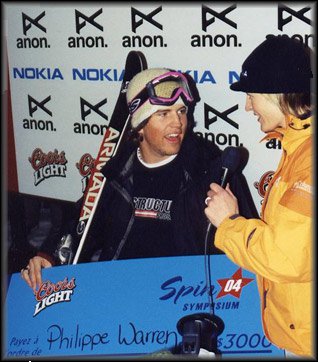 Results
1. Philippe Warren
2. Jean-Francois Houle
3. Alexis Godbout
4. Dominic Legare
5. Emil Coty
6. Andy Woods
7. Guillaume St-Cyr
8. Philippe Casabon
9. Iannick B.
10. Scott Hibbert
11. David Crichton
12. Brian Orr