Words & photos: Rom Marcucci
Saturday, April 10, 2010 dawns mostly cloudy. Sugarbowl's endless sunny spring days appears nowhere on the horizon. Instead, the sky is a merciless pea soup, intermittently spitting rain, hail, and sleet.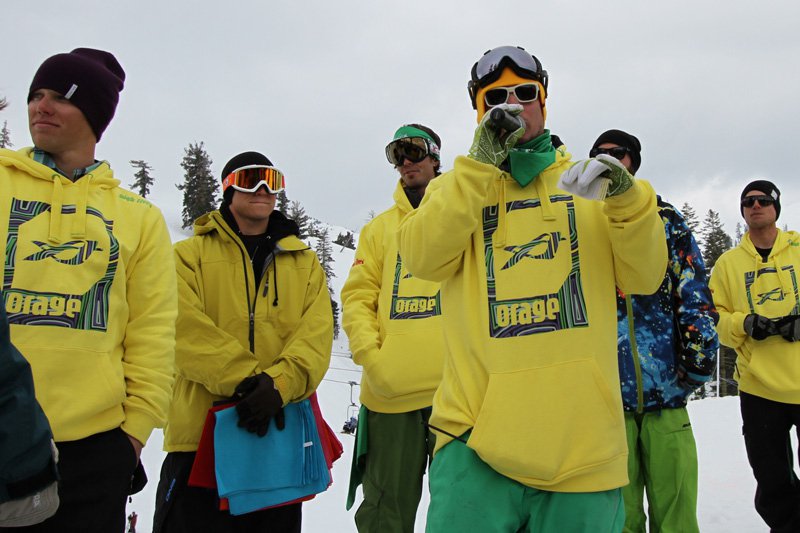 The judges and High Fives board: Left to Right: Ryan Lindquist, Matt Philipi (head judge), Adam Baillargeon, Roy Tuscany, Omar Otte, Jeff Pratt.
The mood at registration is less subdued. The staff smiles broadly, kindly handing over lift tickets, waivers, and huge goodie bags just for showing up.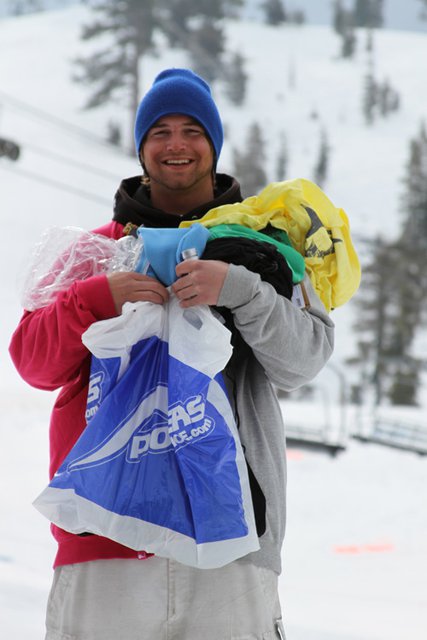 Newschoolers contest winner Jed Kravitz was stoked to get all this from Smith and others.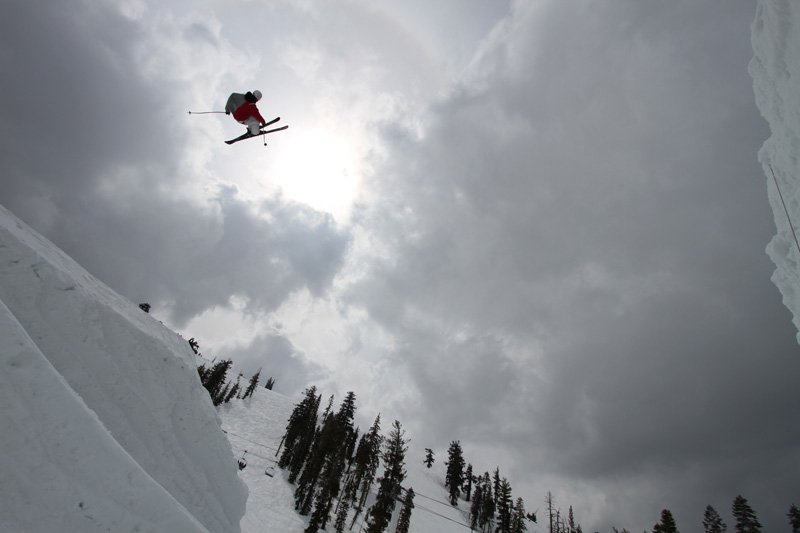 The jump itself has yet to present itself. From the base, it looks like the landing to your standard park feature, albeit extremely wide and covered with Trains logos. As you ride the lift over it, the intimidation begins. There are three takeoff options, all of which require the skiers to clear a monstrous death gap. Fortunately, no one ends up in it during the course of the day. There's also a barrel bonk, which will be used for high fives later in the day.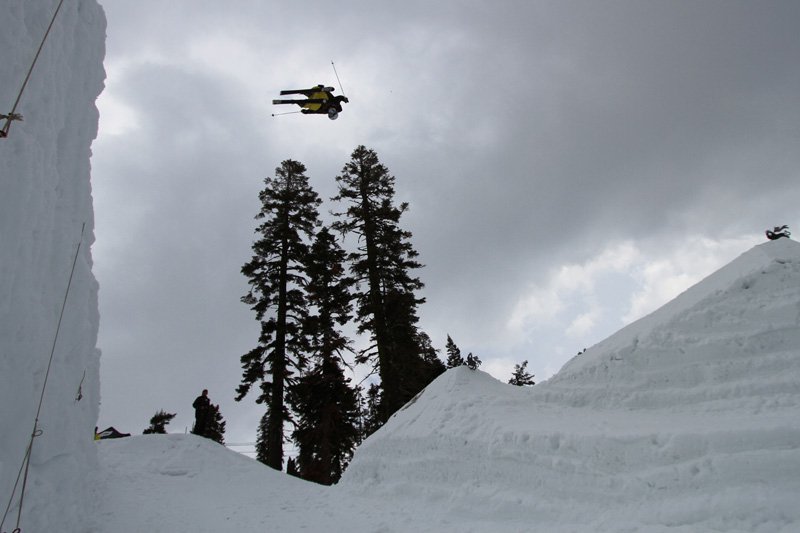 Finn Anderson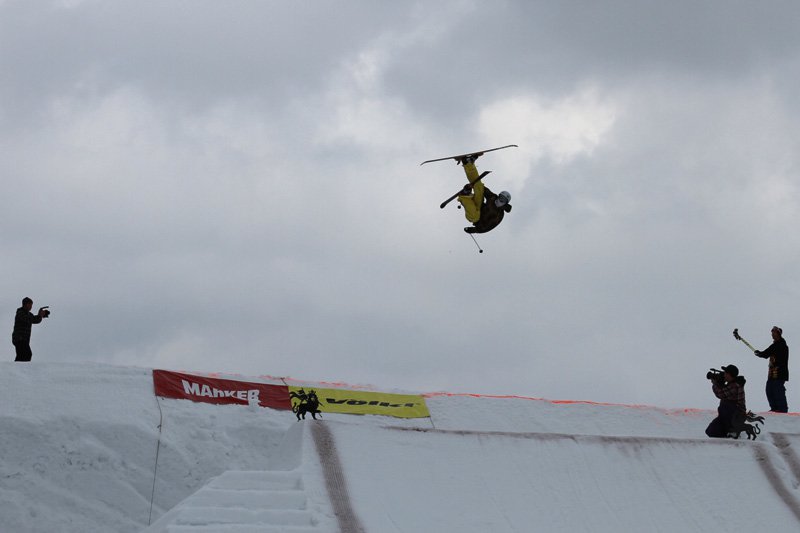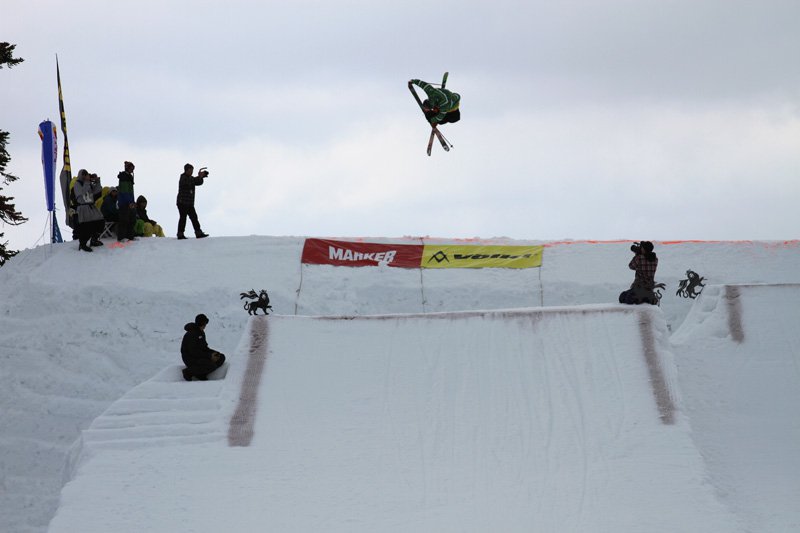 Parker White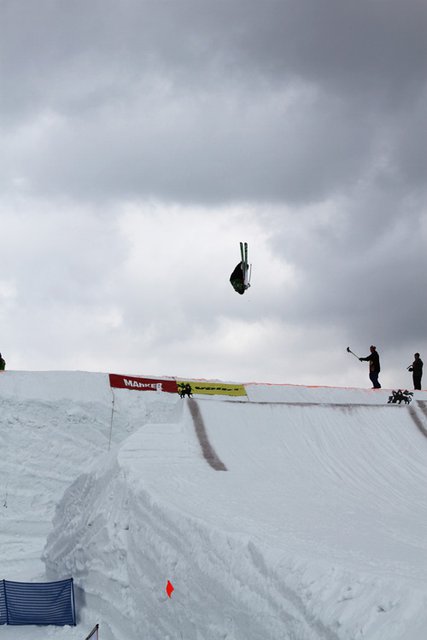 The day starts with a team meeting, led by organizer, emcee, and head of the High Fives Foundation, Roy Tuscany. Roy suffered a life altering injury four years ago while training at Mammoth Mountain. He fractured his spine and was paralyzed. Roy made a remarkable recovery, learning to walk and ski again. Since then, Roy created High Fives to provide money and equipment to help injured athletes ski again. Trains is one of many events hosted by High Fives to raise money, awareness and promote a good time.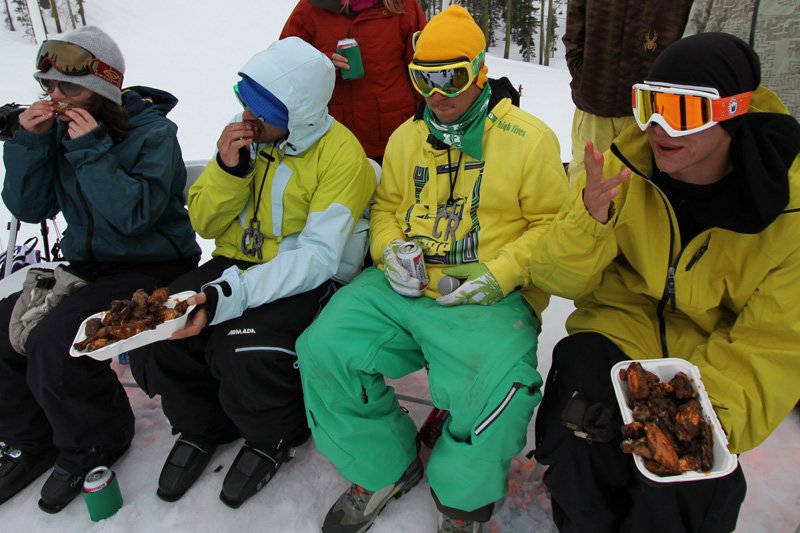 (left to right) Kress Durfee, Mike Laroche, Roy Tuscany, Matt Philippi.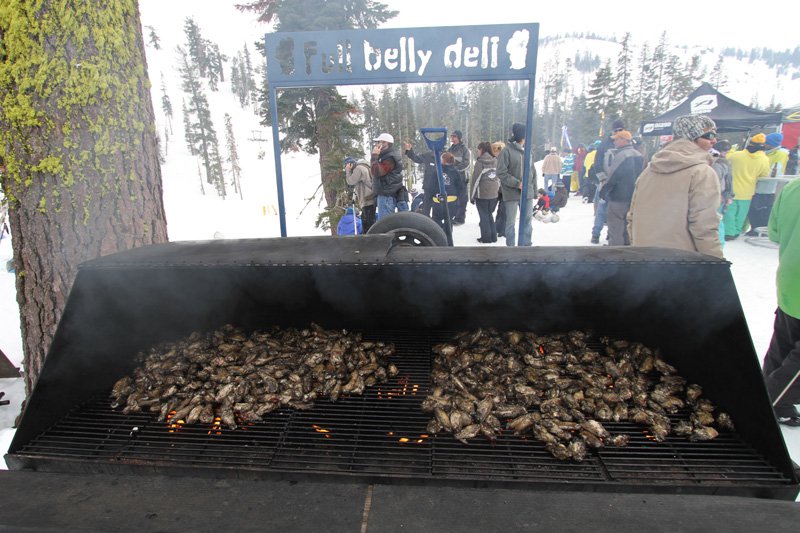 Wings courtesy of Jamie Lavalle and Full Belly Deli.
The ladies are captains, picking their teams dodge ball style until the last skier is chosen and the show begins.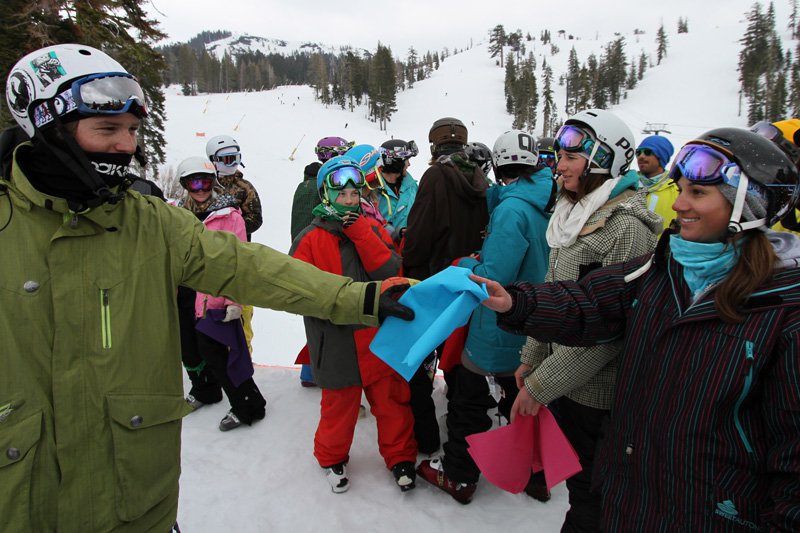 Becca Babicz hands Sean Logan a team bandana.
Despite an intimidating jump and flat light, everyone demolishes the course. Sean Collin kills it all day, even after chipping his tooth and being relegated to getting high fived on top of the barrel. He takes home Best Trick with a 900 nose/tail grab.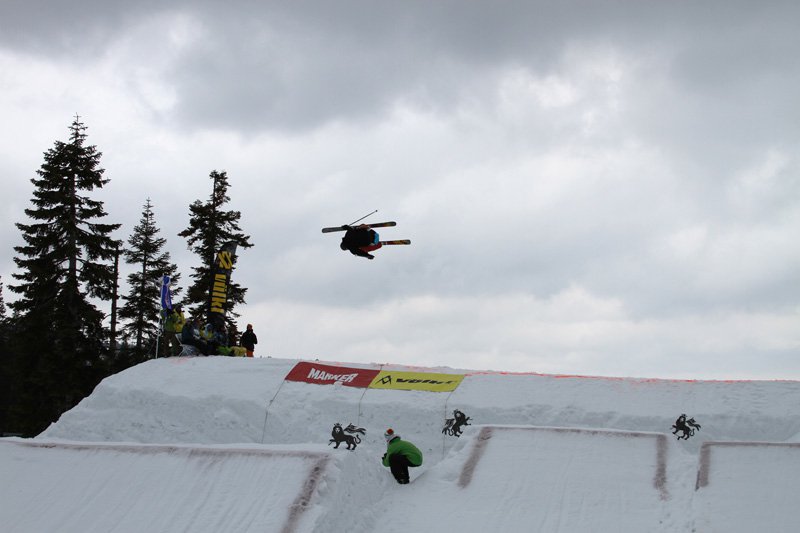 Sean Collin
Chris Logan exhibits his smooth style all day and wins the trophy for Best 540 with a switch rodeo 5 blunt. Jason Arens wins a 7XL woman's nighty from the Mustang Ranch for his lengthy tall tee. Kyle Smaine takes home Best Male with an assortment of impressive corked spins.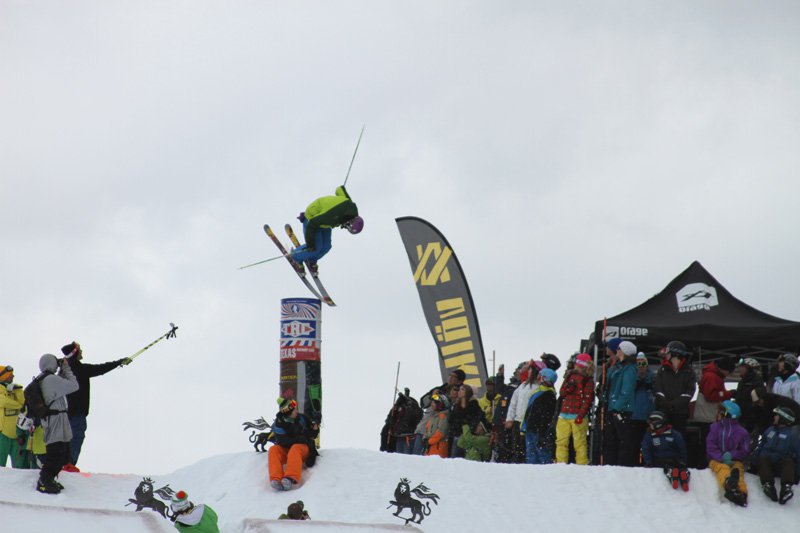 Kyle Smaine
Brita Sigourney leads the charge for the women, winning with some spins and a misty 540.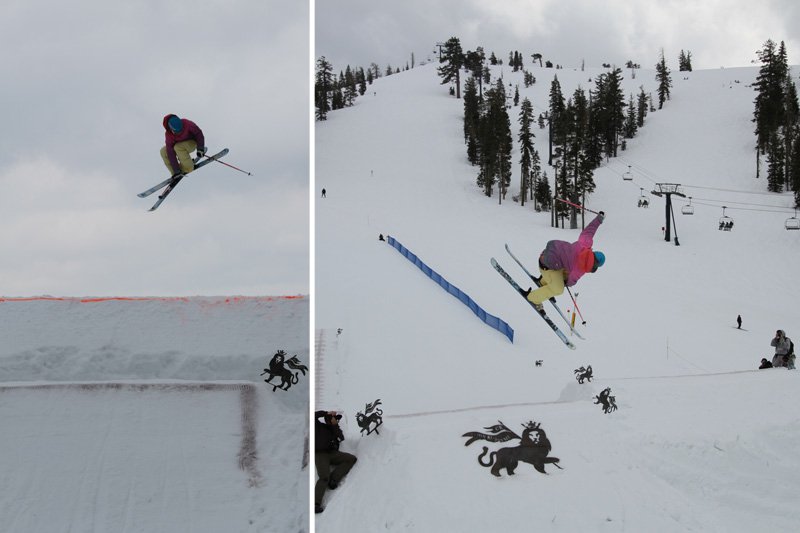 Brita Sigourney
Jason Arens and Kyle Smaine win Best High Five, with Smaine airing a cork 5 high five over Arens.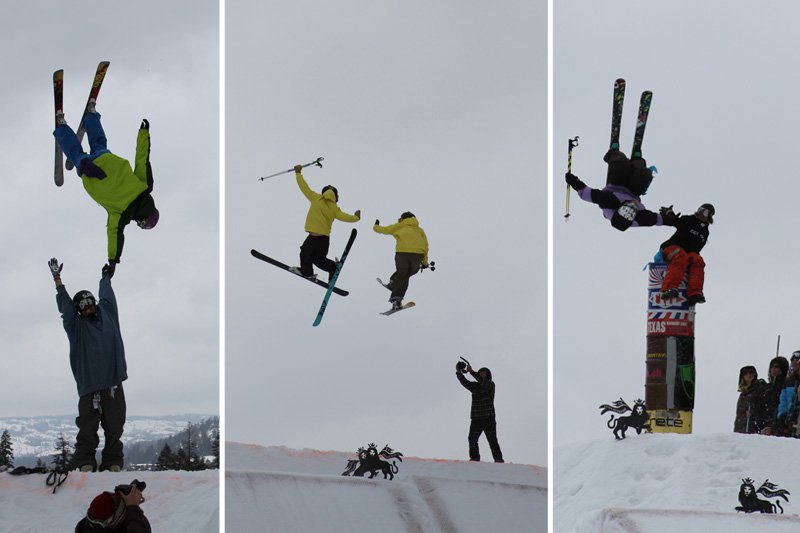 High Fives galore: Kyle Smaine and Jason Arens.
The team with the orange bandanas: Parker White, Jimbo Greenleaf, Billy Mann, Brita Sigourney and Casey Kruger take home the money: $1,500 to be exact.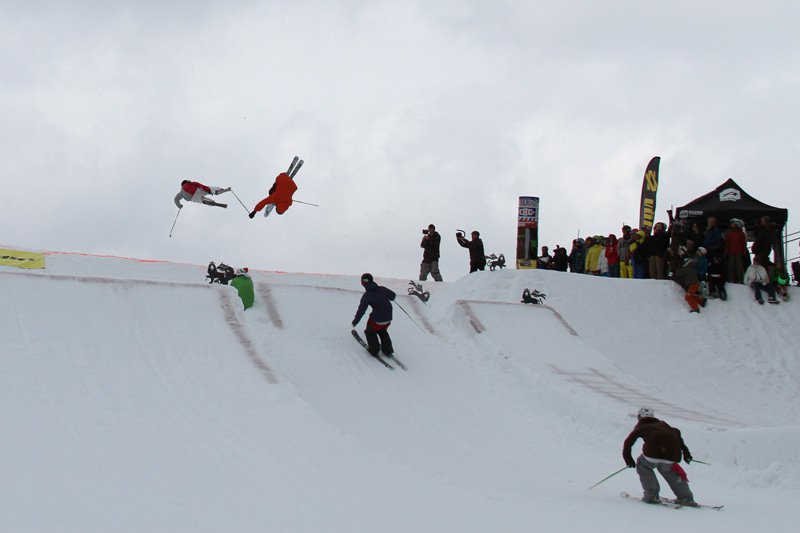 One of many Trains: Jed Kravitz, Andy McDowell, Davis Souza, Cole Derrick.
They also win an absolute boatload of prizes from sponsors Volkl, Marker, Smith, Orage, Planet Earth, FastStraps, Surefoot, Discrete, Lange, Tecnica, Full Tilt, and custom caboose trophies made by Truckee's own Mountain Forge Inc. (http://www.mtnforge.com).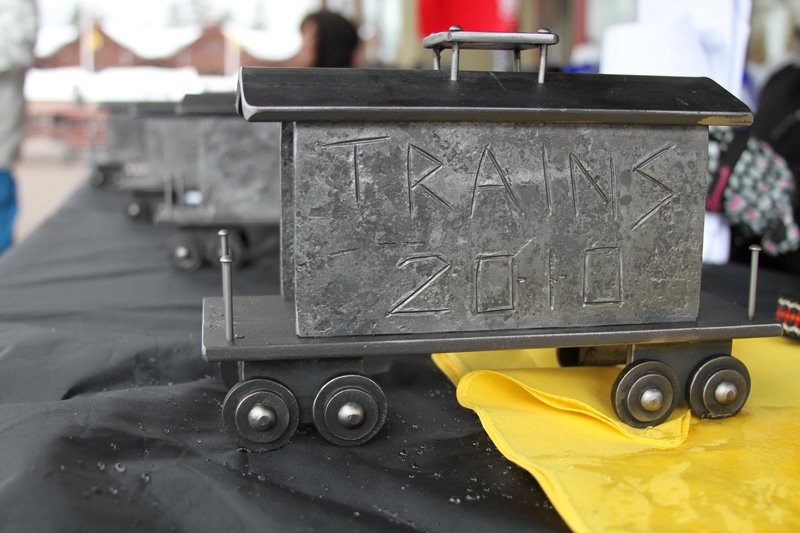 Mountain Forge Trophies
Finally, Billy Mann wins Best Barrel Bonk for his switch cork 5 nose tap, amongst a host of other sick bonks. For his efforts, Billy takes home a CR Johnson lion.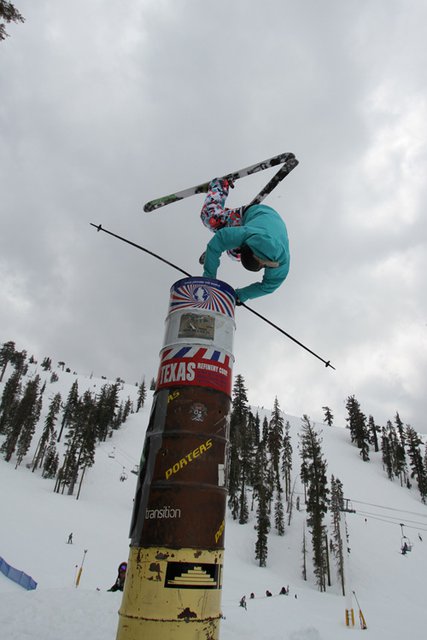 Billy Mann
Ultimately, the day isn't just about the sick skiing to be had. It's also about remembering the loss of a dear friend in CR. It is about celebrating CR's memory and legacy through positivity, and charity.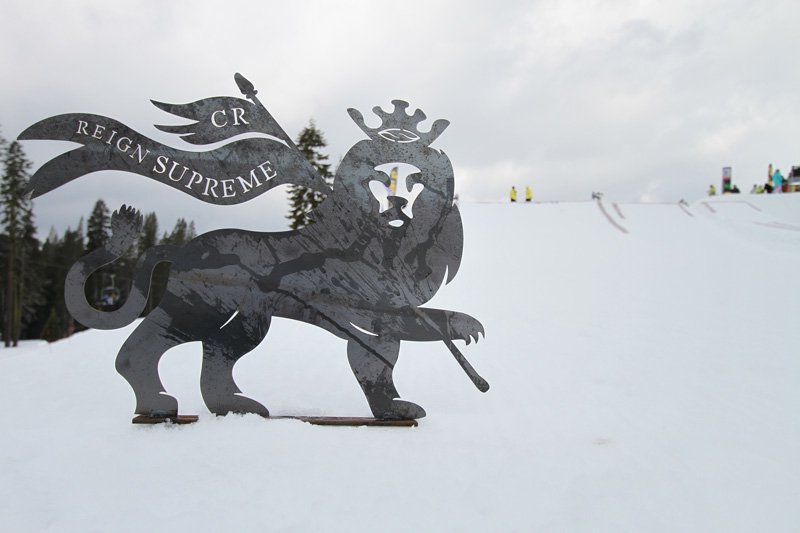 This is no more evident than when Roy asks Steve Wallace to join everyone on the deck. Steve received the High Fives foundation's first scholarship. Two years to the day prior to Trains, Steve was paralyzed when he crashed into a cat track. After surgery and two years of constant rehab, Steve was walking, but not yet skiing. High Fives helped him achieve his goal, getting him the training and equipment needed to return to the hill. Though there are many smiles to be had today, perhaps no one's is greater than Steve's as he skis to the top of the jump and the cheers and applause of all welcome him back.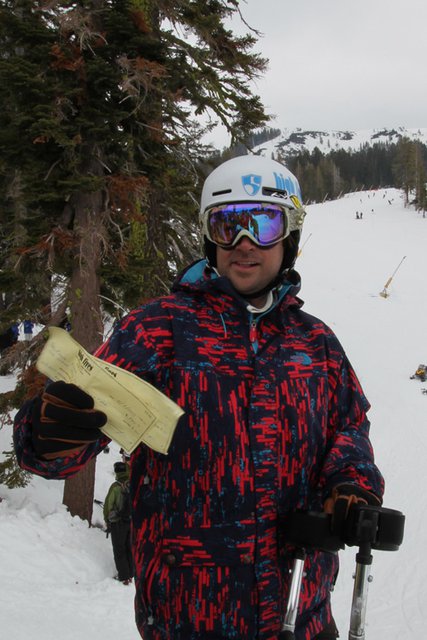 Steve Will Wallnuts Wallace receives his final checks from the High Fives Foundation.
To find out more about the High Fives foundation, make a donation, get a lion for CR, and get involved, please visit: http://highfivesfoundation.org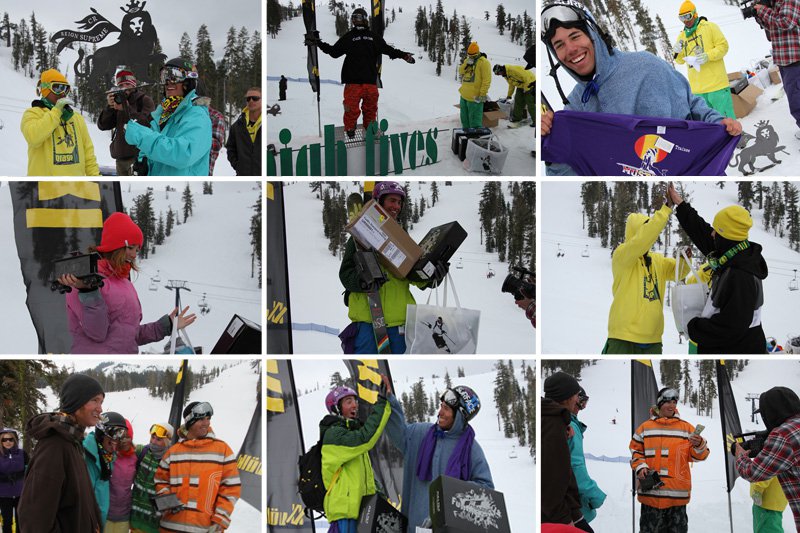 (top to bottom, left to right) Billy Mann, Sean Collin, Jason Arens, Brita Sigourney, Kyle Smaine, Chris Logan, Team Orange, Kyle Smaine and Jason Arens, Casey Krueger with the ca$h.