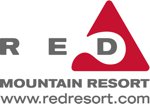 Rossland, BC - RED Mountain – we don't spend ad dollars in large newspapers so we were pretty excited to learn that last week the Toronto Sun ranked RED one of the Top 10 Ski Resorts in the World. The Sun noted that RED is also, "among the best resorts in North America for advanced skiers."
RED Mountain is located in Rossland, BC, a scenic mining town dating back to 1898. It is the oldest ski area in Western Canada and the last great, undiscovered resort in North America. (For the record, Toronto is about 4,000 kms from Rossland — so we must be doing something right to influence polls on the other side of the country!)
We are proud of our amazing, uncrowded, fall line skiing and snowboarding terrain -- and for our world famous Kootenay powder. But we're especially proud of these recent RED accolades to add to the Sun's global honors:
• Ski Canada magazine named RED's extensive terrain this month as the Best Place to Get Lost: "Skiing Powderfields...means never taking the same line, but never leaving the trail map."
• SBC Skier magazine named RED a Top 5 Freeride Spot in their 2011/12 Resort Guide.
• Ski Canada called our "side-country" terrain the Best New Playground: "[RED] expands with more than 120 hectares of off-piste terrain on freshly gladed Grey Mountain, just a 20-minute hike, skip and skin away from the access gate."
• Ski Canada also named Rossland Best Ski Bum Town this year: "Home of the original ski bum, Olaus Jeldness, Rossland is celebrating more than 113 years of skiing—and living to ski."
• Ski Canada also recognized our own favorite update with Best New Day Lodge honors: "[The] long-awaited reno to the original base lodge is finally complete—and everyone so far is giving Red a green light."
Find out for yourself why ski and snowboard pros, travel editors and elite ski bums all hold RED in such high esteem. Our on-hill accommodations boast a Trip Advisor (http://www.tripadvisor.com) review score of 4.5 out 5 Stars so you don't have to worry about crashing in some musty chalet that smells like Grandpa's old wedding suit.
With half of us suffering from congestive heart failure after weeks of holiday eating, why suffer through "congestive ski failure" at a mega-resort when you can be gobbling up uncrowded, Kootenay snow at your own pace?
About RED Mountain Resort: RED has been delivering incredible skiing longer than any other area in Western Canada, with the first recorded powder turns in 1896.  With accolades ranging from "Best Authentic and Funky Resort Experience" to "Best Powder, Best Trees, Best Steeps", to "Best Fall Line Steeps", RED is the hidden jewel of BC's Kootenay Rockies region. RED offers incredible terrain with a 2,919 foot vertical drop (884 meters) featuring over 300 inches (750cm) of annual snowfall, champagne powder, world renowned gladed tree skiing and wide-open groomed runs. The resort boasts a terrain park, easy-to-access backcountry, snowshoeing, friendly locals, fine dining and modern, affordable luxury slope-side lodging. All this is seasoned with an authentic winter enthusiast vibe and the turn-of-the-century charrm of Rossland, located minutes away. RED is located in the western Kootenay region of southern BC, 2.5 hours drive north of Spokane International Airport, 3.5 hours from Kelowna, BC Airport, 30 minutes from Castlegar and 20 minutes from Trail regional airports.