?
Newschoolers.com sat
down with K2 Team Manager Mike Gutt to get the latest info on the company
and a peak at the early relese of the 04/05 skis.
Tell us a little bit about yourself and what you do at K2.
[Mike Gutt] You don't need to know about me, I try to
keep that stuff under wraps. For what I do, my official title at K2 is
Team Manager for K2 skis. I am involved with the marketing and promotions
and am also the category manager for the team skis.
How did you get the job in the first place?
[Mike Gutt] I worked for K2 down in So Cal for two years
as a tech rep after living in Mammoth for the three years prior. I have
always been totally stoked on the sport and K2 for my whole life and skied
at Mammoth from the beginning. I went to school for something different
but when I moved to Mammoth I figured there had to be some way to combine
my love for the sport and work. I tried several times to get in house
from my tech job, but it never worked out for me. I was ready to quit
and work for a rival company when I was offered the job about 2 years
ago, and the rest is history.
K2 seems to have re-invented itself in the last year and a half.
Who is responsible for the change? What was the cause/reason for such
a dramatic shift?
[Mike Gutt] I don't think anyone at K2 will take credit
for the changes. We just started listening to what the athletes wanted,
especially when it came to skis. My first project that I really worked
on was the Public Enemy and Seth Pistol skis. We listened to everything
that the team wanted and went to work testing. That is when I ran into
you and Harvey up at Whistler for the first time in the middle of the
testing process . You guys broke the news first on the new skis and grilled
me on everything about marketing, promotions, product, etc. I think that
was the first time I revealed any concrete plans to our direction over
the next few years and here we are again on the verge of the launch of
several new skis, so it must be working.
What does K2 hope to accomplish as a result of this change?
[Mike Gutt] This is the aspect of the sport K2 has always
been involved with and had the best read on, not racing but the alternative
sides of skiing, you know Wong, Plake, Schmidt, etc. I want make sure
we get back to where we belong and use the athletes to do it.
Looking at the new graphics for the Seth Pistol and Public Enemy
it seems like Ryan Schmies was up to his old tricks again. How do you
guys settle on a design for each ski?
[Mike Gutt] Schmies is a close personal friend of mine
from my first year at High North. We work really well together on the
graphics because he doesn't get frustrated with my ideas or changes to
what he does. I push him with a direction and theme and then let him got
to work. It is crazy that I can give him an idea that I have brewing in
my mind, from a dream at 3:00 am and he can deliver a sketch that is levels
above what I was thinking. We usually go through several rounds of modifications
where we introduce new ideas and try to take it up a level. It has been
tough to get him to draw in-between school work but that has all changed
because he recently was hired by K2's graphics department and now has
a cube 5 feet away from me. I am super stoked to have him on board and
just wait until you see what we come out with now.
The Seth Graphic on the other hand is done by Josh Malay. Josh is crazy,
seriously, and I think it is reflected in his artwork. Josh and Seth are
tight and it shows in the work. The ski totally reflects Seth's personality.
I usually feed a few ideas to the two of them but stay totally out of
the design process until we see the final product and have to work with
the graphic.
Have you changed the Seth Pistol or Public Enemy since last year?
[Mike Gutt] Mainly graphic changes to the skis and trying
to push the limits of detail, graphics and die cuts. Subtle changes to
the construction. The Seth is stiffer in the tail based on Seth's input
and the PE had a thicker binding mat for added strength under foot.
So Pep has a new ski this year, the Fujative. Clever name, tell
us about the ski and who should be riding it.
[Mike Gutt] Pep wanted a ski that was totally different
from anything that is out there. He wanted a ski specific for the park
with characteristics that we did not know if they were possible. We went
to work and I spoke with the boys from Ride Snowboards for ideas and we
went to work on a pipe, park and jib ski for Pep. Pep also threw in another
kink in the plans when he said he wanted the ski to be inexpensive.
Who should ride this ski? Anyone who is mainly interested in lapping the
park. It's flex characteristics are unlike any other ski, super specific
for presses, ollies and butters, and at the same time stable enough in
the right spots for the big tables and the pipe.
The MSRP on the Fujatives is $375 US, what are you trying to do
by offering the ski at such a low price relative to it's twin tip competition?
[Mike Gutt] Pep wanted a inexpensive ski, so we set out
to make it, and by they way it is a Pro Model at $375.00. I think Pep
wants to get more people into the sport and the biggest complaint is that
skis are too damn expensive to invest in, especially if you intend to
destroy them.
The K2 team seems to be growing fairly steadily, any new additions to
the crew?
[Mike Gutt] I would not say growing, but solidifying.
We want to focus on our top athletes and make sure we have a solid crew
backing the top athletes. We added some young riders to the program toward
the end of last season, Alex Balsen, Sean and Callum Pettit, Chris Biollo
and our newest addition Jess Cumming.
Pep really kills it in the Oakley movie this year, what do you
think of his progress in the last couple of years?
[Mike Gutt] Pep is a technician on skis and always has
been. He is super smart in the head and he uses that in his approach to
skiing but somehow makes it super smooth and effortless at the same time.
Pep was the first person I picked up when I got the job as Team Manager
and I knew he would be the next top K2 athlete. I did not think it would
come this soon, but mad props to the kid, he kills it.
K2 seems to have a lot of female team members in comparison to the other
large manufacturers, is this something you're purposely doing or are the
other companies just not getting it?
[Mike Gutt] Our boys need some company on the slopes.
No seriously, in our main line skis, our women's market is 60% of sales
or more . As all of us know, the younger segment is totally male dominant
right now. We need more younger ladies in the sport and it is starting
to happen. There is an opportunity to get ladies into the sport and specifically
this segment.
Any other news that you can share with the members of Newschoolers?
[Mike Gutt] Wait until you see what's next? I am working
on our 05 line right now, and it is off the hook.
For more info on the
skis and K2 in general check out http://www.k2factoryteam.com
and http://www.sethpistol.com in the
coming weeks!
Ok time for the skis,
a big thanks to Mike and K2 for giving Newschoolers.com a sneak peak at
all the new graphics!
Public
Enemy - This team inspired all mountain park ski is designed to go anywhere
on the mountain or just spin laps in the park. It's construction with
thicker steel, riveted tip and tail and vertical sidewall make the ski
hold up under every condition.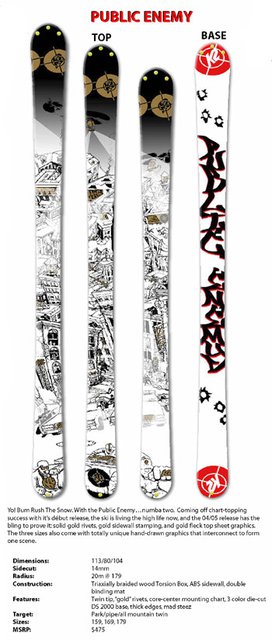 Seth
Pistol - The Seth Morrsion pro model all terrain ski for any conditions
from park to big mountain. Basically one ski that allows Seth to do everything
in any terrain or condidtion.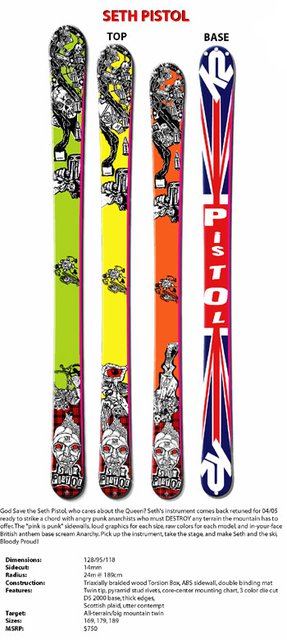 ?
Fujative
- Affordable park and pipe specific pro model ski for Pep Fujas that has
unique flex characteristics specific to presses and ollies.