Do you like skiing, Tom Wallisch and money? If you find any of those things to be remotely interesting you should probably be out desperately filming an edit instead of reading this article. That's because The North Face is putting on the Park and Pipe Open Series (PPOS for short), a "virtual competition" with prizes including GoPros, North Face gear, ski trips, cold hard cash ($10,000 total purse!) and an opportunity to film with the King of Afterbang himself, Tom Wallisch for his upcoming project, Good Company.
https://www.newschoolers.com/videos/watch/747552/Tom-Wallisch-Talks-PPOS-Virtual-CompetitionThe magic of this event is that it gives the opportunities associated with a major halfpipe or slopestyle competition to anyone, without the hassles and pressure of scheduling, traveling and competing. All you need is a camera and a little creativity and you're good to go. Check the thread on newschoolers and the event's Facebook for chances to win swag packs and get your content shared.
There are categories for both men's and women's slopestyle and halfpipe with prize packs for the top three, as well as a Viewers Choice Award, Best GoPro Footage Award and Best Trick, Rail, Air and Biggest Personality.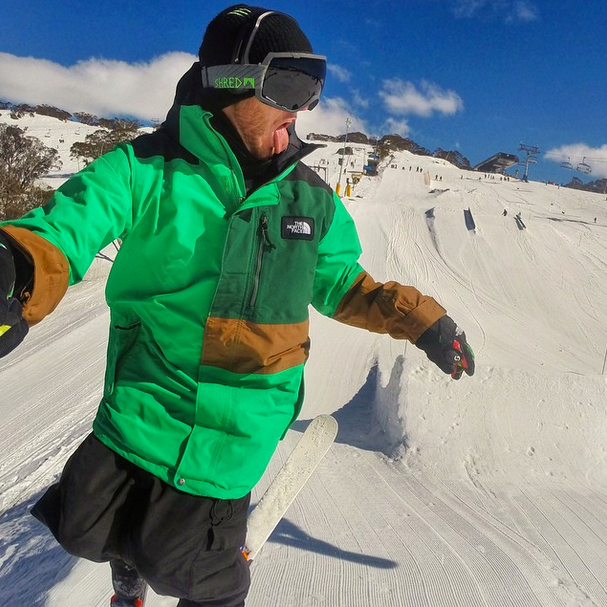 Did someone say Biggest Personality Prize?
(photo from The North Face)
Along with The North Face prize packs, winners in all four categories (men's and women's slopestyle and halfpipe) will each receive $2500 and second place wins an all inclusive trip to a USSA Grand Prix event next season.
Unlike other competitions that are completely voting based and sometimes turn into nothing more than an online popularity contest, the PPOS will use online votes to help the judges narrow their selections and determine the Viewers' Choice Award but the top 20 men and 10 women will be ranked and judged on a scale of 1-100, just like a real competition. The Master of Steeze himself, Tom Wallisch, will choose a Grand Prize winner to come film with the Good Company crew.
Like all contests this one has rules which can be found here: http://thenorthfaceppos.com/virtual-competition-format/
Because PPOS is all about bringing the opportunities of competition to the community there are regulations for the video submissions that help simulate an actual competition run. Give them a read and make sure to follow them, no one likes seeing a rad video disqualified because of some minor violation. Videos can be edited with any number of clips, however, they must simulate an actual slopestyle run with at least four jumps and four rails.
Video submissions are open until March 1 and voting runs from February 23 to March 6. Final winners will be announced March 24. Get your videos in ASAP, the sooner they're up the sooner we can start voting for you!
It's hard for many of us to justify entering traditional competitions. Travel, entry fees and other logistics leave a lot of great skiers spinning laps at their home mountain. This is a competition for the community, this is an opportunity with minimal excuses so get out there and start shooting!