Whether you know him for his Gold Medal Slopestyle runs, standout video parts, or one of his many nicknames, (Pretzel Man, King of Afterbang, Tommy Walnuts, etc.), there's one thing that's clear- Tom Wallisch has influenced just about every niche of our sport.
He came up on the scene in 2007 when he took home the title of SuperUnknown V, and we're here to dissect the highlights of his career since then, starting with the first 5 years. It's hard to choose just one highlight from every year between multiple movie parts, winning awards, and insane comp runs, but I've done my best to choose some of my favorites.
2007
SuperUnknown V
Tom's entry was so ahead of its time and a clear standout among his competition that year. Not to mention, this edit went on to be a staple of its era and influenced the progression of skiing and style as we know it.
https://www.newschoolers.com/videos/watch/631123/Tom-Wallisch-Superunknown-V-Winning-Video
2008
Level 1 - Turbo
Turbo was Tom's first big video part, but you would never guess that the first time you watch it. He slays the streets, park, and backcountry jumps with his undeniable style. Watch for his switch up 3 on the DFD at 1:18 and how easy he makes every jump feature look.
https://www.newschoolers.com/videos/watch/860016/Tom-Wallisch---Turbo
2009
Level 1's Refresh - Opening Segment
"Tom Wallisch's opening segment from 2009's Refresh is still a segment that stands on its own today, and will probably hold up another 10 years down the line. Enough said."- written in the description of the video and couldn't be truer. Looking back on Tom's [Level 1] segments, his opener in Refresh is indisputably the most talked about and fan favorite. Everything looks so effortless, and if you threw some North Face gear on him it could pass for something from 2013 or later. Tom also go big ups for his part (and even more so bonus feature) in 4bi9's So Far So Hood.
2010
In 2009, Tom took home Gold at X Games Tignes (with 2 perfectly executed dubs), won Freeskier's Skier of The Year title for the first time, and had segments in Level 1's "Eye Trip" and 4bi9's "Gunnie Season. (Also check his segment in Jiberish's 'Do Werk' season edit.) We really start to see Tom go bigger during the 2009-2010 season, especially when it comes to urban in both Gunnie Season and Eye Trip. The progression is really evident at this point and really makes some tricks from Eye Trip stand out in my mind- see huge disaster 2 @ 6:06 and flawless quad kink front swap to 3 swap right after (shown below).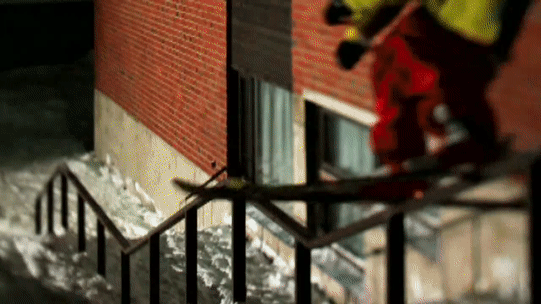 2011
2011 was another big year for Tom with winning first place in Powder's Reader Poll, as well as more segments in 4bi9 Beggin for Change and Level 1's After Dark. Another competition Gold medal shows how well of a rounded rider he had become. But at this point, I'll let the run speak for itself-
Dew Tour- Slopestyle Gold
https://www.newschoolers.com/videos/watch/860018/Tom-Wallisch-Winning-Run---Freeski-Slopestyle---Nike-Open---2011-Winter-Dew-Tour