By Ethan Stone
On Saturday, March 6, I wasted a perfectly good day of skiing to sit on my ass and film the Timberline Classic halfpipe competition. My new skis begged to be ridden. Honor my sacrifice.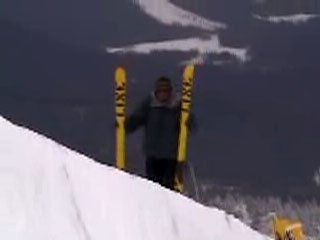 Riders dropped in to stake their claims on cash prizes for the pro division and a brand spankin' new pair of Dynastar Troublemakers for the super-duper amateur winner. After the pipe was cut and groomed to clear out the previous evening's snowfall, a small crew of skiers began working out their runs in the one-hour practice session. A foggy morning gave way to mild temperatures and intermittent sunlight as the ski crew waited for the snowboard divisions to finish their first runs. The format was stock enough for me to wonder why I'm explaining it to you. Each competitor received two runs, which were judged on airs, rotations, amplitude, and overall impression. In practice, all eyes were on Tim Durtschi's huge 900s on the first hit and Josh Larkin's massive amplitude.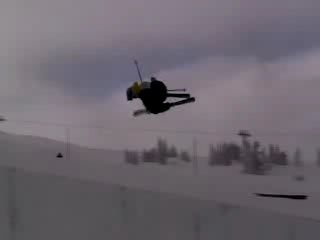 Skiers opted for the safe route on their first runs, laying down clean, conservative lines. In the am division, Jacob Perkins warmed up the pipe with a few straight airs and a flair that took him too far down the transition for another hit. Dave Dube's alley-oop, 540, and alley-oop 360 put him in solid position after the first run, and competitor Dustin Kimsey wanted those skis so bad that he switched from the Pro to the Am division, laying down back to back flairs on the first two hits, followed by an alley-oop 3.
Hood local Matt Woodhouse set the standard for the Pro division with solid amplitude on his run, with a large flair on the first hit, followed by a 540 and, for lack of a better term, lip stall to fakie. Fresh from a third-place finish in slopestyle at last week's X-Qualifier at Big Bear, Tim Durtschi followed Woodhouse with arguably the cleanest run of the day: a smooth alley-oop followed by a 540, and finishing with an air to fakie into a switch 540, but the run lacked the amplitude of other competitors. And speaking of amplitude, Josh Larkin showed the competitors how to ride pipe with a massive straight air on the first hit, following up with an alley-oop, 540, and unnatural 360.
Perkins went all out in his second run, launching a huge flair straight to the flats on his first hit and leaving a nice bomb hole for other competitors to avoid. Dube' stuck his run cleaner with more amplitude, and after a big flair first hit, Kimsey lost speed and opted for the spread eagle steeze.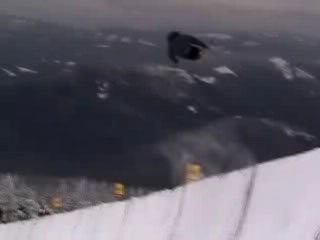 In the big boys' club, Woodhouse looked to step up the level of competition, cleaning the top of the pipe with a large flair, alley-oop, and 540, but he popped too hard on a backflip to fakie, landing in the flats and ejecting. Durtschi moved to take advantage of Woodhouse's fall and went for a big alley-oop flat 540 on the first hit, but he landed backseat and couldn't find the speed to finish his run. Larkin also put it all on the line, going bigger than any other competitor, but he set his second-hit alley-oop too hard and went down.
In the end, Dube's run took the Troublemakers in the am division. Durtschi took home $100 and third place, Larkin picked up $200 and second, and Matt Woodhouse walked away with three hundred slammers and a shit-eating grin.
Final Results
Amateur
1. Dave Dube'
2. Dustin Kimsey
3. Jacob Perkins
Pro
1. Matt Woodhouse
2. Josh Larkin
3. Tim Durtschi
Thanks to Camille Frederick and Timberline for the help in covering this event, and see you all at the next Classic halfpipe comp next Saturday, March 14 at 11:00am. You can find info on the Classic series here.
WATCH THE VIDEO