Tiffany & Co. Produces 2011-12 Gold Pass
NEW YORK, NY (Sept. 13) – The U.S. Ski and Snowboard Association (USSA) announced today a new multi-platform partnership with luxury jeweler Tiffany & Co. (NYSE: TIF). The announcement took place at the Tiffany & Co. flagship store on Fifth Avenue in New York City. Olympic and X Games medalists helped unveil a new Tiffany-produced USSA Gold Pass, offering donors skiing or snowboarding at resorts across the USA.
The prestigious Gold Pass – only 400 are produced annually - is the Foundation's largest annual fundraising program and requires a minimum annual contribution of $10,000. The fully-transferable pass provides unlimited skiing and snowboarding at resorts, as well as invitations to special events. These funds are crucial to athlete development, and assist in offsetting the cost of elite-level training, education, travel and sport science support.
The partnership solidifies the two organizations' shared reputation for excellence, and will yield a diverse lineup of projects, beginning with producing the USSA's 2011-12 Gold Pass.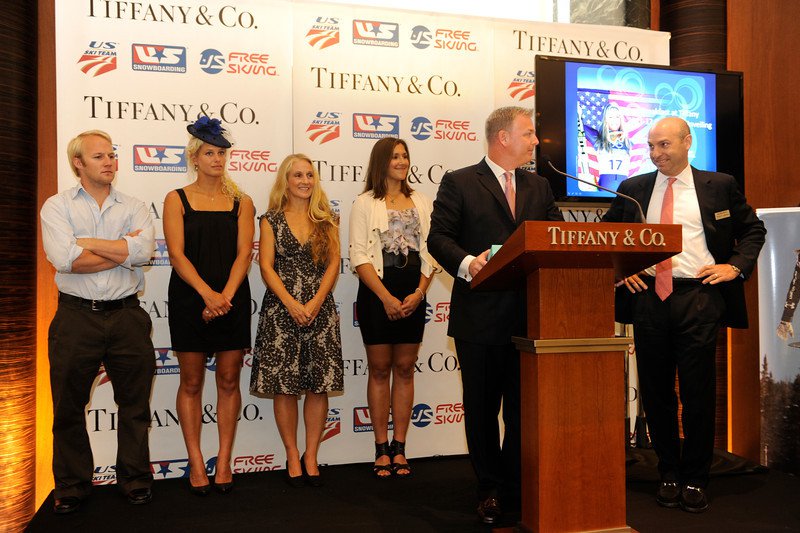 Lindsey Jacobellis, Donna Weinbrecht, Jen Hudak, Thomas O'Rourke, Vice President of Business Sales at Tiffany & Co. and Andrew Judelson, Chief Revenue and Marketing Officer of USSA. Photo by Jon Simon
"The USSA and Tiffany & Co. stand for similar expectations in excellence," said USSA's Chief Revenue and Marketing Officer, Andrew Judelson. You know the quality you're going to get when you open a Tiffany Blue Box and you can look for that same level of expectation from our athletes. Taking the physical product and collaborating with the best in the business to produce the Gold Pass boosts the overall prestige of the program."
On site to help reveal the new Gold Pass partnership was Olympic silver medalist, Lindsey Jacobellis, Olympic bronze medalist Andrew Weibrecht, Olympic champion Donna Weinbrecht and five-time X Games medalist Jen Hudak. Athletes mixed and mingled with USSA donors while sporting the new Gold Pass.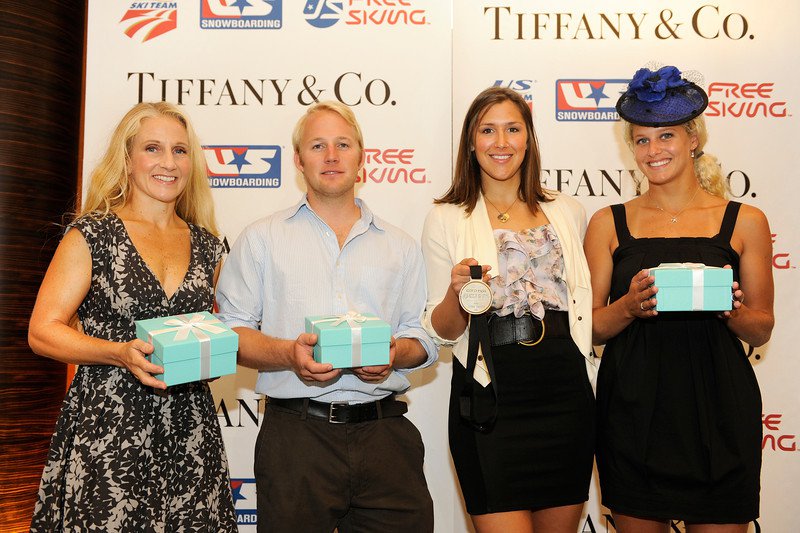 Olympic gold medalist Donna Weinbrecht, Olympic medalist Andrew Weibrecht, X Games champion Jen Hudak and Olympic medalist and X Games champion Lindsey Jacobellis. Photo by Jon Simon
"I love the look of the new Gold Pass," said Jacobellis. "You can feel and see the quality that Tiffany & Co. has put into the production. We're so happy to have the support from donors that the Gold Pass program provides and now it's a bonus that it comes in a little Blue Box!"
All USSA Gold Passes will be presented in the signature Tiffany & Co. blue box, a timeless icon of superior craftsmanship and dedication to perfection. Tiffany & Co. has served as the world's premier jeweler and America's house of design since 1837.
"It is with great excitement that Tiffany & Co. partners with such an outstanding organization as USSA," said Thomas O'Rourke, Vice President of Business Sales for Tiffany & Co. "USSA fields the best and most dedicated representatives in their respective sports to create Olympic teams that are founded on strong personal values, and we are honored to help support their vision by instilling Tiffany's own values of craftsmanship and quality in the creation of the USSA 2011-12 Gold Pass."
In addition to producing the USSA Gold Pass, Tiffany & Co. will continue its partnership through other compelling fundraising initiatives with the USSA.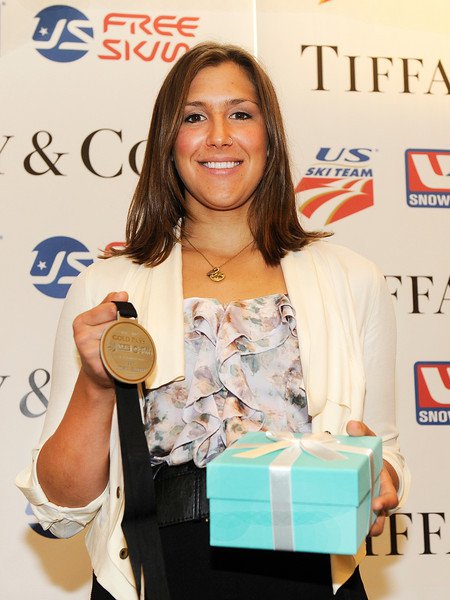 Jen Hudak
"Our athletes and organization rely on the dedicated support of donors, especially those who contribute at the Gold Pass level and above," said USSA's Vice President, Foundation Trace Worthington. "We are grateful for their generosity and hope to provide an equally rewarding experience in return. We know that a Tiffany produced Gold Pass is a great start."
For more information on donating to the U.S. Ski and Snowboard Team Foundation, including specifics of the Gold Pass, please visit http://www.ussa.org/foundation.
About Tiffany & Co.
Tiffany & Co. operates luxury jewelry stores and manufactures products through its subsidiary corporations. Its principal subsidiary is Tiffany and Company. The Company operates TIFFANY & CO. retail stores and boutiques in the Americas, Japan, Asia-Pacific and Europe and engages in direct selling through Internet, catalog and business gift operations. For additional information, please visit http://www.tiffany.com or call the shareholder information line at 800-TIF-0110.
About the USSA
The U.S. Ski and Snowboard Association (USSA) is the national governing body of Olympic skiing and snowboarding and the parent of the U.S. Ski Team, U.S. Snowboarding and U.S. Freeskiing. Developed to facilitate participation in national and international competition, the Olympic sports organization provides structure for competitive skiing and snowboarding. From grassroots programs to governance of sport, management of rules, competitions and athletic rankings, the USSA oversees athletic pipelines for development in the sports. With a vision to make the USA the best in the world in Olympic skiing and snowboarding, the USSA provides leadership and direction for tens of thousands of young skiers and snowboarders who share an Olympic dream while maintaining a strong adherence to core values. The USSA, established in 1905, operates out of the national training and education facility, the Center of Excellence, in Park City, UT. For more information, visit http://www.ussa.org.