Words and photos by Jeff Schmuck
Hello again from Whistler, where to the supreme sadness of everyone on the glacier, summer camps are winding down, with just one last day of skiing tomorrow on Blackcomb.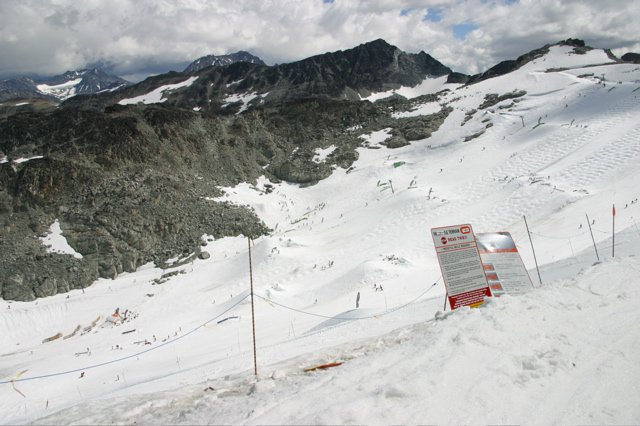 Over the last month we've been dishing you daily updates on Camp of Champions in the park update section and a splattering of articles and interviews in the news (with a whole lot more to come). We've talked to the coaches and diggers, shown you the off-hill activities, let you know what the best places to eat, sleep and party in Whistler are and done many a photoshoots with the who's who in skiing. But what we've yet to touch on is the people who make summer camp what it is…the campers.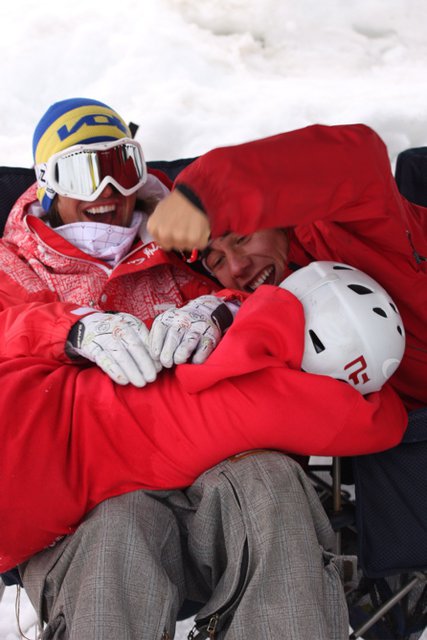 COC camper Keegan Agnew takes on Luke Van Valin & Joe Schuster
Without the spinning legs and smiling faces of the kids and adults from all walks of life and all parts of the globe who religiously come to Whistler each and every summer, there wouldn't be summer camps, and at the end of the day, the biggest and best moments on the glacier belong to them. From learning how to do a 180 and slide to a box to working towards becoming the next Tanner Hall, Peter Olenick, Anthony Boronowski, Mike Riddle or any of the other A-list pros who got their start at camp, the campers have more fun and get more out of summer camp than anyone else, and it's simply a joy to watch.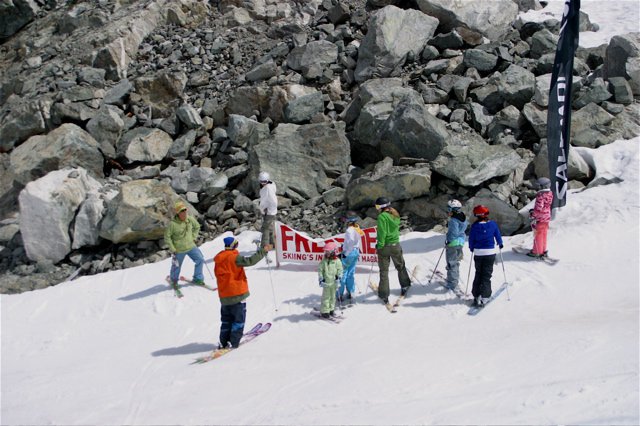 Josh Bibby gives some pointers to his group on sliding rails
So without further ado, it's time for their stories to be heard. Here's some words from a fraction of them who made the pilgrimage to Whistler on what summer camp means to them, their favorite moments, and why they ALL want to come back...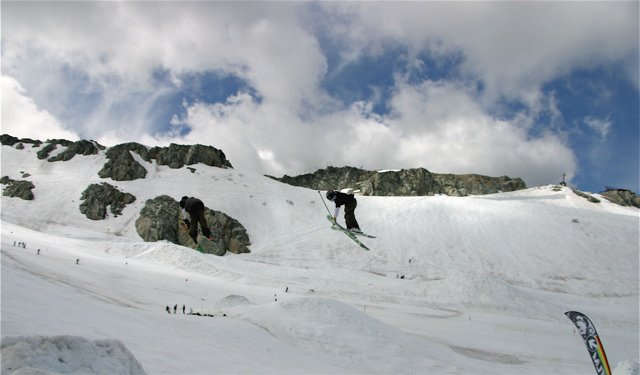 Mitch Gilman & Ben Smith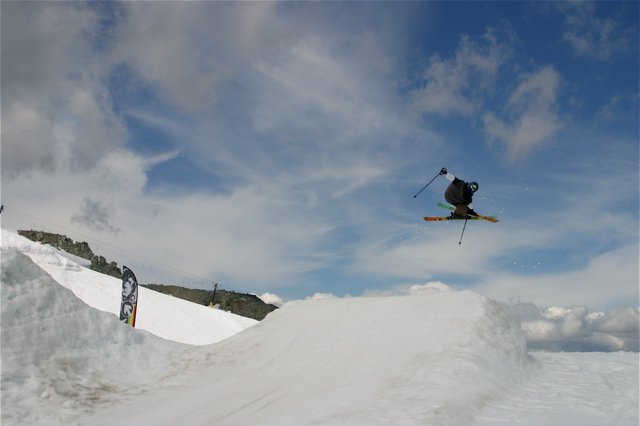 Mitch Gilman
"I'm at Momentum for my first time, and it's awesome," says 11-year-old Mitch Gilman of Whitefish, Montana. "The jumps have been sick and I've just been having so much fun skiing."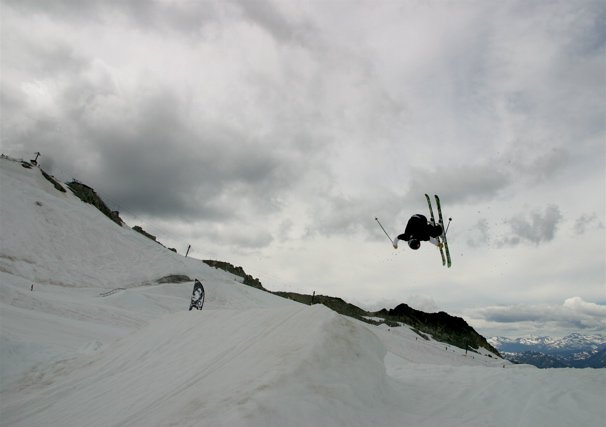 Ben Smith
"It's just amazing here," says 13-year-old Ben Smith of Vermont. "The best part has been just skiing with my friends and getting to hang out in Whistler."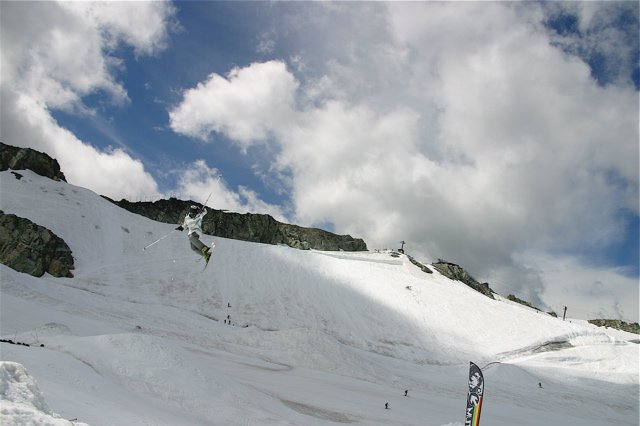 Liam Forsyth
"This is my first year at camp, and I'm loving it," says 12-year-old Liam Forsyth of Squaw Valley, California. "Being able to ski in the summer and having the chance to learn new tricks on any given day has been awesome, and I'm definitely coming back next year, because I had so much fun."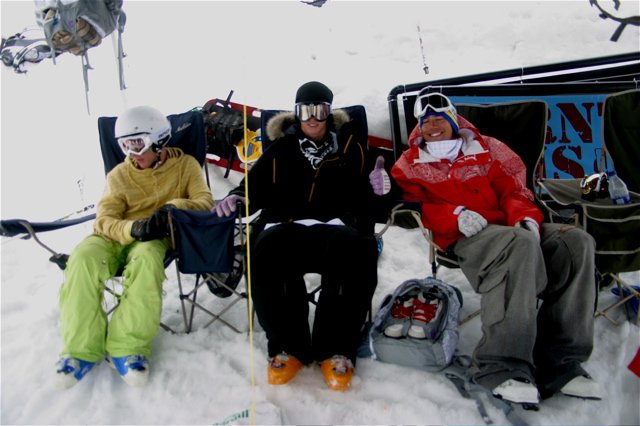 COC campers Rhett Winward & Chase Adams with their coach Luke Van Valin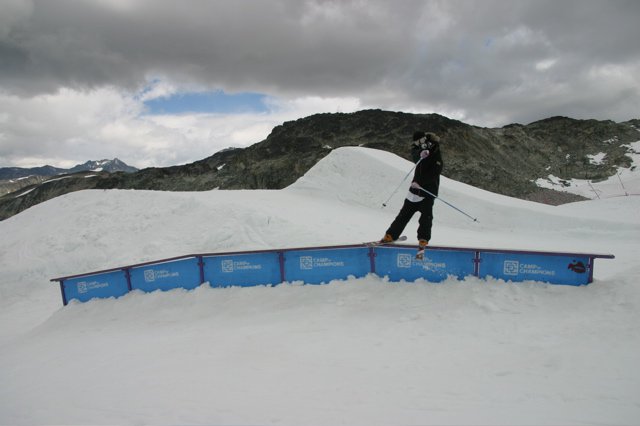 Chase Adams
"This is my third year at camp, and my ninth week. I did four weeks the first year, three weeks the second and two this year," says Chase Adams of Provo, Utah. "I love this place. I come back here every year no matter what, and it's worth every penny. The environment is fantastic and the coaches are great and the park at COC is unbelievable."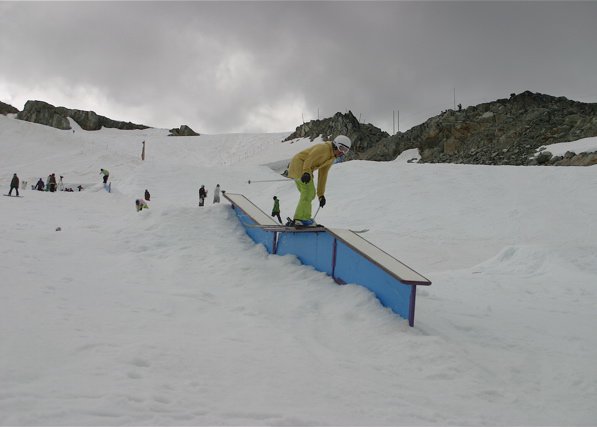 Rhett Winward
"This is my first time at camp, and I love everything about it. The weather has been great, the park is good, the set up is good and the coaches are amazing," says Rhett Winward. "I live in Utah and we have good resorts but COC definitely beats most of the parks there, so I'll for sure be coming back."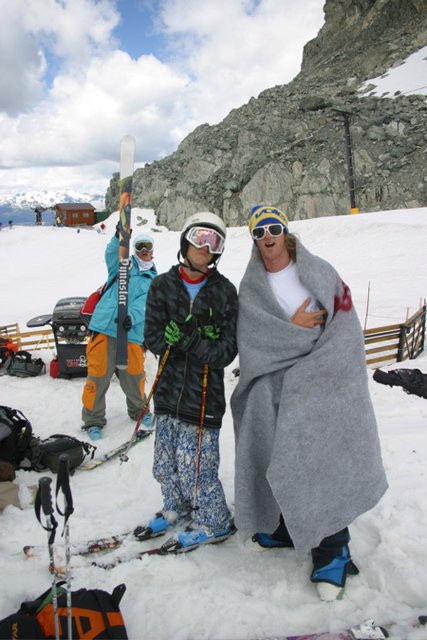 Kyle Holmstead & Josh Bibby...with Mike Riddle trying to sneak in a photo incentive in the background
"I felt my camp experience was on the money and I loved the coaches…especially Bibby," says Momentum camper Kyle Holmstead of Seattle, Washington. "It was so worth it and I'm definitely coming back next year."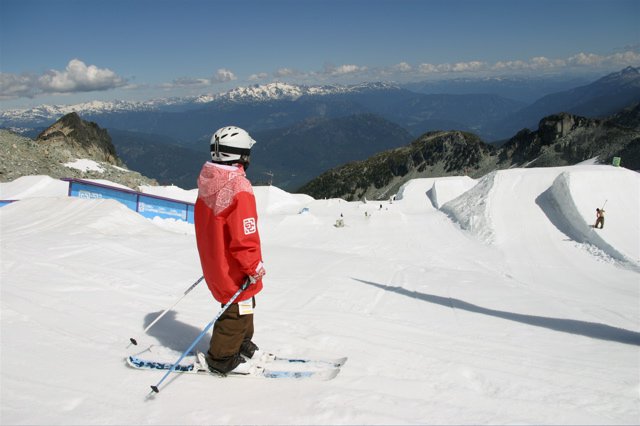 Coverboy Eric Law
"This is my third year at camp," says 10-year-old Eric Law. "I started coming when I was eight and have learned lots over the years, especially from Matt (Sterbenz)."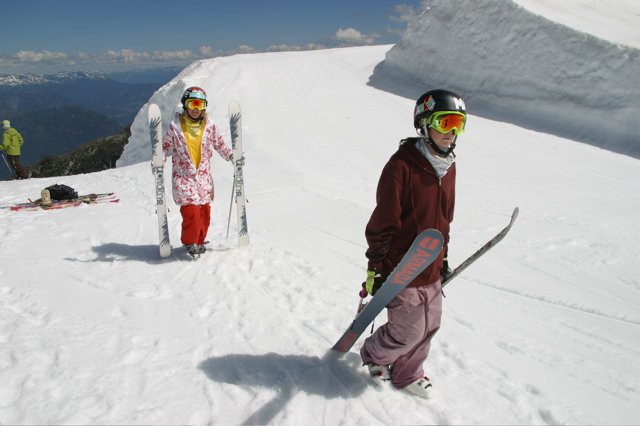 Caroline Sauve & Casey Ratcliffe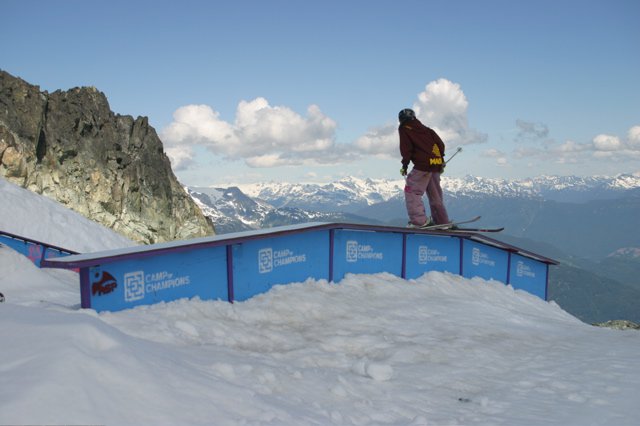 Casey Ratcliffe
"I went to High North last year and COC this year, and it's been sick," says Casey Ratcliffe of Mont Tremblant, Quebec. "Skiing in the summer is so much fun and my coach has really helped me out a lot."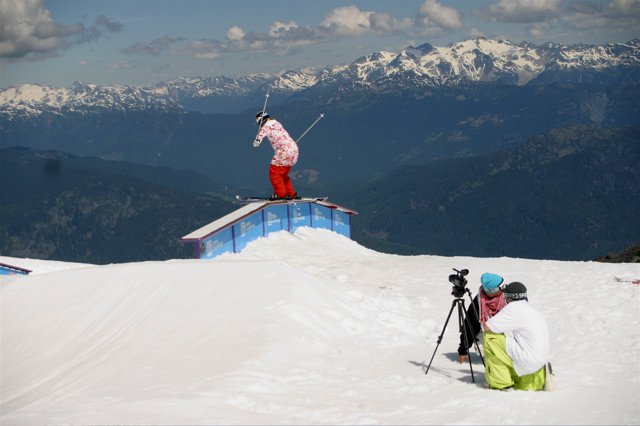 Caroline Sauve
"This is my first time, and it's been great," says fellow Quebecer Caroline Sauve. "The weather has been really nice, and I've learned a lot from my coach, who made coming here really worth it for me."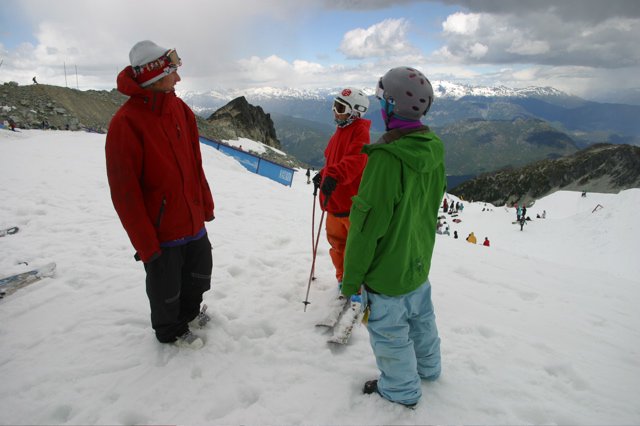 Joe Schuster with COC campers Keegan Agnew & Bobby Lieberman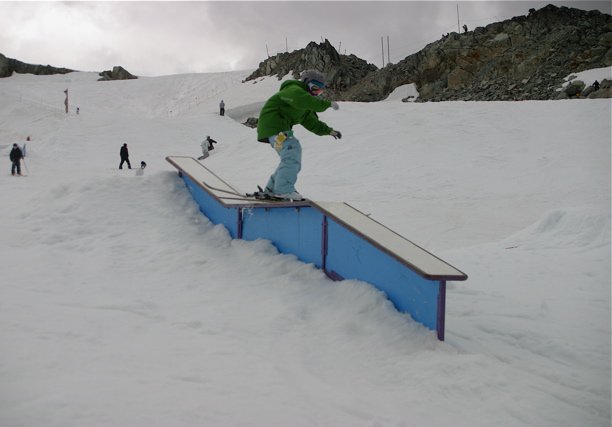 Bobby Lieberman
"It's been such a great experience," says Bobby Lieberman of Fairbanks, Alaska. "I mean we're skiing in July, so how could it not be?"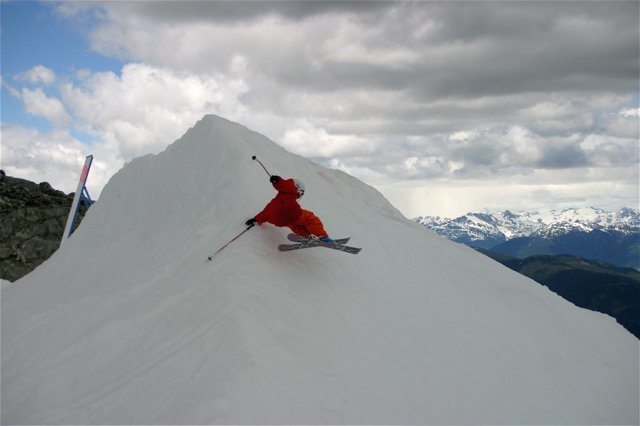 Keegan Agnew throws down the hand drag 180
"This was my first time at camp, and I did two sessions at Camp of Champions, and it was totally worth it," says Keegan Agnew of Bend, Oregon (a coach favorite at COC). "I started out by getting better at stomping the tricks that I already knew and then Joe (Schuster) helped me move onto some new stuff."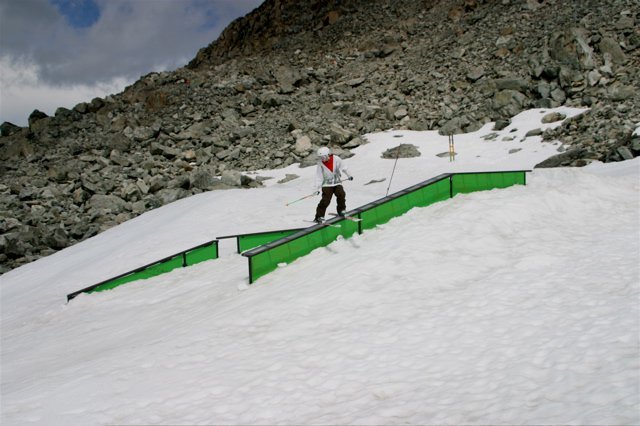 Megan Clinton
"This is my fourth year at camp, and I keep coming back to Momentum because of the coaching," says 23-year-old Megan Clinton of Boston. "It's really on point, and it's cool being a girl at this camp because all of the guy coaches are really, really encouraging, and it's great to see more and more girls camping here every year because of it."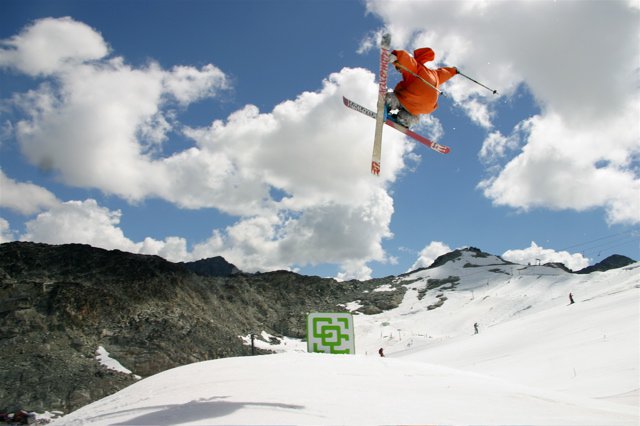 Charlie Owens
"I think this is my third year, and I always come to COC. It's super legit and this year the park is super nice," says Charlie Owens, winner of this year's North Carolina Jib Academy stop.  "It's a long way for me to come out here but it's always totally worth it because every year the terrain keeps getting more and more perfect and the coaches always help me out and teach me a lot. I know it's expensive for a lot of kids to come to camp but you should really try to make it out. Just save up your money through the winter and come out here and shred, because it really doesn't get any better than this."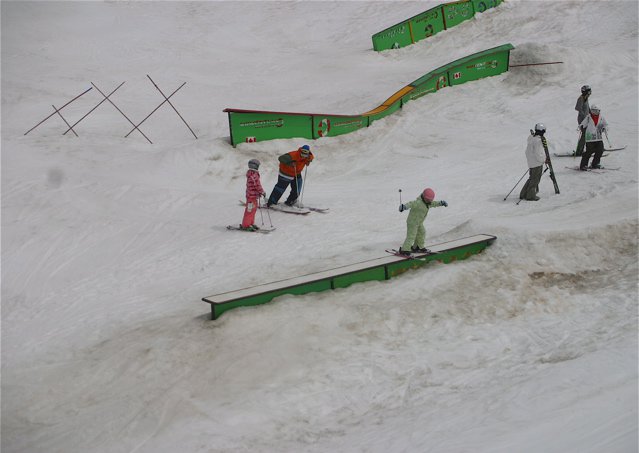 7-year-old Momentum camper Gabriella Lupenko
As always, stay tuned to NS, as early next week we'll be dropping the last live update from the glacier in Whistler, with a best of the best of summer camp type of feel. But just because the lifts will have stopped on Blackcomb by then doesn't mean the summer camp content will, as over the past month we've done enough interviews with your favorite skiers to keep you stoked and reading through the rest of the summer and fall, as we all impatiently wait for old man winter to arrive.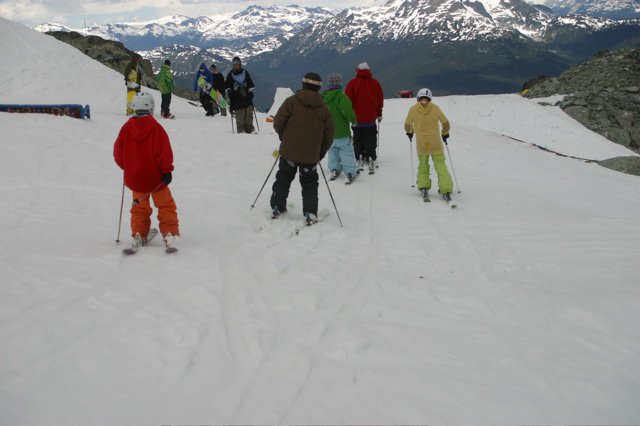 See you on the hill tomorrow, for the last day of the season...