I grew up in Colorado, submerged in potent ski culture I was surrounded by some of the best skiers around. I thought I knew what it was to be a skier.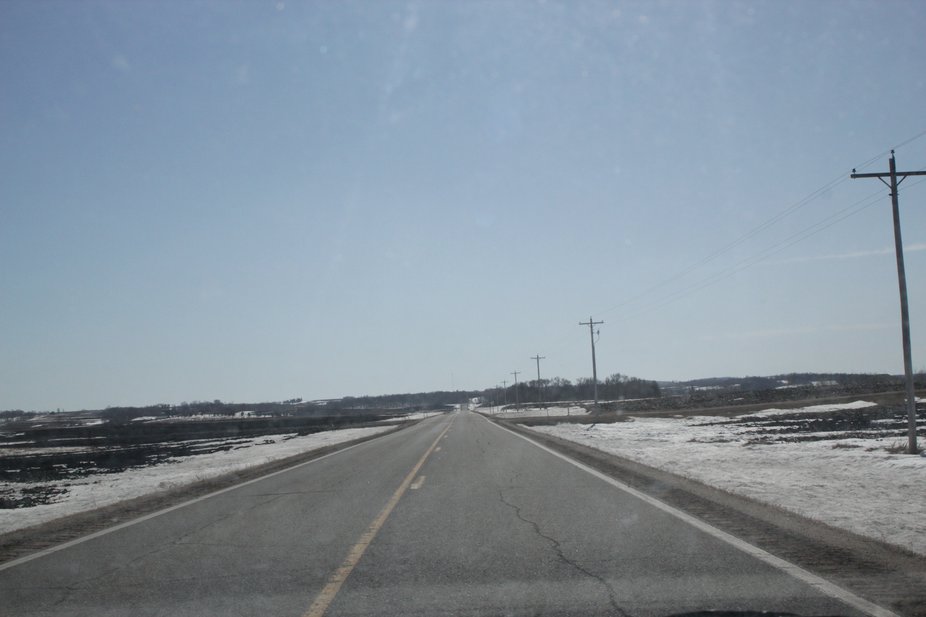 Andes Tower Hills, Kensington MN, is located way out here.. In the middle of nowhere.
Relocating to Minnesota, I had very low expectations; what sort of backward skiing could the flatlands produce? I knew not to expect much from the ski hill. I knew the frigid temps would not harbor powder. I figured park would still be worth hitting, until I saw it..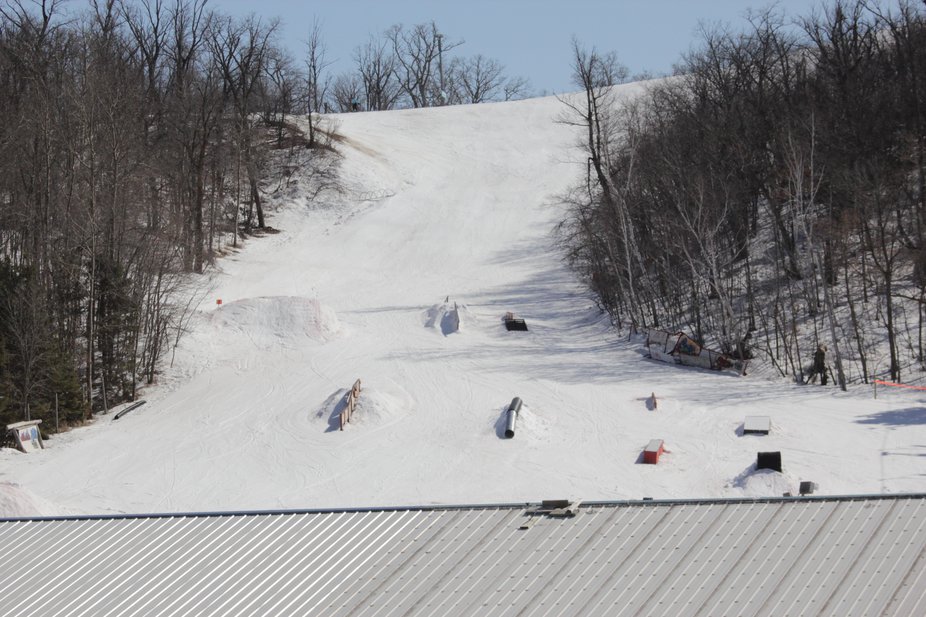 Check out that Vertical. They build the Park in the plateau.. I have no idea why- speed is a serious issue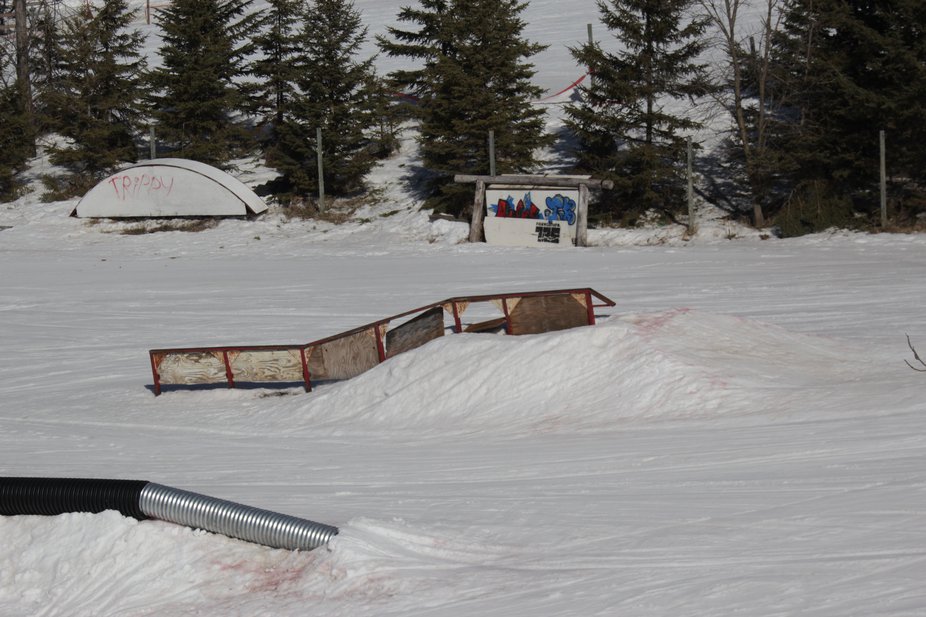 You're typical, ridiculous, dilapidated Andes' feature. Take note of everything in view.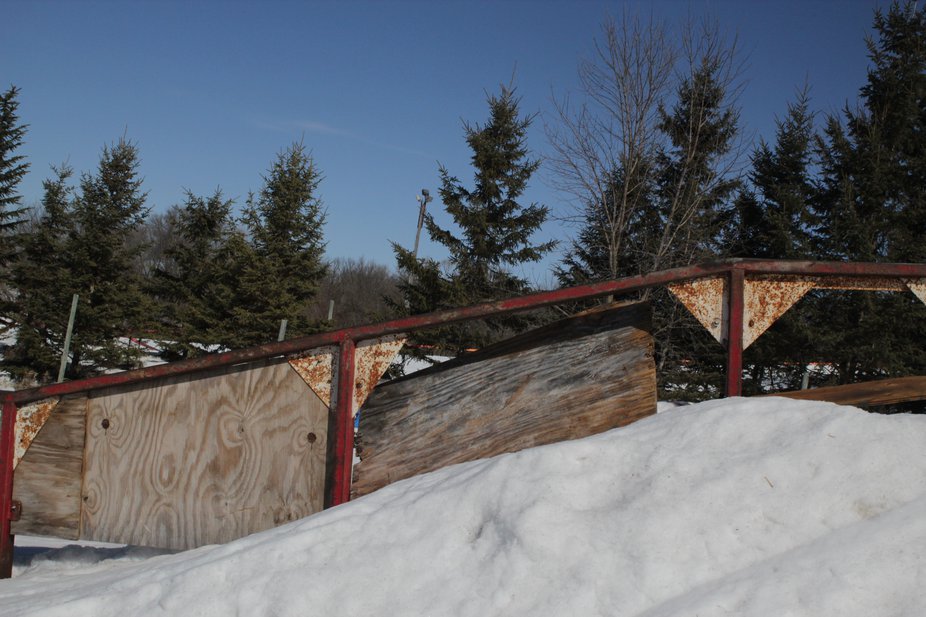 Close up. The kinks are badly welded and ground. Essentially unhittable.
Boxes set tall with a mound of snow piled at the head. No clean groomed lips but, primitively formed, elaborate set ups that lacked any sign of maintenance. The rails stain your bases red with rust. The hill was actually lower than my expectations. Along side it, my expectations of the local skiers fell, too.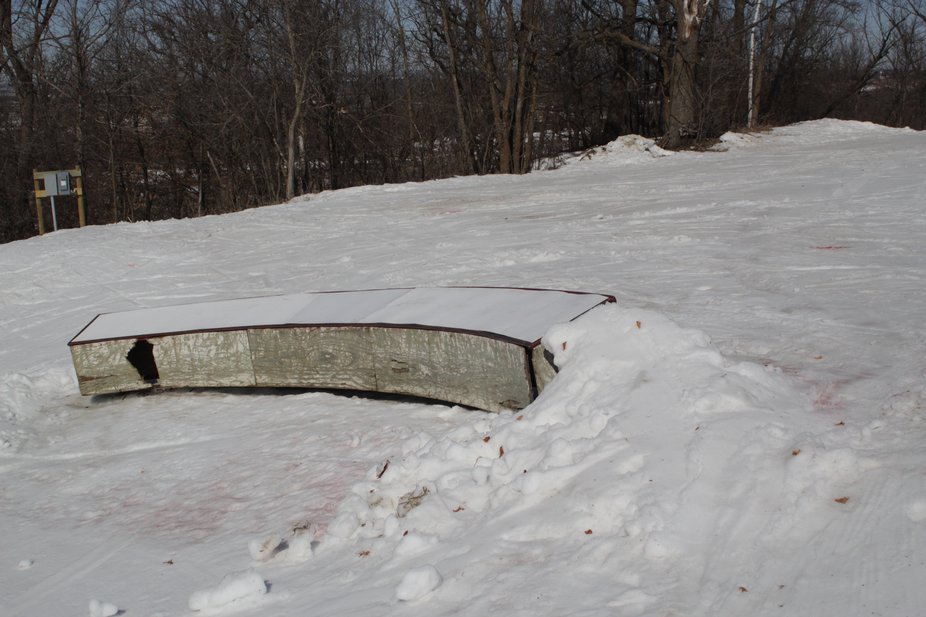 Typical Andes lip. The box moves around..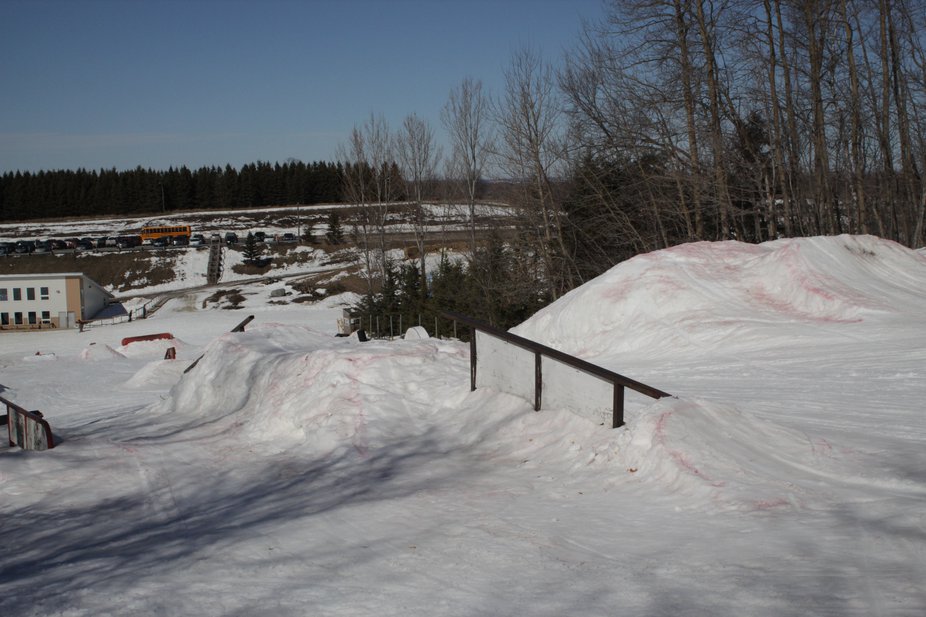 More elaborate, pretentious features.
But, there was one man who could turn the slums into his canvas. He's one of the most influential and creative skiers I have ever met. His vision is lucid. His creativity and good-time vibes are so potent they overflow inspiration. Like second hand smoke, his confidence infects you. Quite simply, Ryan Thorsen is the funnest guy to ski with on Earth.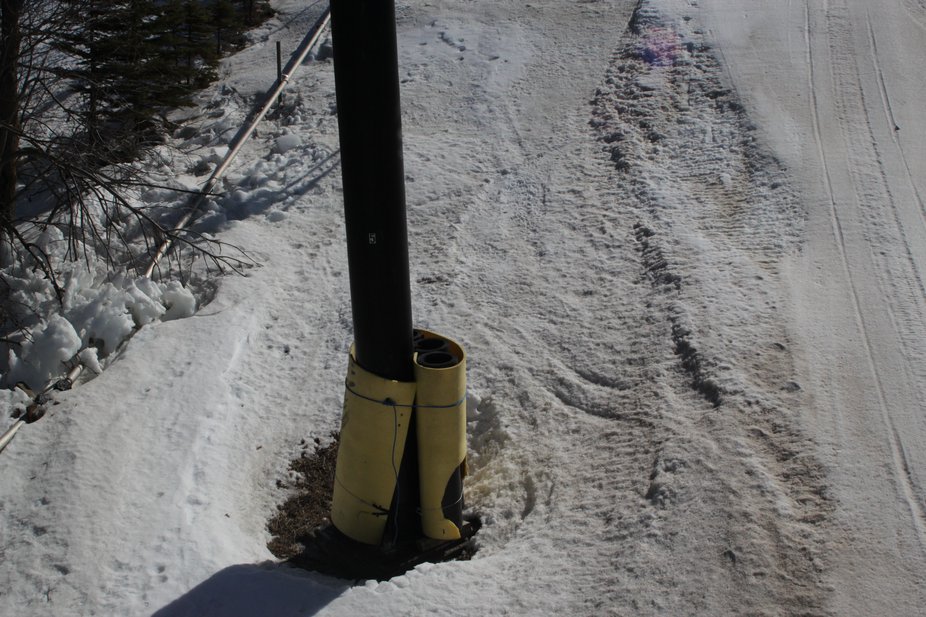 We ski in a third world country
The features are indeed ghetto. The snow is actually ice and the runs are short. Speed is a rare commodity -often you have to sacrifice a run if you want to hit the jump. It's far from confidence inspiring.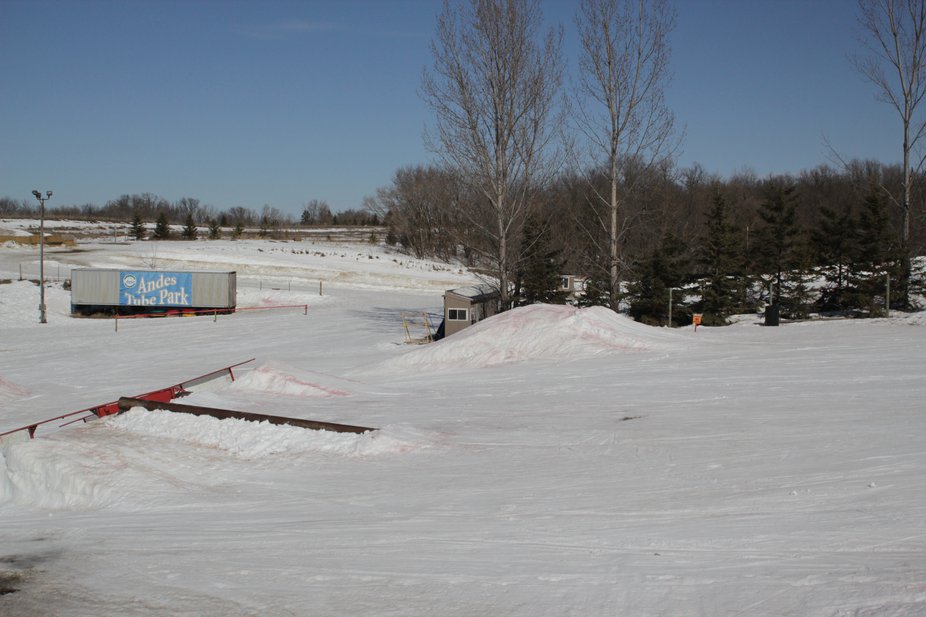 Worlds like "Huge" and "Cool" don't come around here often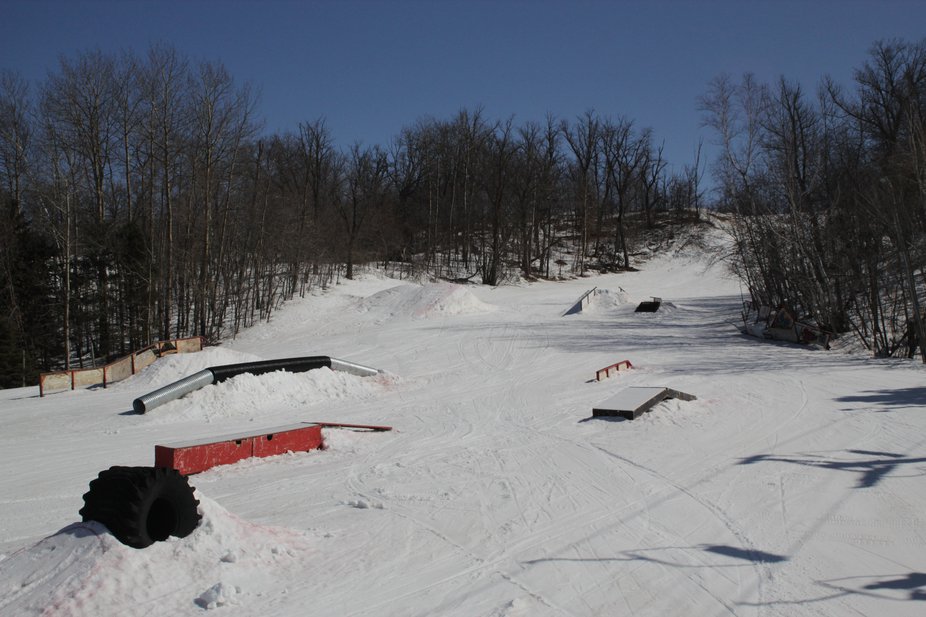 The red, up-flat, box feature is sketchy, unstable and sticky. It's a vietnamese booby trap.
So, it blew my mind to watch this kid handle everything with ease. He exhibited a raw talent that could not be found with repetitious practice. On the sketchiest of features he flawlessly brings first attempts to his feet. I was stunned to discover he had not only lived here his entire life, but had only been skiing a couple years. And yet, he possessed this uncanny knack which is a rare find. Even in the most established ski communities. He just seemed to get it.
http://www.newschoolers.com/membervideo/683147.0/ATH--quick-clips?s=126230&t=6&o=8
There's a 45 minute drive to contend with subpar features on a small, dull hill that is a vacuum for creativity and progression. He had to carve out his own niche in boarder haven- one that's still under assault. Here, in this skiing dystopia, Ryan made up for the dearth with pure determination and boundless creativity. Which I think has led to the making of one of the most bombproof styles of riding I have ever seen.
The Interview
Who are you, where are you from?
Ryan Thorsen - Fergus Falls, MN
Where are you now?
Menomonie Wisconsin. Currently a student at University of Wisconsin Stout
Hobbies, passions, favorite food?
I do a lot of schoolwork right now..... that keeps me from me hobbies and passions. When I have free time, I enjoy skiing, rollerblading, and looking into ski/rollerblade boot tech. Favorite food is pizza...
How did you discover skiing, growing up in farm country?
There was this kid in 6th grade who I thought was super cool and I occasionally went to the local hill with him. I found myself loving the sport and picked up some atomic race skis. Ended up in racing.... became the outcast of my racing team and became a park skier.
Did that have a huge impact on your progression being able to see all the skiing beyond your local hill?
Andes was a really tough environment to learn in. You had big features with rusty screws popping out, and tiny features that you could barely call features. I also am one of the original/ few park skiers of andes tower hills... so I got a lot of shit from the locals park snowboarders.
Without the internet/newschoolers do you think you would have progressed as fruitfully?
No, Newschoolers got me into content that pushed both my style and skill.
Andes, your old stomping grounds, the terrain and features were derelict; the fear of life threatening lacerations were higher than it should have been. Not confidence inspiring to say the least. Do you think this has made you a more concrete and versatile skier?
I think so. I had skied rusty rails, broken rails, rails with rusty naills sticking out of them, and rails that made no fucking sense. I am currently skiing at trollhaugen and it is a luxury.
Andes is far from a creative environment. How did you stay motivated and inspired all those years?
I get into my hobbies and make the best of them. Edits would get me hyped and it was the only place to try recreate the tricks I saw and desired.
Park skiers standout at Andes, which is overrun by snowboarders. I even get noticed and complimented by random strangers, after which they ask if my name is "Ryan". Your reputation precedes you and people know you by name, how does it feel to be a local hero?
I don't believe I deserve this icon status... but it is cool. Its cool returning to andes and seeing that people I have never met know my name.
Biggest style influences?
Kieran Mcveigh, Phil Casabon, Christian Allen.
Favorite tricks in your bag right now?
Blunt grab blunt slide
Any tricks you're eager to add to that bag?
blind 2 to blunt grab blunt slide would be awesome
Dream trick - the sickest scenario you could ever wish to land?
I would like to do the all 8 with tail or nose press to spins out... or a cork 3... but I rarely jump so....
What are you riding right now? (ski setup)
Ar7s with griffons.
Do you like them? What's your dream setup?
I've ridden many Armadas through the seasons, and they all treat me well... I personally hate all bindings. I personally think they are obsolete to park skiing. In the cold midwest, I have yet to find a binding that isn't insanely prone to breaking.
The interview necessities: 3 songs for the slopes?
My taste changes everyday. This is too hard to answer.
Favorite Animal?
Dog. I have three dogs.
Frosted Flakes or Chicken noodle soup?
Frosted Flakes.
Would you rather burn to death or bleed to death?
Burn. Blood is not cool.
Any shout outs?
Shout out to you for somehow becoming a name on NS being from our little farmtown. Shoutout to family and friends for supporting this awesome hobby.
And that's a wrap
Footage of Ryan seems to be rare... Here's what I could dig up
I give you Ryan, son of Thor
https://www.newschoolers.com/videos/watch/676264/Early-Season-Handrail-Slay