There is NO snow in whistler! That phrase was thrown around quite a bit in the run up to the 2015 summer ski season in whistler. Questions about the lack of snow and discussions about the camps filled the forum's and despite mother nature not being too favorable the glacier is fully open and the camp parks are built.
I had the chance to check out what is happening in both the Camp of Champions and Momentum parks and also took a few laps through the public park to see what is on offer to those not attending camp.
So first things first, the snow. Yes there is less then there has been in previous years but all the parks have been built and the park crews have done an amazing job with what they had. I was chatting to a guy from Thunder Bay, Ontario who said the public park is still better then his home mountain's winter park so despite there being a little less snow the Whistler Glacier is still one of, if not the best place to get your fix of summer Skiing. How the snow will hold up is really dependent on how the weather treats us. Currently its really hot and shows no sign of cooling off, but I'm fairly confident you will still be able to ski right until the normal end of the season in August.
Camp of Champions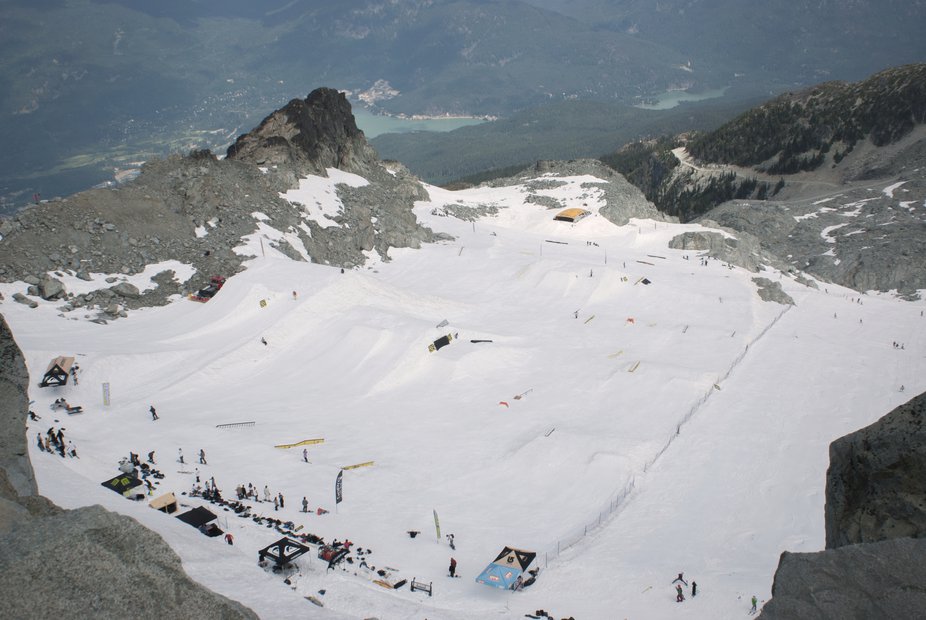 There was a lot of discussion about COC'c decision to only run two weeks and while I don't really want to discuss that here I can guarantee you, if your coming out to ride the COC park you will not be disappointed.
COC have built a really fun park with the emphasis on progression. With both rails and jumps there are plenty of options from small to large meaning campers can progress their riding without having to be hitting larger more intimating features straight away.
There are 3 main jump lines, the smallest (5-10ft) can be seen on the right of the image above and the medium (20-30ft) and large (60ft) are on the left.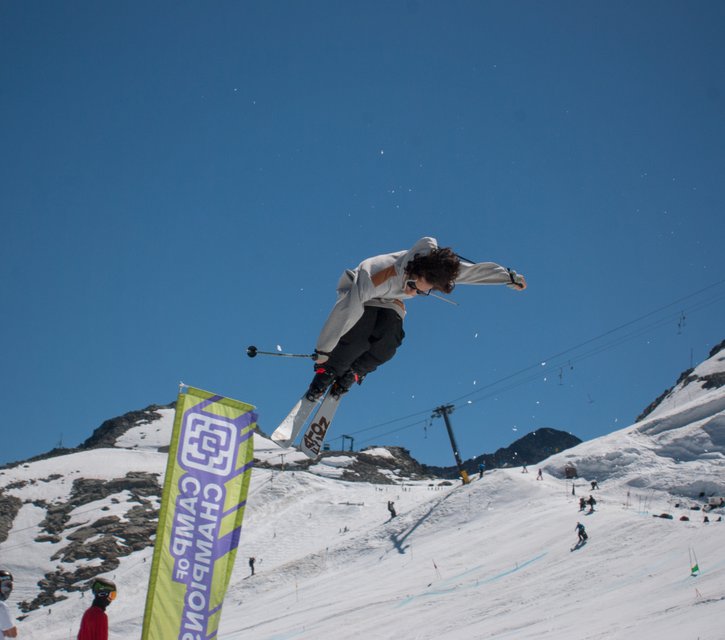 The medium Jumps have been getting the most use so far with campers attempting new tricks under the watchful eyes of their coaches. One thing I have really noticed is how much campers are progressing, there is a really good vibe in the park which just makes you want to try new things.
I was a little over skiing and was fully in summer mode but after just a few days up there I'm really looking forward to skiing some park next week when the Newschoolers crew are in town.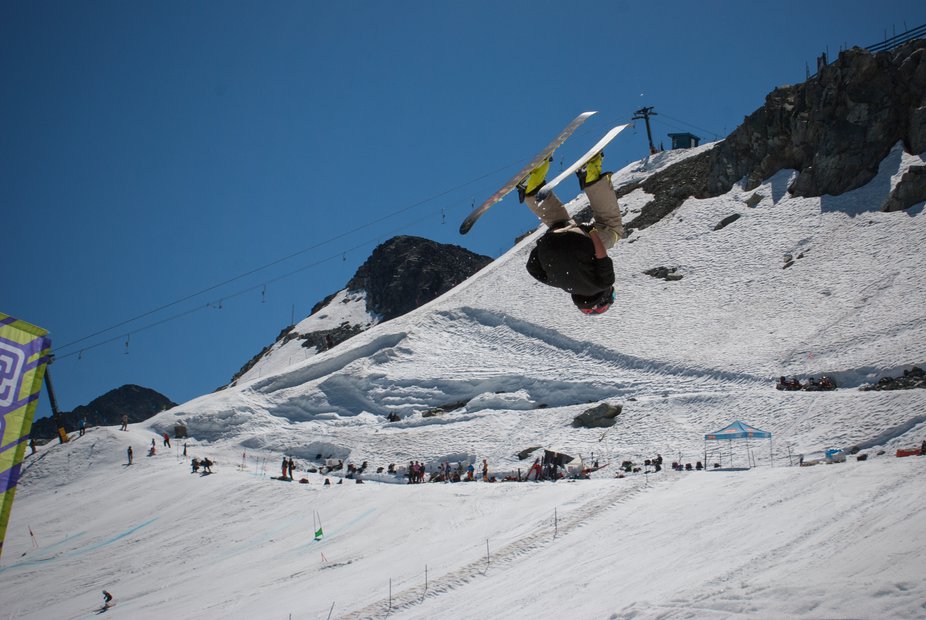 This was camper Mike's first ever backflip on snow!
Coaches will stand and watch from the knuckle and give instant feedback to the campers and if you get tired you can sit back and watch the pro's throw down.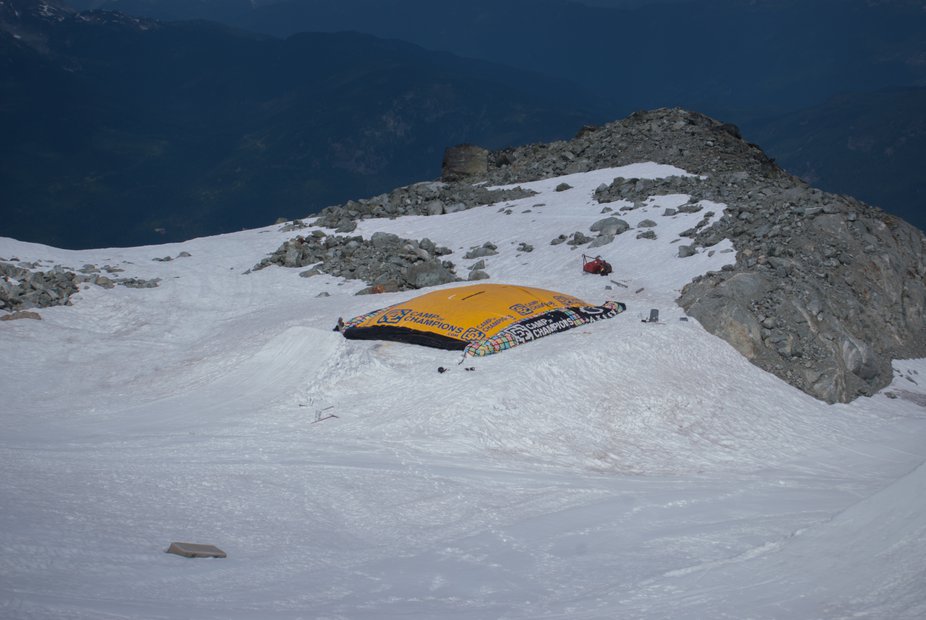 At the bottom of the park is an Airbag where campers can try out new tricks in safety before moving them onto snow.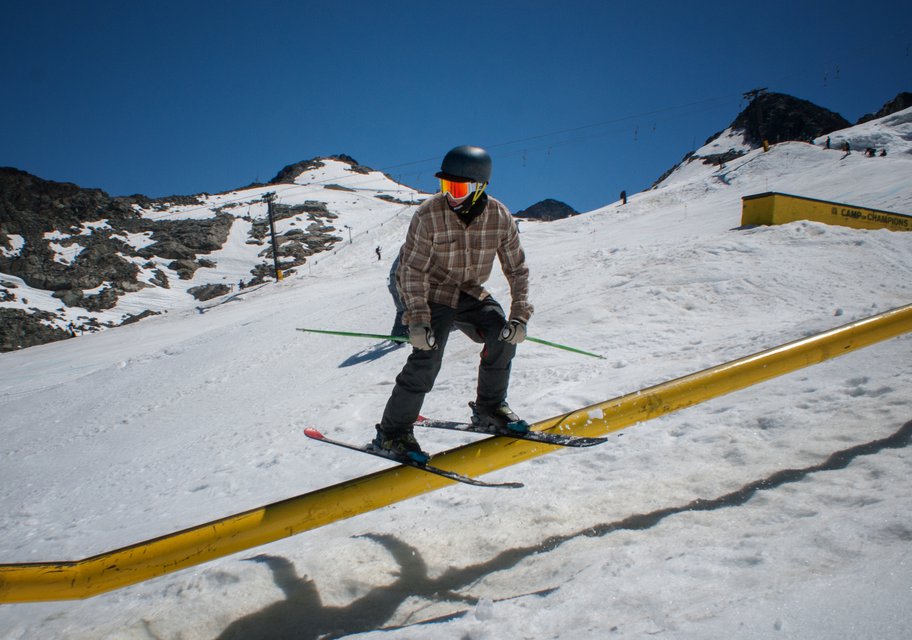 Sandy Boville showing the campers how it's done
If jumps are not really your thing then there are any number of rails and jibs to keep you occupied. Ranging from flat boxes close to the ground right up to wallride/rail combos there is something for everyone.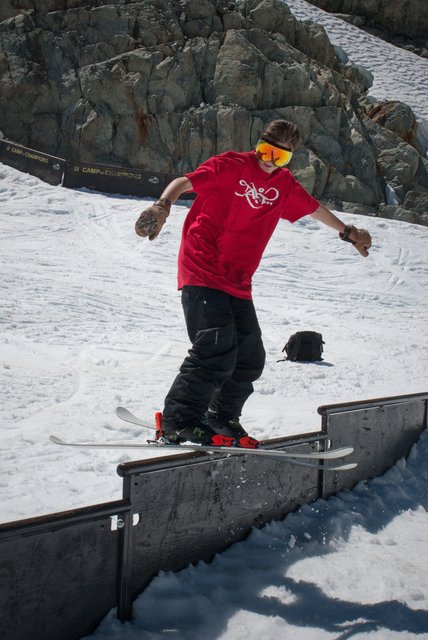 Liam Rashotte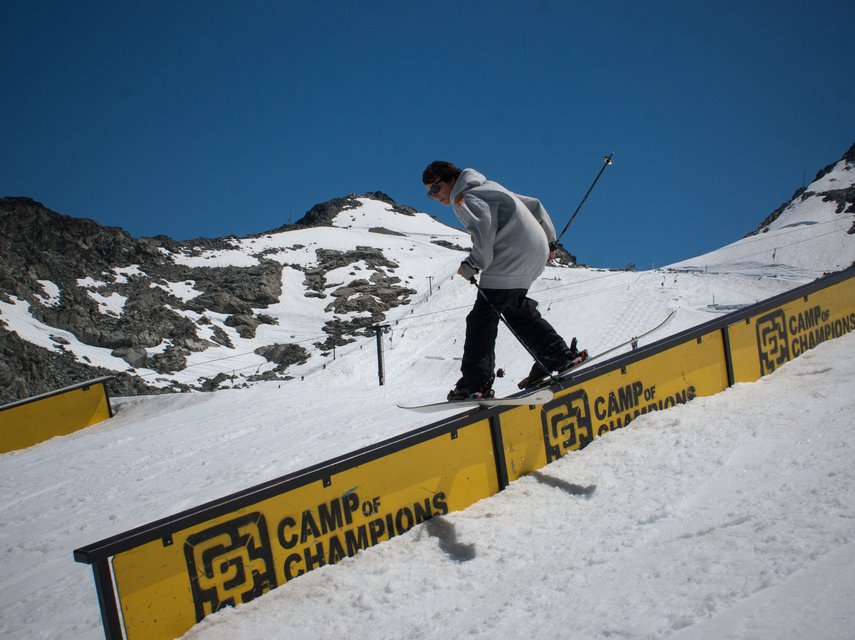 With 22 different rail and jib features the COC park will easily rival many winter parks and with the location of the COC park not being too steep it means features can be easily hiked and tricks dialed.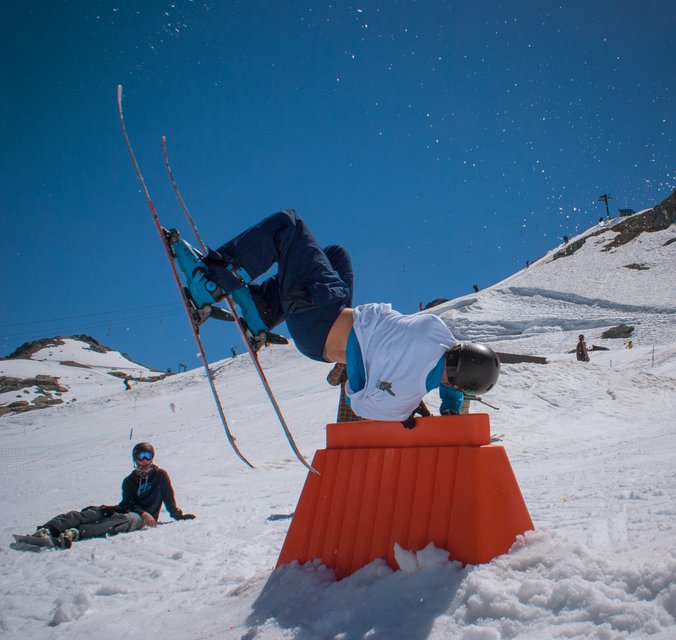 Even simple features like the one above can lead to some awesome sessions. The guy in the photo above was handplanting/flipping over the top and it was cool to see such a simple feature be used so creatively.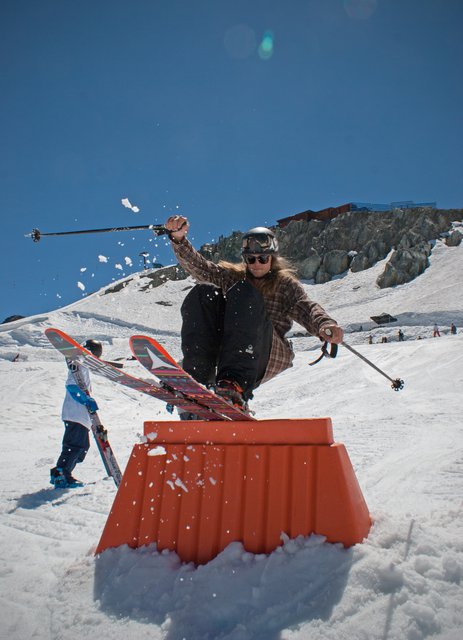 Nick Mcnutt demonstrates how to stall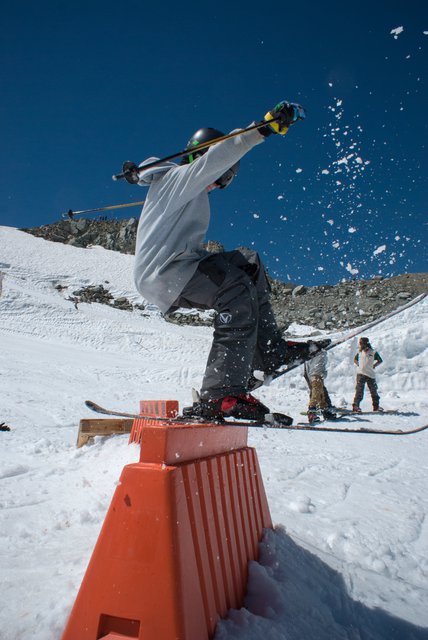 and a camper has a go himself
The COC park often gets hyped as the best summer park and after riding it I can understand why. There is a really good vibe to the park and its one of the most fun parks I have ridden in a while and I cant wait to ride it even more next week.
Momentum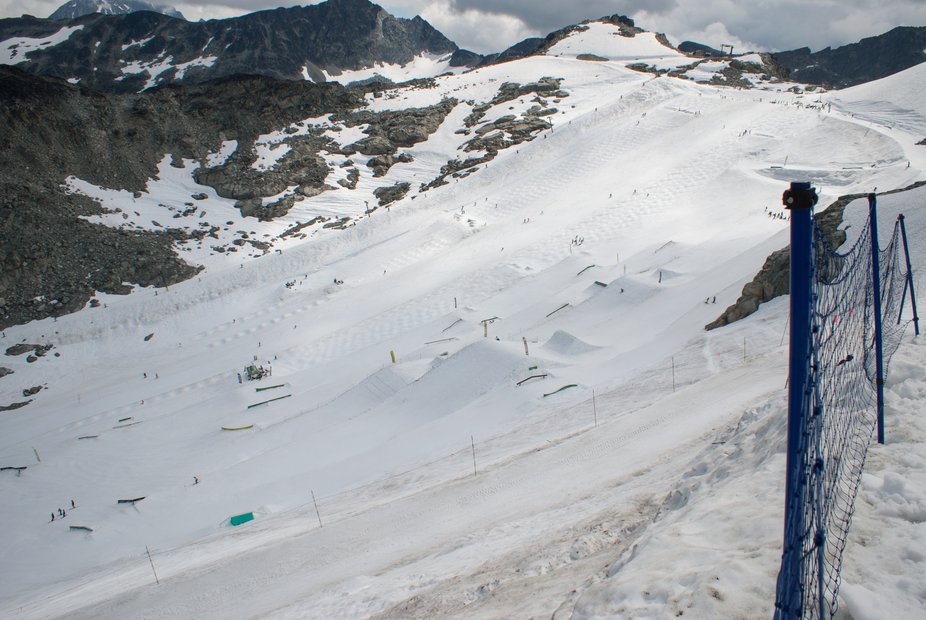 Across the other side of the glacier sits Momentum. Momentum run things a little differently and have both freestyle and moguls on offer for campers. The overall space is a little larger then COC so even with both types of terrain the park does not feel cramped and there is again a good selection and jumps and jibs to suit all ability levels.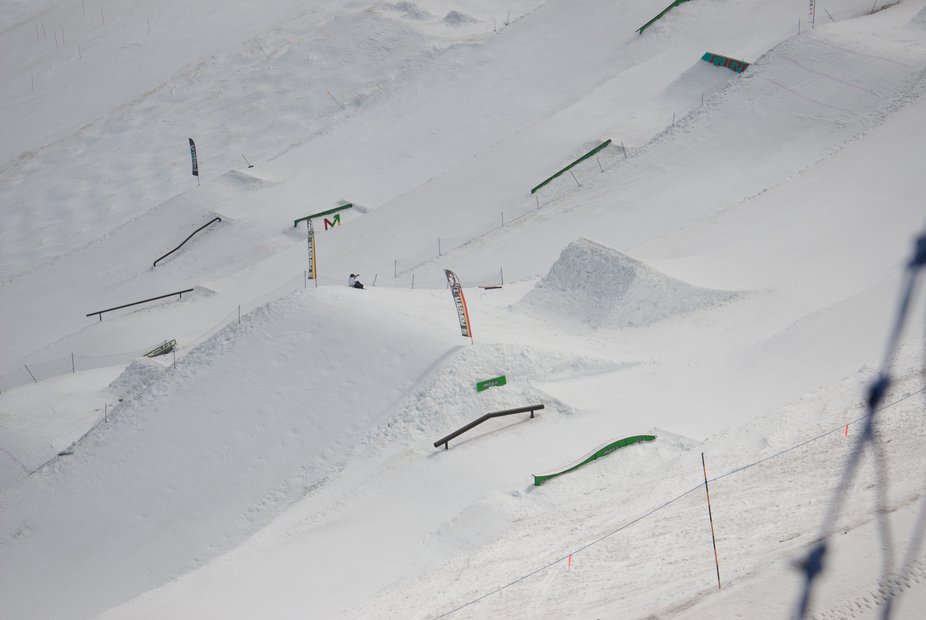 Like COC, Momentum have a range of jumps from small right up to the big 60' in the image above. This large jump has been seeing a lot of action and there have been all kinds of doubles being thrown which is partly down to the two airbags Momentum have setup to help campers improve their jump game.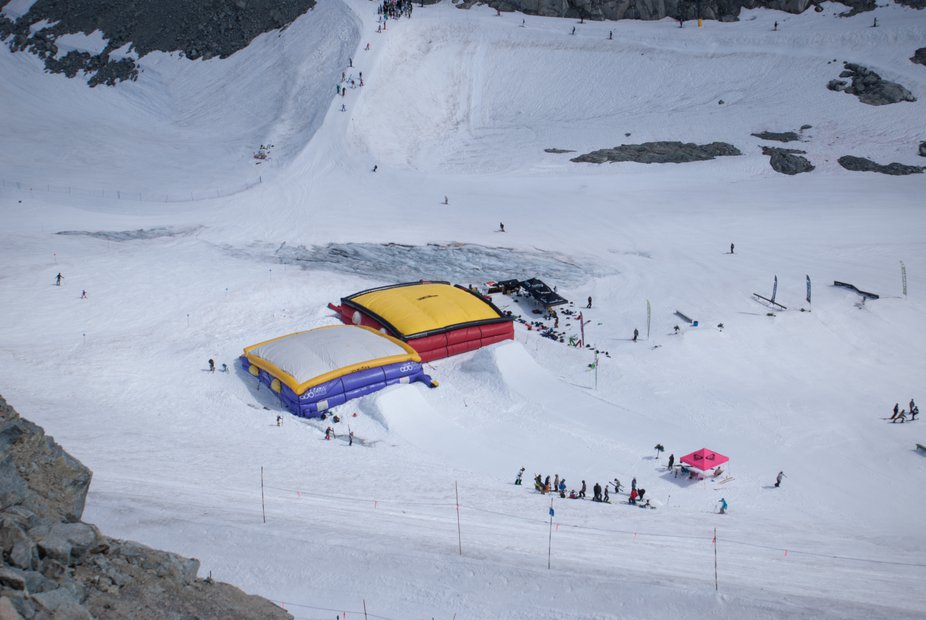 The two airbags offer the campers a smaller or larger option. The relatively steep slope surrounding the airbags means the hike back up is relatively short and campers can get lots of attempts at a trick.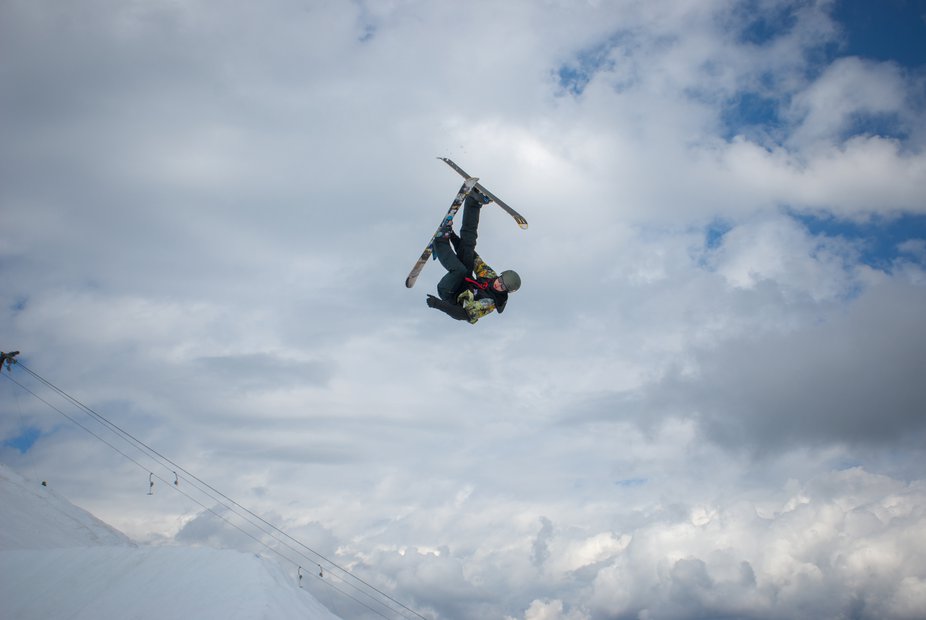 A camper gets his tricks dialed on the airbag before moving them to snow.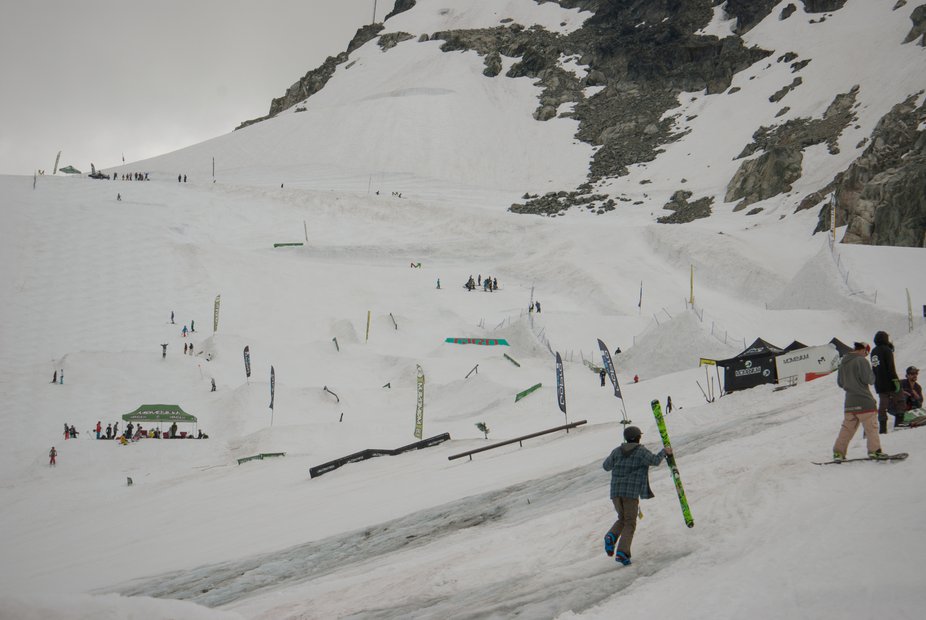 Looking up from the public park you can see the variety of rails and jibs on offer
Alongside the jumps Momentum have a good selection of rails and jibs. The rail selection is perhaps a little less progressive then COC but still offers something for all ability levels.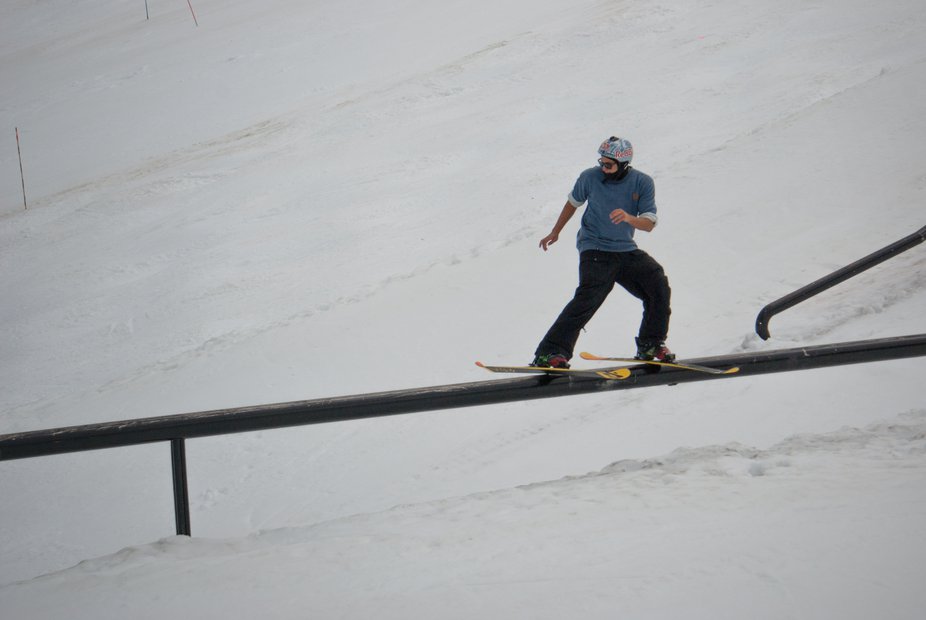 Nick Goepper checking out the rail line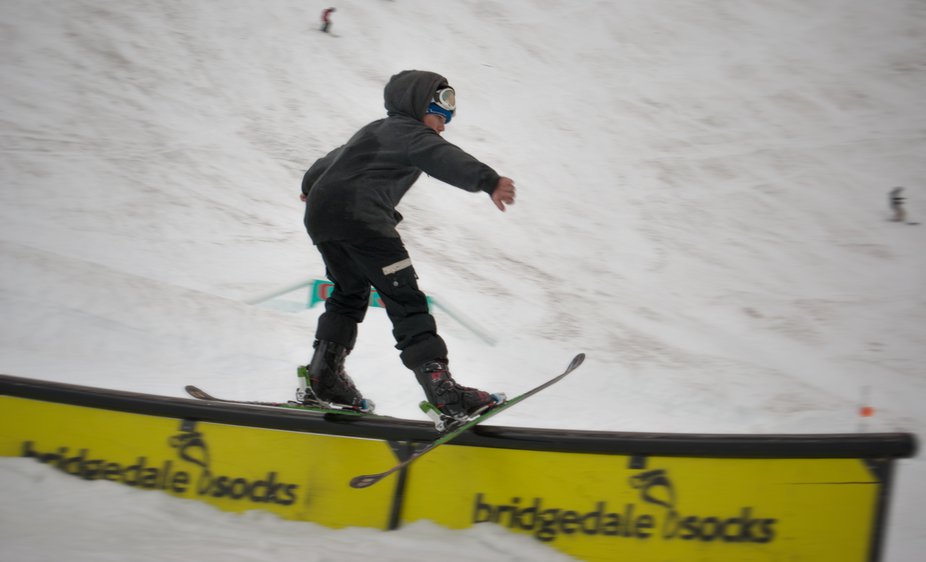 One of Woody's campers on the C-Rail
With 21 rails and jibs ranging from flat boxes to large wallrides and elbow kinks even the best rail riders will find something to have fun on.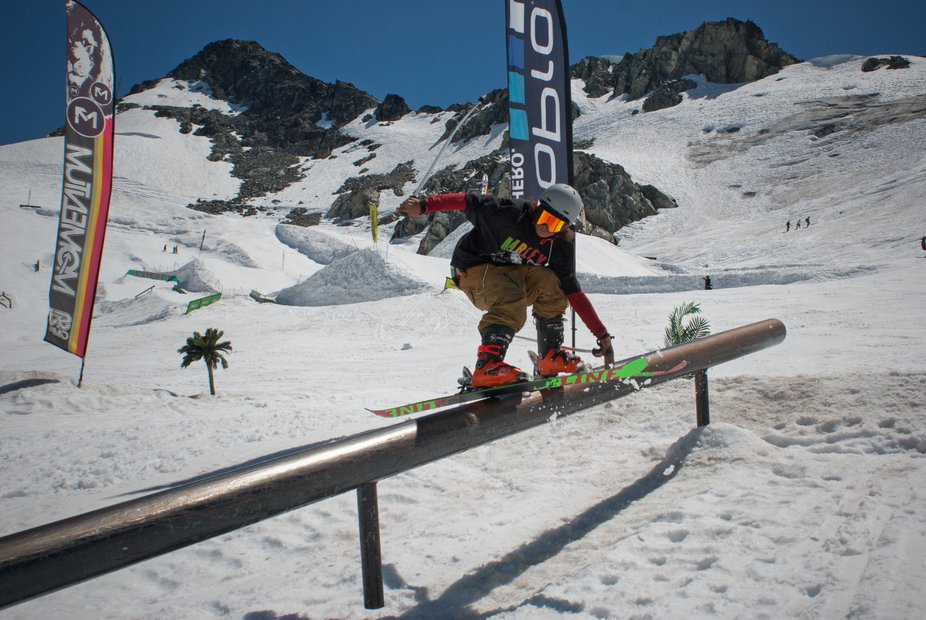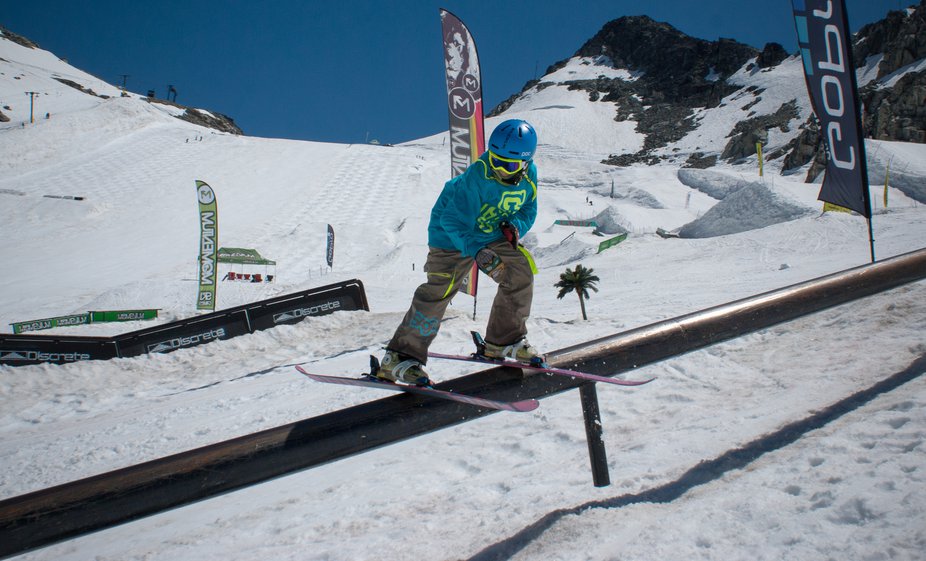 Towards the bottom of the park there are three very hike-able rails and Momentum run rail jams where campers can win spot prizes.
One of the big advantages Momentum has is having a T-bar separate from that used by the public and camps like COC. The lineup is always much shorter and if you hate hiking then it could be a real selling point.
I would probably say if you are more of a rail rider you will prefer COC and if you want to progress you jump game Momentum may be the way to go, but whichever camp you choose you will have an amazing time riding some of the best summer parks on the planet.
Public Park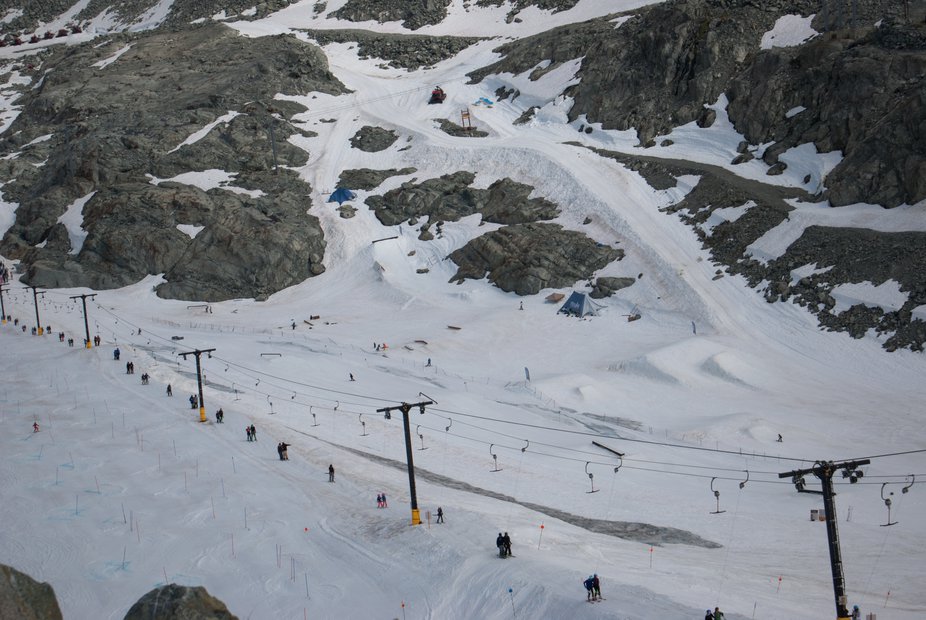 If camp is not your thing you can still come ride the glacier. The Whistler park crew have built a public park which anyone can use. You can see the public lane closest to the lift above. The jumps you can see are in the Treeline Camp however that camp finishes in a weeks time and usually the jumps get incorporated into the public park.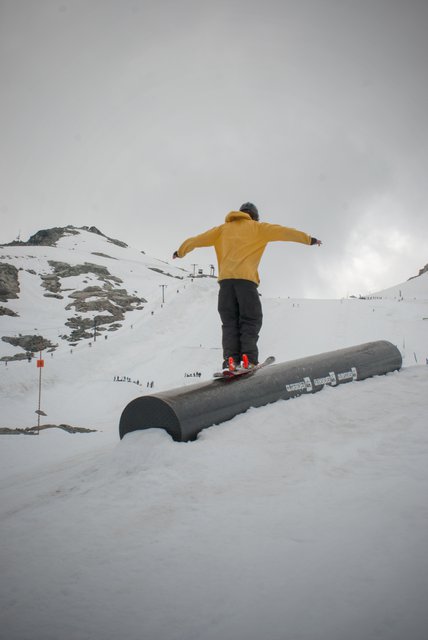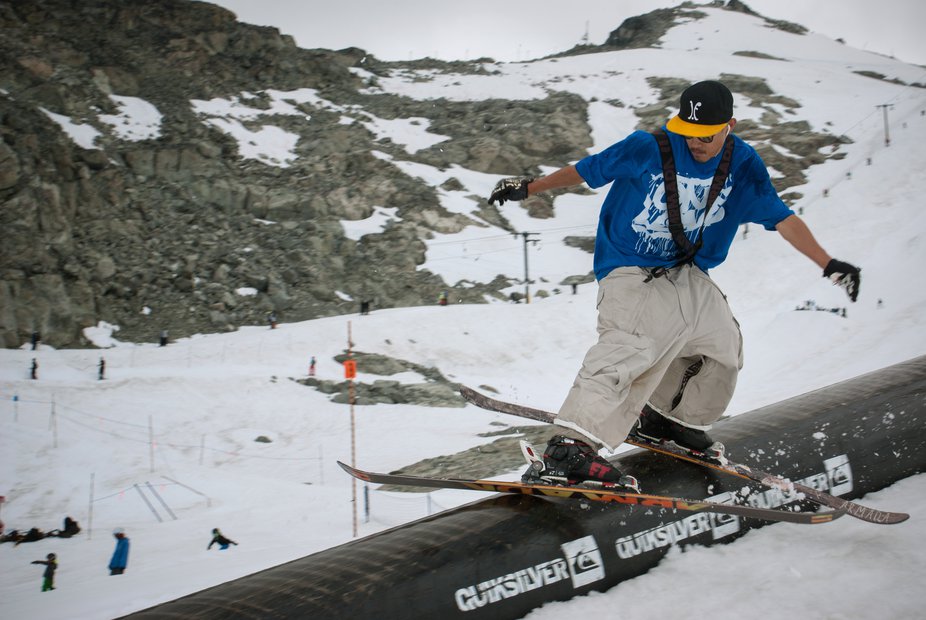 Local rider Atsu was hiking the public park all day
There are currently 5 jibs set up, although they are more on the medium to large side so if you are a beginner in the park you may not find much to ride.
(Update: the day after I got the shots in the public park they rebuilt with smaller lips and lower features. Still fun but better for less experienced riders to try too)
To give you a better idea of what is on offer I took a lap with Danny Roockley through the park.
http://www.newschoolers.com/watch/774959.0/PubParkRookley-mp4
So there is definitely snow in Whistler and whether you are riding at one of the camps or just lapping the public park there is fun to be had. Newschoolers will be invading Camp of Champions next week so look out for much more of what is going down on the Whistler Glacier.
Sorry to all the riders I do not know the name of, if you spot yourself or one of your mates in a photo post there name in the comments.